Miami Art Week is Back! Here's Your Guide for 2021!
Nov 10, 2021 November 10, 2021
Catch it from November 29 – December 5, 2021
One of the annual traditions that has come to define the art and soul of Miami is Miami Art Week, an exquisite event-filled art extravaganza unmatched by any other art event in the country.  During Miami Art Week, thousands of artists, art fairs, galleries, collectors, and all manner of art aficionados descend upon Miami and Miami Beach with the intensity of the Florida sun, spreading art to all corners of our city, and providing unique opportunities for locals to see the artworks that are currently taking the contemporary international art scene by storm. 
After cancellations of most 2020 events due to the pandemic, Miami Art Week is back, and this year's events promise to be as exciting as ever, with a lineup of on-site as well as online happenings.  For those planning to attend fairs and events in person, bear in mind that Covid safety protocols will be in effect at each fair and venue. 
To keep visitors as safe as possible, many of this year's visiting fairs will be hosted at outdoor locations where visitors can more easily observe the CDC's recommended social distancing protocols.
So, if you've missed the frenzy of art collectors and quirky artsy happenings that make Miami so vibrant, you'll be thrilled to know that the art is finally coming back and so are the parties, the blow-your-mind installations, the fun pop-ups that surprise you in public spaces. And we can't forget the opportunities to go Baseling with dear friends that you haven't connected with in a while!
Below are some of the highlights of this year's Miami Art Week, which runs from November 29 - December 5, 2021. 


---
Miami Beach Art Fairs
---
December 2 - 5, 2021
Miami Beach Convention Center
1901 Convention Center Drive, Miami Beach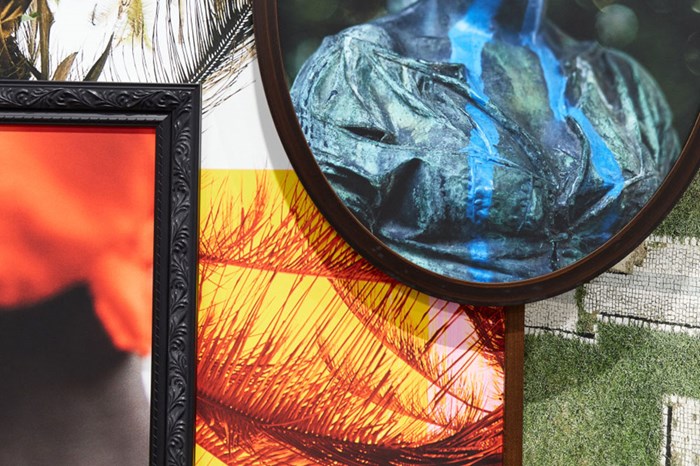 The largest global art fair in the Americas, Art Basel Miami Beach is the place where major art world pundits come together. The fair will open to top-tier private collectors and press by invitation only beginning on November 30, before kicking off its famous Vernissage on the evening of December 1 hosting its select list of VIP guests. After, it will open its doors to the public for the first time since 2019. Art Basel Miami Beach 2021 will feature 253 of the world's most renowned galleries presenting the highest caliber of artworks across all media, along with a host of events, and an online platform featuring virtual exhibitions and programming.
This year's list of exhibitors includes galleries representing 36 countries and territories across five continents, with about 50% of those representing North and South America, and 43 of them exhibiting at the fair for the first time. This is where you'll see many of the most important, the most sought-after, and the most highly-prized artworks in the world, spanning primarily the 20th and 21st centuries, and ranging across all media, from painting, sculpture, and works on paper, to photography, installation, digital art, and new media.  Allow yourself at least a couple of days to really take in the whole fair.
Just note, if you go, Art Basel Miami Beach is deploying robust safety measures to ensure the safety of all visitors and staff, including mandatory masks for everyone age 2 and over, proof of negative Covid test results for all visitors over age 12, and a system of timed entry to prevent crowding inside the venue and facilitate social distancing as per CDC recommendations. 
November 30 - December 5, 2021
Miami Beach Convention Center 
1800 Convention Center Drive, Miami Beach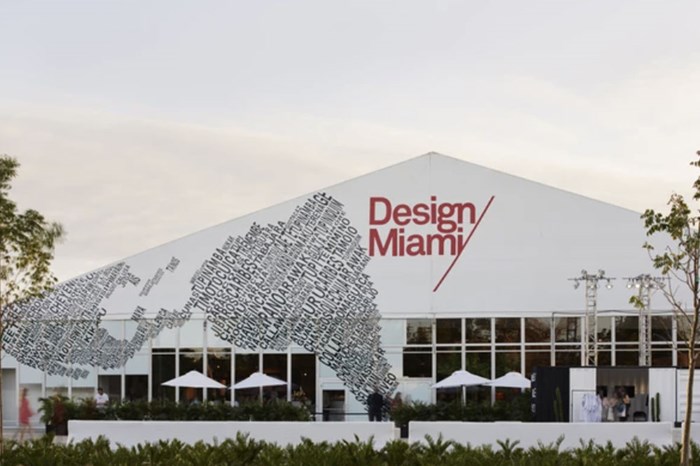 Miami's foremost showcase for modern and contemporary design in the fields of architecture, furniture, home décor, fashion, and objets d'art, Design Miami will celebrate its 17th edition, curated by incoming Curatorial Director, Wava Carpenter. This year's theme is Human•Kind, and focuses on visionary design that will serve to hail in an era of equity and interconnectedness among human beings.
Design Miami is not only an amazing global marketplace showcasing the world's most cutting-edge and versatile design work, it is also a gathering place for galleries from all over the world to showcase museum-quality displays of furniture, lighting, fashion design, and decorative objects spanning the 20th and 21st centuries. Each exhibition provides opportunities to purchase exclusive pieces, as well as progressive programming such as panels and lectures discussing architecture, art, fashion, and all forms of contemporary and 20th century design. Enjoy Design Miami by visiting in-person and/or checking out the online exhibits at designmiami.com.
November 29 - December 4, 2021
12th Street and Ocean Drive, Miami Beach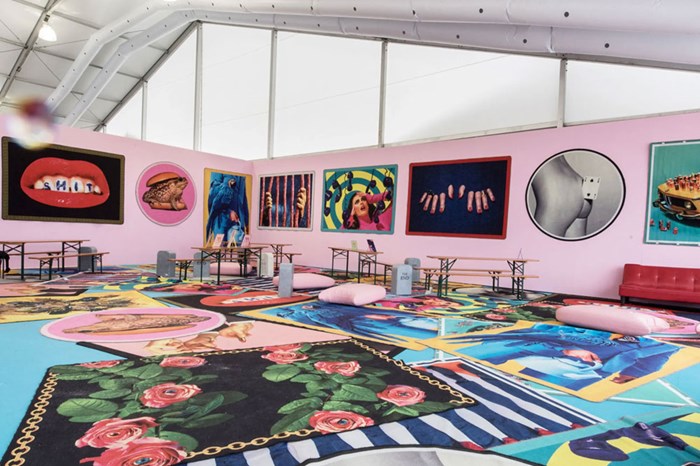 Founded in 2012, Untitled Art will celebrate its 10th edition in 2021 within an architecturally designed, custom-built structure located directly on the sand in the heart of South Beach. The fair features curated presentations by international galleries and non-profit institutions and organizations, as well as artist-driven exhibitions, live performances, and more.
Untitled Art is known for its unique curatorial models that showcases novel and experimental work by established as well as emerging artists. Committed to diversity and innovation in contemporary art, Untitled's visionary approach to contemporary art has gained it global recognition in the art world for launching the world's first art fair focused on virtual reality in 2020. This year, Untitled will feature over 145 international galleries and organizations, representing artists in all disciplines, and four guest curators.
November 30 - December 5, 2021
Ocean Drive at 8th Street, Miami Beach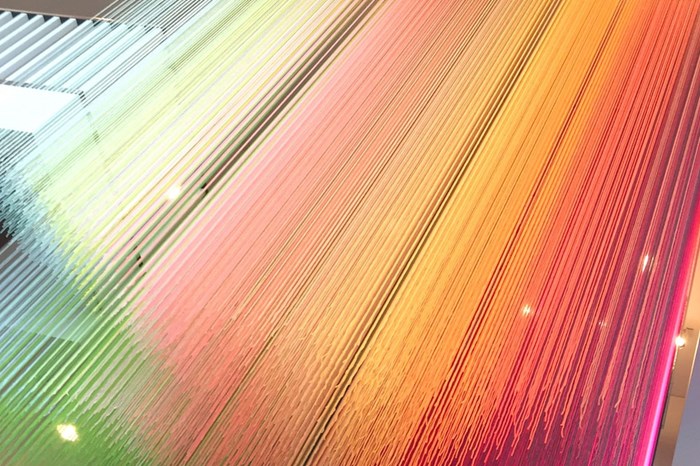 Celebrating its 20th year in Miami, SCOPE 2021 returns to the sands of Miami Beach with a Platinum First View and VIP + Press Preview on November 30th kicking off the fair. Scope is open to the general public from December 1st – 5th  and will showcase an extraordinary selection of contemporary art and museum-quality installations.
Representing over 140 international exhibitors, the fair will also host panel discussions as well as evening events. SCOPE Miami Beach is requiring that all visitors wear a mask, regardless of vaccination status. Visitors must also provide proof of full covid vaccination in paper or digital form, or Proof of a Negative COVID-19 Test Result (such as a PCR/NAAT) administered within 72 hours of your visit. Rapid Antigen test results will not be accepted.
December 1 - 5, 2021
Aqua Hotel
1530 Collins Avenue, Miami Beach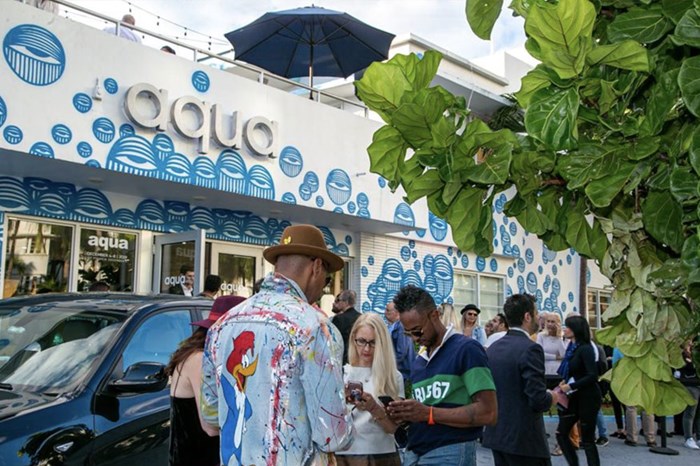 Under the leadership of its new director, Cordelia de Freitas, Aqua Art will bring its 16th edition to the classic Aqua Hotel in the Art Deco District of South Beach from December 1-5. Aqua Art Miami, a sister satellite fair of Art Miami, is unique in that it presents art from around the world exhibited in hotel rooms that open onto an enclosed courtyard and pool deck. Each room hosts a different artist or gallery, making for a truly eclectic artistic experience.
Aqua is a highly attended fair that has become a favorite among collectors, curators, and art aficionados looking to discover and acquire fresh new works while enjoying opportunities to exchange cultural ideas and develop meaningful connections with artists and curators in a uniquely intimate setting. Aqua Art is not the largest, but is definitely one of our favorite fairs to visit year after year.
December 1 - 5, 2021
Suites of Dorchester
1850 Collins Avenue, Miami Beach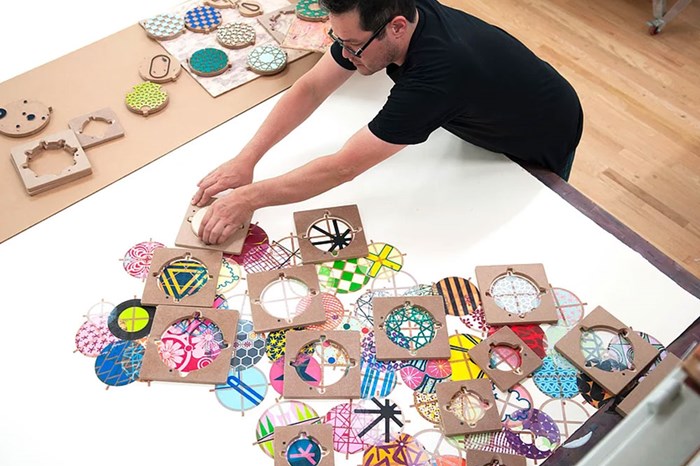 INK Miami stands out from among the many fairs you'll see this year at Miami Art Week, because this art fair focuses exclusively on contemporary works on paper by artists with global recognition. Sponsored by the International Fine Print Dealers Association, INK Miami selects exhibitors from among Association members for their ability to offer collectors and curators a vast and diverse selection of 20th century masterworks along with recently published editions by renowned artists of the 21st century.
Founded in 2006, INK Miami has developed a loyal following among international museum curators and high-profile collectors from around the world. If you're looking to add some prints of drawings or original works on paper by international masters to your collection, plan a visit to this unique, intimate art fair.



---
Miami Art Fairs
---
November 30 - December 5, 2021
One Miami Herald Plaza, Downtown Miami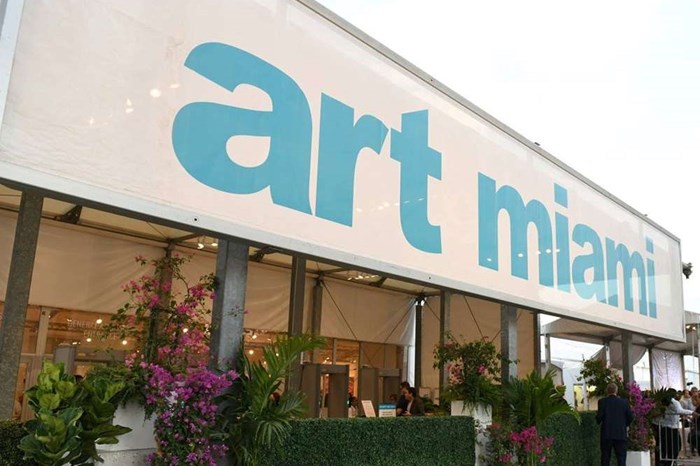 Art Miami, the number one international art fair in the US for attendance and the second most attended art fair in the world, presents its 31st edition on the waterfront at the prestigious One Miami Herald Plaza on Biscayne Bay, in the heart of Downtown Miami and between the Venetian and MacArthur Causeways to Miami Beach. 
Art Miami features museum-quality art by renowned artists from around the world, as well as solo exhibitions, installations, and presentations by some of the world's most highly respected art galleries. Take advantage of the VIP Preview on the evening of November 30 to acquire your favorite works before the fair opens to the public the next day. Visitors to Art Miami will be required to show proof of a negative rapid antigen test result (or equivalent) acquired within 24 hours of your visit. You may opt out of the testing requirement by showing proof of full vaccination dated at least 2 weeks prior to your visit. These protocols may be subject to change. 
November 30 - December 5, 2021
One Miami Herald Plaza, Downtown Miami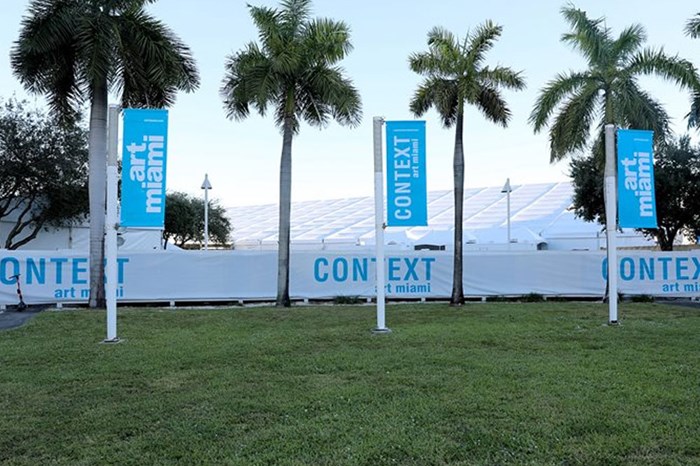 CONTEXT Art Miami, Art Miami's smaller sister fair project, will present its ninth edition adjacent to Art Miami on the waterfront overlooking Biscayne Bay at One Miami Herald Plaza in Downtown Miami. On November 30, special VIP and Press previews will give serious collectors a chance to acquire important works before the general public descends on the fair the following day. 
CONTEXT Art Miami is committed to pushing the existing boundaries of the conversation on contemporary art, featuring an array of international galleries representing emerging, mid-career, and world-renowned artists, and providing exceptional opportunities for collectors to view and acquire fresh new works. CONTEXT Art Miami visitors will be required to observe the same Covid safety protocols as those required at the entrance to Art Miami.
November 30 - December 5, 2021
The Penthouse Riverside Wharf
400 SW 2nd Avenue, Downtown - Brickell Area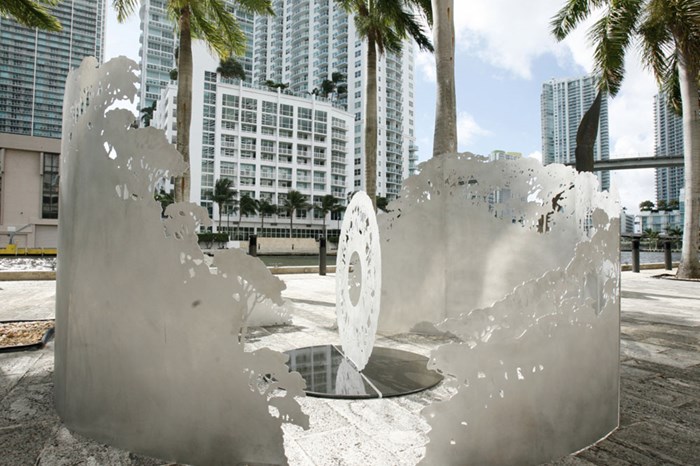 The 10th edition of the Miami River Art Fair will be hosted at The Penthouse Riverside Wharf, an expansive rooftop venue with 360-degree views of the Miami skyline and 11,000 square feet of indoor/outdoor exhibition space overlooking the Miami River. This unique fair emphasizes a whimsical and site-based curatorial approach that makes it stand out among the other fairs.
Created to support the revitalization of the Lower Miami River, the Miami River Art Fair will present an array of programming and events designed to call attention to the Riverfront as one of Miami's newest tourist areas. Expected to attract tourism to the Downtown Miami and Brickell areas, the Miami River Art Fair is working in partnership with the City of Miami and the Miami River Commission to enhance the revitalization efforts currently underway in this rapidly growing area.
December 1 - 4, 2021
Ice Palace Studios
1400 North Miami Avenue, Downtown Miami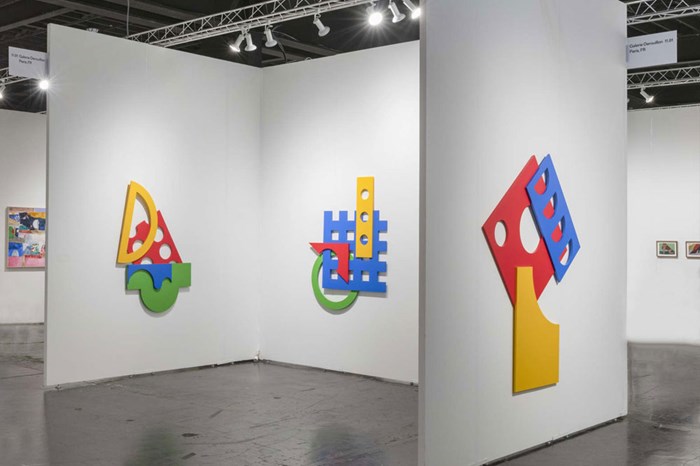 Galerie Derouillon - NADA Miami 2019 - Galerie Derouillon, Art contemporain Paris

Another of our favorite yearly art fairs, the New Art Dealers Alliance (NADA) will present the 19th edition of NADA Miami from December 1-4 at the Ice Palace Studios, one of the preferred venues used during Miami Art Week. NADA Miami will bring over 170 exhibitors organized into three sections: International Galleries will feature exhibitors from around the world; NADA Projects will present fresh new works by emerging artists; and Artists' Book Publishers, the fair's newest addition, presented in collaboration with Printed Matter and Miami's Exile Books.
This new section will feature exhibitors presenting new books and publications, in addition to rare and historical publications spanning diverse subjects, and accessible approaches to DIY bookmaking and artists' books. Onsite presentations will be complemented by a series of free online programs.
December 1 - 5, 2021
31 NE 14th Street, Downtown Miami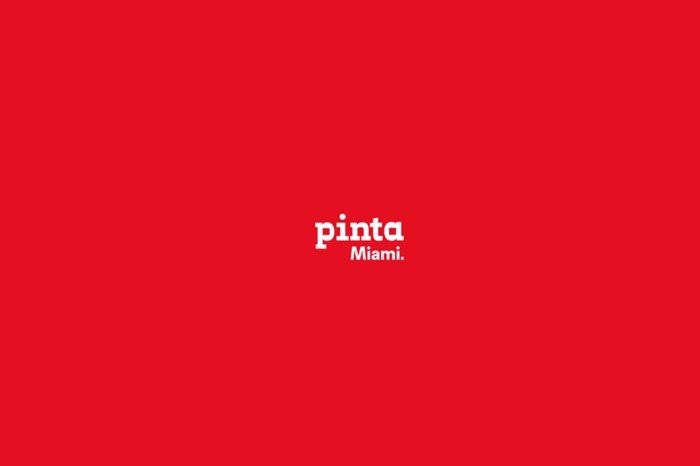 PINTA Miami is one of Miami Art Week's most celebrated fairs and specializes in Latin American art. Its 15th edition will feature four distinct sections. The General section features over 100 exhibitors from Latin America, Europe and the U.S.  The Solo Project section features individual projects curated by Roc Laseca and Luis Fumero, and the PINTA Photo section features a diverse collection of vintage and contemporary photography. The fourth section focuses on education using a fresh, new form of public engagement that features installations and performances on themes spanning the history of modern art. The fair will also feature a digital platform with virtual gallery tours, YouTube videos, and free access to curatorial content designed to stimulate continued interest in artistic production from Latin American artists and expanding international visibility for these artists.
December 1 - 5, 2021
Mana Wynwood Convention Center
2217 NW 5th Avenue at NW 22nd Street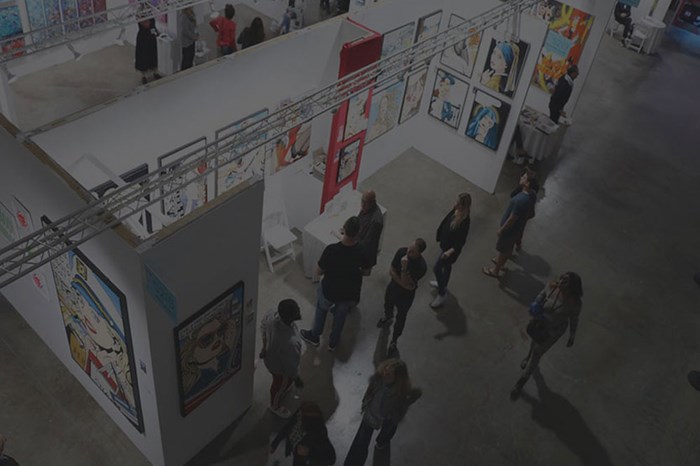 Red Dot Miami is a small fair curated by a local gallery that features exhibitions of paintings, sculpture, photography, and secondary-market works presented by 75 of the world's top art galleries, along with special Miami Art Week programming, such as site-specific installations and special events that include Art-Labs, Art Talks and Spotlight Galleries. 
Red Dot Miami will take place at the versatile Mana Wynwood Convention Center right in the heart of the art mix in Wynwood, alongside its sister fair Spectrum Miami. A dynamic local player that has long nurtured emerging and local talent, Red Dot provides collectors and curators with unique opportunities to connect directly with blue-chip galleries as well as emerging artists in one location.
December 1 - 5, 2021
Mana Wynwood
2217 NW 5th Avenue at NW 22nd Street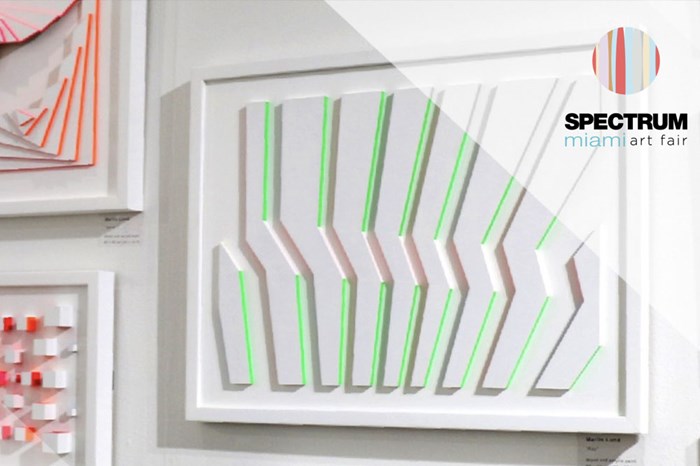 Spectrum Miami, Red Dot's sister fair, will feature a diverse array of work across all media by over 150 artists, studios, and emerging international galleries that are expanding the boundaries of contemporary artistic expression, impacting the international art world in fresh and meaningful ways.
If you're looking for newer artists, Spectrum Miami provides visitors and collectors with the unique opportunity to meet and talk to artists directly, learn about their lives and work, and purchase unique works of art, as well as connect directly with nationally renowned galleries and curators.


---
Miami Art Week Special Events at Local Art Venues
---


Bass Museum - Photography by Zachary Balber

In addition to the art fairs, Miami Art Week activates venues and art organizations across the entire city, many of which curate special exhibitions, present special programs, or sponsor pop-up exhibitions and events around the city. Below are some of the top venues that have confirmed in-person and/or virtual programming during Miami Art Week. Check each venue's website for updates on their scheduled programming, such as Miami Art Week breakfasts, and other special events.
---

Learn more about Miami's best art galleries and artist collectives here.
Share your thoughts with us
Sign up now
Get news and updates delivered to your inbox