The 5 Most Luxurious Condos in Brickell, Miami
Sep 27, 2022 September 27, 2022
Brickell. No one really needs to say more. It is known around the world as the place where Miami's business gets done. Its where international stars live amongst executives from the tech and VC worlds, and at the crossroads of the United States, Europe, and Latin America. So, it doesn't come as a huge surprise that the neighborhood is home to some of the finest residences catering to a wide array of residents, spanning from globetrotting professionals to star entertainers, to business moguls plus their families. 
If you're curious about the kind of luxury residences available for such global citizens, we've ranked the 5 most luxurious condo buildings in Brickell for 2022 below.
This article was last updated on Sep 25, 2022.


---
Why Choose to Live in Brickell?
---

First, you may be wondering what does the Brickell neighborhood of Miami have to offer? Not only is Brickell the second-largest banking hub in the United States, but it's also home to several international consulates, banks, businesses, and a majority of the offices in Miami - likely putting you closer to your work.
Brickell is also considered the international financial gateway to Latin America, as well as some of Europe, including Spain. Many national and international companies have recently moved or established their U.S. headquarters in the Brickell Financial District - rightly earning it the moniker "Manhattan of the South."
In the past year or so, Brickell has become the darling of major tech and VC companies, as dozens have either relocated to Miami or established new offices. This means if you like to walk to work or live very near where you work, as well as network, this is the neighborhood for you.
Brickell is also serviced by all major public transportation systems in the city, giving it one of the highest transit scores of 98. It further ranks second on our most walkable neighborhoods in Miami study, with a near-perfect walkscore of 98, meaning most hotspots and conveniences can easily be reached on foot. 
Over the past decade, Brickell has also evolved from being an average business neighborhood to an exciting and luxurious shopping, dining and leisure destination, thanks to the addition of the Brickell City Centre outdoor, luxury shopping mall, plus South Miami Avenue's collection of high-end retail, restaurants, bars, and lounges. Even the schools in this bayside, coastal neighborhood are above average – making it a true live-work-play destination for individuals and families alike.
So the question then remains, where do you want to live if you move to Brickell? What are some of the best condo buildings and high-rise towers in Brickell? There are many options to choose from. But if you're interested to the know what the best of the best condo buildings in Brickell are, read on for our ranked list of the most expensive and luxurious condo towers, based on the price per square foot at the time of this publication.
 
---
The Most Luxurious Condos in Brickell
---

5. Jade Brickell
 – 1331 Brickell Bay Drive, Brickell
Average List Price: $1,199 per square foot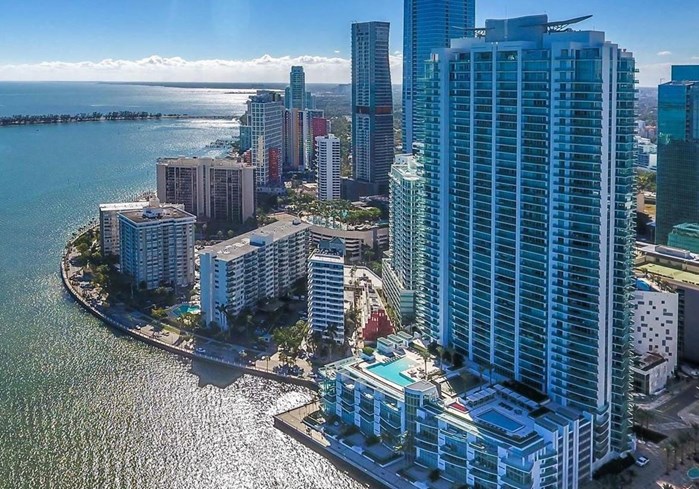 Perched on a gorgeous stretch of Brickell's waterfront, this sophisticated tower features 341 remarkably crafted luxury condos up to 6,000 square feet across its 48 stories, as well as bay-facing townhouses. Designed by Revuelta Vega Leon Architects, the bayfront tower boasts sublime oriental touches throughout its common spaces. 
Built in 2006, the resort-style amenities available at Jade include smart home capabilities, a 31,200 square foot resort deck with lap pool, a European-style resort spa, a bayview fitness center, rooftop residents' lounge with observation deck and media room,on-site restaurant, racquetball court,  business center, and much more.


4. Santa Maria – 1643 Brickell Avenue, Brickell
Average List Price: $1,229 per square foot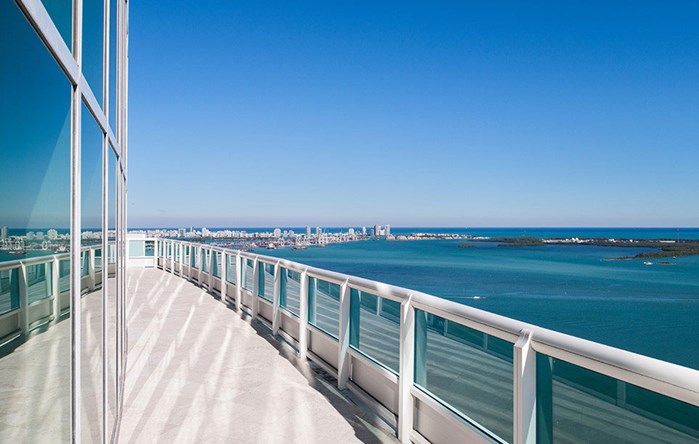 Set on a premium and historic plot of Brickell's waterfront, the Santa Maria has long been one of Brickell's most exclusive and luxurious condos. Built in 1997, the classically designed tower rises 51 stories and houses 174 luxury condos. This gated community offers residents access to an exclusive 6000 sq. ft., historic Spanish revival waterfront mansion remodeled into the clubhouse, lighted tennis court, gazebo and cabana area, cascading waterfalls, tropical gardens, spa with stunning views, infinity pool deck, and marina. This is a true favorite among families and those seeking a little less hustle and bustle, as it is located on the tree-line "old Brickell avenue" on the southern, more residential part of the neighborhood.


3. Brickell Flatiron - 1000 Brickell Plaza, Brickell
Average List Price: $1,590 per square foot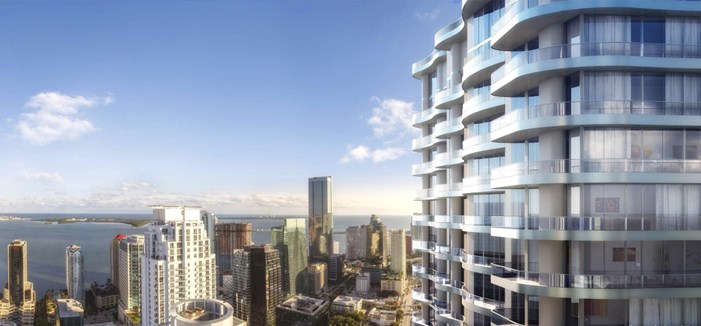 This soaring 64-story tower has been envisioned by Luis Revuelta to be a true architectural gem in the Brickell skyline. Over 500 condo units come tastefully crafted by Italian interior designer Massimo Iosa Ghini, known for blending sinuous elements with bold textures, to offer fluid living spaces matching its sweeping glass exposures. And its location is right in the heart of Brickell's energy.
Its hospitality inspired amenities include a fully-attended sky pool with juice bar overlooking the city and Bay, sky gym and spa, rooftop garden, outdoor lap pool, children's playroom, and pool, ground-level retail, restaurants and cafés, residents' lounge, plush theater, clubroom for private events and much more.
If you want to see more about Brickell Flatiron and few of Brickell's other top condos, watch this video.
Average List Price: $1,714 per square foot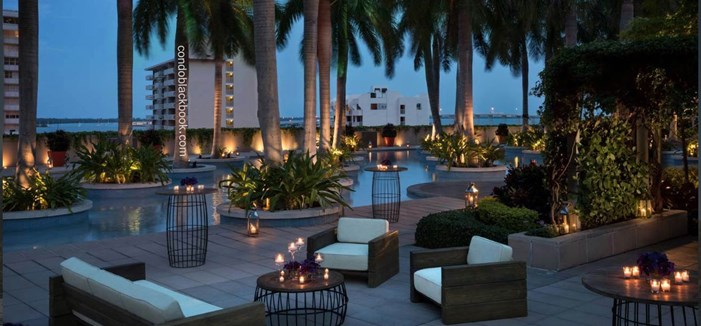 The Four Seasons brand is eponymous with luxury, and this condo-hotel is no exception. This 70-story high-rise features 84 condo-hotel units, 186 luxury residences, along with 230,000 sq. ft. of Class-A office space, a hotel component and 10,600 sq. ft. of retail space - all built to deliver world-class luxury in the heart of Brickell. 
Besides calling the Four Seasons home, amenities here include a two-acre pool deck complete with two resident-exclusive pools, sun decks, cabanas, a watery grove, a Bahia Bar, two top-ranked restaurants, including Edge Steak + Bar, and an owner's lounge. Residents also get preferred access to a 50,000 sq. ft. Equinox-powered sports club and other 5-star facilities offered by the hotel side.


---
And the Winner of the Best Condo in Brickell in Terms of Luxury Goes To…
---

1. Echo Brickell – 1451 Brickell Avenue, Brickell
Average List Price: $1,975 per square foot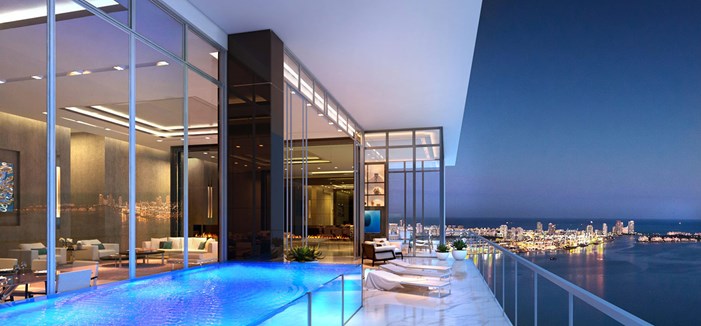 This Bayfront high-rise features 57 stories and 180 premier luxury condos with interiors styled by famed Uruguayan architect Carlos Ott. A home where tech meets opulence, its fine contemporary interiors, designed by Miami's Antrobus + Ramirez, open up to breathtaking water views and come equipped with the best-in-class technology for a truly world-class experience. Meanwhile, its sleek all-glass exterior creates a gem of a tower on Miami's skyline on the southern end of Brickell Avenue.
Built in 2017, amenities in this artistically designed skyscraper include a full-floor vanishing-edge pool and deck overlooking Biscayne Bay and Downtown, resort-style poolside services, a 2,800 sq. ft. fitness center and spa overlooking the pool, bay, and city, along with exceptional concierge services.
If you'd like more information on any of these or other luxury Brickell condos, please email us anytime or call (786) 697-7667

.
---
Premium Pre-Construction Condos in Brickell
---

Una – 175 SE 25th Road
Average List Price: $2,038 per square foot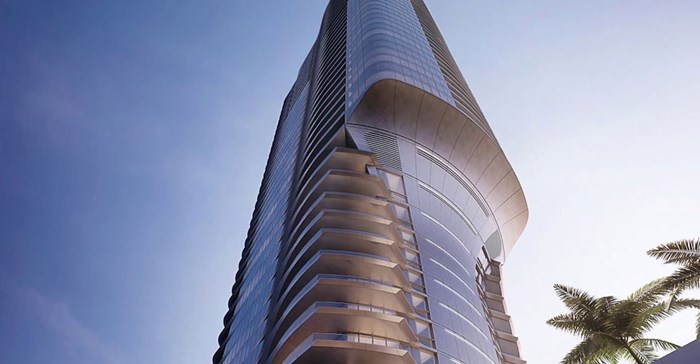 Still under construction, this iconic, yacht-inspired tower designed by Adrian Smith + Gordon Gill Architecture will have 135 luxury condos spread across 45 stories, making for an exclusive, boutique feel. Sitting on the edge of Biscayne Bay with views of Key Biscayne and beyond, amenities at this dog-friendly building will include an outdoor lap pool, a bayfront pool, family pool, jacuzzi, kids' splash pad and play area, elegant residents' lounge, private dining/party room, outdoor lounge/bar, landscaped outdoor terraces, movie theater, spa, private marina and exclusive access to the Grand Bay Club in Key Biscayne.
Average Listing Price: N/A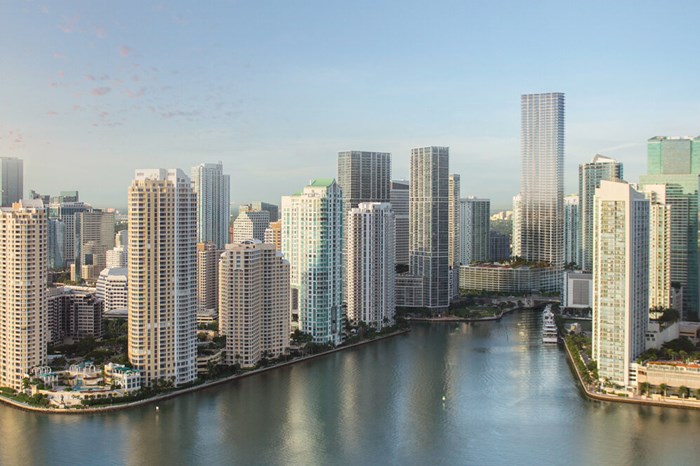 From the Related Group and the house of French luxury crystal maker - Baccarat - this riverfront complex will be home to 3 statement towers designed by Miami's award-winning architecture firm, Arquitectonica. Rising 57, 77, and 82 stories high, this set of luxurious towers is designed to emulate undulating waves, accented by a shimmering glass facade reminiscent of French crystals and is said to be Related Group's most luxurious project to date. 
The Baccarat Hotel and Residences will feature interiors by Meyer Davis Interior Design and landscaping by Enzo Enea. Along with bold yet striking interior details, residents will gain access to a lifestyle infused with glamour and limitless luxury. Lavish amenities at this stunning complex will include a museum-quality art collection, resort deck with zero-entry saline swimming pool and cabanas, a separate kids' pool, game room, glamorous Grand Salon for events, five-star spa services, a gourmet market, signature riverfront restaurant, private boat slips, a pet spa, access to the riverfront promenade, electric vehicle charging stations, and much more.

Average List Price: N/A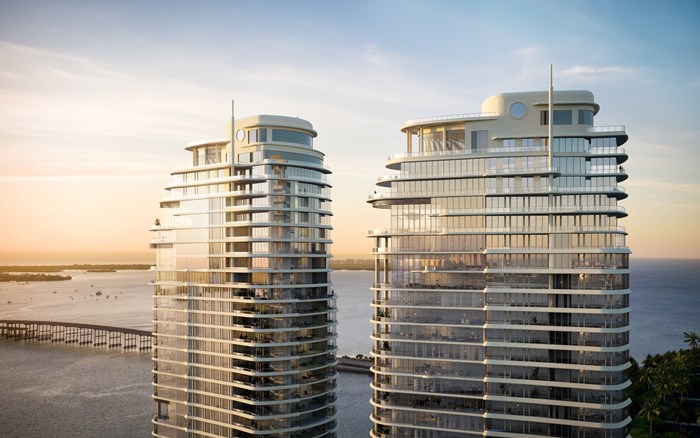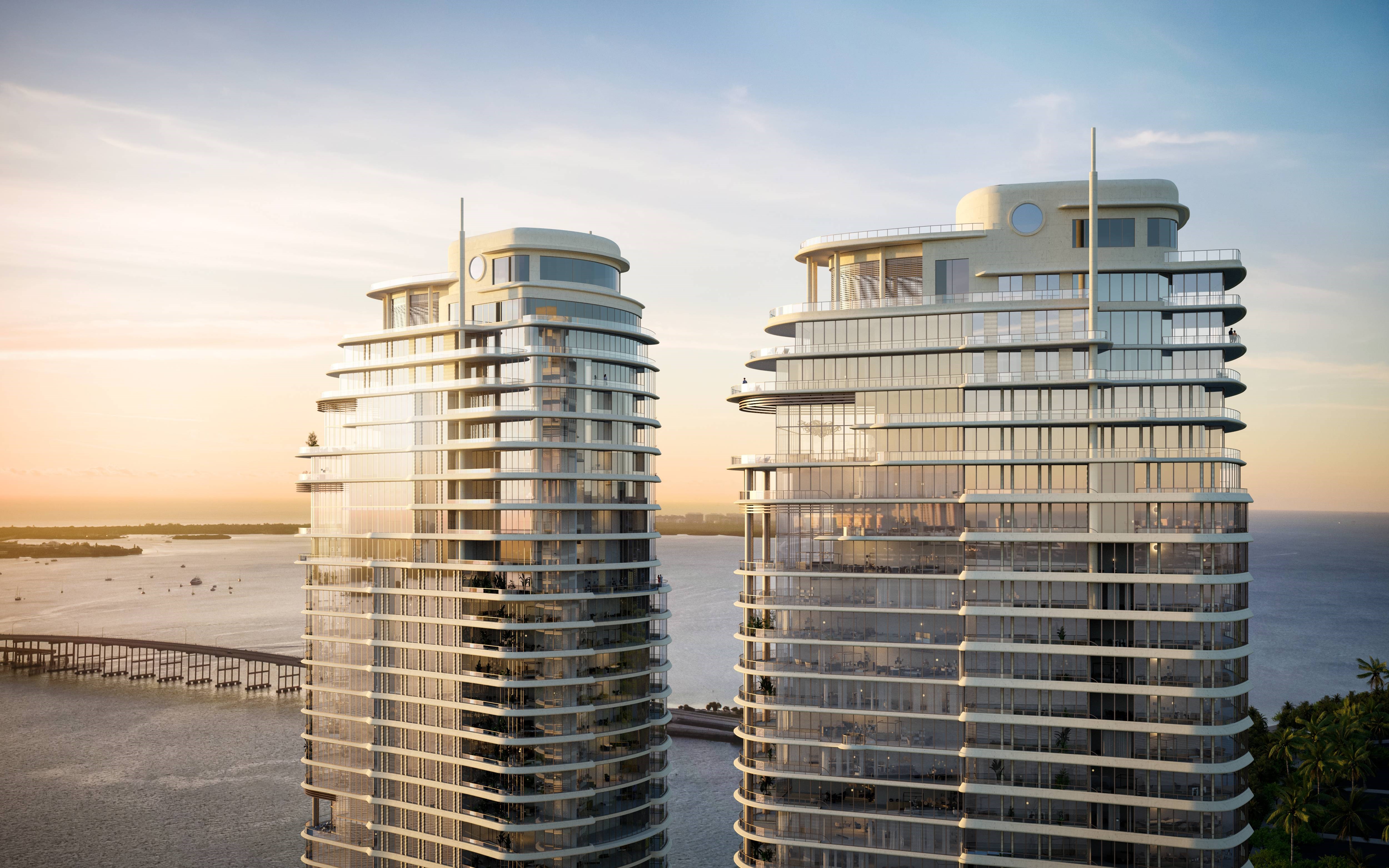 Bringing the legacy of New York-style hospitality to Miami's bayfront, The St. Regis Residences Brickell will be a pair of two distinguished high-rises. Designed by New York's celebrated Robert A.M. Stern Architects and with interiors by New York's award-winning Rockwell Group, the bayfront towers will bear the signature NYC elegance and glamour these design houses are known for. 
Split into an east and west towers, with 149 and 203 luxury residences respectively, residents will enjoy coming home to utmost privacy and service, yet without any hotel hotel component on site. Amenities at this stunning pair of waterfront towers will include the brand's iconic Tea Room, signature cognac room, butler services, a private marina, exclusive beach club, resort-style pool deck with poolside bar, holistic wellness center with salt spa room, fine dining restaurant, children's entertainment room, teen video game lounge, programmable golf simulator, business center with café, global membership privileges by St. Regis, and more.

888 - 888 Brickell Avenue
Average List Price: N/A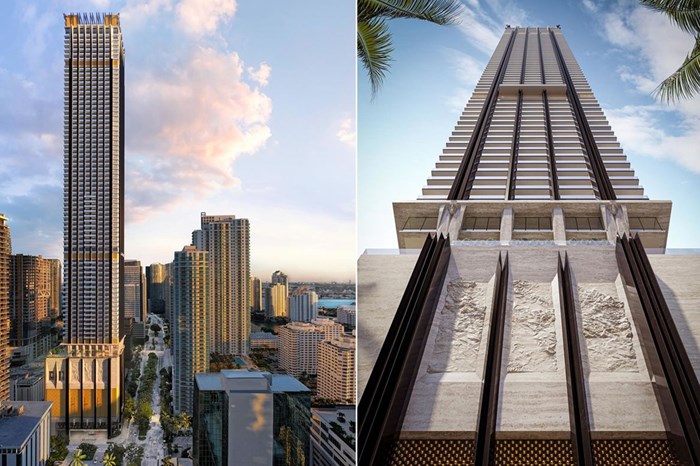 Planning to give Brickell its first supertall at 1,049 feet, grandeur will make up the core of 888. Designed by Studio Sofield & ODP Architects, this ultra-luxury skyscraper will be unlike anything in Miami - featuring Gatsby-style energy and exuberance with its monolithic travertine slabs and Italian Futurism sculptures surrounding the crown jewel.
Rising 82 stories with 259 luxury condos, each fully-furnished residence will come outfitted custom kitchens and bathrooms by Studio Sofield plus a host of other high-end finishes. Expected amenities include Miami's first-ever silver and gold pool, three floors dedicated to sports and wellness, 5,000 square feet of event space, multiple restaurant concepts, a cigar room, custom building app, and more.


---
How Safe is Brickell?
---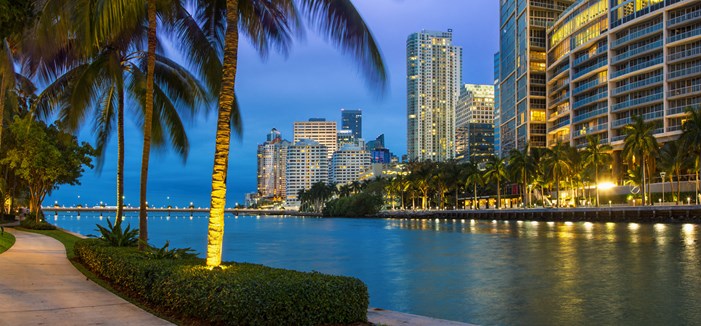 Brickell ranks No. 1 on the "Best Neighborhoods for Young Professionals in Miami-Dade 2022", "Best Places to Live in the Miami Area 2022", and No. 3 on the "Best Places to Raise a Family in Miami-Dade 2022" surveys conducted by niche.com, which goes on to show the popularity and ease of living in this financial hotspot of South Florida.
Being the business hub of Miami, most office and residential buildings in Brickell have strict security systems in place, and many cameras positioned on buildings and traffic lights, and many establishments are open late, so there is usually a high level of pedestrian activity. However, some crimes do take place in this financial neighborhood, like any high-density urban neighborhood.


---
Best Restaurants in Brickell
---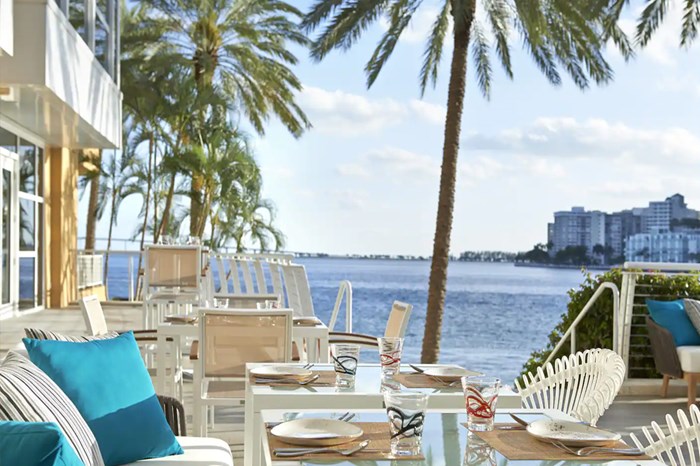 La Mar
by the world-renowned Gaston Acurio

The dining scene in Brickell is a melting pot for global fare served at a variety of restaurants, cafés, bakeries, bars, and lounges. There are tons of places to eat in this business district, and we've shortlisted the highest rated below:
---
Shopping in Brickell
---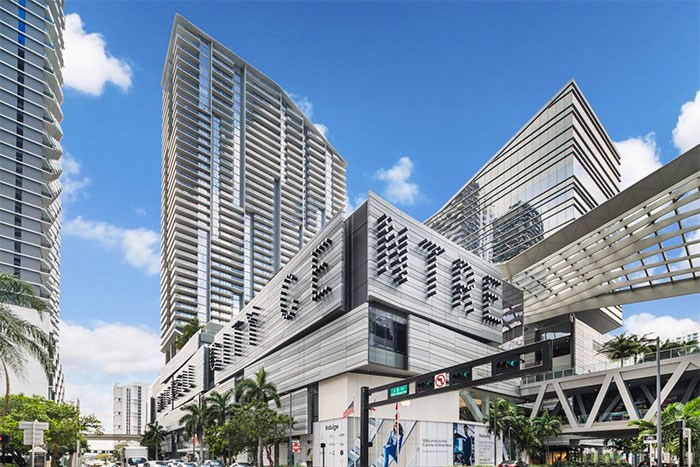 The shopping scene in Brickell got a real boost since the Brickell City Centre opened its doors in 2016. Ever since, residents have had access to over 120 major luxury shops and eateries, including a Saks Fifth Avenue, Bally, Coach, Tumi, Intermix, Pinko, Giuseppe Zanotti, Zara, Swarovski, Victoria's Secret, Rolex, an Apple flagship store, CMX cinema, an Italian food hall and much more. The down-to-earth Village Portico has offered affordable shopping and dining options since forever. Not to forget, a part of the iconic Shops at Mary Brickell Village was recently sold, getting us excited about future possibilities.
There is no dearth of convenience stores in this business district either. Residents will find three Publix supermarkets – one at Brickell Village, another in the Shops at Mary Brickell Village, and another on SW 3rd Avenue, while the Downtown Wholefoods is just over the Brickell bridge. The Walgreens in the neighborhood is situated at SW 13th Street. Also, the two Starbucks are located in the Shops at Mary Brickell Village and The Bond condo building, each, along with more than a handful of great boutique coffee shops.


---
The Best Located Condo in Brickell
---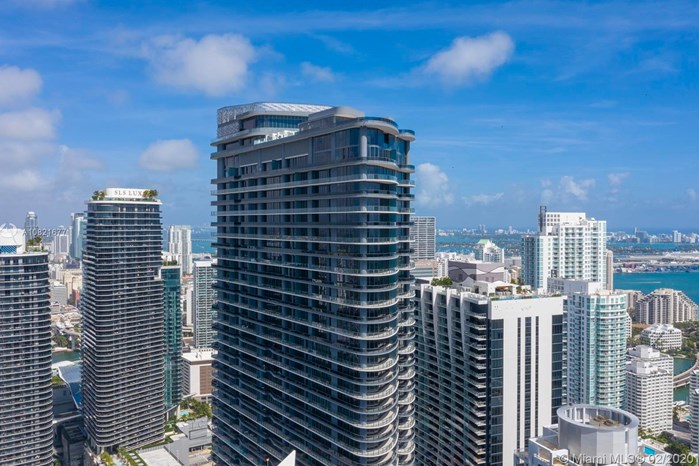 The Brickell Flatiron has to be the best-located condo in Brickell, since it is next door to the Shops at Mary Brickell as well as a couple of blocks away from the Brickell City Centre megamall. Located on South Miami Avenue, residents have access to loads of retail options, restaurants, bars, entertainment venues, and conveniences. Further, its proximity to the Tenth Street Promenade Metromover Station, Brickell Plaza, and US-1/Brickell Avenue makes it easier to get in and out of the neighborhood.





Want more details on these and a complete list of the luxury condos available for sale in Brickell? We'll be more than happy to help you find the best luxuries in Miami for your budget.
Share your thoughts with us
Sign up now
Get news and updates delivered to your inbox