Miami's Most Green Condo Buildings
Jan 13, 2020 January 13, 2020
You recycle, you love nature, and you care for the environment. And maybe you're lucky enough to call Miami's beautiful beaches and the landscapes that make up South Florida home. Indeed, being able to do your part, even in the slightest of ways, can be quite gratifying. So why not live it?! 
Living in an eco-friendly residence is one of the top priorities of an eco-conscious lifestyle. So how can you tell if a condo is green? By investing in or buying a green, LEED-certified condo, you'll be helping the environment by owning a home that's built on a sustainable site, uses recycled and sustainable products, saves water and energy, and promotes environmental conservation.


First, what's LEED certification?
LEED (Leadership in Energy and Environmental Design) has become the world's most popular green building rating system. Led by the non-profit U.S Green Building Council, the voluntary program rates a building's design and construction to use fewer resources, reduce negative impacts on the environment, decrease lifecycle costs, and maximize residents' health and wellbeing. 
LEED uses a simple 110-point system based on factors like energy efficiency, water usage, indoor-outdoor air quality, choice of building materials, emissions, responsible land use, and/or access to public transportation systems. Based on these points, LEED certifications are Platinum (80 or more points), Gold (60-79 points), Silver (50-59 points), and basic (40-49 points). 
As a resident of a Miami LEED-certified building, it means you come home to a healthier living space, automatically use fewer energy and water resources, save on energy costs, and have better buyer/tenant appeal for living in an environmentally responsible residence without missing out on all of Miami's luxury. So, want to know Miami's greenest condo buildings? Read on.
Miami's Greenest Condo Buildings
What are Miami's LEED Gold Certified Condo Buildings?


68 SE 6th Street, 
Brickell
LEED Score: 64

What makes it a green condo?
Miami's Reach Brickell City Center and its sister tower Rise (see below) are Miami's greenest condo buildings, scoring a Gold certification. The design team at Arquitectonica went the extra mile to protect and restore the building's natural surroundings, and also created beautiful, open green spaces. Residents can feel proud that the project uses recycled contents, regionally available materials, and certified wood only. It also scores for water efficiency with a 40% reduction in usage and measures to preserve the purity of the natural water bed.  
Amenities at Reach Brickell City Center: In addition to an eco-friendly home, residents have lush, tropical gardens, a hammam spa with dipping pools, outdoor fitness areas, multiple swimming pools with poolside beverage and café service, library with private seating nooks, tech-savvy children's playroom, on-site hair salon, bicycle storage, and more.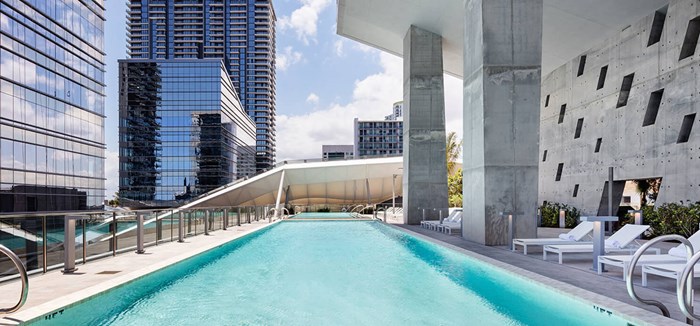 88 SW 7th Street, 
Brickell
LEED Score: 64

What makes it a green condo?
Twinning on the ratings achieved by its sister tower, Rise shares the same level of eco-friendliness as Reach, but with an almost one-acre amenity deck. Arquitectonica used the same guidelines and standards to replicate the Gold rating on this 43-story luxury tower. 
Like Reach, Rise residents can also breathe easy knowing that the building has superior indoor air quality, ventilation systems and the most emission friendly construction products (paints, agrifiber products, etc.). The forward-thinking project is ozone-friendly, reducing its impact on climate change. Both towers also scored extra "sustainable sites" points because they're so close to public transportation systems like Miami's Metromover and Metrobus. 
Amenities at Rise Brickell City Center: Again, Rise boasts of the same ultra-luxury amenities offered by Reach (see above), plus a sophisticated tea lounge and business center.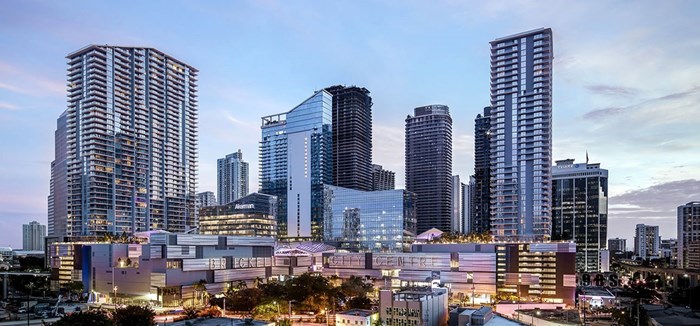 LEED Score: 60

What makes it a green condo?
Grove at Grand Bay's design partners, the Bjarke Ingels Group and Nichols, Brosch, Wrust, Wolfe + Associates, restored and protected the building's lush natural environment and added extensive landscaping creating a park-like feel of greenery. Grove at Grand Bay was built with high-end, recycled products and regionally available materials, along with resourcefully managing construction waste. 
On the energy front, residents can boast that their building saves on energy, but also 35% of its power is met from renewable energy sources. The 96-unit condo complex is also designed to deliver at least 40% water savings. Inside the dancing twin towers, air quality is top notch, since low-emitting paints, coats, adhesives, etc. have been used throughout. Not to mention, its proximity to public transportation options and on-site bicycle storage facilities encourage residents to reduce their use of carbon-emitting automobiles (read personal cars).
Amenities at the Grove at Grand Bay: These environment-friendly, ultra-luxury condos also offer an array of white-glove services including a rooftop swimming pool, summer kitchen with private chef, exclusive butler service, and pet spa among others.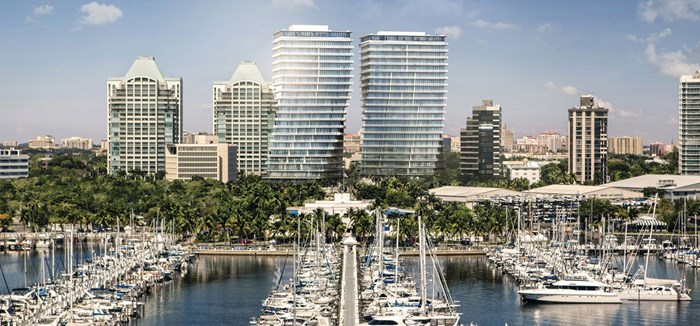 What are Miami's LEED Silver Certified Condo Buildings?


1010 SW 2nd Ave., 
Brickell
LEED Score: 53

What makes it a green condo?
Silver LEED-certified, like the other green condo buildings, Brickell Ten's design team consisting of BC Architects and the famed Adriana Hoyos sourced regional materials, used recycled contents, and maximized open spaces for enhanced green space. The team also made sure to use low-emitting paints and coatings for better indoor air quality.
Living in this 22-story building will save you a commendable 24% in energy costs compared to regular condos. It's also designed to emit low to no ozone-depleting refrigerants, significantly reducing its contribution to climate change. Using water-saving strategies, the 155-unit building reduces its overall water consumption by 40%. And with its fabulous location, residents have easy access to public transportation systems such as the Metromover, Metrobus, and even Tri-rail.
Amenities at Brickell Ten: In addition to an environment-friendly home, residents have a rooftop sunset terrace with lounge areas, Skyview gym, spa tub, reflecting pool and social bar, as well as a lanai level indoor-outdoor social club with BBQ area, recreational room, billiards room, open lawn, kids' play area, and more.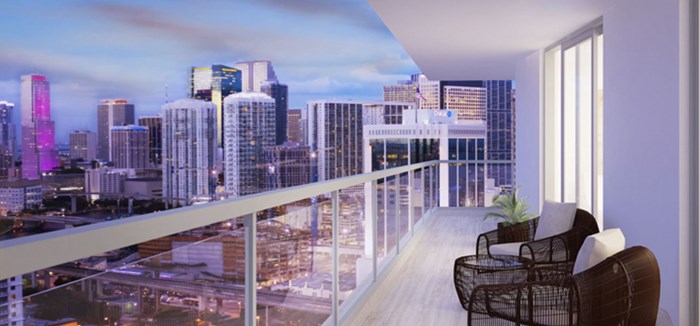 LEED Score: 52

What makes it a green condo?
Biscayne Beach gets points as a "sustainable site" for reusing and redeveloping land that was previously brownfield, as well as its excellent public transit options and adequate parking. The team of WHLS Architects and celebrity designer Thom Filicia found luxury, regionally sourced materials, reduced water usage throughout by 35%, and selected only low-emitting adhesives, paints, flooring systems, composite wood, etc., making for healthier indoor air quality.
Residents can delight in that the 399-unit tower is built to deliver 16% cost savings in consumption and power 35% of its electricity needs from renewable sources. With low to no ozone-depleting emissions and maximized open spaces for enhanced green cover, this luxury high-rise is as eco-conscious as it is amenity-rich.
Amenities at Biscayne Beach: This eco-friendly, luxury bayfront tower features a stellar beach club with six private pools, cabanas, a bar, water sport facilities, fire pit, beach volleyball court, and outdoor event space. Furthermore, residents get access to a high-end restaurant, owner's club with spa and fitness center, art gallery, beauty salon, two tennis courts, basketball court, entertainment room, tot/teen room, and more.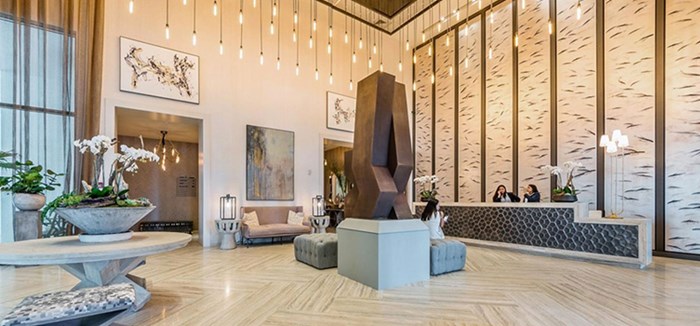 LEED Score: 51

What makes it a green condo?
For Silver LEED-certified 1 Hotel and Homes, one of the biggest feats achieved by the design team of Meyer Davis Studio is that they were able to reuse 75% of the 1970s building's walls, floors, and roof. The team also managed to maintain almost 50% of its nonstructural elements such as interior walls, doors, ceiling systems, etc. This helped reduce a ton of construction waste, as well as conserve resources.
On the energy front, this 16-story condo-hotel provides 12-16% cost savings in its energy consumption. Residents can also look forward to a 35% reduction in water consumption due to the property's inherent efficiency. The design team has further made sure that the building's refrigerant emissions bear zero to no impact on the ozone layer, and indoor plants and greenery abound.
Outdoors, if you've been to 1 Hotel and Homes, it's an oasis on the beach -- tons of greenery and private open spaces. Plus, public transportation is at your doorstep.
Amenities at 1 Hotel and Homes: This green hotel-condo offers a range of stellar resort amenities such as four swimming pools, a rooftop restaurant-bar, a full-service spa and fitness center, signature natural food restaurant by star Chef Tom Colicchio, eco-friendly housekeeping and linen services, catering with private chef, private beach club, and much more.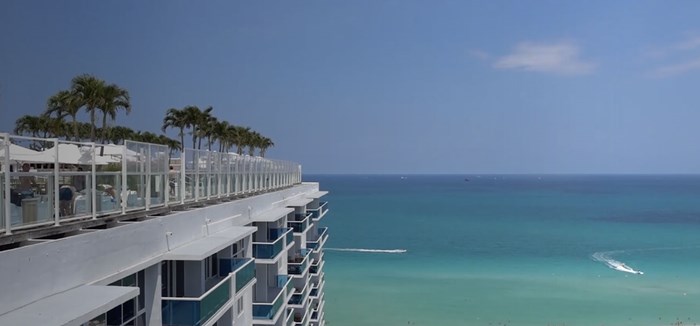 321 NE 26th Street, 
Edgewater
LEED Score: 50

What makes it a green condo?
A boutique, Miami condo, 26 Edgewater is only 10 stories tall. So to be Silver LEED-certified shows the environmental commitment of the team of Modus Architects and Epicoutu Design.  Residents and the environment benefit from using 35% less water, 35% of building's electricity needs are from renewable energy sources, and the building's emissions are not harmful to the ozone.
Another major plus for this 86-unit midrise is that the design team used regionally sourced materials, recycled contents, and certified wood (that's just better for forests) throughout, and also uses low-emitting adhesives, paints, coats, and such for better indoor air quality.  
Green space is plentiful and residents can bike or take public transportation with ease. 
Amenities at 26 Edgewater: Besides living in an environment-friendly building, residents get access to 10,000 sq. ft. of ground-level retail along with a 5,500 sq. ft. rooftop amenity deck inclusive of a 50-foot long swimming pool, sundeck, private lounge, catering kitchen, and fitness center.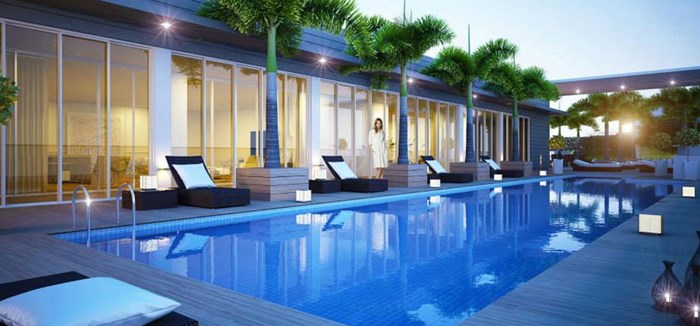 ---

If you're looking to be the proud owner of a green condo in Miami, call (786) 930-4220 or email contact@condoblackbook.com and an expert will be glad to help.
For in-depth details on the ratings and scorecards used in this blog, visit the official USGBC site here.
Share your thoughts with us
Sign up now
Get news and updates delivered to your inbox