Guide to Buying a Condo Hotel (Condotel) in Miami - FAQs and More
Jan 02, 2019 January 02, 2019
Miami has been the playground of choice for beach lovers, party goers and tourists in general for ages. The constant demand from people wanting to live and play here makes Miami a natural pick for the concept of condo hotels. Almost every major hospitality brand out there either has one or is in the process of putting a new condo hotel in the city. But, what is a condo hotel? What makes it a good investment? Why would anyone choose a condo hotel over a traditional condo or a timeshare? Find answers to such frequently asked questions and more below in our complete guide to buying a condo hotel in Miami. For a list of condo hotels in Miami and Miami Beach, please CLICK HERE.
Quick Links
What is a Condo Hotel and How Does it Work?
Condo hotels are typically high-rises operated by hotel brands. These are generally built close to popular vacation destinations. The condo-hotel units are reserved for sale to individuals who would like to own them as a second home or vacation property, and owners then have the option to place their condo in the hotel's rental program to earn a revenue while they're away.
Perhaps the best part of buying a unit in a condo hotel is that the owner inherits all of the 5-star amenities, services and luxuries associated with the hotel brand. Typical amenities include signature spa services, fine dining, nightclubs, lounges, lavish pools, room service, concierge desk and housekeeping.
To the average guest, a condo hotel unit might seem no different than a regular hotel suite, but the key difference is that it is individually owned.
Condo Hotels: One Residence, Many Names
A condo hotel goes by many names. It is mostly known as a condominium hotel, hotel condo, and of course, condo hotel in the U.S. Internationally such residences are popularly known as condotels.
Advantages of Owning a Condo Hotel Vs. Traditional Vacation Condo
Before delving into the details of buying or owning a condo hotel, let's take a look at the various advantages a condotel owner gets by default:
Hassle-free vacation home with signature hotel amenities. One of the biggest attractions of buying a condo hotel suite as a vacation home is getting access to all the facilities of a full service resort. While housekeeping, room service and a concierge take care of things during your stay, the hotel team or an on-site management company can take over once you're away.
Hospitality-grade, professional managed rental program. Another great advantage of being part of a brand is that if you put your suite in the hotel's rental program, you have a professional team with years of sales and marketing experience in the hospitality sector working to your advantage. Not only does your suite get the advantage of a professionally managed marketing team, but also a multi-million-dollar global reservation system keeping your suite in the limelight and generating revenue all year long. This, of course, comes with the hotel getting a share of your revenue.
On the other hand, in case you decide not to use the hotel's rental program and prefer hiring a third-party management company to do an airbnb for example, you then get to keep a bigger share of the revenue while still enjoying all the leverages and benefits associated with the hotel's brand.
Income known to offset ownership expenses. Just like a regular vacation condo, a hotel condo too comes with its own set of expenses like monthly fees, maintenance and repairs, short term rental taxes, etc. However, with the hotel's rental program looking to generate a regular stream of income, many are able to offset the cost of ownership and even book profits on their suite.
Two-fold appreciation. Any kind of property is known to be an appreciable asset. One unique advantage to a condo hotel is that if the image of the hotel brand improves over time that can increase your property rental rates and possibly your property value. A pre construction condo hotel with a private club is also another great type of investment in Miami real estate.
Difference between a Timeshare and Condo Hotel
No joint ownership. Unlike a timeshare, wherein several owners get to use the same property as a vacation home, a hotel condo is individually owned.
No fixed time for vacation. Since you do not share ownership of your condotel suite, the concept of time sharing is also ruled out. In a timeshare, co-owners usually agree upon the amount of vacation time they can have on the property, which is typically the same 1-2 weeks a year. However, in a condo-hotel since you are the sole owner of your suite, you get to decide the number of days and times a year you could use your vacation condo (this, is of course, after due consultation with the hotel on blackout dates, if you are enrolled in the hotel rental program).
Easier to resell. The concept of sharing ownership and splitting time with others in itself can be a turn off for many buyers. However, since a condo hotel suite is individually owned, it is has a higher probability of appreciating over time and is easier to resell.
Is a Condo Hotel the Right Choice for Me?
If you answer yes to the following, then a condotel would be the right choice for you:
You only plan on using it as a vacation property
You only plan on visiting for a small percentage of the year
You like the idea of owning a slice of luxury in a world-class hotel brand
Earning rental income while not using it is a priority
Is Buying a Condo Hotel a Good Investment?
Just like any other investment vehicle, whether this turns out to be a smart pick or not actually depends on your needs and choices. Here are a few elements that impact your return on investment:
Not all hotel brands are built the same. Your revenue directly depends on your hotel condo's brand image and management. The stronger the brand value and management, the more you can expect to earn per night. This means it becomes extremely important to choose the right brand in accordance with your investment capability.
Revenue splits. If you chose to enroll in the hotel's rental program, keep in mind that you will be splitting revenues with the establishment. This means you could pocket anywhere between 35-60 percent of the earnings, depending on which condo-hotel you choose. However, a 35% cut from a well-established, high-end brand could end up giving you better annual returns than a 60% cut from a weaker brand.
Projected data limitations. Since developers are only allowed to sell condo hotels as real estate and not investments (according to the Securities and Exchange Commission), you will not be given any data on occupancy forecasts, proposed rates or expected rate of returns for pre-construction projects. However, existing properties can share historical data about earnings, which can give you a fair idea of what to expect.
No guarantees on occupancy rates or income. Again, since the SEC restricts sharing any kind of projected data, no realtor or developer will commit to any kind of income or rate estimates. Also, your condo hotel earnings will be just as vulnerable to economic or political climate change as the rest of the hospitality industry. So, the only thing one can do to safeguard their investment is to look into the checklist below and ensure a good buy.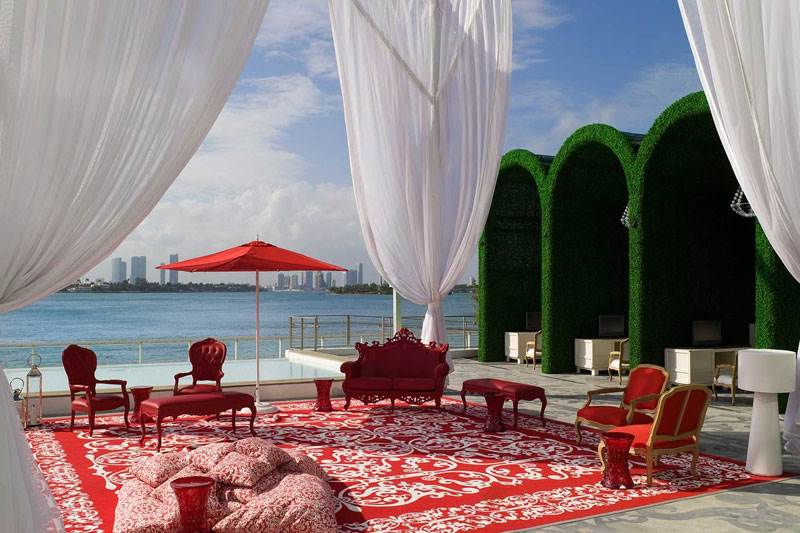 Mondrian - Photo credit: Ken Hayden Photography
How to Ensure your Condo Hotel is a Successful Buy?
Once you've decided that a condo hotel is the right choice for you, then do look into the following checklist to ensure that it turns out to be a smart buy as well:
Good location. Make sure your condo-hotel sits in or near a popular vacation destination or at least in a neighborhood frequented by tourists.
Strong brand. Brand value is one of the most basic things that will help ensure better marketing, higher occupancy rates and earnings per night.
Attractive amenities. What's a hotel without its amenities, right? Make sure that the amenities are at par with what you spend. After all, spending more than a million-dollars should fetch ultra-luxury amenities in a 5-star establishment.
Solid management. Even the most enticing amenities can turn lackluster without the proper care and maintenance. A solid management should make sure that your suite and the hotel is always in tip-top condition.
Survey around. Make sure you check out neighboring properties, condo hotels in different parts of the city, the unit itself (if it's ready), prices of similar condo hotels, etc. before taking a final call.
Read the fine print. Make sure you know about your association's fees and rules, any restrictions, details on the rental program, it's blackout dates and revenue splits. An informed decision is the best decision.
Ask a lot of questions, especially if it's your first. This is the only time you have to ask as many questions as you want and clear every doubt you may have. Once you sign the dotted line, there's little that can be done after.
Key Questions to Ask Before Buying A Condo Hotel
How does the hotel's rental program work?
Is it mandatory for you to participate in the hotel's rental program?
How are rental revenues split? What percentage do you get?
How long before you come to stay will you have to notify management?
Are there any blackout dates? (Blackout dates are generally peak vacation times or holidays when your suite is compulsorily blocked for renting out.)
Is there any restriction on the number of days you can stay/rent out your suite?
Will you have to stick to the check-in/check-out timing too?
Is your unit furnished? Is the current furniture in the unit acceptable if you want to place it in the hotel program?
Who will manage the property? (The hotel team and management team can be two separate entities.)
When are proceeds distributed?
How much access will you have to the hotel's amenities?
What are your voting rights and how much access will you have to property books and records?
What if a guest damages the furniture in your suite?
Can you use the hotel facilities even when not occupying your suite?
Who is responsible for paying the property tax on your suite?
Can the condo hotel be financed?
Staying in the Hotel's Rental Program Vs. Managing Without One
Joining the hotel's rental program
You have an experienced sales team, an expert in the field of hospitality, marketing your suite all year long.
The hotel's worldwide, multi-million-dollar reservation system is used to market, manage and track rentals. The outreach of such programs is usually immense.
Besides the hotel's brand image and marketing techniques, your suite will be listed on the website and sophisticated apps posted by the hotel, making your room more visible and accessible.
You will have to split a fixed percentage of the revenue with the hotel, which may or may not match your investment goals.
Blackout dates can be a concern, especially when you wish to spend major holidays or peak vacation weeks in your vacation suite.
Going solo (i.e. Airbnb)
You can either dedicate your extra time or hire a third party to manage your rentals. We'll be happy to advise you about some of the best property management companies in Miami to make your search easier.
You get to keep a lot more of your revenues. If you are not in the hotel rental program, you are typically not required to share your revenues with the hotel.
You or the company you hire need to be dedicated towards the proper marketing and management of your rentals to generate a steady flow of income.
You have full control over when you do and do not want to rent out your unit.
Typical Expenses for a Condo-Hotel Owner
Just like a regular condo, your condotel suite entails a monthly association fee that generally covers utilities such as gas, water, electricity, internet, cable TV; common area maintenance; reserves for furniture repair; accrual of future expenses such as room remodeling; management costs; building insurance; and other expenses generally covered by traditional condo fees.
Additionally, you will be responsible for paying insurance (there will be details in the official documents on specifics), real estate taxes and any other unique expenses detailed in the agreement with the hotel operator.
The hotel will be responsible for paying for its costs of operation such as salaries, marketing, reservation systems and other direct hotel expenses.
Can a Condo Hotel be Financed?
Yes, plenty of lenders are willing to finance condo hotel units nowadays. However, what's worth noting is that since banks perceive these units as an investment property rather than a residential property, loan rates and down payment requirements are generally higher. Another reason for higher rates is that lenders assume a greater risk of financing an investment property versus a primary residence, as in, they believe an individual is more likely to default on a payment for an investment residence as opposed to a permanent residence.
Alternatives to Condo-Hotels for Short Term Rentals
Some looking for condo-hotels ultimately simply want to have a vacation condo they can rent out whenever they are not using it. Many condos in Miami and Miami Beach allow for either daily, monthly or seasonal rentals, which can offer a practical alternative to condo-hotels.
To make it easier for you, we put together a list of condos in the Miami and Miami Beach area that allow short term rentals for you.
Conclusion
All in all, condo hotels are a great way to enjoy a fabulous property, located in some of the top tourist destinations of the world, powered by a world-renowned hospitality brand. It also works out to be a great investment opportunity, where the rental income mostly ends up covering regular expenses and still leaves room for profits.
Miami has a huge variety of condo hotels and we'll be more than happy to pair you with the best fit. Feel free to give us a call at 786-930-4220 or email us at contact@condoblackbook.com to help you with your search for the best condo hotel, or browse through below to get started.
A List of Condo Hotels in Miami
| | | | | | | | | | |
| --- | --- | --- | --- | --- | --- | --- | --- | --- | --- |
| Condo Name | Address | Neighborhood | City | Zip Code | Property Type | Rental Policy | Year built | Price Ranges | Area (sq ft) |
| 1 Hotel & Homes | 102 24th St | South Beach | Miami Beach | 33139 | Condo-Hotel | Daily, only hotel program | 2014 | $1,170,000 - $5,950,000 | 866-2,200 |
| 1818 Meridian House | 1818 Meridian Ave | South Beach | Miami Beach | 33139 | Condo-Hotel | | 1956 | $199,000-​$370,000 | 357-816 |
| ABAE (1215 on West) | 1215 West Ave | South Beach | Miami Beach | 33139 | Condo-Hotel | Daily, only hotel program | 2016 | 299,000-425,000 | 442-504 |
| Alden Hotel Condo | 2925 Indian Creek Dr | Mid-Beach | Miami Beach | 33140 | Condo-Hotel | | 2004 | 189,900-​189,900 | 288 |
| Bentley Beach Hilton | 101 Ocean Dr | South Beach | Miami Beach | 33139 | Condo-Hotel | Daily | 2004 | $665,000 - $1,090,000 | 515-640 |
| Boulan | 220 21st St | South Beach | Miami Beach | 33139 | Condo-Hotel | | 2010 | $769,000-​$769,000 | 1025 |
| Carillon Resort and Condo (Center Tower) | 6801 Collins Ave | North Beach | Miami Beach | 33141 | Condo-Hotel | Daily ok | 2010 | $425,000 - $1,950,000 | 662-1,285 |
| Carlyle Deco Hotel | 1250 Ocean Dr | South Beach | Miami Beach | 33139 | Condo-Hotel | Daily ok | 1941 | $749,999-$​772,500 | 1,046-1,387 |
| Casa Grande | 834 Ocean Dr | South Beach | Miami Beach | 33139 | Condo-Hotel | | 1923 | contact us | |
| Casablanca | 6345 Collins Ave | North Beach | Miami Beach | 33141 | Condo-Hotel | Daily ok | 1948 | $190,500 - $239,000 | 320-350 |
| Congress Hotel - Strand Condo | 1024-1060 Ocean Dr | South Beach | Miami Beach | 33139 | Condo-Hotel | No restrictions | 2005 | $379,000 - $720,000 | 451-729 |
| Conrad Mayfield | 1395 Brickell Ave | Brickell | Miami | 33131 | Condo-Hotel | | 2008 | $280,000 - $1,549,000 | 729-2,082 |
| David William | 700 Biltmore Way | Coral Gables | Coral Gables | 33134 | Condo-Hotel | | 1963 | $149,000 - $432,600 | 420-1,086 |
| Empire Condo | 750 Collins Ave | South Beach | Miami Beach | 33139 | Condo-Hotel | Daily | | contact us | |
| Faena Hotel Residences | 3201 Collins Ave | Mid-Beach | Miami Beach | 33140 | Condo-Hotel | Daily ok | | contact us | |
| Fontainebleau II Tresor | 4441 Collins Ave | Mid-Beach | Miami Beach | 33140 | Condo-Hotel | | 2008 | $669,000 - $3,200,000 | 491-1,557 |
| Fontainebleau III Sorrento | 4391 Collins Ave | Mid-Beach | Miami Beach | 33140 | Condo-Hotel | | 2008 | $632,000 - $7,900,000 | 521-3,300 |
| Fortune House | 185 Southeast 14th Terrace | Brickell | Miami | 33131 | Condo-Hotel | Daily ok | 1998 | $239,000 - $410,000 | 640-950 |
| Fountainebleau | 4441 Collins Ave | Mid Beach | Miami Beach | 33140 | Condo-Hotel | Daily? | 2008 | 669,000-​3,200,000 | 491-1,557 |
| Four Seasons Residences Brickell | 1435 Brickell Ave | Brickell | Miami | 33131 | Condo-Hotel | Daily ok | 2013 | 329,000-​25,000,000 | 611-8,803 |
| Icon Brickell III (W Miami) | 485 Brickell Ave | Brickell | Miami | 33131 | Condo-Hotel | No restrictions | 2011 | $345,000 - $780,000 | 495-1,459 |
| M Resort Residences | 18683 Collins Ave | Sunny Isles Beach | Sunny Isles Beach | 33160 | Condo-Hotel | Daily | 2005 | $384,900 - $1,050,000 | 688-1,497 |
| Marenas Beach Resort | 18683 Collins Ave | Sunny Isles Beach | Sunny Isles Beach | 33160 | Condo-Hotel | Daily | 2005 | $380,000-​$1,050,000 | 688-1,497 |
| Mondrian | 1100 West Ave | South Beach | Miami Beach | 33139 | Condo-Hotel | Daily ok | 2008 | $3,000 - $870,000 | 477-1,190 |
| Mutiny Park | 2889 McFarlane Rd | Coconut Grove | Coconut Grove | 33133 | Condo-Hotel | Daily ok | 2001 | $440,000 - $799,000 | 686-1,183 |
| Newport Beachside | 16701 Collins Ave | Sunny Isles Beach | Sunny Isles Beach | 33160 | Condo-Hotel | | 1966 | $22,500-​$22,500 | 360 |
| Ocean Manor | 4040 Galt Ocean Dr | Fort Lauderdale | Fort Lauderdale | | Condo-Hotel | Daily ok (condo-hotel) | | contact us | |
| Ocean Point Beach Club | 17375 Collins Ave | Sunny Isles Beach | Sunny Isles Beach | 33160 | Condo-Hotel | Daily if in hotel program, or if not in hotel program, then 3 months (6 months max), 3 times a year | 2001 | $344,900 - $1,250,000 | 930-1,900 |
| Ocean Spray | 4130 Collins Ave | Mid-Beach | Miami Beach | 33140 | Condo-Hotel | | 1936 | $167,000-​$249,000 | 214-269 |
| Okan Tower | 555 N. Miami Ave | Downtown | Miami | 33136 | Condo-Hotel | Daily | 2021 | contact us | |
| Olsen Hotel Condo | 7300 Ocean Terrace | North Beach | Miami Beach | 33141 | Condo-Hotel | | 1940 | contact us | |
| One Hotel & Homes | 102 24th St | South Beach | Miami Beach | 33140 | Condo-Hotel | Daily | 2014 | 1,170,000-​8,900,000 | 866-3,278 |
| Q Club (Hilton) | 505 N Fort Lauderdale Beach Blvd | Fort Lauderdale | Fort Lauderdale | | Condo-Hotel | Daily ok (condo-hotel) | | contact us | |
| Ritz Carlton Bal Harbour | 10295 Collins Ave | Bal Harbour | Bal Harbour | 33154 | Condo-Hotel | | 2008 | $495,000 - $5,900,000 | 510-3,317 |
| Ritz Carlton Coconut Grove | 3300, 3340, 3350 and 3400 SW 27 Ave | Coconut Grove | Coconut Grove | 33133 | Condo-Hotel | | 2001 | $465,000 - $1,850,000 | 936-4,000 |
| Setai | 2001 Collins Ave | South Beach | Miami Beach | 33139 | Condo-Hotel | Daily | 2005 | $1,499,000 - $8,300,000 | 767-2,558 |
| Shelbourne | 1801 Collins Ave | South Beach | Miami Beach | 33139 | Condo-Hotel | Daily? | 1940 | $375,000 - $1,200,000 | 220-940 |
| Sole | 17315 Colins | Sunny Isles Beach | Sunny Isles Beach | 33160 | Condo-Hotel | Daily ok (condo-hotel) | 2007 | 279,000-​1,100,000 | 644-1,201 |
| St Regis Center Tower | 9703 Collins Ave | Bal Harbour | Bal Harbour | 33154 | Condo-Hotel | 30 day minimum (the north and south towers are 6 months, just FYI) | 2012 | 2,175,000-​10,950,000 | 1,261-3,912 |
| The Alexander | 5225 Collins Ave | Mid Beach | Miami Beach | 33140 | Condo-Hotel | 30 day minimum, 12x | 1962 | $439,000 - $950,000 | 960-1,490 |
| The Mutiny | 2951 S. Bayshore Dr | Coconut Grove | Coconut Grove | 33133 | Condo-hotel | Daily ok | 1998 | $299,000-595,000 | 620-960 |
| The Surf Club Four Seasons | 9011-9111 Collins Ave | Surfside | Surfside | 33154 | Condo-hotel | | 2016 | $3,725,000 - $15,995,000 | 2,024-5,822 |
| Trump International | 18001 Collins Ave | Sunny Isles Beach | Sunny Isles Beach | 33160 | Condo-Hotel | daily ok | 2013 | $260,900 - $1,595,000 | 457-1,478 |
| W Hotel South Beach | 2201 Collins Ave | South Beach | Miami Beach | 33139 | Condo-Hotel | Daily ok | 2009 | $915,000-​12,500,000 | 490-2,960 |
| Waldorf Astoria | 300 Biscayne Blvd | Downtown | Miami | 33132 | Condo-hotel | Daily ok | 2020 | contact us | |
| YotelPad | 227 NE 2nd St | Downtown | Miami | 33132 | Condo-Hotel | Daily ok | 2020 | contact us | |
| Z Ocean Hotel | 1437 Collins | South Beach | Miami Beach | 33139 | Condo-Hotel | No restrictions | 2007 | $309,000-445,000 | 500 |
Share your thoughts with us
Sign up now
Get news and updates delivered to your inbox