Best Miami Pre Construction Condos with Private Clubs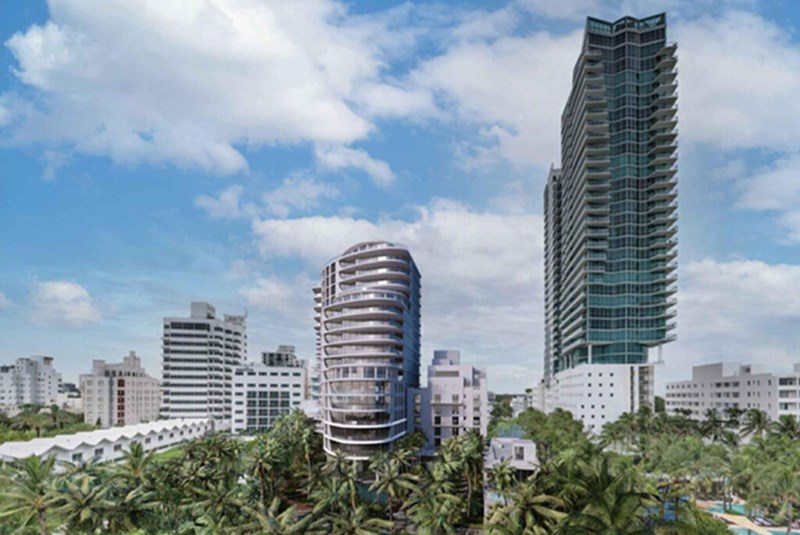 Oct 27, 2023 October 27, 2023
Love the idea of spending afternoons on a private beach with eats curated by a Michelin-star chef? Or, is power networking in one of Chicago's elite social clubs over a tipple – all in the privacy of your own home — more your style? When it comes to new luxury condos with private clubs and memberships in Miami, you'll find all of these amenities and more in the city's most opulent new condo developments, positioned to take center stage and stand in a league of their own.
They say "Home is where the heart is," and Miami's developers are focusing on how to offer you the most exemplary services to give you a very elevated quality of life via Miami pre construction condos with private clubs. As demand for higher standards in Miami real estate has increased in recent years, luxury amenities have evolved way beyond the traditional resort pool deck, designer interiors, or 24/7 concierge services, and into curations designed to complement a top-tier lifestyle. Add to that dedicated security personnel and exclusivity, protecting your privacy and offering you peace, and you have a splendid lifestyle and condo tower you'll be proud to call home.
Now, let's take a look at the Miami pre construction condos featuring unique private club memberships and what they offer. So when you decide to own one of their world-class residences, you'll have luxury amenities to match your lifestyle, from beach clubs to private lounges and social clubs.


| | |
| --- | --- |
| | Private Club Experience |
| | The Clayton's in Miami |
| | Exclusive Social Club |
| | International Members Only Business Lounge |
| | Private Club + Beach Club |
| | Private Beach Club South of Fifth |
| | Landing with Style |
| | Owners' Social Club |
| | Private Rooftop Club + Casa Tua Membership |
| | Private Beach Club + Membership to THE WELL Brand of Services |
| | Global Membership Benefits |
| | Sun & Stars |
| | Private Marina |
| | Auberge at South Beach |
---
Private Club Experience: Chicago-based private social club, The Clayton onsite
Completion: Summer 2025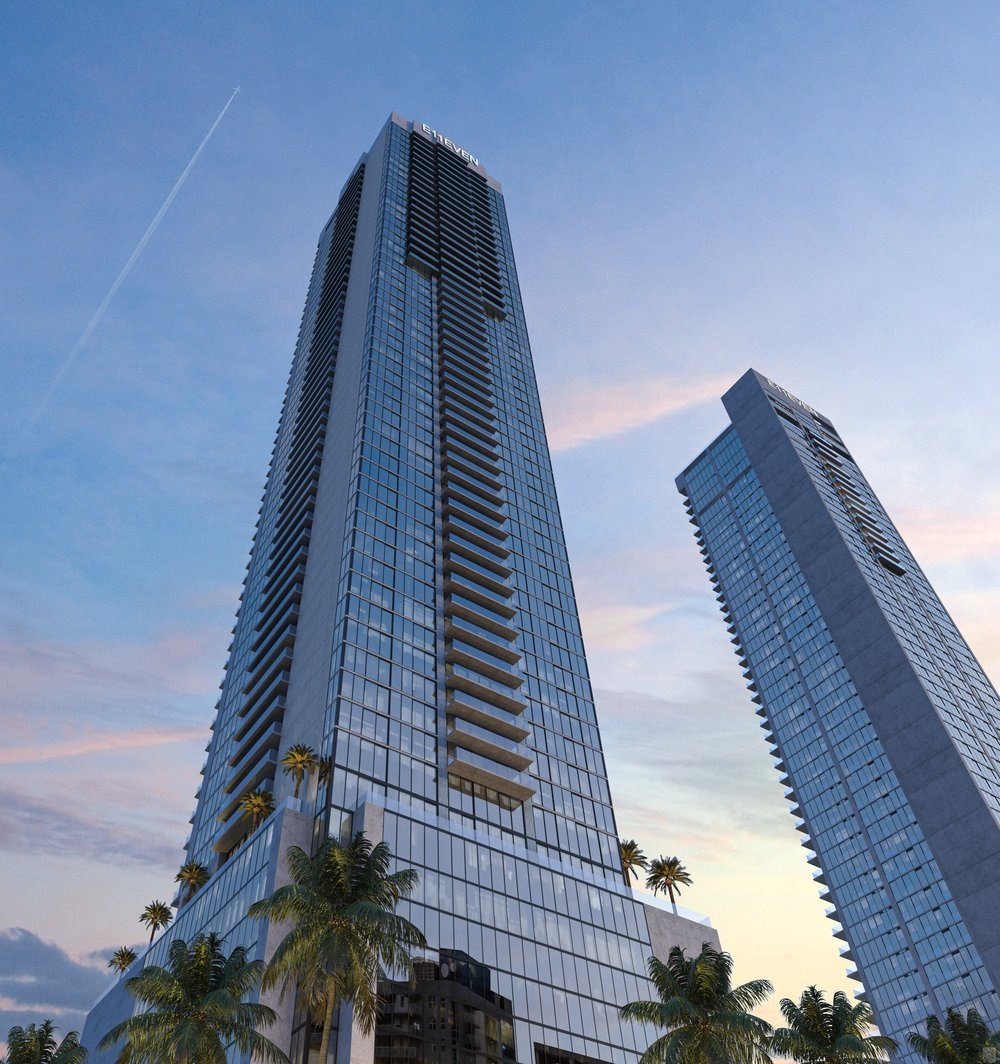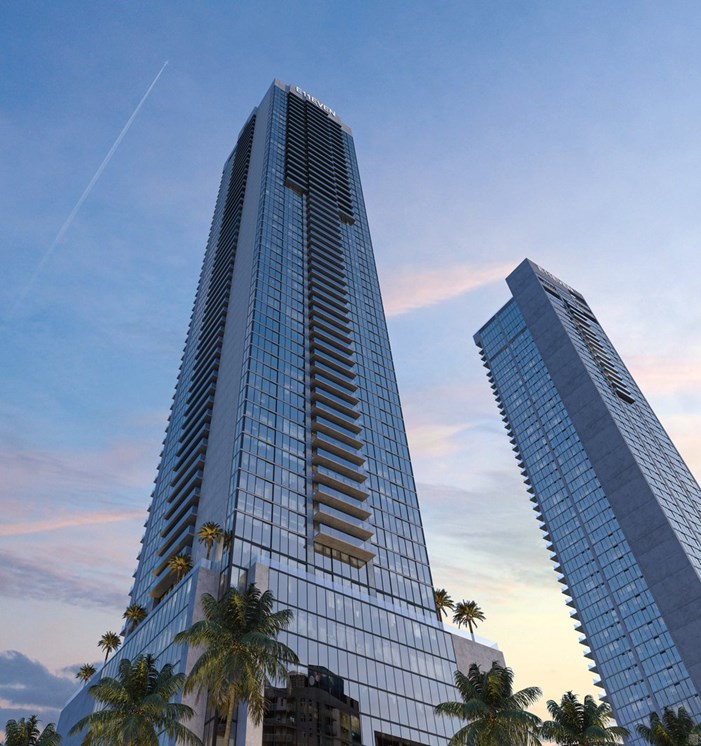 For anyone familiar with The Clayton's experience, you'll know that this exclusive, yet welcoming club serves up some of the most amazing cigars with fantastic company. With locations in Chicago and Washington, D.C., its members are privy to an ultra-premium experience, comparable to the great cigar and social clubs of London, and now available to the owners of pre construction condos with private clubs in Miami.
Spanning 10,000 square feet on the tower's second floor, The Clayton's undeniable sophistication will fit right in with the high-end E11even Residences Beyond. In addition to private meeting spaces and cigar hideaways, the private club will also offer bespoke cocktail and fine dining experiences.
The 65-story E11even Residences Beyond is the more exclusive twin of the E11even Hotel & Residences that's under construction just a few blocks west. Along with sleek interiors by New York's award-winning AvroKo Hospitality Group, residents will have access to amenities such as a rooftop helipad, resort-style sun deck with a 93-foot pool, fully-staffed executive office suites, and more. Living at the Beyond tower, residents will further have access to E11even Hotel and Residences' amenities via an access-controlled sky bridge (but not vice-versa).
 
---
Private Club Experience: Private, members-only onsite lounge & social club
Completion: 2024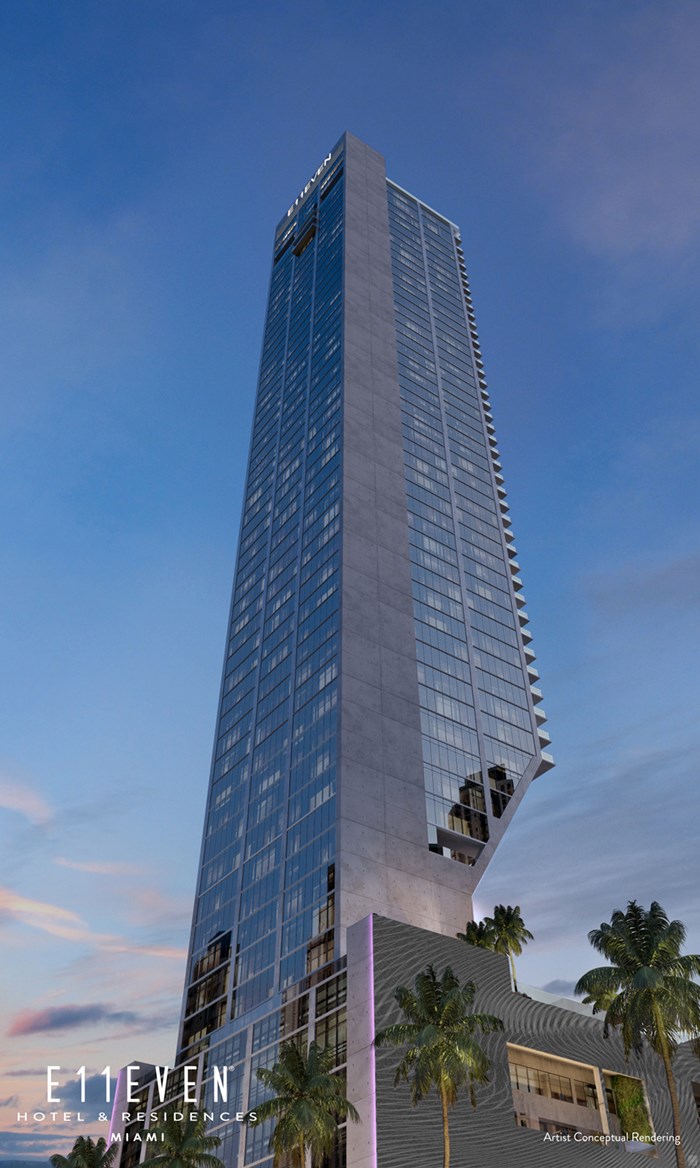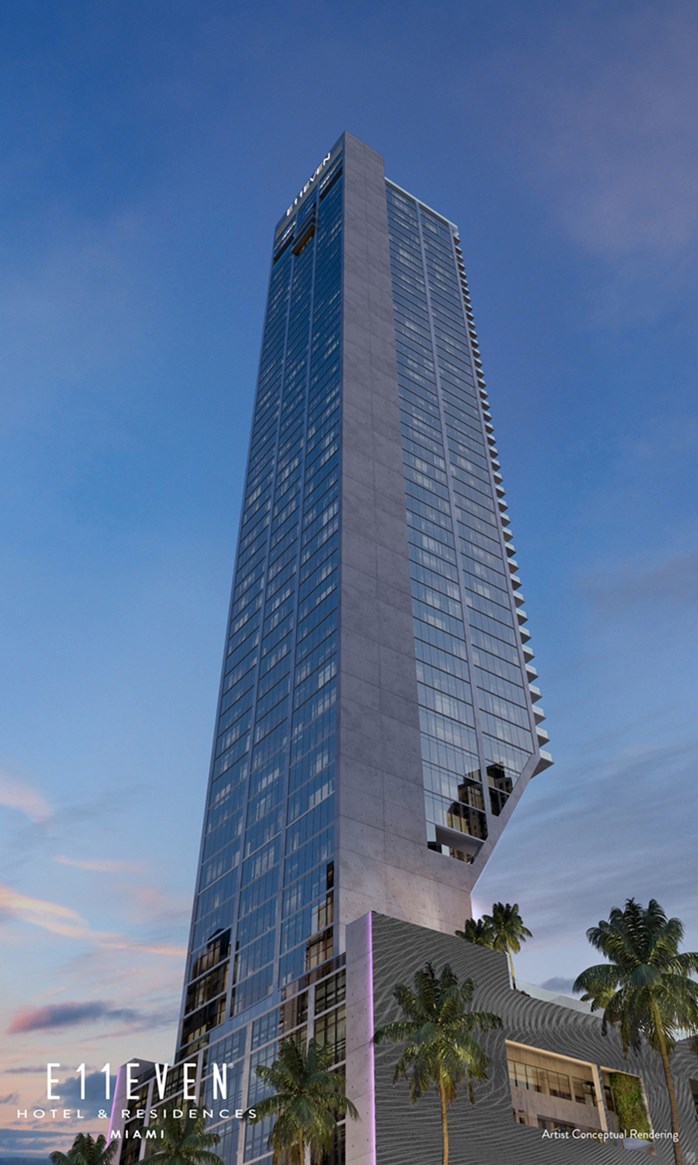 When talking about E11even Beyond, it's impossible not to mention its condo-hotel counterpart and sister development, the E11ven Hotel and Residences. This sleek tower's second-floor private membership club and rooftop lounge will be operated by Riviera Dining Group. The Miami-based group is best known as the name behind experiential concepts such as Bâoli, MILA Omakase, and the upcoming Casa Neos.
With the same award-winning design team as E11even Beyond, including Sieger Suarez Architects and AvroKo Hospitality Group (for interiors), this landmark tower will rise 65 stories with about 400 luxury residences in Downtown's District 11. Besides the finest of high-end finishes and smart home tech, residents will gain access to a unique 24/11 rooftop poolside entertainment concept, a multi-level E11even Beach Day Club, a Deepak Chopra-designed spa & studio, a casino-style sports lounge, a 5-star gourmet food hall, art installations, and much more.


---
Private Club Experience: Members-only international business lounge onsite
Completion: 2024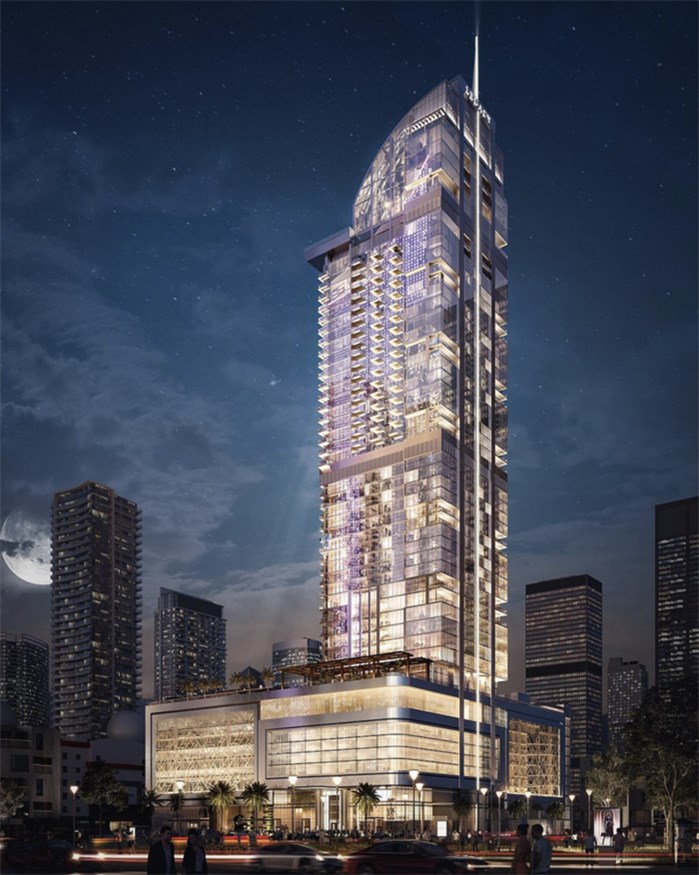 The perfect pick if you're looking to network or socialize with like-minded people, Downtown's Legacy condo-hotel will feature a sophisticated members-only international business lounge on-premise. An apt addition, considering the neo-futuristic tower will be part of the city-within-a-city called Miami Worldcenter, with its many hotel, retail, and office components only 10 minutes from the financial hub of Brickell.
Designed by Kobi Karp, one of Miami's award-winning architects, with interiors by ID & Design International, all residences in this 55-story tower will be delivered fully furnished. Offering a truly one-of-a-kind experience, this landmark property will also be home to a 10-story wellness retreat, Downtown's largest hotel pool deck spanning one acre, a Singapore-inspired cliff pool hanging 500 feet in the sky, America's largest rooftop glass atrium with 7 stories of palm trees, multiple water features, plus a wide range of wellness facilities ranging from cryotherapy chambers to IV nutrition therapy, sports medicine, and supporting physical therapy.


---
Private Club Experience: Residents-only members club + Private beach club in the South of Fifth neighborhood
Completion: 2024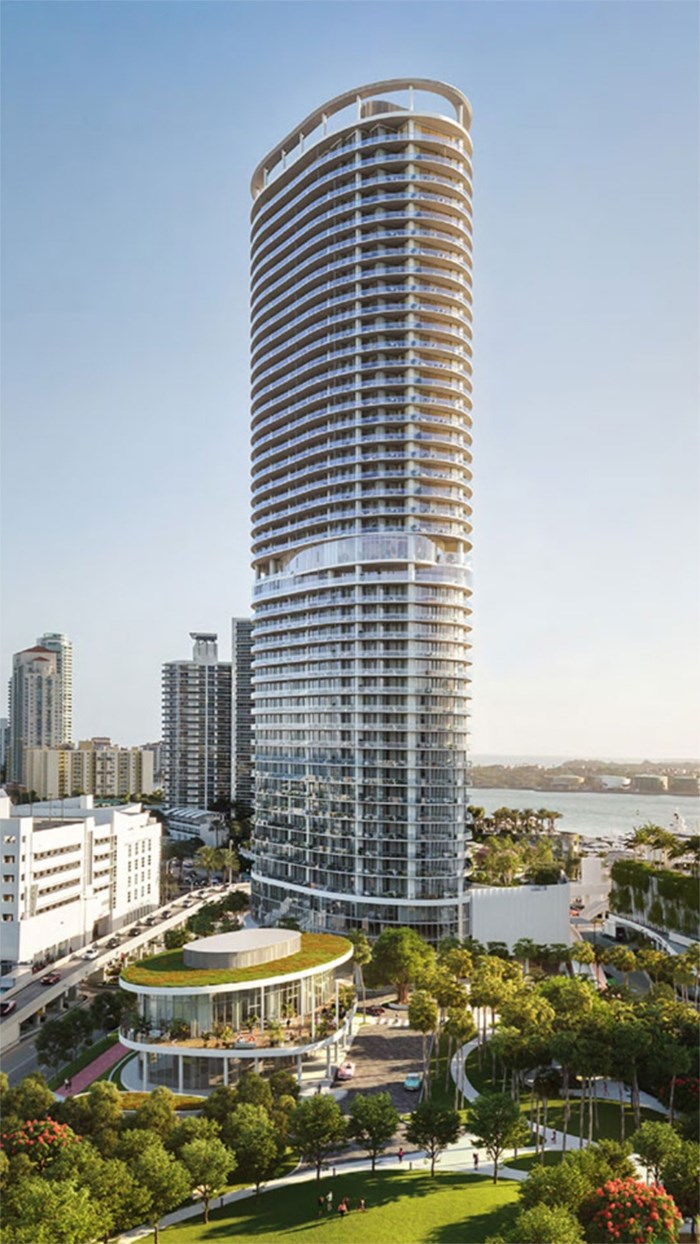 There are a lot of firsts to this gem of a luxury condo by the Terra Group in South Beach. To begin with, it's the first tower in South Beach to be approved to a height of 519 feet – making it the tallest building in the neighborhood. It will also feature Miami Beach's first residents-only, fully-serviced social club in a condo tower – The Canopy Club. Boasting extensive programming, members will be privy to a specialty dining and beverage program, a members-only jewel box bar and dining room, state-of-the-art wellness facilities, a branded spa, dynamic recreational areas, cultural activities, a specialized club-level concierge, and more. Five Park Miami Beach completion date is getting nearer as 2024 is just round the corner, so you'd better start inquiring on time.
Five Park residents will also have their own private beach club located in Miami's upscale South of Fifth neighborhood. Complete with branded lounge chairs, umbrellas, and a food & beverage service, the club will be accessible on foot or via house car. This one-of-a-kind development also features a 3-acre public park next door, complete with a MONSTRUM playground for the kids, outdoor gym, art installations, dog park, iconic Daniel Buren-designed rainbow bridge, and more. 
With interiors by New York's celebrated Gabellini Sheppard and a wide selection of one- to four-bedroom high-end residences, this 48-story will redefine luxury living in Miami Beach. Watch what more is on offer at the landmark Five Park Residences in Miami Beach, and see why we think this ranks as one of the best Miami pre construction condos with private clubs for sale right now.


---
410 NE 35th Terrace, Edgewater
Private Club Experience: Full-service private beach club in South of Fifth
Completion: 2025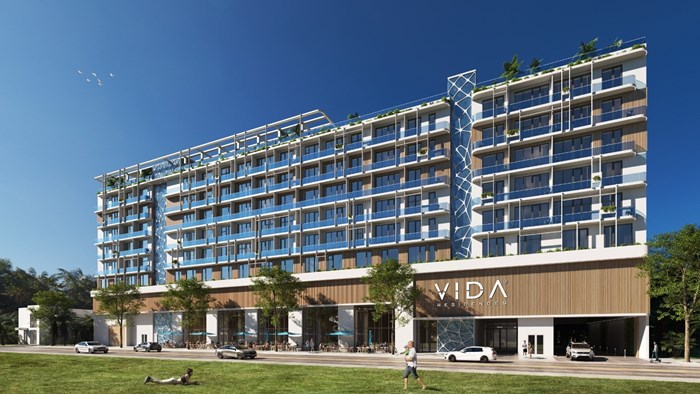 Located in Miami's Edgewater – a mainland neighborhood of choice for the latest offerings of premium luxury condo developments – Vida Residences will give you full-service access to an off-site beach club. Perched across the causeway in Miami Beach's affluent South of Fifth neighborhood, the private Vida Beach Club will feature a slew of member services including deep-cushioned lounge chairs, towel service, Wi-Fi, games, and fine dining services worthy of a Michelin star.
Vida Residences will further be Edgewater's first Airbnb-ready condo building, allowing residents full rental flexibility plus a highly lucrative short-term rental program called FlexShare. The ready-to-rent residences will be delivered fully furnished with interiors by the highly acclaimed Euro Design Group. Other lifestyle amenities at this stunning 9-story tower will include a 22,000-square-foot rooftop retreat with an 11,000-square-foot pool and Bali beds, The Edge restaurant/bar with al fresco dining, a juice & beverage bar, a wellness center, a fitness center, a sophisticated 3,800-square-foot co-working center, and more.


---
Private Club Experience: Resident's social club with library and lounge rooms onsite, curated kitchen experiences
Completion: Q4 2026 

As the name suggests, this exquisite bayfront tower is designed to offer Edgewater, Miami's only "villa" style residences in the sky. Keeping to that villa theme, the boutique luxury tower offers a host of curated amenities, including a residents-only social club with library and intimate lounge rooms for leisure and entertainment, plus customized kitchens by renowned chef Mario Carbone.
Featuring no more than two residences per floor, this ultra-luxury tower will offer a single-family home experience on the bay. One of Edgewater's most luxurious condo projects, if you travel by helicopter, The Villa will feature the neighborhood's first rooftop helipad, as well as private docks, a bayside floating pool, a residents-only juice bar and coffee lounge, a waterfront restaurant, a lavish spa experience, a dedicated family lounge, a boardroom and private workspaces, gardens by Enzo Enea, and more curations by the Major Food Group.
Along with romantic interiors by New York's Charles & Co., you'll find breathtaking water and city views from every home. Watch how this stunning bayfront "Villa" in Miami's popular Edgewater is set to redefine luxury living in the neighborhood, and become one of the most exclusive condos in Miami. 


---
Private Club Experience: Members-only social club onsite
Completion: 2025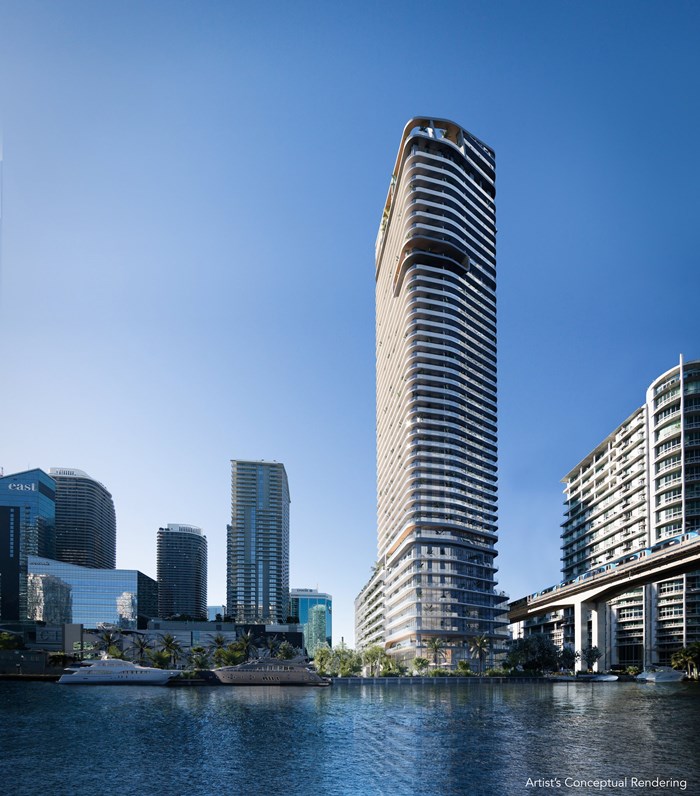 Besides offering a custom NFT to each of its first condo owners, this ready-to-rent tower will feature a members-only Lofty Club. The high-end club experience will come complete with a private entrance, a members-only riverfront terrace, live evening entertainment, a social bar and lounge, a private rum and cigar room, as well as a tastefully appointed living room to enjoy small plates, bespoke cocktails, and wines. 
What is it about Lofty Brickell that we simply had to add it to our list of Miami pre construction condos with private clubs for sale? There are plenty of valuable reasons for our decision. Rising 34 stories against Miami's busy riverfront, the postmodern Lofty Brickell will stand right across the street from the Brickell City Centre. All fully furnished residences will feature high-end interiors by INC.NY. Besides a private marina and a tie-in to "The Underline" linear park, residents will enjoy access to amenities such as a custom NFT art collection throughout, an impressive Skydeck with 10,000 square feet of event space, a resort-style pool with cabanas, a poolside bar and grill, a fitness center with private Peloton studios, a yoga lounge and terrace, a co-working lounge with private meeting rooms, an outpost of New York's famous AVRA Estiatorio restaurant, and much more.


---
1210 Brickell Ave., Brickell
Private Club Experience: Private Rooftop Club + Casa Tua Membership
Completion: 2026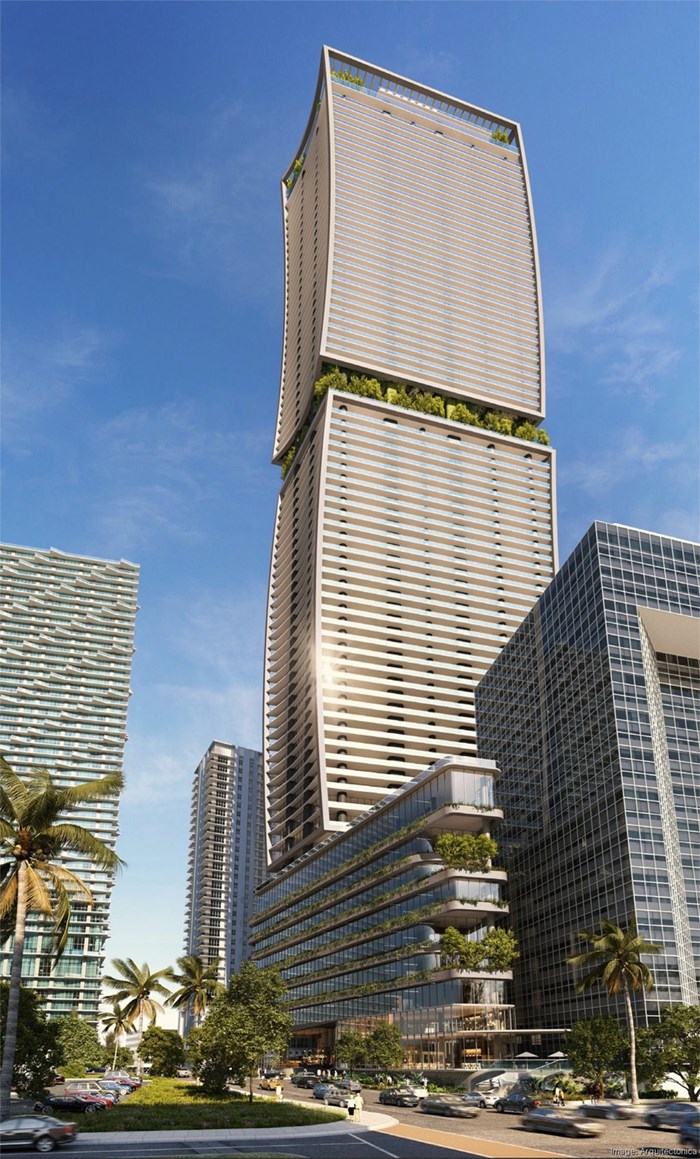 Bringing heart and soul to Brickell, ORA by Casa Tua is a completely new concept in condo tower living. With the epitome of Italian living at its core, ORA will stand at least 76 stories tall, and have several restaurants and cafes, a shared, state of the art coworking center, a massive sky park called Bosco at the 40th floors, a spa, a lushly landscaped pool deck with panoramic views of the Miami skyline, and more. But what truly sets ORA apart is its association with the renowned Casa Tua brand. Residents will enjoy privileged access to a private roof-top bar and club, complete with a pool and small stage. And as an owner here, you will also have exclusive access to Casa Tua private club membership and their locations in Miami Beach, Aspen and Paris. 
With at least 460 units with a blend of floor plans, if you own here you will be able to rent out your unit on a short-term basis, and those renting short term will have their own entrance and separate check-in concierge to maintain your residential exclusivity and privacy. Our exclusive interview and video shows how stunning ORA by Casa Tua will be. 


---
Private Club Experience: Private beach club and membership to THE WELL Bay Harbor Islands
Completion: 2025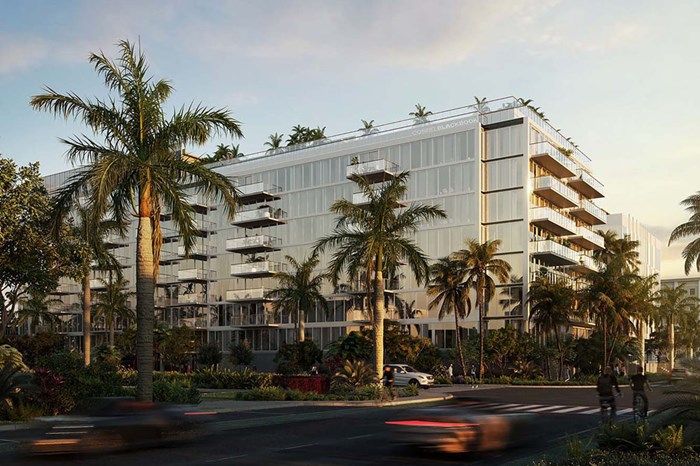 The perfect find for health-conscious individuals who love boutique living! Tailored to make wellness a part of your everyday life, this 8-story condo building will be built in association with and be home to New York's famous THE WELL brand. Bringing Bay Harbor Islands a unique, wellness-centric offering, as a resident, you will have your own private beach club and become a member of THE WELL's outpost in Miami. All wellness products and services will also be provided by THE WELL practitioners.
Part of a certified green building, you are sure to enjoy coming home to subtle aromatherapy throughout and restorative water features. With interiors by the New York-based Meyer Davis Studio, your sustainable home will feature a range of thoughtful elements such as light-filled layouts, a meditation corner, Kore-branded workstation kitchen sinks, a built-in wine fridge, rain showers and stone floors in the primary bath, and much more. 
Other amenities include a rooftop pool deck with summer kitchen, a cozy reading room and tea lounge, dedicated children's programming, a dedicated boardroom, THE WELL Locker, 10,888 square feet of retail, 6,581 square feet of food & beverage space, an electric house car, and more.


---
1809 Brickell Ave, Brickell 
Private Club Experience: Exclusive beach club access, St. Regis Cognac & Tea Rooms, plus global membership privileges by St. Regis
Completion: Late 2026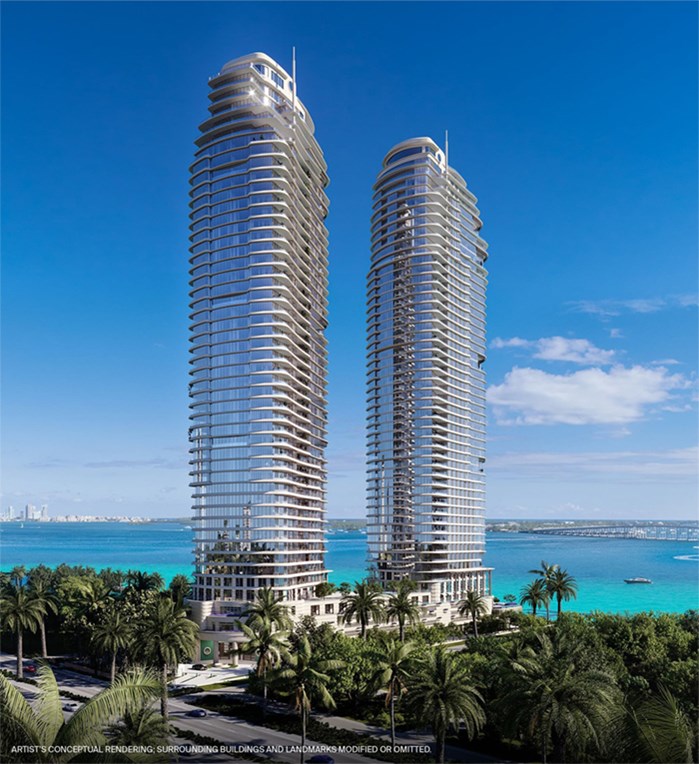 With no transient or hotel use allowed onsite, an exclusive beach club, and global membership privileges to the brand's storied properties – this is the St. Regis inner circle! Living at the St. Regis Residences in Brickell, you will also get to enjoy the iconic brand's complimentary butler services, in-room dining, and housekeeping services, and a Cognac Room and their signature Tea Room.
With landmark architecture by New York's award-winning Robert A. M. Stern Architects (RAMSA), this waterfront tower is 48 stories with only 152 extra-large, ultra-luxury residences. Flaunting New York influences with a pronounced nautical dialogue, the tower will be positioned to capture the most expansive water and city views from every residence. Other notable amenities include a private marina, an outdoor infinity edge pool, an indoor lap pool, a full-service spa, a beauty salon, park-like grounds by Enzo Enea, a golf simulator, a teen video game lounge, a children's entertainment room, a pet spa, a luxury house car, and more.


---
1428 Brickell Ave, Brickell 
Private Club Experience: 2-story owner's club and rooftop observatory onsite
Completion: 2027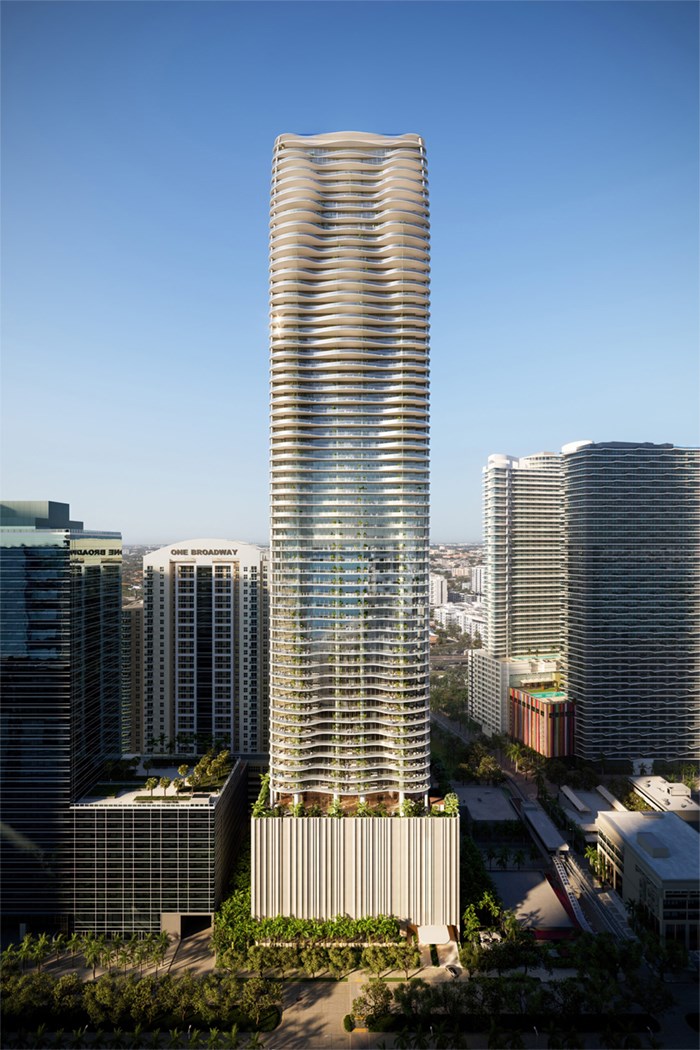 In order to give you the best Miami pre construction condos with private clubs, Developer Ytech is leaving no stone unturned to offer you a unique, sustainable haven of modern luxury at The Residences at 1428 Brickell. In addition to being the world's first residential high-rise partially powered by solar energy, this 70-story tower will also feature an exquisite two-story owner's club and rooftop observatory for your entertainment. Complete with a double-height wine and spirits lounge, a private dining room with a limited edition Vaselli chef's kitchen, a private event mezzanine, a full bar, office suites, and a two-story atrium with lush planting, living here means you will have everything you need for a life well lived at a moment's notice. 
Designed by Miami's award-winning Arquitectonica, with Cosentini Associates for solar consultants, the supertall will feature a state-of-the-art "solar backbone" on its western façade. The bayfront tower's earthy interiors and tasteful design touches can be credited to the Italian starchitect duo, Antonio Citterio & Patricia Viel (ACPV Architects), the duo behind the ultra-exclusive, beachfront Arte Surfside condos. All residences in this LEED-certified Miami tower will be plus-den. Other amenities include a 7th-floor resort deck with two pools, aquatic therapy, a children's splash pad, a teen's sports simulator, a children's interactive playground and creativity room, 10,000 sq. ft. of dedicated gym and spa space, a wellness concierge, an outdoor sun terrace with yoga pavilion, and more.


---
Private Club Experience: Residents-only yacht club with a 6-slip private marina onsite
Completion: N/A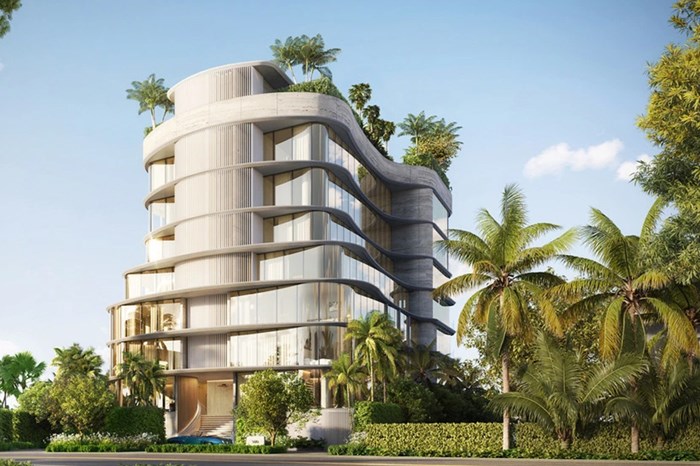 Complementing its limited-edition collection of 9 private waterfront condos at the Indian Creek Residences, if you choose to buy in here, you'll have access to a private yacht club and marina designed by Ocean Cons. The ultra-luxury development will also feature custom lighting by Ventresca, a rooftop pool, and a residents' lounge. 
Designed by Miami's prolific Kobi Karp Architecture, this boutique mid-rise will feature a MiMo (Miami Modern) aesthetic, complete with curving lines and opulent materials. With interiors by Boston-based Zarifi Design and landscaping by the world-renowned Enzo Enea, residents will come home to a unique blend of modern luxury and timeless style in a natural retreat.


---

The Shoreclub Private Collection
Private Club Experience: World-class beach club powered by Auberge
Completion Due: N/A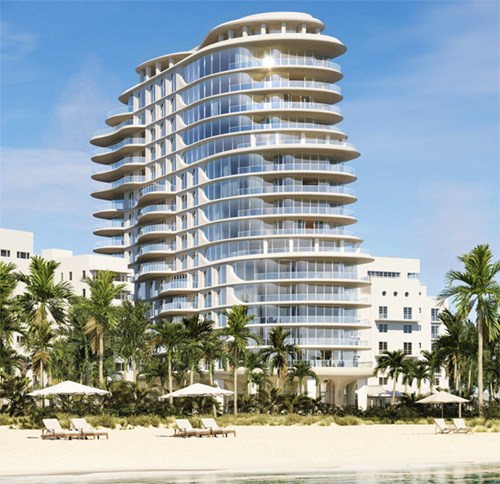 If you want to live an exclusive opulent life, on the beach, start checking out the pre construction condos with private clubs for sale in Miami Beach to gain access to the members-only beach club at the iconic Shore Club in South Beach. Your private beach club will be managed and operated by Auberge, and you'll have access to Auberge Resorts Collection's tailored services with several in-home offerings. With no two floorplans alike, this limited edition of 49 curated residences is designed by the world-renowned Robert A.M. Stern Architects (RAMSA).
This 18-story, view-focused tower will feature a rounded design inspired by waves, underscored by a nautical spin on Miami Beach's iconic MiMo-style (Miami Modern) architecture. All residences will feature nautical and yachting references developed by RAMSA in association with Kobi Karp Architecture & Interior Design. Besides affording oversized terraces with direct ocean views, residents will have access to a private, owners-only signature restaurant, a double-height café and bar, a poolside café and bar with dedicated cabana service, plus lush botanical gardens by Island Planning Corporation. You will also get preferred access to the renovated version of the storied Shore Club Hotel.
We further recommend keeping a watch out for the Rosewood Residences in South Beach, part of the iconic Raleigh hotel's redevelopment project, which will feature a private member's club with beachfront dining and beach services. More details on the Rosewood Residences project will roll out soon.





Are you curious about some of the private memberships and luxury offered at some of these exclusive Miami pre construction condos with private clubs for sale? Call or email us directly for early bird pricing, available units, and any other details on these or any other pre-construction condos in Miami.
Share your thoughts with us
Sign up now
Get news and updates delivered to your inbox