Brickell vs South Beach: A Comparison
Apr 03, 2019 April 03, 2019
If you're considering a move to Miami or the South Florida area, and want to know more about the basic differences between living in Brickell and living in South Beach (SoBe), here are some pointers to help you learn more about these two iconic Miami neighborhoods.


---
 
— Beaches in South Beach and Brickell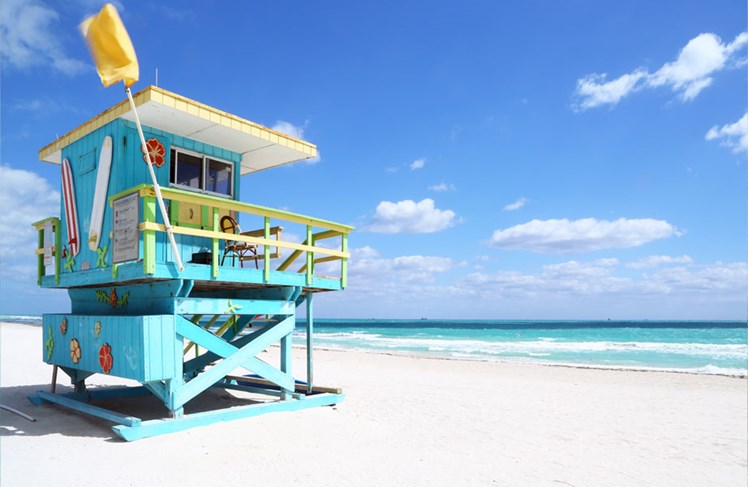 South Beach is located on Miami Beach, an island strip known for its sandy beaches, while Brickell is located in the heart of mainland Miami. And while, Brickell overlooks Biscayne Bay and there are plenty of gorgeous ocean views to be found, there are actually no accessible swimmable beaches in the Brickell area.
Most Brickell-area residents drive the 10-15 minutes to Key Biscayne to enjoy the beaches at such locations as Crandon Park, or they may even make the 15-20-minute trip to South Beach to swim in the shimmering Atlantic. Residents of South Beach, on the other hand, need only walk a few blocks at most to get to a swimmable ocean beach.


---
 
— Comparing Brickell and South Beach Architecture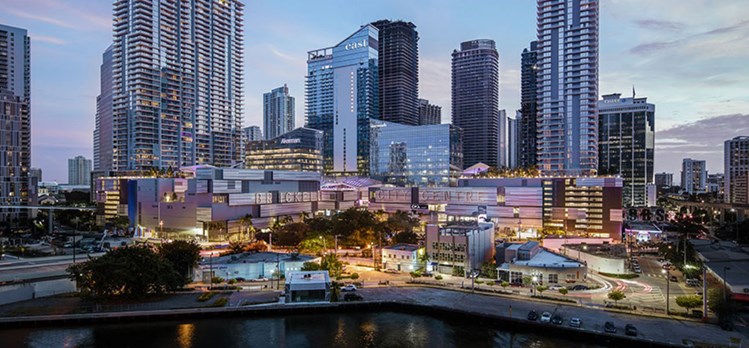 Brickell City Center - Brickell, Miami

While South Beach is known for its famous Art Deco architecture, and streets lined with small boutiques and pastel-colored mid-century constructions, Brickell is a much newer development marked by contemporary condo high-rises and mega-mall shopping complexes.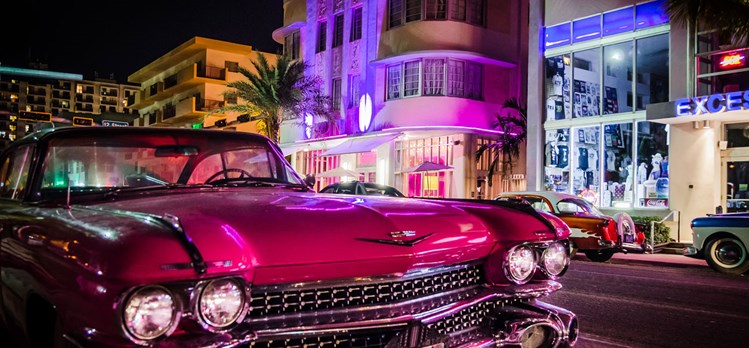 Art Deco - Miami Beach. Photo credit: Gezy-Pics

South Beach does host some new, modern high-rises, mostly with waterfront beach access and expansive ocean views, but the Art Deco look and feel dominates this classic South Florida neighborhood.
---
 
— Walkability in South Beach vs Brickell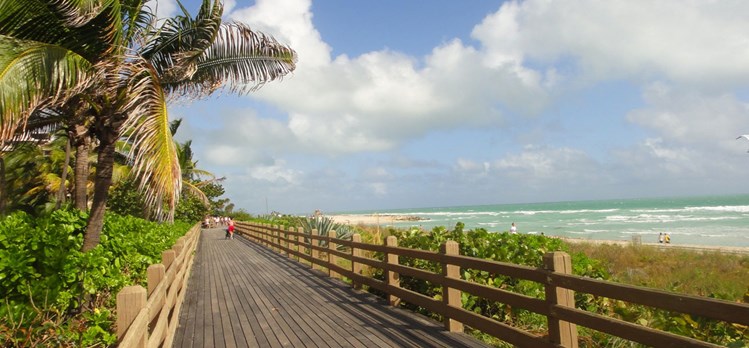 Both neighborhoods provide ease of convenience with plenty of restaurants, shops, movie theaters, and art galleries to enjoy. But, while Brickell feels much more urban, surrounded by tall modern buildings, South Beach has a more quaint seaside feel, with smaller shops and boutiques, as well as more parks and greenspaces, beaches with strollable promenades, and the breathtaking greenery of the delightful Miami Beach Botanical Garden.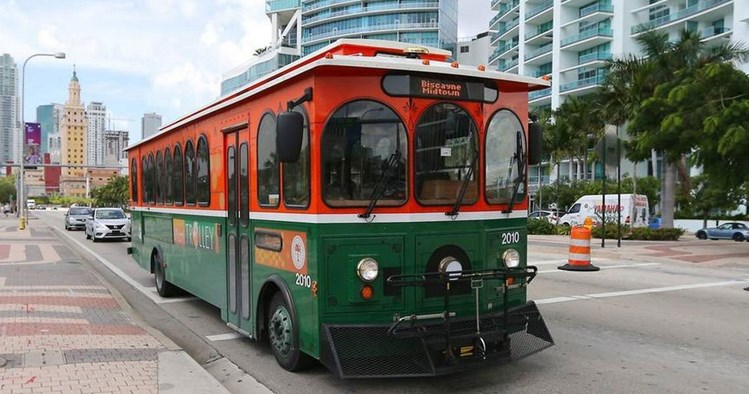 Miami Trolley. Photo credit: David Santiago

Both neighborhoods provide a free trolley system for pedestrians who want to catch a break while walking. All in all, in either neighborhood, you can leave your car parked and enjoy an active lifestyle on your feet!


---
 
— Cultural Offerings and World-Class Events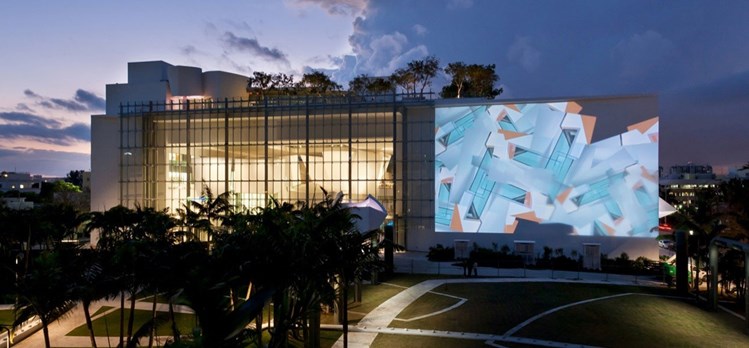 In this category, South Beach definitely has Brickell beat. While South Beach is home to the New World Symphony, the Miami City Ballet, the Bass Museum, and the Miami Beach Convention Center that hosts an array of themed trade-shows and fairs, as well as world-class sporting events, SoBe also boasts a host of art galleries, open-air concerts, and an art-house cinema, with regular ongoing public cultural events as part of the local lifestyle.
Brickell, on the other hand, with little infrastructure for such events, provides its artistic delights primarily in the form of nightclubs with live entertainment, art exhibited in the lobby of modern high-rises, and private cultural events hosted as part of the luxury condo lifestyle for residents and their guests. However, the good news is that most of Miami's cultural offerings are in Downtown Miami and Wynwood, both of which are either a long walk or short drive away from Brickell.


---
 
— Lifestyle Differences Between South Beach and Brickell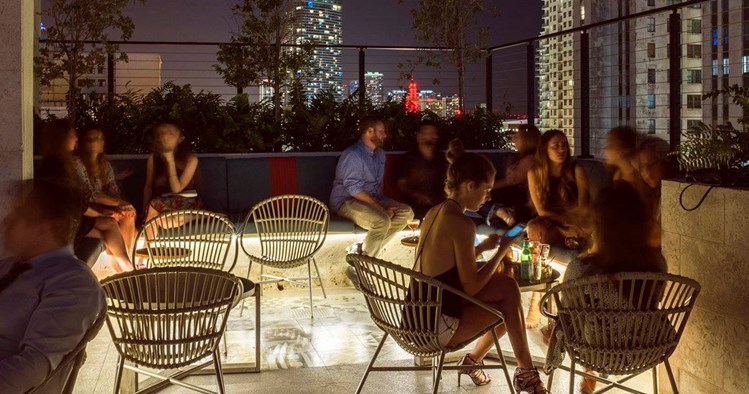 The Brickell lifestyle is definitely more urban and corporate-chic than the laid-back beachy lifestyle of South Beach. In Brickell, you'll see Miami's best-dressed fashionistas darting back and forth between posh offices and elegant eating establishments, while many South Beach residents are making their way to work on skateboards at 10am.
The Brickell district is also more dense and crowded than South Beach. And, while Brickell is primarily a local hub, South Beach is beloved by tourists and locals alike, with many snow-birds from northern regions spending their winters in SoBe. It's also a great neighborhood in which to spot celebrities who come for the sun and surf.


---
 
— World-Class Amenities: Brickell vs South Beach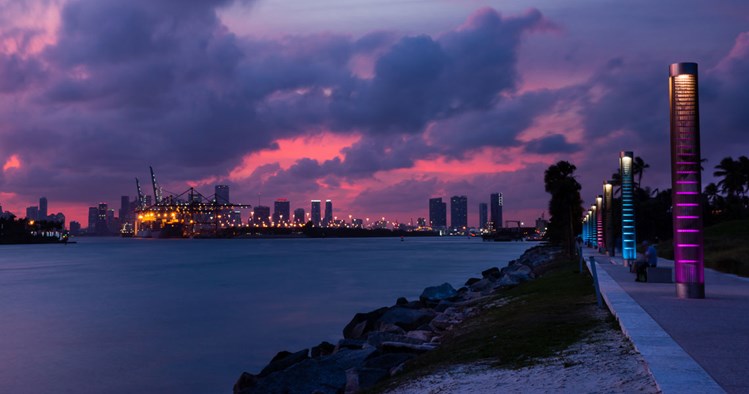 South Pointe Park - South Beach. Photo credit: Sathish J

Because South Beach is an older, more established area, it is home to more public amenities that serve the community at large, such as the Flamingo Park Pool, South Pointe Park and Lummus Park.
Brickell, on the other hand, offers more urban amenities largely as a part of condo living or club membership, so residents who live in a full-service condo tower may enjoy gym, spa, tennis courts, etc, in the convenience of their own condo building, while others may decide to join a local spa or gym.


---
 
— Cost of Living Differences in Brickell vs South Beach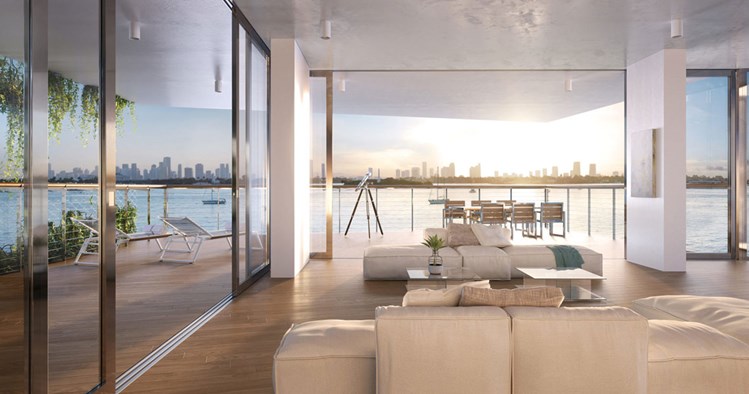 By and large, the cost of living is lower in the Brickell area than in South Beach.  Modern luxury condos in Brickell generally cost far less per square foot than their counterparts in South Beach, saving potential homeowners roughly about 30% on purchase price.  Some of the newer waterfront condos on Brickell cost as much as 50% less than comparable units in South Beach.

 
Share your thoughts with us
Sign up now
Get news and updates delivered to your inbox