Miami Beach vs South Beach: It's All About the Lifestyle
Apr 25, 2019 April 25, 2019
There is quite a lot of confusion as to the difference between South Beach and Miami Beach. Where does one begin and the other one end? In many people's minds South Beach is the glitzy, fun, sexy place they come and stay for a weekend and then head home to their cold, gray hometown. :) And Miami Beach is, well, what is Miami Beach? It's actually quite simple. Miami Beach is a bona fide city which includes South Beach as one of its neighborhoods.
Miami Beach is a sunny, laid-back subtropical island located just a stone's throw from the city of Miami across Biscayne Bay. With its linear shape, the island of Miami Beach naturally lends itself to diversity in its neighborhoods. It has a few key neighborhoods and a handful more sub-neighborhoods, each of which has its own character and attracts its own distinct crowd -- from party-all-nighters to families looking for wholesome fun, beach bums to everything in between. And all of them meld into a total culture that makes Miami Beach so distinct.

What is the Difference Between Miami Beach and South Beach?
To put it simply, Miami Beach is a city in Miami-Dade County, and South Beach is a neighborhood within Miami Beach that begins at the southernmost tip of Miami Beach and ends on the north at 23rd St.
Read on to get into the nitty gritty of what makes South Beach living ever-so-different from the rest of Miami Beach.

Miami Beach
Miami beach has South Pointe Park as its southern border, and 87th st as its northern boundary. It is bordered by the ocean to the east and Biscayne Bay to the west.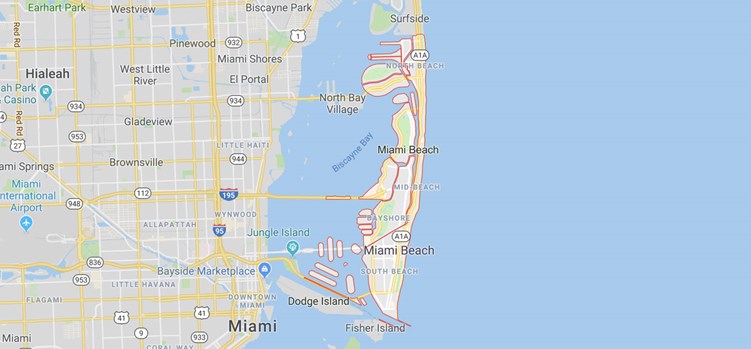 While all of Miami Beach is known for its walkability, within the island there are three distinctly marked neighborhoods: South Beach, Mid Beach, and North Beach.  Each neighborhood is unique unto itself, characterized by subtle differences in architectural styles, cost of living, and types of businesses. But above all, each has its own cultural flavor and lifestyle.
Of the three areas, North Beach has the least amount of traffic and is less busy, less elite, and less expensive, making it a favorite among local artists, young families, and the health-conscious who want to enjoy an active lifestyle and the beauty of nature, such as the shady sea-grape forest in North Shore Park. Housing options are mostly small to midsize condo buildings, many with ocean views. Lately more upscale condos have been constructed as well, and a new town center is being developed.
While much of South Beach and North Beach are defined visually by Art Deco architecture dating back to the 1930's, Mid Beach is an eclectic mix of residential Art Deco interspersed with Mid-Century Modern.  Home of 1950s architectural masterpieces such as the famed Fountainebleu, and the luxurious oceanfront condo towers lining Millionaire's Row along Collins Avenue and facing the Marina at Indian Creek, Mid Beach is also home to sprawling mansions and lavish golf courses, and some retail along Arthur Godfrey Drive. The southern part of Mid-Beach has also transformed due to the addition of the Faena District and other ultra-luxury boutique condos and hotels like the Residences at the Miami Beach Edition
For those who want to experience the neighborhood with the most upbeat, dynamic and fun-filled lifestyle in South Florida, there is no other area that can compete with South Beach, the liveliest and most touristy neighborhood in Miami Beach, and arguably, in all Miami.  

If you want another dive deeper into the differences between North Beach, Mid Beach and South Beach, read here.

South Beach
The area known as South Beach (lovingly nicknamed SoBe) begins at the southern tip of Miami Beach, with the tranquil waterfront view of South Point, and ends at 23rd Street.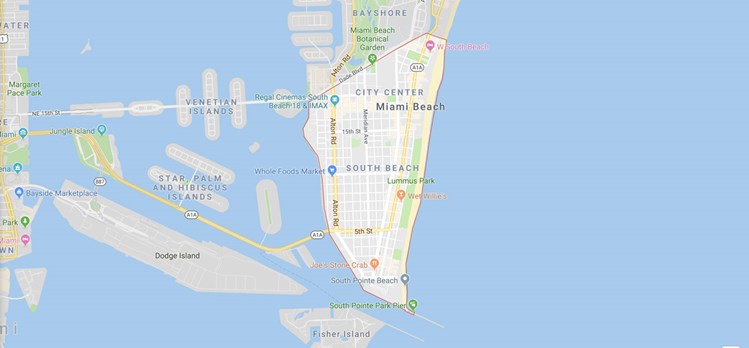 The elegant South-of-Fifth (SoFi) district is known for its classic Art Deco architecture, residential quality of life, and quiet, off-the-beaten-path charm. This elite neighborhood is literally only steps from the bustle of Ocean Drive and the many restaurants and nightclubs that South Beach is known for, but provides a quieter, more luxurious yet more laid-back lifestyle. For this reason, it is one of the Beach's most desirable neighborhoods, offering breathtaking condos with dazzling ocean views and luxurious amenities.

South of Fifth - Miami Beach, Florida

Along West Avenue, beautiful waterfront condo towers with breathtaking ocean views abound, for those who seek a healthy and active lifestyle with all sorts of shops and restaurants to walk to.
 
The nearby Sunset Harbour area, completely redeveloped in the 2000's from a commercial warehouse neighborhood into a well-received mix of great restaurants, boutiques and trendy gyms, also offers luxury condo options replete with all of today's most coveted amenities.



Sunset Harbour Shops - Photo credit: MiamiHerald.com

South Beach boasts an array of eclectic retail businesses, as well as  Lincoln Road, the Beach's most renowned shopping destination. Here, luxury boutiques nestle alongside a mix of high-end retail outlets and eating establishments, all lining a pedestrian promenade that is wildly popular among international tourists.



Lincoln Road Mall - Photo credit: miamibeaches.com


Further north, you'll find Collins Park surrounding the newly-renovated Bass Museum of Art in the famed Art Deco District, where the unexpected may always be expected, particularly during the yearly Art Basel and Miami Art Week festivities. Nearby is the gorgeous New World Symphony Plaza, designed by Frank Gehry, where you can watch giant wallcasts or projections of classic films as you stroll along the street, or attend a concert at the Fillmore, once the famed Jackie Gleason Theater.




New World Symphony - Photo Credit: 
Rui Dias-Adios

A lively and busy area with all-night wining and dining options, South Beach is an urban enclave where walkability rules, and beachside living is the law of the land.  Quiet in the early morning and festive all night long, South Beach is perfect for urbanites who enjoy an active lifestyle and want to eat, drink, party, play outdoors, and shop, as well as enjoy cultural amenities, without ever having to drive anywhere.  In fact, it's easy to live in South Beach without a car, particularly now that the free community Trolley service has been expanded!



Miami Beach Trolley - Photo credit: miamiherald.com
Share your thoughts with us
Sign up now
Get news and updates delivered to your inbox