Miami Baywalk and Riverwalk Design Approved - Marks Long-Awaited Progress
Jul 28, 2021 July 28, 2021
The Miami City Commission has approved the design guidelines for the Miami Baywalk and Riverwalk, a four-mile, waterfront promenade project in Downtown Miami that has been in development for over 40 years. Extending from the northern Coconut Grove/southern Brickell area north through Downtown Miami and up to Edgewater, the Miami Baywalk and Riverwalk will provide Miami residents and visitors the chance to experience the city and it's waterfront areas like never before, including via water taxis. 
Marking the culmination of a concerted six-year effort, the approved design measures and elements will allow the project areas to move forward by visually unifying the two waterfront promenade areas with a palette of design features, and develop a brand identity for Miami Baywalk. Finally, the Miami Baywalk will create a marquee attraction and destination for both residents and visitors to Miami, much like other major waterfront promenades in cities like Barcelona, Sydney, Chicago, Boston, San Antonio, and more.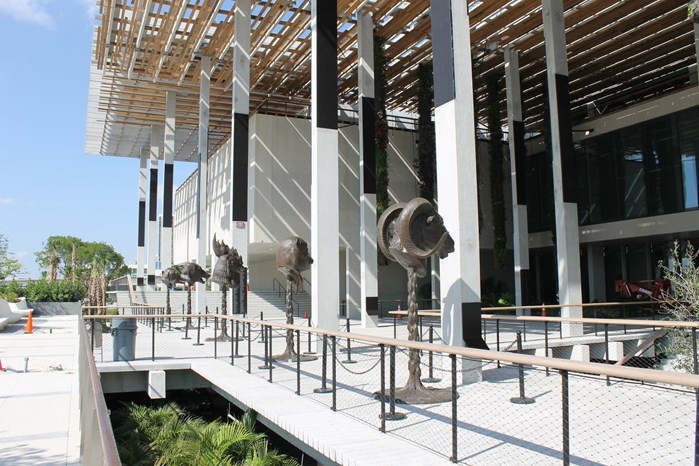 The project also includes a proposed pedestrian bridge, beginning at the Pérez Art Museum (PAMM) and ending at the Resorts World Miami property, a project of the Malaysian-based Genting Group, currently being constructed on the grounds where the Miami Herald building formerly stood. The new bridge would run under I-395 and connect two long segments of Baywalk, providing pedestrians with waterfront access stretching from Edgewater to Bayside and beyond.
"Water is a part of Miami's identity, and this city commission vote to unify a vision for the Miami Baywalk and Riverwalk is a tremendous step forward for this landmark project," said Miami City Commissioner Ken Russell. "Designing waterfront promenades that are visually appealing, while also creating infrastructure to address rising sea level, is a win-win scenario for residents and tourists alike. I'm proud to have helped lead the effort on this project and thank my fellow commissioners for their support in realizing this vision that will further bolster Miami's reputation as a world-class waterfront city."
Project designer Savino Miller Landscape Architects has developed a unifying design and brand identity for the project that was achieved through careful tabulation of input from the three public entities in the partnership, and with direct input from the public at large. The design guidelines intend to create a safe, well-lit, and aesthetically pleasing urban design feature that amplifies pedestrian options, incorporates access to nature, and unifies communities, while increasing connectivity and access for residents and visitors of all ages.
The Miami Downtown Development Authority (DDA) estimates that no other project will have a greater impact on the transformation of Downtown Miami than Miami's Baywalk and Riverwalk. The project also celebrates Miami's unique multicultural character, and its expansion into one of the fastest-growing urban centers in the U.S. As new standards develop increased demand for urban living design that incorporates more pedestrian-friendly green spaces and multi-functional spaces that improve livability in the region.

The History of the Miami Baywalk
The original vision for a public pedestrian promenade along the waterfront began in 1979, when the City of Miami passed an ordinance requiring new waterfront buildings to be set back 50 feet back from the water's edge.  The ordinance also required owners to build and maintain a public pedestrian promenade along the Miami River or Biscayne Bay. But no design standards were set forth at that time for the development of the promenade. While that original ordinance called for a 25-foot promenade, the vision for Miami's Baywalk and Riverwalk has expanded significantly over the past four decades, as new waterfront developments, parks and condo buildings have altered the local landscape.
Efforts to secure approval from the commission began in 2017, when the City of Miami, the Miami DDA, and the Miami River Commission jointly set out to develop design elements for a waterfront public promenade project that would improve connectivity and access for locals, while also appealing to visitors. Another project goal was sustainability and mitigating environmental changes, so the design plans include features such as a living seawall and living shoreline to address issues of coastal erosion and rising water levels.

Miami Baywalk Path and Condo Buildings
Today, Miami Baywalk is now 88% complete, and Riverwalk is about 65% complete. Together, they span a waterfront stretch several miles long.  This includes existing park space at Bayfront Park, Bayside Marketplace and the Skyviews Miami Observation Wheel, the FTX Arena (formerly AmericanAirlines Arena), and Museum Park, including Perez Art Museum and the Frost Science Museum.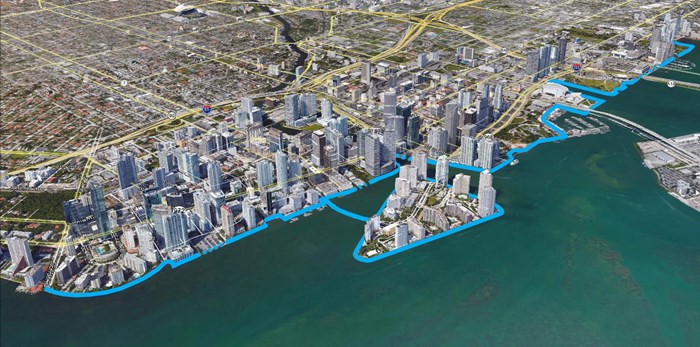 Many Miami waterfront condo buildings are also part of this planned Baywalk and Riverwalk. Each condo building will provide their own distinctive design to the project. Here's a short list of some of the Miami condo buildings that already are or will be part of the new Miami Baywalk and Riverwalk:
Miami's Edgewater neighborhood is a favorite because of its location and eight-acre Margaret Pace Park, which fronts the bay. The recent growth of the area will help complete the northern part of the Baywalk. And once completed, will give Edgewater residents an incredible walking, jogging or biking path all the way to Brickell. 
Some of Edgewater's best waterfront condos that will be included in the Baywalk include:
700 NE 24th Street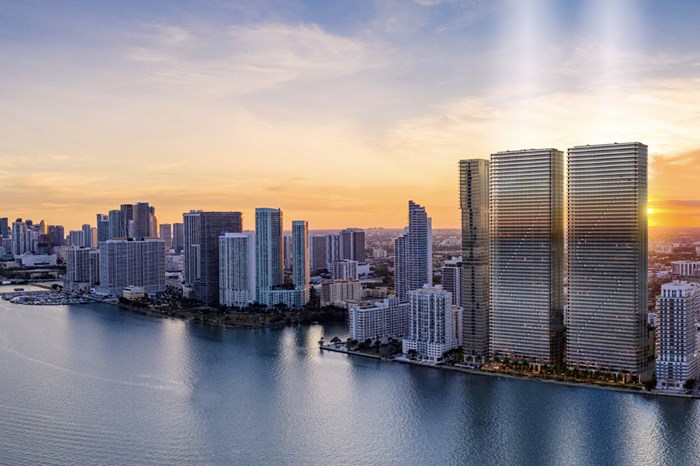 The new Aria Reserve Miami will be the tallest residential twin-tower in the United States. The project will feature two, 60-story condo towers, approved for a height of 637 feet above the ground, rising on five-plus acres of waterfront reserve and 547 linear feet of bay frontage. The developer recently launched sales on the first (south) tower that will be home to 391 stunning flow-through residences, and is expected to break ground in early 2022.
700 and 788 NE 23rd St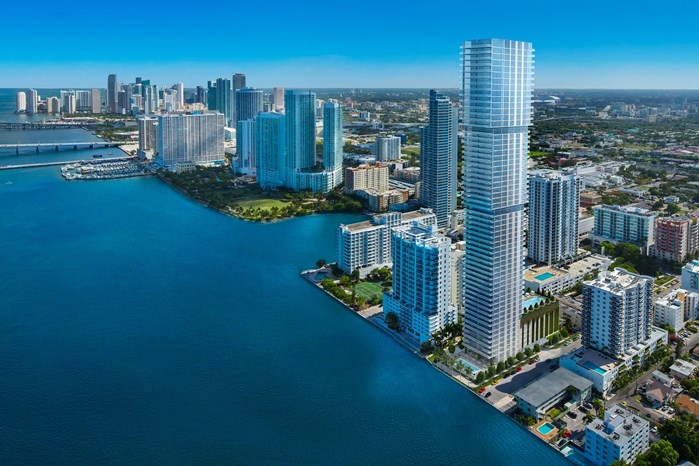 As Edgewater's first luxury boutique tower, the waterfront building houses 100 units spread across 57 stories. Designed by Bernardo Fort Brescia of Arquitectonica and famed Parisian interior designer Jean-Louis Deniot, Elysee embodies sophisticated waterfront living. 
700 NE 26th Terr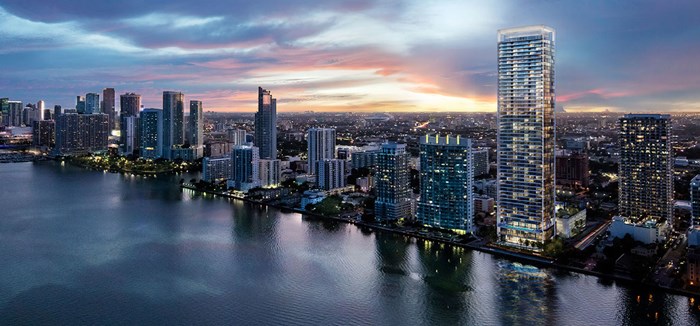 Recently completed, Missoni Baia is currently the tallest building in Edgewater. A 57-story luxury tower with 249 units, the waterfront building by the famous Italian fashion house is a stunning addition to the Miami skyline and offers 200 linear feet of Bay frontage.
Downtown Miami anchors the Miami Bayfront and Riverwalk through extensive park spaces and cultural centers. However, there are some existing and planned waterfront condo projects being developed along the Downtown Bayfront and Miami River. 
Here are some notable condo buildings in Downtown Miami that will have Baywalk or Riverwalk access:
300 Biscayne Blvd Way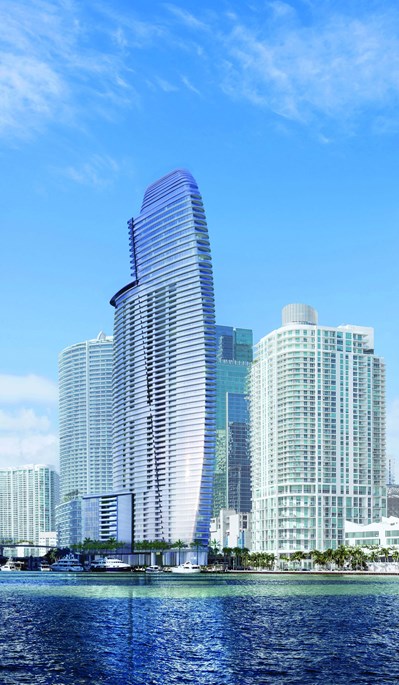 The Aston Martin Residences mark the British luxury sports car-makers' foray into residential developments. This 66-story,  luxury tower on the Miami River will offer 391 residences reflecting the timeless luxury of this renowned label. Designed by BMA and Revuelta Architecture International, the iconic sail-shaped building will house a choice of river residences, panoramic residences, sky residences, penthouses and triplex penthouses with private pools. 
325 and 335 S. Biscayne Blvd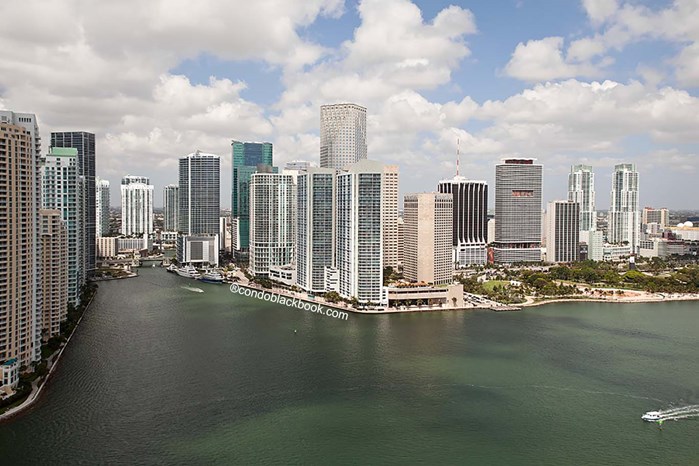 Built in 2006 by the Related Group and Arquitectonica, One Miami's two towers offer a private, waterfront enclave of studio, 1, 2 and 3 bedroom condominiums. Now known as landmark waterfront location, One Miami offers unobstructed open views of the Miami River, Biscayne Bay, South Beach, Brickell and beyond. 
200 Biscayne Blvd Way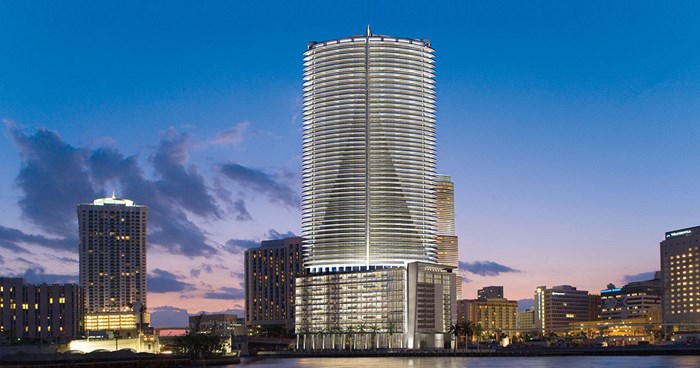 Built in 2008 by Ugo Colombo and CMC Group and designed by Revuelta Vega Leon, Epic captures the modernism and luxury of Miami from its distinct waterfront location at the entrance of the Miami River. Epic boasts two waterfront towers comprised of the 54-story Epic Residences with 342 luxury townhome and condominium units, and a 411-room hotel, operated by Kimpton Hotels and Restaurants. Epic is also home to the world-renowned Zuma Restaurant and 900-linear-feet of riverfront, including dockage at Epic Marina.
175 SE 25th Rd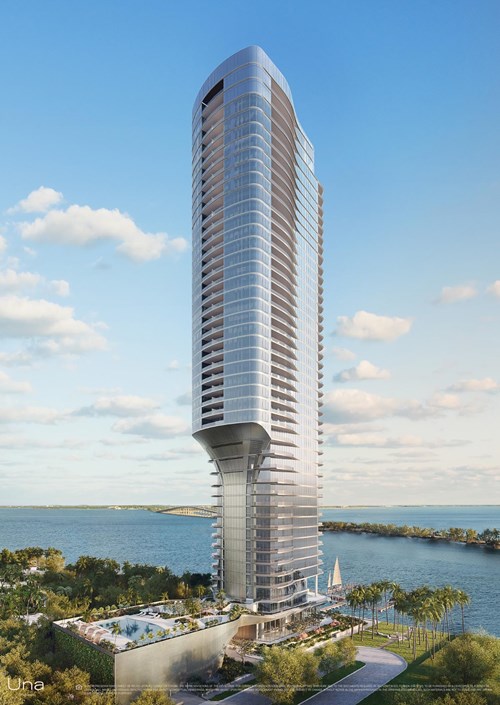 Soon to be immediately recognizable by its dramatically curved silhouette, Una Residences' is set on the southern point of Brickell's bayfront. Designed by Adrian Smint and Gordon Gill and developed by OKO Group and Cain International, Una will offer spacious two to five bedroom floor plans with floor-to-ceiling windows that showcase expansive views of Biscayne Bay and the city skyline. The Baywalk here will be enhanced by a lush tropical oasis designed by world-renowned landscape artist Enzo Enea. 
1201 Brickell Bay Dr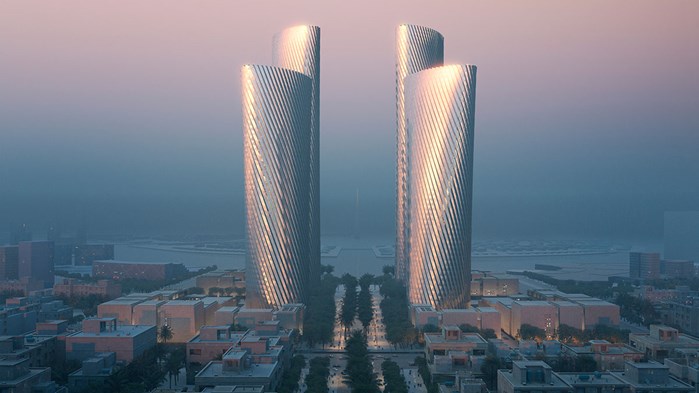 Designed to be one of Miami's tallest condo buildings of the future, "The Towers" will consist of two connected buildings and 660 units. Design team Foster + Partners imagines a grand pedestrian plaza on the ground level extending into the waterfront, which is expected to bring "life back to the bay". Condo residents along with the general public will be able to stroll through the plaza's tropical garden, enjoying art galleries, shops and restaurants along the way. Unsightly parking will be tucked two stories underground.
1331 Brickell Bay Dr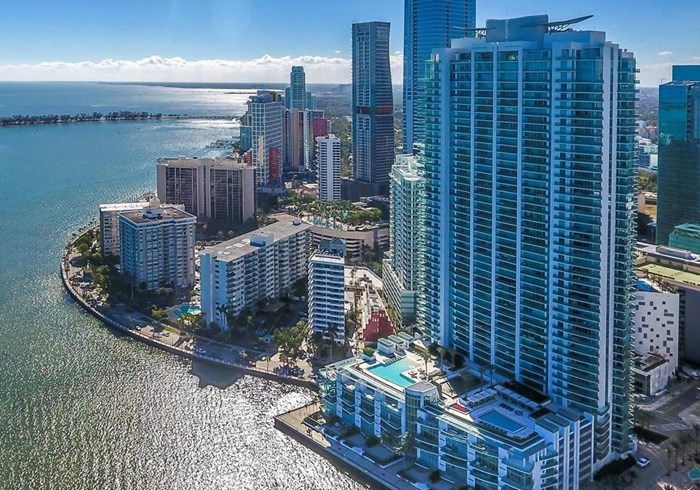 Built in 2006, this ultra-luxury skyscraper rises 48 stories on Brickell's stunning waterfront along Brickell Bay Drive. A prestigious address to own, this elegant high-rise features 341 remarkably crafted residences by Revuelta Vega Leon Architects with vast, open views of Biscayne Bay.
465, 476 and 495 Brickell Ave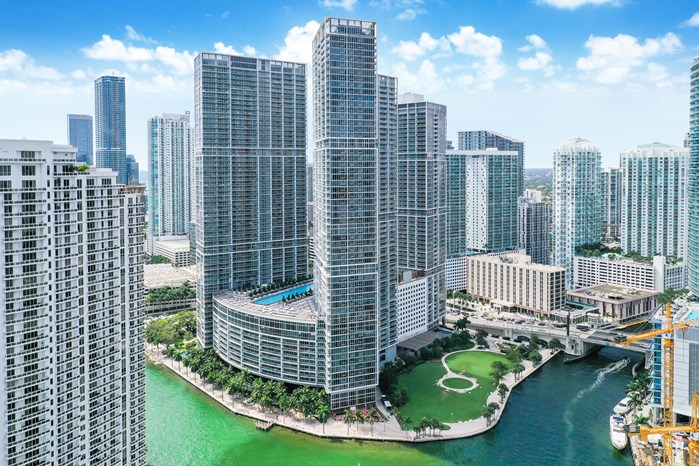 Built in 2008 and designed legendary designer Philippe Starck and the world-renowned architectural firm, Arquitectonica, this three tower complex houses more than 1,800 one, two and three bedroom luxury condominiums. Set on the Miami River in Brickell, Icon Brickell's amenities include more than 2 acres of patio deck, a 300 foot swimming pool and a 40,000 square foot health club and spa.
Share your thoughts with us
Sign up now
Get news and updates delivered to your inbox