Why Are Luxury Condo Sales Surging in Downtown Miami as Sales Weaken in Miami Beach?
Aug 13, 2019 August 13, 2019
Move over Miami Beach, there's a new rising star on the block. For long, Miami Beach has been the hot favorite for property seekers in Miami. Whether it's been about purchasing a permanent residence or getting a second home, South Beach properties have always sold out like hot cakes.
On the other hand, Greater Downtown (Edgewater and Brickell included) has mostly been a second-best option to South Beach and Miami Beach, possibly out of necessity, with proximity to work being the biggest motivator for local buyers. But, as we've been tracing luxury condo trends over the last couple of years via our quarterly market reports, we noticed a reversal. The Greater Downtown area is now emerging as the top favorite among luxury condo seekers. Here are some reasons we are seeing this new trend:


Numbers Speak: Miami Beach vs. Greater Downtown Miami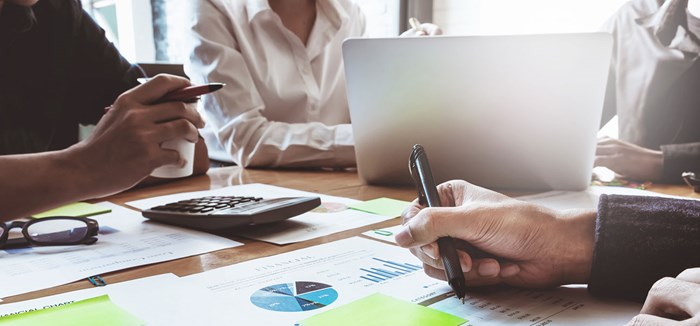 Over the past couple of quarters, sales trends in Greater Downtown Miami have been marching ahead, even as those in Miami Beach slowed down. This became even more evident as Q2's results came in.
By the end of this second quarter, Miami Beach reported a 21% decline in its year-over-year sales versus a 15% improvement in the GDM area. We also noticed Miami Beach's Q2 sales being at their lowest compared to year-over-year stats from 2018 to 2015. On the other hand, GDM's numbers almost touched the highpoint of Q2 2015, while surpassing year-over-year comparisons to 2018, 2017 and 2016. (see fig. 4.1 and 11.1 below)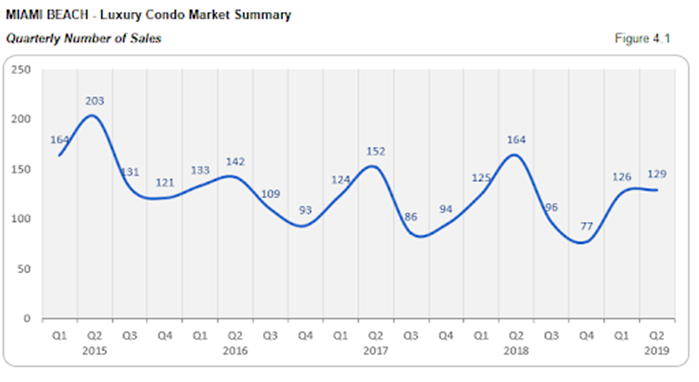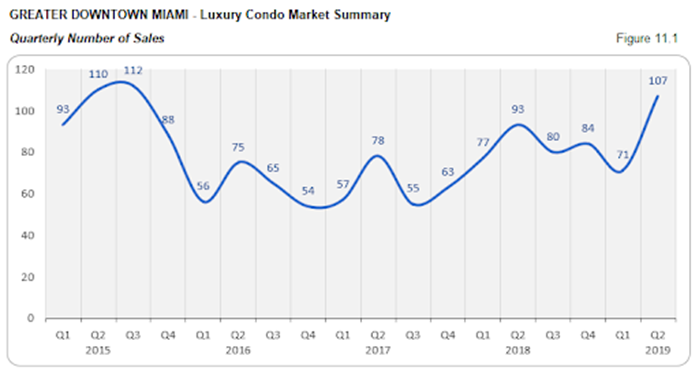 How prices influence luxury condo sales in Miami Beach vs. Greater Downtown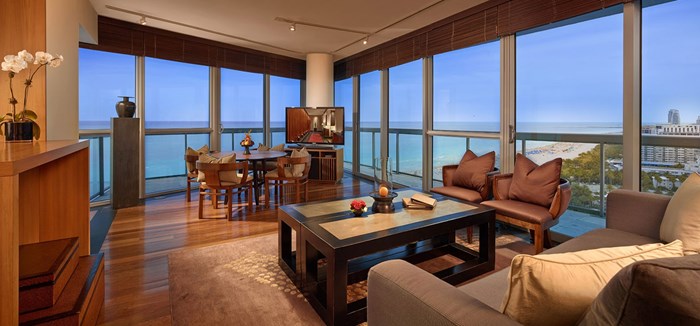 Setai, Miami Beach FL

The average sales price for properties priced $1 million and above in Miami Beach is $897/sq. ft., whereas it's just $541/sq. ft. in Greater Downtown. Taking a deeper look with a neighborhood vs. neighborhood analysis, it becomes clearer why buyer preferences are changing: 


| | | | | | |
| --- | --- | --- | --- | --- | --- |
| Neighborhood | South Beach | Mid-Beach | Downtown | Brickell | Edgewater |
| Avg. price per sq. ft. by quarter-end Q2 2019 | $1,054 | $751 | $541 | $554 | $495 |
| One of the most luxurious condo buildings in the neighborhood | | | | | |
| Avg. price per sq. ft. | $2,661 | $3,087 | $537 | $1,250 | $951 |
What do these prices fetch for buyers in Greater Downtown Miami? 
Affordable luxury
Looking at the table above, you will find that the average price per sq. ft. for one of the top luxury condo buildings in Brickell is $1,250 per sq. ft., while that in Mid-Beach is $3,087. Both properties offer exceptional luxuries such as waterfront living, dramatic water views, exquisite interiors by internationally acclaimed designers, multiple swimming pools with poolside service, state-of-the-art gym, a luxury spa, concierge services and much more. Also, while Echo Brickell is located in the heart of the financial district with loads of public transportation options, Faena House is the centerpiece of the upcoming Faena District, which in itself will house a bazaar, arts center, marina and hotel.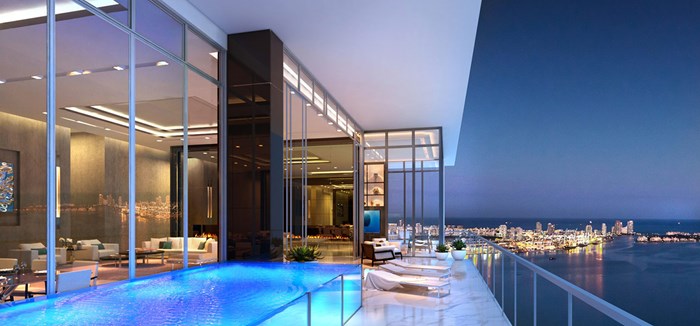 Echo Brickell - Brickell, Miami FL

Now, practically speaking, since buyers are getting the same kind of luxuries and amenities at half the price, it is but natural they will come to choose a property that offers maximum value for money.
This comparison is just one in a sea of many. The Greater Downtown Miami area is filled with such affordable luxury condos, while newer properties in the beaches are coming up with even more expensive price tags. For instance, South Beach's Monad Terrace is available at an average pre-construction price of $1,969/sq. ft., as opposed to Edgewater's pre-construction Missoni Baia that is priced at $784/sq. ft. This is naturally shifting buyer attention to the more practical (and affordable) choices available in Downtown Miami and its surrounding neighborhoods.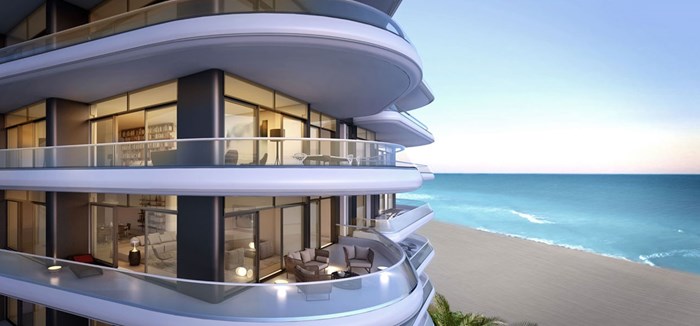 Faena House, Miami Beach FL

A share in the new, modern waterfront of Miami
Let's face it, the biggest draw for a residence in Miami is getting a piece of its gorgeous waterfront. Over the past few years, lots of luxury waterfront options have sprouted up in GDM, especially Edgewater.
Point in case, Edgewater's Paramount Bay is available at an average price of $718/sq. ft., One Paraiso comes with a tag of $933/ sq. ft., and Brickell's recent addition, Brickell Flatiron (though not waterfront) is available at an average price of $869/sq. ft. These seem much more affordable compared to Mid-Beach's pre-constructions like 6080 Collins Avenue priced at $1,214/sq. ft., or 57 Ocean with an average price of $2,828.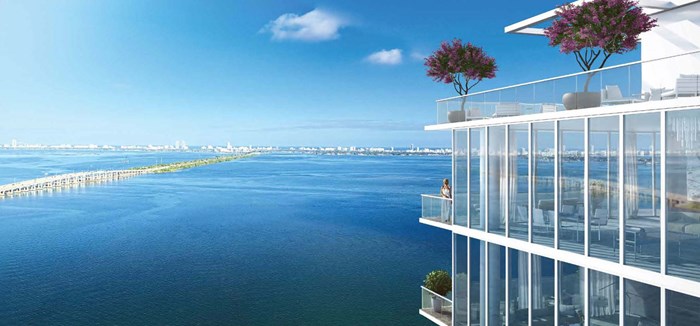 One Paraiso - Edgewater, Miami FL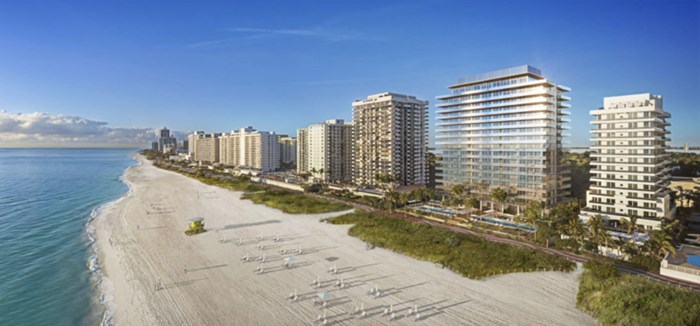 57 Ocean, Miami Beach FL

In addition to more affordable, luxury waterfront living, the mainland has grown to offer a wider selection of arts, culture, shopping and entertainment options. This is the new and improved Miami. The art and shopping scenes in Wynwood and Design District are undisputable. The Perez Art Museum Miami plus Philip and Patricia Frost Museum of Science are recent additions to Downtown cultural scene. Also, the Brickell City Center and Miami World Center in Downtown are poised to take over the city in terms of shopping and entertainment.
With all these latest developments being located in, or easily accessible from the Greater Downtown Miami area, combined with lower prices compared to the beaches, it's easy to see why buyers are shifting their attention.


What's taking the luster off Miami Beach?
Liveliness vs. Long-term Livability
By now, it has become pretty evident that Miami is seeing a big wave of people moving in from high tax states post the announcement of the SALT tax laws. Low tax states such as ours have become hot property for out-of-towners.
Further, these folks are looking to establish a life here, and they don't need the beach on a daily basis to do it. By no means does this mean that a life can't be built on the beach (we still think South of Fifth is a gem), but the beach is mostly looked at as a frivolous, tourist destination and less as a fit-for-the-family kind of place. So, the choice here becomes obvious for someone who would like to settle down permanently.


Less than ideal springtime reputation
Of late, South Beach has gotten a bad rap for its rowdy tourists (read spring breakers). With the neighborhood turning into spring break central every March, the beach becomes a less than an ideal place to party, let alone live and raise a family. The number of offenses and arrests sky rocket during spring break season, which is a major turn off for those seeking a tranquil lifestyle.
While the City of Miami Beach is looking to correct the situation by shelling out $30,000 on marketing campaigns warning spring breakers, and another $70,000 for police overtime, it could take a while to clean up South Beach's reputation. And, even though Mid-Beach and South of Fifth are not as affected by these shenanigans, the greater impact of reports splashed across the internet and news networks are taking the luster off living in Miami Beach, even if they are blown out of proportion or just inaccurate.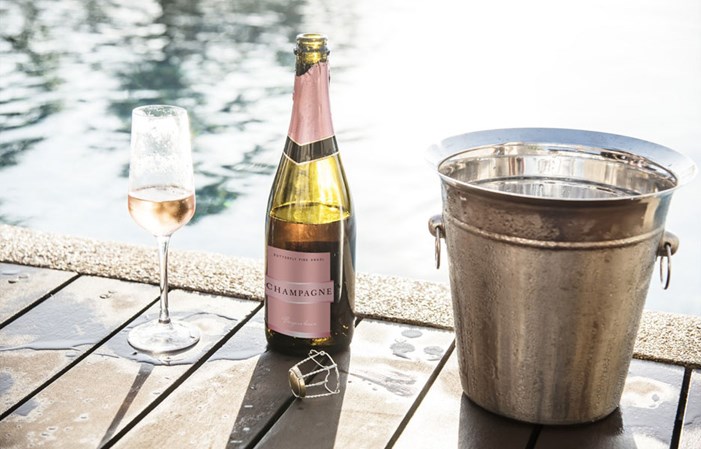 All of these factors combined have been motivating buyers to opt for a residence in the Greater Downtown Miami area (Downtown Miami, Brickell and Edgewater), taking the limelight away from Miami Beach. What will be interesting to note here is whether this is a permanent change, or something that will reverse or balance out in a couple of cycles. But, in the meanwhile, anyone looking for affordable luxury in the new Miami should definitely browse for a Greater Downtown Miami condo residence here.
Share your thoughts with us
Sign up now
Get news and updates delivered to your inbox