Best Edgewater Miami Attractions, for Locals and Visitors Alike
Aug 15, 2018 August 15, 2018
Edgewater is one of Miami's most transformative neighborhoods, a place that seems to reinvent itself in every real estate boom. Just over ten years ago, Edgewater was a quiet, almost forgotten enclave with little for residents to do. Now there are a slew of new or renovated public parks and cultural destinations all conveniently within this fascinating neighborhood.
The YoungArts Foundation, also known as the Bacardi Building
A few years ago, the YoungArts Foundation purchased the former headquarters of Bacardi Rum and have transformed it into an artistic destination. The building and its rear annex are iconic pieces of modernist architecture designed by architect Enrique Gutierrez in 1963 and Ignacio Cabrera-Justiz 1974 respectively. Both are floating modernist forms, above a wide, welcoming public plaza, and decorated with beautiful tile murals and stained glass. YoungArts hosts exhibitions, events, and the annual YoungArts Week at the complex, all of which make it an interesting and artistic place.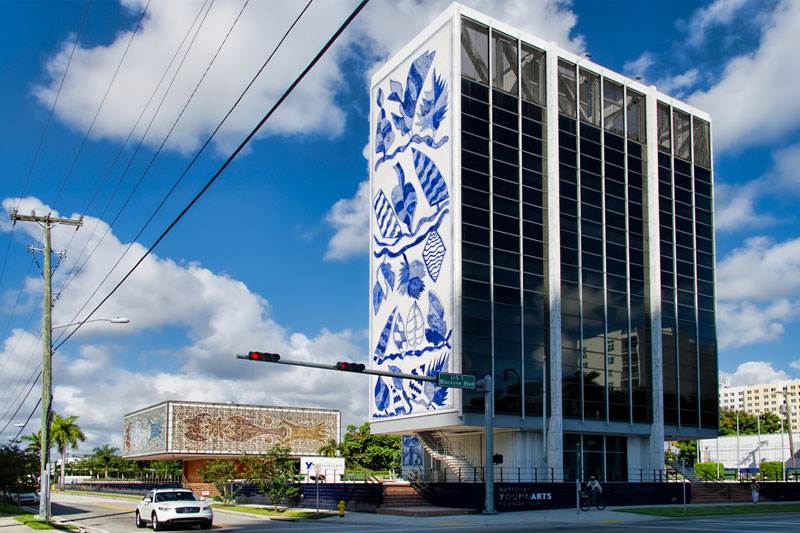 The YoungArts Foundation aka Bacardi Building | Photo: Dan Lunberg
Margaret Pace Park
One of Miami's best parks, Margaret Pace Park is a beautiful bayfront park. It has tennis courts, a basketball court, a playground, large lawns, public art, and leafy shaded pathways. Directly to the south is the historic Miami Women's Club building, which is due to be renovated in the coming years. The park is lined with condominium towers along North Bayshore Drive, which frame it nicely against the water and help to make it one of the loveliest spots in Miami. The park was created in the late 1960s and named after Margaret Pace, an environmental activist and a founder of the Miami Garden Club, not the Miami Women's Club, as is widely believed. The park was given a $4 million renovation in 2003.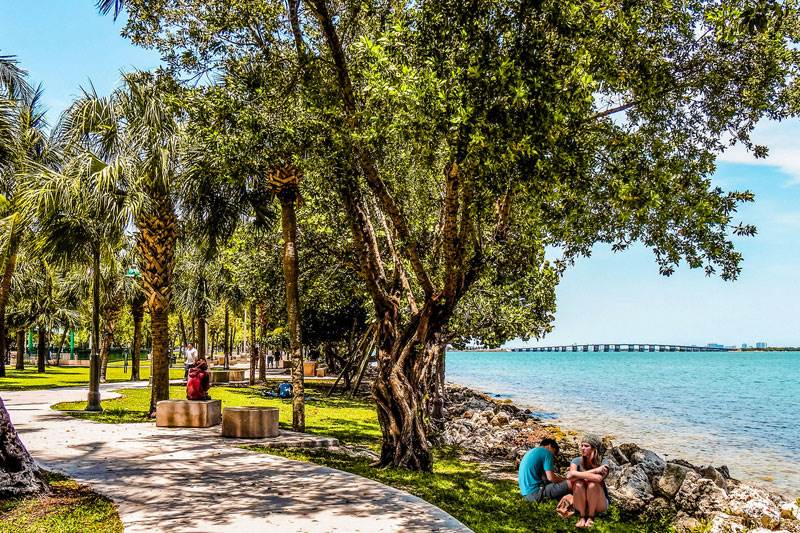 Margaret Pace Park | Photo: Aglez the City Guy
Sea Isle Marina
Just south of Margaret Pace Park, but hidden behind condo towers without much access from the street is one of Edgewater's best kept secrets, Sea Isle Marina. Built as part of the neighboring Plaza Venetia/Omni development in the 1980s, this is the neighborhood's only marina.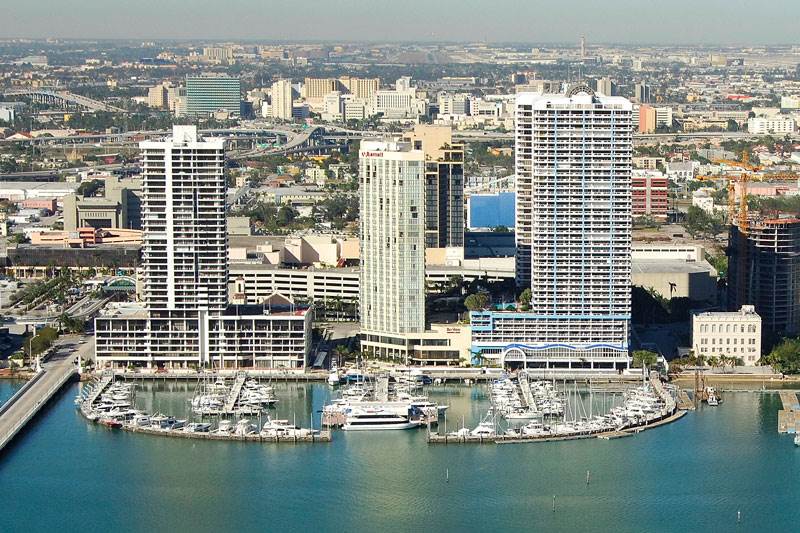 Sea Isle Marina
Icon Bay Park
This new public park is located directly underneath the Icon Bay condominium tower, which is suspended above it on piloti. The park was recently built by the Related Group, which has built parks as part of all of their Edgewater projects. The park includes a sculpture garden and a bay walk. The site was formerly single family homes.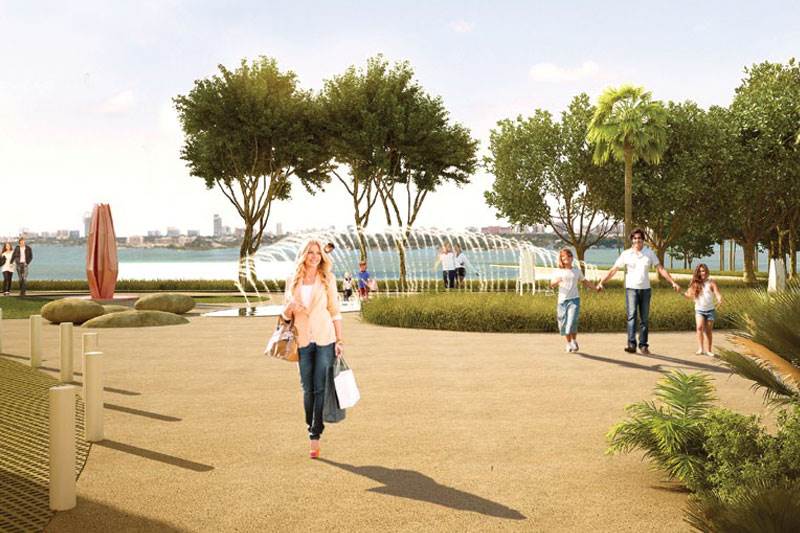 Icon Bay Park
Paraiso Park
The almost-complete Paraiso mega project includes a bayfront restaurant called Amara, a brand new public park and bay walk, and a private club for residents. The park is another public park built by Related in Edgewater. The site was formerly single family homes.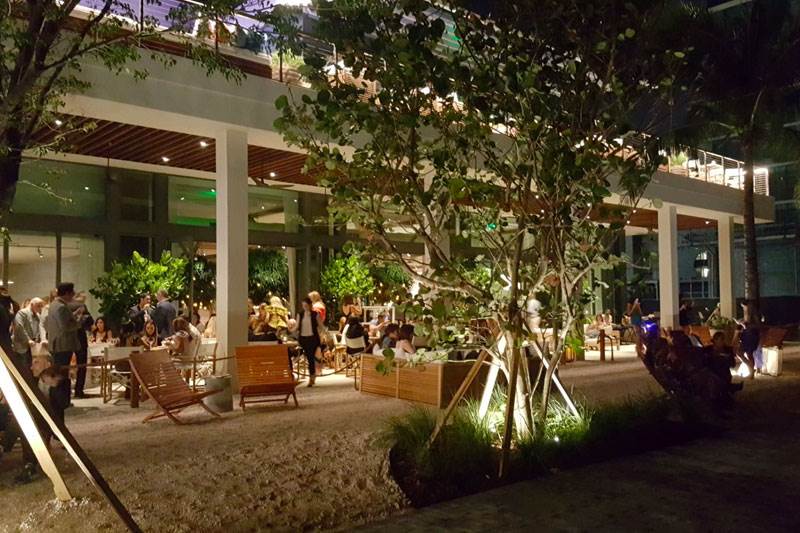 Amara at Paraiso Park | Photo: Carlos Rosso
Adrienne Arsht Center and Books & Books
Miami's main performing arts center is located on the border between Edgewater and Downtown Miami, in a neighborhood at times called the Omni District or the Arts and Entertainment District. With an opera house, a concert hall, and a black box theater, the Arsht is always activating the neighborhood with performances and cultural activities. The Arsht Center also contains an outpost of Books & Books, a local bookstore chain that is a major driver of South Florida's literary scene. Designed by internationally famous architect Cesar Pelli in 2004, the Arsht Center envelopes an historic art deco tower known as the Sears Tower which was the architectural focal point of the Sears Department store built on the site in 1929.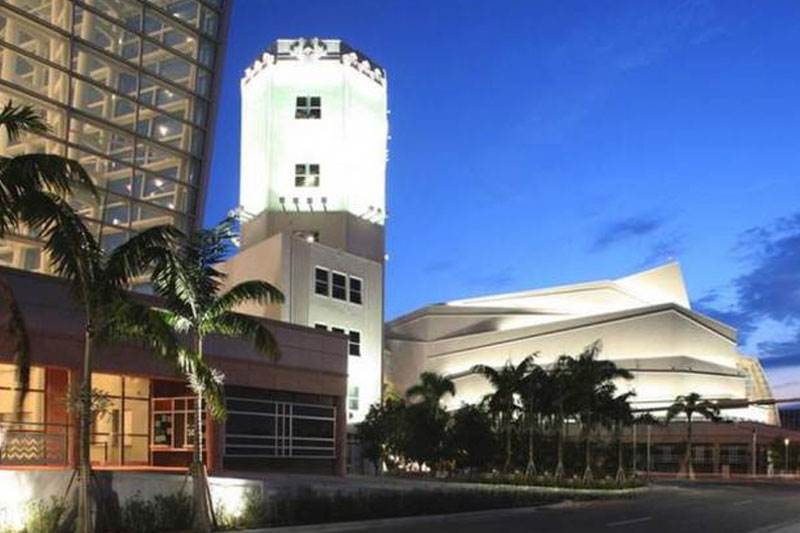 Adrienne Arsht Center - Historic Tower
City of Miami Cemetery
Miami's most historic cemetery is on the edge of Edgewater, a few blocks west of Margaret Pace Park. The cemetery is the final resting place of such local luminaries as Julia Tuttle, the founder of Miami, and the Burdine family, well known for its chain of department stores that any Miamian worth their salt will remember fondly. Other famous founding names of the city to be buried here include Seybold, Peacock, and Sewell. The land was donated in 1897 for the creation of the cemetery by William and Mary Brickell in 1897.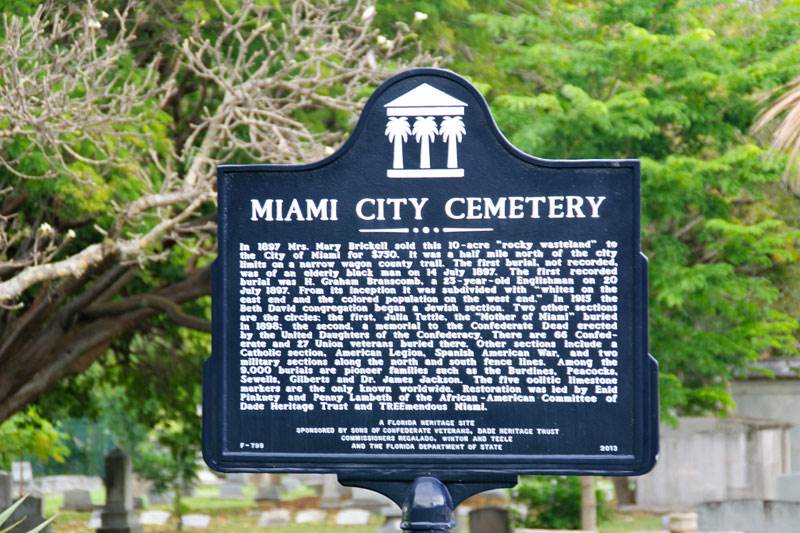 City of Miami Cemetery | Photo: Marcelo Pardo
Share your thoughts with us
Sign up now
Get news and updates delivered to your inbox