Buying a House versus Condo: The Ultimate List of Pros and Cons
Aug 19, 2018 August 19, 2018
Buying a new home involves a multitude of decisions. So, you know where you want to live – city, beach, suburbs... But, do you know HOW you would like to live? The ages-old question is whether you should be a single family home or a condo.
Should you buy that dream house with big yard? Or would an easy-to-maintain condo with alluring amenities be more comfortable? Both types of properties have their pros and cons.
The good news is - there is no right or wrong answer, and you could ultimately be happy with either decision.
In the guide below, we explore the nuances of living in a condo vs a house, so you can decide which type of property suits you better:
Lifestyle
House
Condo
Growing family
. A house is a great investment for those expecting additions to the family. These additions could be permanent – as in kids, or temporary – like visiting relatives, grandchildren, frequent guests, etc.
Small/Nimble family.
A condo makes a rather cozy pick for young professionals, empty nesters, college folk and frequent flyers. That said, there are plenty of larger condos for growing families as well.
Handy with repairs.
People who love gardening or other handywork and don't mind the extra chores (or managing others) will enjoy having their own pool, yard, front porch or garage.
Someone else takes over maintenance.
Simply step out to enjoy the pool, gym, spa, club room, game room, lounge and more as the condo association is in-charge of the repairs and maintenance.
Enjoy the privacy.
A house will suit those who like to simply come home and shut the doors on the world. No bumping into neighbors on the elevator ride up or sharing your pool with a stranger.
Be part of a built-in community.
Seeing the same faces at the pool deck, concierge desk, kids' room and more is a great way to meet people and stay connected. Social butterflies win here.
Suburban bliss.
Considering most standalone houses are located in the suburbs or in suburb-like settings, they are great for those seeking seclusion and yet having access to the city core with a drive.
Part of the action.
Considering most condo buildings are located close to work, public transportation and entertainment hubs, they will put you in the middle of all the action and walkable conveniences.
Home sweet home.
A house definitely suits those who prefer to stay put, except a vacation or two. Home security and maintenance can get difficult to manage for frequent flyers.
Vacay much?
Frequent travelers will appreciate the 'lock up and leave' convenience that comes with owning a condo. (Read on to find out why)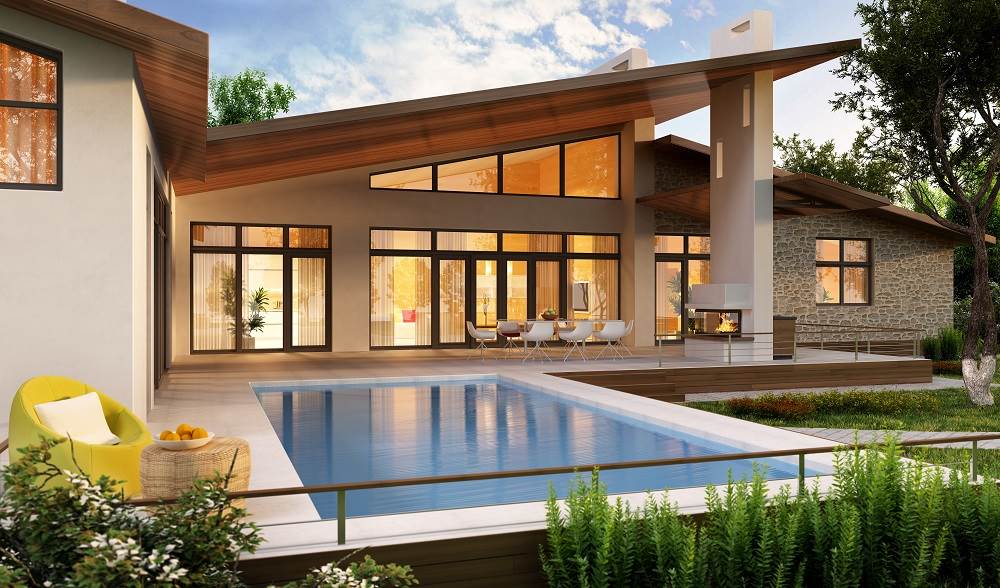 Modern Single Family Home with pool

SLS Lux Brickell, Miami
Space
House
Condo
Minimum two bedrooms.
A house will come with a minimum of two bedrooms and usually go up to four or more. So, those with large families or expecting additions will enjoy the likely flexibility of being able to go vertical and/or add more rooms if necessary.
Standard one to two bedrooms.
Condos are built on the idea of being compact. So, you will always have more smaller options available, although the larger condos do exist. Once you get to four bedrooms or more, your options become pretty limited.
Add/alter rooms.
Teens require separate bedrooms? Need a private office? Wish to turn the attic into a guest room? Want to separate the dining area from the living room? No problem! As long as you have the square footage, you can alter your living space to suit your needs.
Permission-based alterations.
Most condos in a building will have standard layouts and strict requirements so not all alterations will be possible. Plus, it becomes a great nuisance for your neighbors. That is why special permissions are required before you can take up any home improvement projects.
Ample space to grow.
Besides the liberty to add/alter rooms, houses come with ample space to grow. Adding a pool or BBQ pit to the back yard, hosting ball games in the front yard, crafting a flower bed on the front porch are just some of the liberties that come with owning a house.
Limited to preset (five-star) amenities.
Condos feature a fixed number of shared amenities, and that's that. So, organizing the next BBQ or pool party will require reserving or sharing the amenities. Having said that, condo amenities these days don't leave much to be desired.
Flexibility of use.
Visitors staying over? They can just walk in and get cozy. The basement or attic can turn into a guest room. Have a spare room or garage space? Turn it into a personal gym or office. With a house, your possibilities are endless.
Limited use of space.
Considering condos typically come with a more compact layout, you will have to make do with what you have. And visitors can't just come and go as they please without getting registered with security if they want to use the amenities.
Storage galore.
The ever-beloved garage is every hoarders dream. Most people don't even think about parking their cars in the garage anymore, as it's the modern man's storage shed. Otherwise, you also have the option of the storage shed out back or on the side of the house.
Live minimally or store elsewhere.
Condos don't allow you to use your assigned garage parking space to store anything other than your car, and your balcony can only hold so much "stuff". The best route is to live minimally. Otherwise, you will have to seek out condos that have separate storage units included, or rent at a local storage facility.
Pets live freely.
If you're an animal lover, owning a house gives you the freedom to adopt/buy as many pets as you'd like; regardless of shape, size and species. A front or back yard gives them the liberty to roam about freely.
Restrictions on pets for harmony.
Condo associations generally have rules regarding pets to maintain neighborly harmony. Most dictate the size, species and number of pets you can own. On the other hand, some condos these days are so pet friendly that they even have dog parks and pet salons on-site.
Community, Quietude and Security
House
Condo
Private oasis of calm.
Most houses are built in the suburbs or in suburb-like communities. These have an idyllic setting with tree-lined streets, kids cycling through and an overall peaceful ambiance. Walking into your home in a community like this makes it easier to shut the door on city chaos.
Communal harmony.
Condos are all about communal harmony and living close to the action. These are a great pick for those who love to be part of an active community and be surrounded by life. Additionally, many condo communities host special events for their residents to connect.
Secluded serenity.
Like mentioned above, it's easier to walk into your home and shut out the noise. But on the downside, it takes a lot more effort to know your neighbors, unless you don't decide to go and ring that bell.
Socializing success.
Getting acquainted with your condo community comes easy. All it takes is an elevator ride to the building's pool, gym, library, club room, wine tasting room, etc. and you are likely to bump into like-minded people.
So-so security.
The security of your house rests completely on your shoulders. Putting in a home security system can be a pricey affair, but not having one could cost more as standalone houses are at a higher risk of break-ins. And a security system doesn't guarantee that they won't break in, just that they have to hurry up . . .
Worry-free security.
Even the most basic of condo buildings have some kind of surveillance/security check in place. This 24/7 security is included in your monthly fee. With minimum to no chances of break-ins, it's easier to just lock up and leave your condo for extended/multiple tours.
Accessibility
House
Condo
Removed from city chaos (and city).
Houses are mostly built away from the city core, so as to give you the freedom of space. This makes going to popular places of interest or work a bit of an effort. Also, you typically won't find an affordable house within the city core or in popular neighborhoods.
In the heart of the city.
Condos are built to get more folk in popular places of interest, work, entertainment, etc. Take Miami for instance, you will find a majority of the condo buildings in Brickell, Edgewater, Downtown, Mid-Beach and Sunny Isles Beach. Such ease of access attracts young professionals, empty nesters, frequent travelers and people looking for second homes.
Remote access to major roadways and public transportation lines.
With most standalone houses built in less invasive communities, they also end up lacking access to both major roads and a variety of public transportation options. Homeowners can expect access to only limited public modes of transport, such as buses, and will need to rely heavily on their private vehicles. Also, major expressways and roads are sometimes a significant drive away from home.
Proximity to public transportation and arterial routes.
Since condos are built in (and around) the city core, you will also find a host of public transportation options closer home. In Miami, the major cluster of condo buildings can be found next to stops along the Metrorail, Metromover and MetroBus routes, as well as arterial routes such as the I-95, Dolphin Expressway, Biscayne Blvd and more.
Amenities
House
Condo
Personalized amenities.
House owners can choose exactly the kind of amenities they'd like to install. Choices range from a swimming pool to BBQ pit, herb garden, Zen garden, outdoor play area, tree house, dog house and much more. While house owners have the liberty to customize their amenities to suit their taste and needs, they usually can't compare to those offered in a condo building.
Five-star amenities.
Condos these days are being built with jaw-dropping amenities. Swimming pools, spas, gyms and landscaped gardens have become the norm. Latest condo buildings are now coming up with soccer fields, golf simulators, cigar rooms, wine cellars, party rooms, race car simulators, helipads, restaurants, art galleries, sky ports for flying cars…the works!
Taxing on the muscle and pocket.
Maintaining a pool, herb garden or Zen garden at home does require quite an effort. So, either you end up doing all the work or need to pay for maintenance. Also, repairs to such luxuries can pile up. Further, considering that you will be paying separately for a gym, club or beach membership, your bill can go considerably higher, as would the size of your home.
Pocket-and-effort-friendly.
Even though there is a comparable monthly association fee for the level of luxuries you choose to come with your condo building, they still turn out to be cost-effective. Comparing a single monthly fee with separate gym, spa, pool, sports club, or beach club memberships definitely proves to be more pocket-friendly. Not to mention, their maintenance and repair is someone else's headache too.
Maintenance and Bills
House
Condo
Generally high maintenance.
As mentioned above, repair and maintenance bills for a house with equal amenities as a condo can really pile up. The same kind of amenities in a house (pool, landscaping, wine cellar, etc.) could cost your more in the long run, either in expense, headaches or both.
Generally low maintenance.
As mentioned above, condos might require you to shell out a fixed monthly fee, but it covers such a wide array of facilities and amenities that it turns out to be cheaper in comparison, pound-for-pound.
Fatter insurance bill.
As a house owner, you will need to pay more for home insurance considering the size of the property and the probability of damage to a standalone structure.
Fee inclusive of master insurance.
Condo buildings are already covered under a master insurance that is worked into your fixed monthly fee. This insurance covers the structure and all the common areas, and only your interiors are left to be insured personally, which is a minimal expense.
Analyzing Monthly Spends
House
Condo
Can put some bills on hold.
Whether it is repairs to the pool, turning off your pool heater, or replacing the roof, you have control over what items you budget and which ones you put off until you are financially ready. The buck stops 100% with you.
Fixed monthly association fee.
Your maintenance expenses are essentially fixed. If you need to cut costs, the condo won't stop landscaping or maintaining the pool for a few months to help lower your monthly fee. Every luxury comes at a price and so does the long list of amenities available to condo owners.
Bigger utility bills.
Considering the sheer square footage, it generally costs more to heat, cool, and spend on the regular electric and water needs of a house.
Smaller utility bills.
Again, based on the square footage of a condo, utility bills will be generally cheaper for your residence. Many times water, cable, internet, etc, are already included in your association fee.
Choice Vs. Compulsion
House
Condo
You're the boss.
From repairs and fixes to full-fledged renovations, you can choose to pick up the drill at your own free will and convenience.
Require permissions.
Whether it's moving a wall or upgrading the kitchen, you will need approval from your condo association. There are also restrictions on repair times, so as not to disturb the neighbors.
Freedom to rent.
Again, your home, your rules. You can rent out whenever you want, to whosoever you want and as many times a year you want, within municipal guidelines.
Rental rules and restrictions.
You will need to comply with the condo association's rules about the number of times and months a year you can rent out your property. And your renters will typically need to be approved by the association. However, on the upside, many condo-hotels offer to manage your rentals for you.
Taxes and Loans
House
Condo
Easier to secure loans.
When buying a house, your own finances and the property condition are all that come under the magnifying glass. This makes it easier to secure loans on a property.
Another layer of scrutiny.
When buying a condo, lenders will not only scrutinize your own financial health, but also analyze the condo association's finances as well before committing to give a loan.
Lower down payments and interest rates.
Another upside of looking to buy a house is that lenders require you to put a lower down payment and tend to have slightly lower rates than condos.
Higher down payments and interest rates.
Depending on the condo association's finances, hopeful owners could be asked to put a higher down payment and deal with slightly higher interest rates compared to a house.
In the end, the age old question of whether you should buy a house or condo really depends on how you prefer to live. So has this article helped you decide on one or the other? Let us know in the comments below.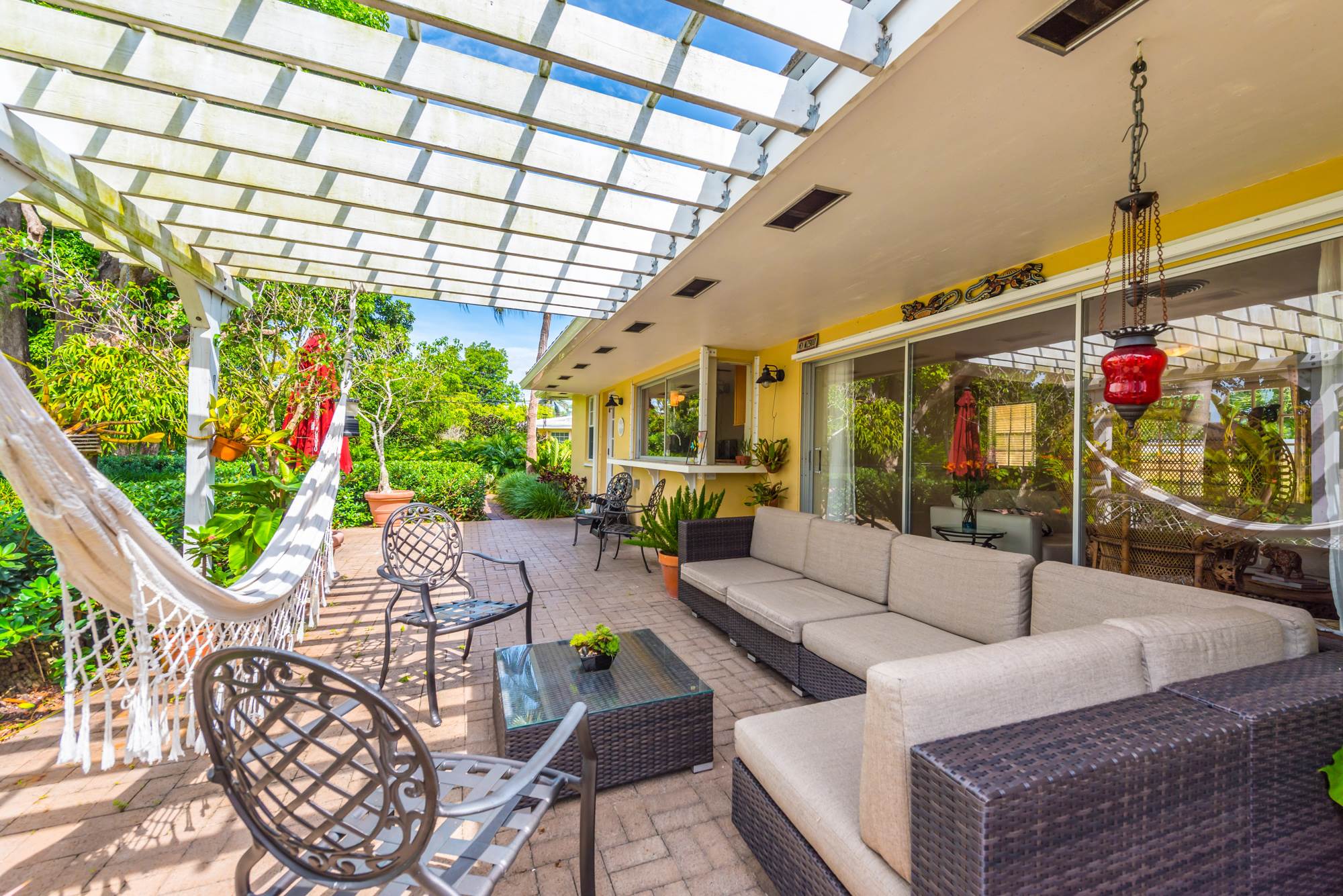 Single family home with lush garden in Palmetto Bay, Miami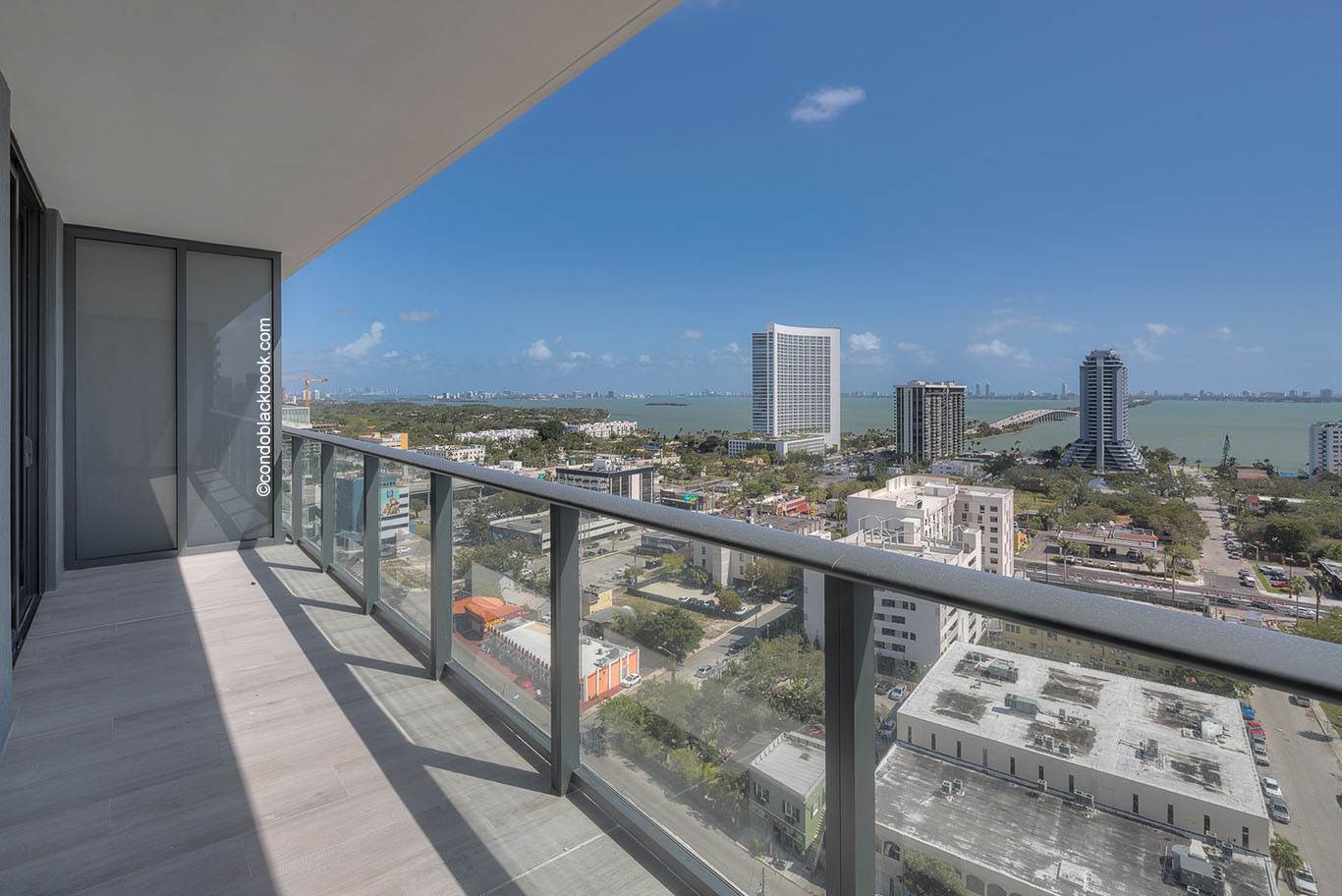 View from unit at Hyde Midtown Condo, Miami

Looking to buy a home or condo in Miami? We can help. Click the "contact us" button on this page. We'd love to hear from you.
Share your thoughts with us
Sign up now
Get news and updates delivered to your inbox