Centro Lofts Offers a Unique Downtown Miami Residential Experience: A Carless Living Space
Aug 19, 2013 August 19, 2013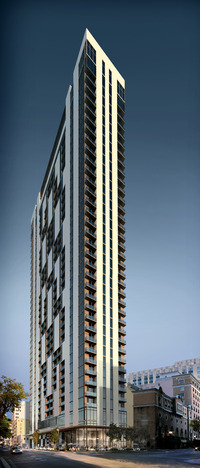 Recently enter
ing its presale phase, the 37-story Centro Lofts condo tower in downtown Miami is drawing attention from more than its slim, checkered design profile. In an area so reliant on cars for business and recreational transit,Centro Lofts rais
es eyebrows thanks its blatant lack of a parking garage. But the target clientele of developer Newgard Development 
Group is different than the typical fare; the primary market for the
Centro Lofts
is the young, carless population who rely far more on mass transit, walking, and biking to get around.
The benefits of going parking-lot free are multifold. First, the lack of a parking garage helps to keep unit pricing low. In the case of Centro Lofts, the 352 units ranging from 500 to 1,100 square feet are priced from sub-$200,000 to $450,000. Second, avoiding a parking garage also cuts condo association fees up to 30 percent. Finally, alleviating the need to construct a parking lot and removing cars from project not only reduces the environmental footprint of the structure's construction, but may also incentivize the production of further mass transit options.
Residents at Centro Lofts will be able to partake in a greener alternative to on-site parking: car rental through Car2Go. With Car2go, condo dwellers can rent cars by the hour and have easier access to the burgeoning downtown mass transit system. Public parking garages are also available should residents require the use of a car. A new bike-sharing program, Feel the Street at Your Feet, is also available to the area's youthful, urban residents.
With currently about 180 units already reserved, sales officially began in April and has found interest with international buyers, local residents seeking a second home, and investors. In its quest to appeal to a younger set, interior design features include wired work stations throughout the building, a rooftop pool, and a selection of purpose-built social areas.
Share your thoughts with us
Sign up now
Get news and updates delivered to your inbox