Discover Miami's Best Private Beaches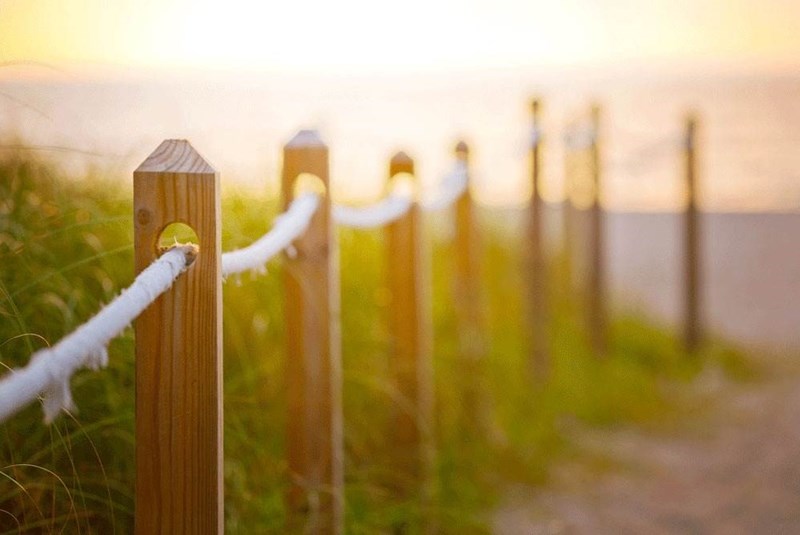 Dec 24, 2018 December 24, 2018
There is no question that Miami is best known around the world for its beaches. With sand and sea all around, there are a dozens of beautiful, sunny beaches to discover in the metropolitan Miami area, from the untamed natural shoreline at Crandon Park and Virginia Key, to the stretch of sandy coast running from Miami Beach north to Haulover.
Since the vast majority of the area's beaches are publicly held by either the State, County, or City, they are nearly always public and accessible to everyone. In fact, there are very few truly exclusive locations where you may enjoy utmost privacy on the beach in Miami. While many hotels, resorts, and condominium communities offer private beach clubs with direct beach access and oceanside amenities and service, there is no law that prevents tourists or local residents from wandering onto the beach, or swimming, practically anywhere in South Florida.
For those looking for an absolutely private beach escape, where you can relax, unbothered by the possibility of public exposure, there are very few locations that feature a sandy beach that is actually private or semi-private. And don't be surprised if you find yourself alone on one of these private beaches with one of the many top-name celebrities that have made Miami their home! Below we provide a list of Miami's exclusive private beaches.
Fisher Island Beach Club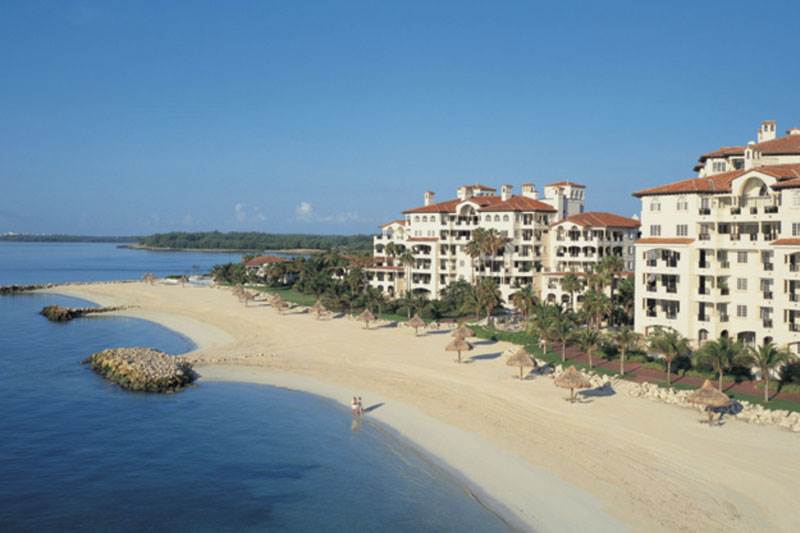 Photo credit: Fisher Island Club
One way to gain access to a beach upon which no one is allowed but members with private access, is by escaping to the exclusive and protected privacy of Fisher Island, where many of the nation's top celebrities own their exclusive luxury beach homes. Ultimate serenity and tranquility await you at the Fisher Island Beach Club, where members and guests may enjoy breathtaking ocean views and beaches gleaming with sugar-white sand imported from the Bahamas, as well as the warm, glittering waters of the Atlantic. Elegant seaside pavilions provide shade along this scenic stretch of private beach, accessible only to Fisher Island residents, their guests, and Beach Club members.
This luxurious Fisher Island is located off the coast of mainland Miami and Miami Beach, and accessible only by private seaplane, helicopter, ferry, or yacht, ensuring that no wandering tourists will ever venture onto the island's pristine private beaches. The 216-acre island houses an elite community of some 700 residents, as well as a resort hotel and beach club, with a world-class golf course and professional tennis club featuring clay, grass and hard courts. This elite island once belonged to Carl Fisher, and was later owned by William Vanderbilt. Today, Fisher Island is home to an elite community of some of America's wealthiest individuals, as well as a slew of famous celebrities.
Tahiti Beach Island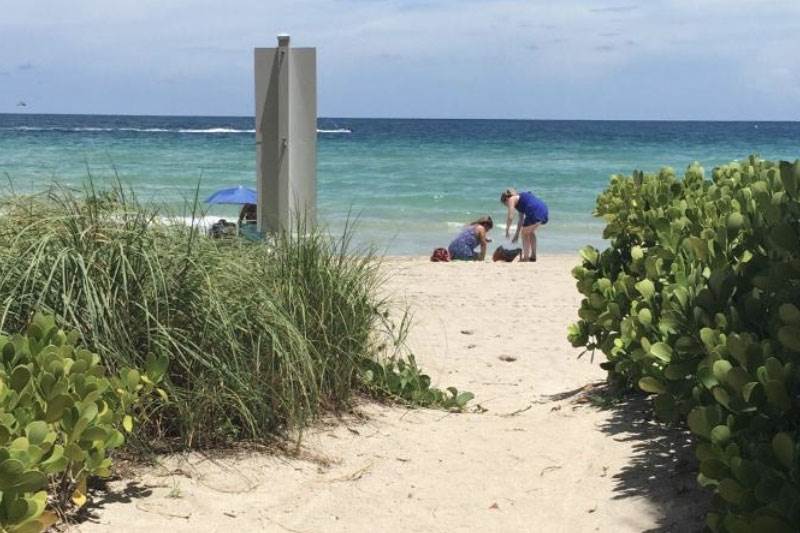 Photo credit: Maureen Bellucci
While Miami is surrounded by several small islands, many of which are home to elite private communities and boast boat docks and waterfront access, very few of them actually have sandy beaches that provide the opportunity for swimming or sunbathing. In fact, one of Miami's best-kept secrets is the gated waterfront community of Tahiti Beach, the only gated island community in the prestigious area of Coral Gables known as Cocoplum, which boasts its own private beach for residents and their guests. A private, secluded community consisting of only 26 exclusive luxury homes, Tahiti Beach Island residents enjoy full exclusive access to the many amenities of Cocoplum, including a marina, clubhouse, four hard court tennis courts, basketball courts, a gym, a private beach, and 24-hour security. This community meticulously combines the splendor of nature with the beauty of architectural design and a sensation of seclusion and safety, and provides escape from urban pressures while conveniently located only minutes from Coral Gables with its array of shops, boutiques, and restaurants.
Royal Harbour Yacht Club at Palmetto Bay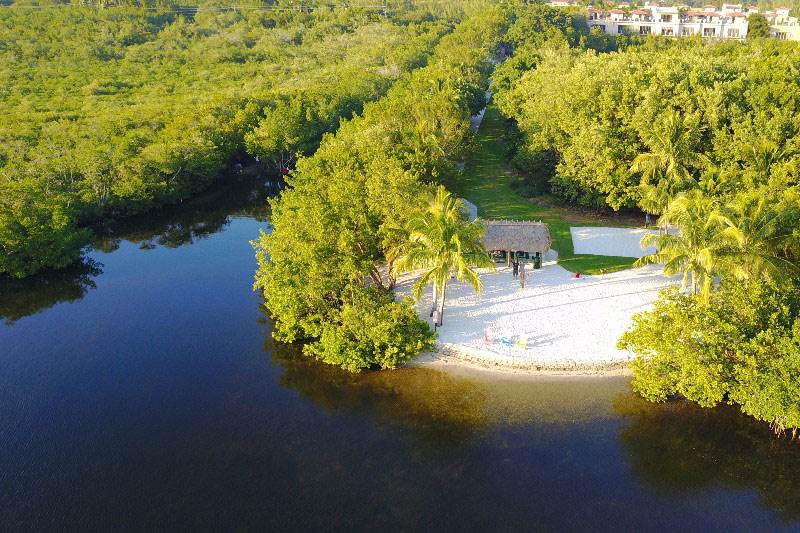 Photo credit: © Copyright 2018 Royal Harbour Yacht Club & Paradise Point
South of Miami, surrounded by the expansive natural beauty of the Everglades, and only minutes from such breathtaking locations as the spectacular Deering Estate, lies a subtropical paradise known as the Royal Harbour Yacht Club. Located in the community of Palmetto Bay in the South Bay, the Yacht Club is replete with all of the most coveted luxury amenities associated with luxury resort living, including its own private and exclusive community beach, as well as a marina, pool, spa, gym, club house, play area, BBQ area, nature preserve and trail, two tennis courts, and much more in this private, serene, family-centered waterfront community.
Golden Beach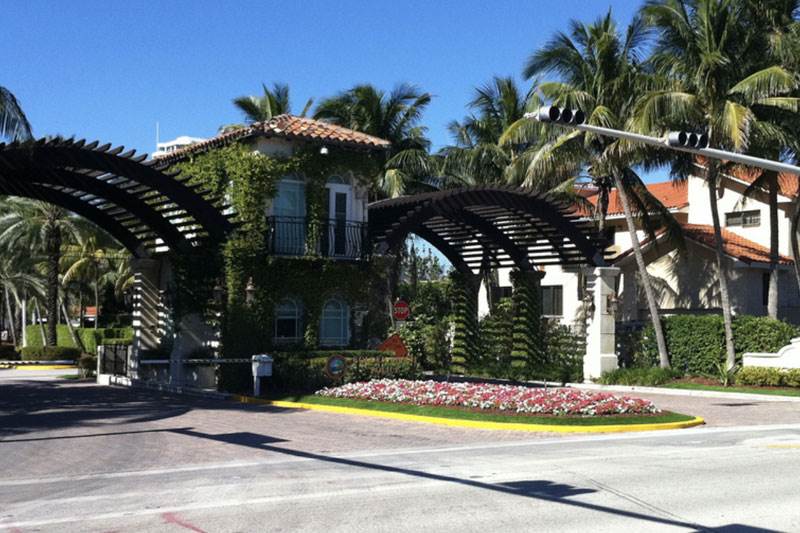 Photo credit: Ines Hegedus-Garcia
Another exclusive and private area with direct, private beachfront access is the tiny village of Golden Beach, a small development of large luxury homes along A1A whose backyards directly open onto the sandy shores of the Atlantic. While there is some controversy surrounding the question of whether the entire strip of beach in the tiny seaside enclave of Golden Beach is actually private, public access to this beach is difficult at best for anyone who is not a Golden Beach resident or a verified guest of a resident. The only possible outsider on any given day might be an occasional wanderer strolling on the beach along the shoreline from neighboring Hallandale or Sunny Isles, as there is no direct public access onto the sand from the street, and cars driving into town must pass through a gate that snaps their photograph. Signs posted along the beach make it clear to outsiders and visitors that non-residents must walk only along the water's edge, or risk being arrested for trespassing on residents' private property, as private property rights are said to extend for 50 feet beyond the warning signs behind each home. Social activities such as picnics are not permitted among visitors, in order to protect the privacy and comfort of local residents. If you happen to stroll onto Golden Beach by accident and are unsure as to where private property rights end and you may legally walk, you can safely assume that if the tide is not high, the "wet sand" part of the beach is the only part that may be safely considered public.
Share your thoughts with us
Sign up now
Get news and updates delivered to your inbox