Miami Beach Commissioners May Soon Approve an Ocean Drive Clean-Up Plan
Feb 24, 2016 February 24, 2016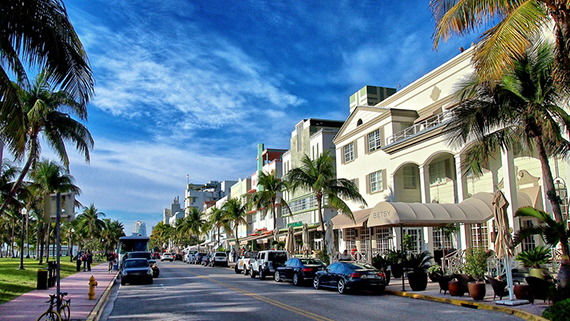 After several years of residents complaining about loud noise, petty crime, sidewalks being overcrowded, and so much more, Miami Beach is finally taking steps to clean up Ocean Drive.
The land use committee of Miami Beach, which is run by many city commissioners, has heard from members of the Ocean Drive Task Force, a group of business owners who brought forth the complaints to the city, about the poor conditions on the street.
The Ocean Drive Task Force has given around 30 recommendations for the street to be improved. Some of the improvements include upgrading the light fixtures, increasing the resident police force, banning loud music from vehicles, and requiring business owners to scale back their umbrella sizes to open up the sidewalk.
The commissioners have approved sending the recommendations to the full city commission for full approval, but they expressed their doubts about some of the measures they want to require. For instance, enforcing noise ordinances has been a chore in the past, and requiring a uniform color of umbrellas is unrealistic and unreasonable. Still, some changes may be made to the plan before it is fully approved.
On the brighter side, commissioners agreed to begin a pilot program to move the restaurant tables that are on the sidewalks closer to the businesses themselves, which may require some table space to be lost.
Already, the Miami Beach City Commission will vote in May to ban street alcohol sales from 2:00 a.m. to 8:00 a.m.
Source: therealdeal.com
Photo credit: therealdeal.com
Share your thoughts with us
Sign up now
Get news and updates delivered to your inbox