New Art Model Entices Condo Buyers
Oct 09, 2013 October 09, 2013
In the competitive world of luxury condominiums, developers often look for innovative ways to court prospective buyers. One South Florida developer has found a most unique way to attract buyers to his condo association in South Florida. Eduardo Costantini, the Argentinian developer for Oceana Bal Harbour, is offering buyers shared ownership of two conceptual art pieces designed by New York-based artist Jeff Koons. The artist has become known for creating works of arts inspired by everyday items.
Entitled "Ballerina" and "Pluto and Proserpina", the two massive sculptures are said to have a value of more than $14 million. Crafted of live plants and chromium, "Pluto and Proserpina" reaches a height of eleven feet and is inspired by a classic work of Roman mythology. Plans are underway for the sculpture to be positioned at the end of a breezeway near the condo's reflecting pool. At the opposite end of the breezeway will be the sculpture entitled "Ballerina."
Construction on the Bal Harbour condominium will begin later in the year and is expected to be completed by 2016. Until construction is complete, at least one of the statues will be loaned to the Whitney Museum in New York.
Mr. Costantini, also an avid art collector, has indicated that the inclusion of the artwork in his latest development project is befitting of Miami's transformation into a cosmopolitan, international city. Units in Bal Harbour are anticipated to begin selling at $3 million each. Each unit sold in the building will include the price of the sculptures along with insurance and maintenance fees for the works. Bal Harbour will include 250 units when it is completed. Once the building is complete and all units have sold, the project as a whole is anticipated to have a worth that will exceed $1 billion.
While somewhat unique, this is not actually the first time that artwork has been included in the development of a condo project. Icon Brickell in Miami also features a series of sculptures by a renowned artist. The artwork is owned collectively by the residents of the building.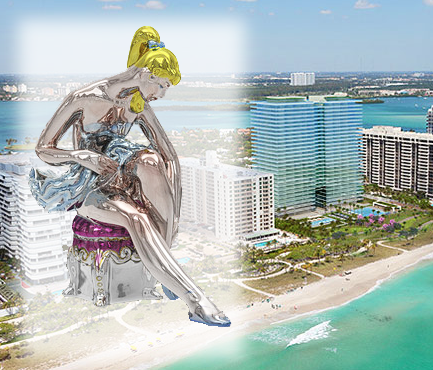 Ballerina by Jeff Koons
Share your thoughts with us
Sign up now
Get news and updates delivered to your inbox