The Magic of Art Basel Miami Beach 2014
Nov 25, 2014 November 25, 2014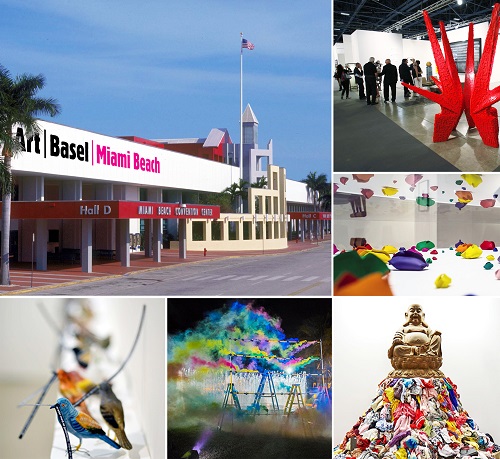 Each year there comes a time when the world flocks to Miami Beach to ogle at sheer beauty; however, it's not about people watching. The Art Basel festival held at the Miami Beach Convention Center in December each year makes heads turn with its intriguing display of paintings, drawings, installations, sculptures, photographs, films, as well as editioned audio and video works.
Commissioned at the nexus of North and Latin America, perched along the dazzling shores of South Beach, this grand contemporary art fair had over 250 galleries participating from 31 countries in 2013. With participants from almost every major continent, last year's exhibition featured artworks from North America, Latin America, Europe, Asia and Africa, attracting more than 75,000 visitors.
The artworks come segmented and are displayed across seven show sectors that include the Galleries, Nova, Positions, Kabinett, Public, Video and Magazines for ease of viewing. Public artworks are also displayed in the lush Collins Park for everyone to enjoy.
Where there is art, there will certainly be art lovers, fashionable people and lots of celebrations. Miami Beach's Art Basel brings along a slew of gallerists, artists, collectors, and celebrities to town. Owing to the huge demand of these fine people from across the globe, satellite fairs and events spring up from Midtown to Downtown with pop-clubs and celebrity-splashed parties wooing the lovers of nightlife.
This year, the opening event of Dec. 3 will be reserved for VIP guests only, with public show hours beginning at 3 p.m. on Dec. 4. So, plan ahead and beat the rush!
Art Basel Fact Sheet:
The Art Basel festival in Miami Beach happens to be the sister fair of Art Basel Switzerland, which was founded in 1970.
The annual fair debuted in Miami Beach in 2002, since it was postponed in 2001 owing to an uncertain environment entailing the 9/11 attacks.
The seven show sectors of the Miami Beach Convention Center come spread across 500,000 square feet to be able to host all sorts of contemporary and modern art exhibits.
While Galleries is the main sector with a range of works displayed within separate booths, Nova hosts a maximum of three artists at a time and Positions features new talent. Also, while Editions showcases editioned works from leading publishers, Kabinett displays curatorial concepts and Public boasts of outdoor sculptures, interventions and performances at Collins Park. And, while Survey presents precise art historical projects, Film and Magazine stand to justify their names.
The Miami Beach Convention Center also features a bookstore in Lobby B, two self-serve restaurants in the center (one fully vegetarian in hall A), five cafes on the show floor and an outdoor Garden Café across the street, located in the Botanical Garden.
Source: miamibeaches.fr
Photo credit: Art Basel - arrestedmotion.com
Share your thoughts with us
Sign up now
Get news and updates delivered to your inbox