The Most Luxurious Condo Buildings in Venetian Islands
Sep 14, 2022 September 14, 2022
Miami Beach's Venetian Islands are a coveted set of isles, tucked away on the east side of Biscayne Bay, and connect South Beach to mainland Miami in Edgewater via the Venetian Causeway. And while many of the buildings are older, they are going through beautiful restorations of amenities and interiors. So if you're interested in buying in the Venetian Islands and its tucked away community, and want to know which top-of-the-line luxury residences are available, then this is the list for you. 
For 2022, we've ranked the Top 5 Most Luxurious Condo Buildings in Miami Beach's Venetian Islands, which also happen to be the most expensive buildings of this super desirable neighborhood. Read on to find out what kind of amenities these top-class residences provide and which building made it to number 1…
Last updated on August 25, 2022.

Why Choose the Venetian Islands?
---
This island retreat is little known address in Miami Beach that is perfectly located, and made up mostly of single-family homes. Residents not only get to relish the joys, views and privacy of island living, they're also perfectly positioned for a short drive to South Beach and Edgewater or Downtown Miami, on either side, via the scenic Venetian Causeway. Secluded living, a real sense of community, and the option to easily dive into all the action in a matter of minutes make Venetian Island properties some of the most prized in Miami.


The Best of the Best Condos in Venetian Islands
---
​

5. Costa Brava - 11 Island Avenue, Venetian Island

Average List Price: $1,004 per square foot

This classic Bayfront tower rises 22 stories and is home to 214 luxury condos. Built in 1972 and undergoing complete restoration, including its 40-year recertification, amenities at this pet-friendly building include an ocean-access marina with boat slips, a heated pool overlooking the bay, sundeck, basketball court, fitness center, multi-purpose room, recently renovated lobby, and more. Units here are oversized, with one bedrooms starting at about 1,000 square feet.

4. Nine Island Avenue – 9 Island Avenue, Venetian Islands
Average List Price: $1,231 per square foot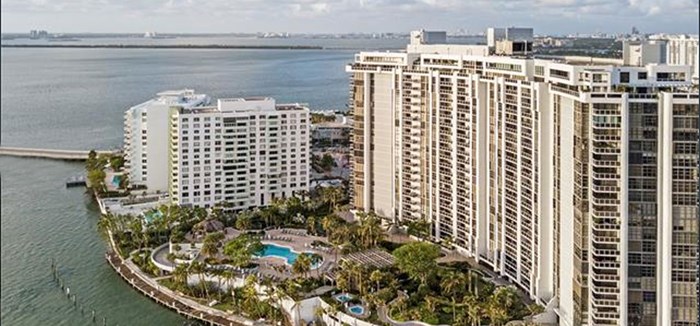 This resort-like condo just completed a multi-year renovation, including its 40-year recertification and a major interior redesign. Once a kitschy reminder of 80s resort luxury, this 25-story high rise now features modern and sleek interiors and common spaces.
Perched on one of Miami Beach's largest and most premium bayfront parcels, Nine Island is home to 270 luxury condos surrounded by acres of meandering gardens. 
Amenities here include a large porte-cochere and valet, pet-friendly premises, an expansive pool deck with winding gardens, three outdoor Jacuzzis, party room, yoga studio, fitness center, tennis courts, billiards room, BBQ gazebo, lush tropical gardens with Koi ponds, and more.

3. 1000 Venetian Way - 1000 Venetian Way, Venetian Islands
Average List Price: $1,550 per square foot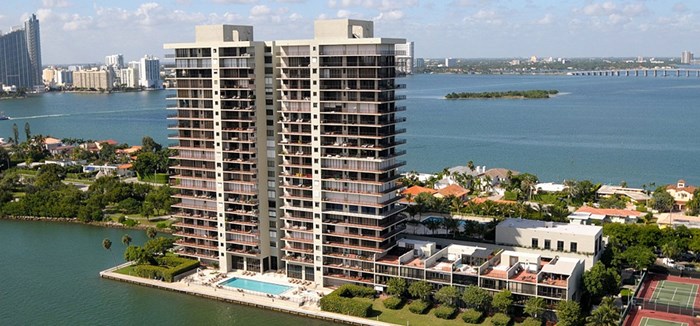 A design aficionado's favorite, the twin towers at 1000 Venetian Way are positioned to offer all their residents exquisite views of the bay and sailing over at the Miami Yacht Club in a secluded location that will never have obstructed views. Both towers rise only 20 stories to house a total of 121 expansive, modern luxury residences.
Built in 1983, 1000 Venetian Way hosts spacious, airy residential units that feature expansive views of Biscayne Bay from every room, with an open floor plan design. Each beautifully appointed condo unit is designed to deliver sunrise and sunset views. Amenities include tennis courts, basketball court, bayfront swimming pool, dog park, lushly landscaped outdoor picnic area, and more.

2. Belle Towers – 16 Island Avenue, Venetian Islands
Average List Price: $1,607 per square foot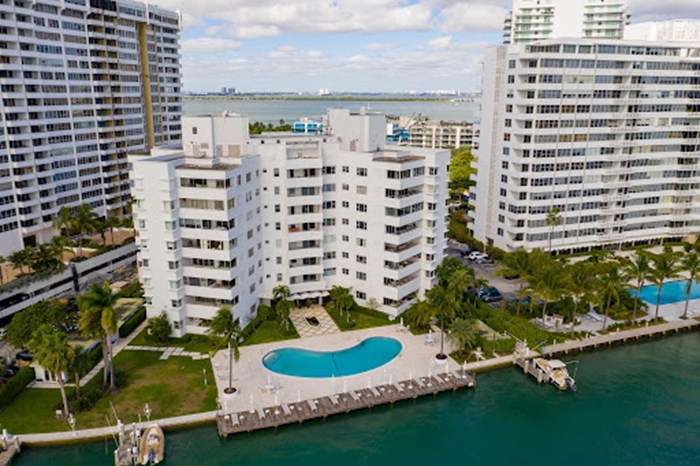 An absolute gem of a vintage, boutique condo building, Belle Towers features exquisite mid-century modern details and a gorgeous pool on the bay. Offering panoramic water and city views to residents, this Bayfront tower is home to 46 luxury condos spread across 9 stories, and is highly sought after by the national and international design community. 
Built in 1958, amenities at this pet-friendly building include an open air lobby with koi ponds, unobstructed water views, a swimming pool, spa, a handful of boat slips, and extra-large floor plans.

And the Winner of the Best Condo in Venetian Islands in Terms of Luxury Goes To…


1. Grand Venetian – 10 Venetian Way, Venetian Islands
Average List Price: $2,009 per square foot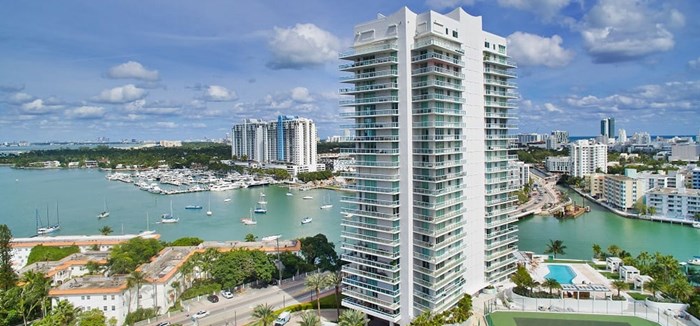 This modern high-rise condo building occupies one of Miami Beach's premium bayfront parcels. Designed by Kobi Karp, just steps from The Standard Hotel and Spa, the Grand Venetian is home to 124 luxury condos peppered across 25 floors, each with expansive, glass-enclosed balconies. 
Residents of this popular building get access to plush interiors and amenities such as a porte-cochere with valet, completely covered parking garage, tennis court, pool and sundeck overlooking the bay, private party room, gym, expansive balconies, and more.

How Safe are the Venetian Islands?
---
Besides an overall 'A+,' the neighborhood-ranking site niche.com grades the Venetian Islands 'A' for 'Good for Families' and 'A+' for Nightlife. Living in this coastal district, residents enjoy the perks of island living in a highly secure environment. Security monitored-access to most condo buildings and a toll plaza on the Venetian Causeway only enhances the sense of security and community among its residents. 
Additionally, most of the Venetian Islands are made up of single-family homes, which further creates a strong sense of community. It's no wonder then that the Venetian Causeway is a popular stretch for locals to catch the sunset, take a stroll, jog, bike, or even walk their dogs along its scenic sidewalks.

Best Restaurants in Venetian Islands
---
The only restaurants to the credit of the Venetian Islands are the Lido Bayside Grill (local favorite for Mediterranean fare with water views) and the Cafe Standard, both located in The Standard Spa. But just a short walk over a small bridge takes residents to neighborhood favorites such as Sardinia (authentic coastal Italian), Barceloneta (Spanish tapas), Lucali (Brooklyn pizza), Icebox Cafe (excellent brunch), Zak the Baker, and Pubbelly Sushi at the Sunset Harbour shops, along with Dr. Smood organic cafe, Delicious Raw Kitchen & Juice Bar, and Sushi Garage.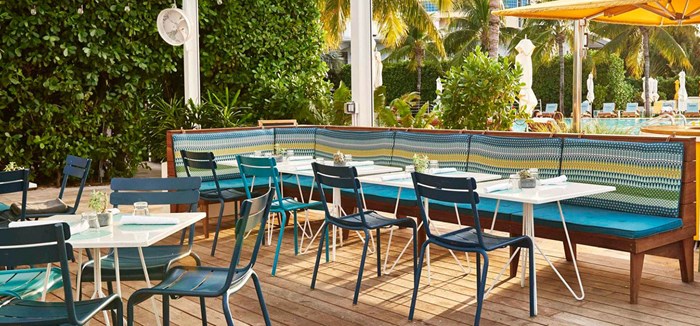 Shopping in Venetian Islands
---
Again, the Venetian Islands do not have many shopping options to their credit. However, a short walk or drive delivers residents to the Sunset Harbour Shops and Lincoln Road Mall in South Beach - maintaining that small community feel without compromising on the simple pleasures of life. Favorite boutiques in Sunset Harbor include Eberjey, Frankie Miami, Beach Boutique (one of South Beach's best boutiques for years), and more.
Within a 10-minute walk or 5-minute drive, residents have a Fresh Market, a Trader Joe's, two Publix, as well as hair salons, spas, and specialty fitness studios including Barry's Bootcamp, Modo Yoga, and Anatomy Fitness, hair and nail salons, and more.

The Best Located Condos in Venetian Islands
---
We were spoilt for choice here, so we decided to name two condos as the best located in Venetian Islands. We choose the twin-tower 1000 Venetian Islands complex simply for its breathtaking views of the bay. And the Grand Venetian, as it is the fastest walk to all that South Beach has to offer; especially the tiny, yet power-packed neighborhood of Sunset Harbour with its Fresh Market, Publix, Trader Joe's, yoga, bakeries, and banks.




Fallen in love with these luxurious finds? Want more? Check out the complete list of luxury condos available for sale in Miami Beach here.
Share your thoughts with us
Sign up now
Get news and updates delivered to your inbox