Video: Explore the Charm of Living in Coral Gables, Miami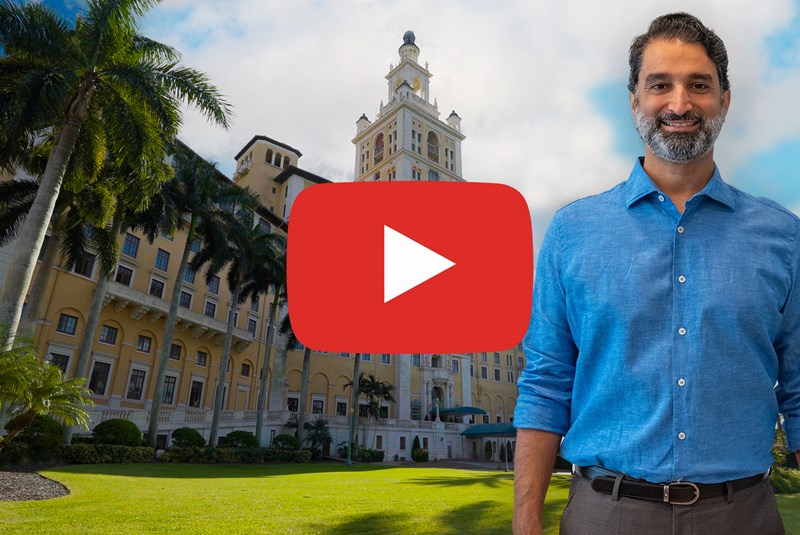 Nov 02, 2023 November 02, 2023
If you love a relaxed pace of life, being surrounded by lush tropical greenery and stunning architecture at every turn – then Miami's City Beautiful should top your list of places to live.

Featuring a unique blend of natural beauty, Mediterranean Revival architecture, cultural attractions, and a delightful tropical ambiance, Coral Gables is an enchanting place to call home. One of America's first planned communities, City Beautiful was envisioned by George Merrick back in the 1920s. A city separate from Miami, Coral Gables starts due west of Brickell and down to King's Bay, with parts of the neighborhood hugging the coastline.

Watch this video for a quick tour of the captivating aspects of living in Coral Gables. You'll find key info on the neighborhood's sprawling parks and natural retreats, arts and culture hotspots, shopping and dining venues, architecture and housing options, plus much more:



— What makes Coral Gables a great place to call home?
With its rich history, lushly canopied avenues, charming city circle, authentic downtown atmosphere at Miracle Mile, plenty of waterfront spaces, and pedestrian-friendly streets, living in Coral Gables is an immersive experience for all your senses.
Nature lovers will find a spot for every mood, ranging from the tranquility of the Mattheson Hammock Park to the butterfly-friendly Fairchild Tropical Botanic Garden, the stunning Venetian Pool with its fresh spring water to the 18-hole Biltmore Golf Course.
Culture seekers will have plenty to do with the Coral Gables Art Cinema, Actor's Playhouse, the Lowe Art Museum, Coral Gables Museum, and a Books & Books location closer to home.
Art and architecture lovers will enjoy walking through the neighborhood's unique collection of elegant estates, cozy townhomes, Mediterranean-style low- to mid-rise condos, and Spanish villages.
Business weeks and casual weekends are well taken care of, with a vibrant downtown area providing access to culinary hotspots, world-class shopping, and a sophisticated office hub.
Coral Gables also stands out for its collection of top-rated schools and its amazing connectivity thanks to the Coral Gables trolley, Metrorail, and Brightline.

— New construction condos in Coral Gables
The Gables Village: With its elegant charm and 48 one-of-a-kind residences, this Seville-inspired village will be a nod to George Merrick's vision for City Beautiful. Designed by De La Guardia Victoria Architects & Urbanists, this lush community will provide the perfect balance between modern living and a timeless setting. Amenities will include a community pool courtyard, a wellness center, and a multipurpose room.
719 Biltmore Way: With a limited collection of nine full-floor, ultra-luxury residences, this 12-story boutique building is poised to become a coveted address beside the sprawling Granada Golf Course. Meticulously designed by Bormello Ajamil & Partners and with interiors by Sire Design, all your needs are anticipated and provided for with amenities like a lushly landscaped rooftop relaxation pool, rooftop fitness center, expansive rooftop lounge, and flexible business room.
The Avenue: With modern luxuries and timeless European charm, all 54 residences in this 9-story boutique condo will be fully furnished for elegant year-round living. Designed by Bermello Ajamil & Partners with green building tech, your flexible pied-à-terre will afford access to an artfully landscaped resort pool, a hammock garden, a family-friendly dining area, and 3,536 square feet of ground-floor luxury retail.





Are you looking for a place to call home in City Beautiful? Call, chat, or e-mail us directly to find a luxe condo or sprawling single-family home in Coral Gables that feels tailor-made for you and your family.
Share your thoughts with us
Sign up now
Get news and updates delivered to your inbox