Afternoon Tea at Fairchild Gardens: Your guide to high tea glory!
Jan 06, 2015 January 06, 2015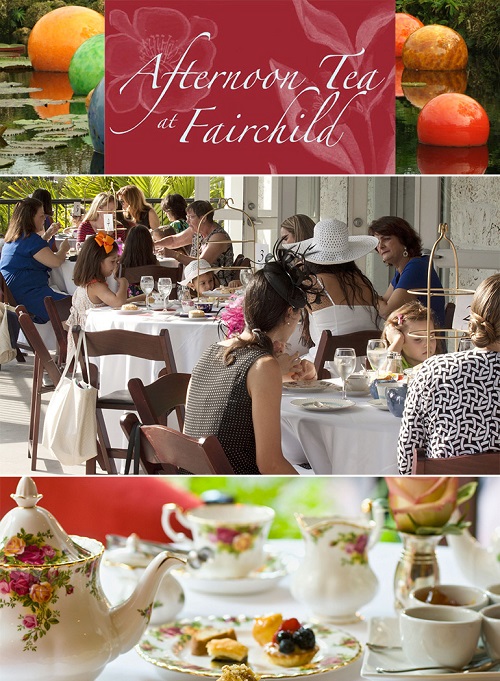 If you're one of those people who'd love some peace and quiet after a crazy holiday season, then the Afternoon Tea at Fairchild Gardens is just the thing for you. Whether you're a tea aficionado, high tea enthusiast or simply someone who'd love to enjoy sit in nature's lap, January 18, 2105 is your opportunity to bask in the glory of tropical lushness with delicious teas, scones, savories and desserts for some soul therapy.
The tropical paradise called Fairchild Tropical Botanic Garden is situated at 10901 Old Cutler Road in Coral Gables. Dedicated to the mission of saving tropical plant diversity by exploring, explaining and conserving the world of tropical plants, this amazing botanic garden will leave you spellbound with its collection of charming flora from distant lands.
The Afternoon Tea session at Fairchild is held at the Shehan Visitor Center Ballroom, with gorgeous views of the Garden, fragrant breeze and soulful live music to inspire your senses. Add to that a well curated selection of teas, scrumptious salads and sandwiches as well as delightful desserts served in appropriate porcelain, you might end up wishing you'd never have to leave.
Whether you decide to go with friends or family, a visit to the butterfly gardens with scores of exotic species to ogle at, and a tram tour to acquaint you with the history of the garden as well as plant variety come highly recommended.
Fairchild Tropical Botanic Garden Fact Sheet:
The Garden comes named after one of the most famous plant explorers in history – David Fairchild, who decided to retire in Miami in 1935.
David Fairchild spent 37 years of his life visiting every inhabited continent in the world to bring back a rare and priceless collection of important plants, including mangos, nectarines, alfalfa, dates, soybeans, cotton, bamboos and the flowering cherry trees of Washington D.C.
Dr. Fairchild teamed up with retired accountant Col. Robert H. Montgomery, environmentalist Marjory Stoneman Douglas, County Commissioner Charles Crandon and landscape architect William Lyman Phillips to open this one-of-a-kind garden to the public in 1938.
The Garden comes spread over 83 acres, with exhibits divided into the 23-acre 'Uplands' and 60-acre 'Lowlands'.
An exotic butterfly garden, rainforest, museum, fruit pavilion, edible garden, amphitheater, bird habitat, 11 lakes and 8 water features are also part of this incredible expanse.
Various tram tours, walking tours and discovery carts are made available to help people explore and understand this glorious ode to the tropics.
Photo credit: communitynewspaper.com
Share your thoughts with us
Sign up now
Get news and updates delivered to your inbox