All Aboard Florida Released Plans for Extravagant Parking Garage for MiamiCentral Terminal
Apr 28, 2015 April 28, 2015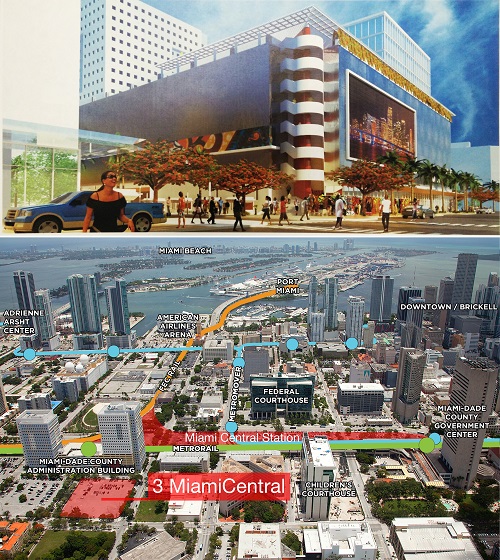 Plans for the 3 MiamiCentral mixed-use development in Overtown have been submitted by All Aboard Florida (AAF).
3 MiamiCentral will be built on a 1.89-acre property owned by the CRA, who approved a long term lease with AAF in 2013. The property is located at 160 Northwest Seventh Street.
The plans state that 3 MiamiCentral will be something of a parking garage for AAF's MiamiCentral terminal project, which is currently being built. The neighboring Lyric Theater and Black Archives will also be allowed to use 3 MiamiCentral for parking.
3 MiamiCentral will include over 1,100 parking spaces, about 97,000 square-feet of office space, and over 33,000 square-feet of commercial space of the ground floor.
Covering the parking garage will be perforated stainless steel mesh, and African and Bahamian inspired artwork, representing the heritage and cultural diversity of the area, will be installed outside.
Aecom is the architect for the project, with Design2form, a local firm, acting as an architectural consultant.
Source: thenextmiami.com
Photo credit: 3 MiamiCentral - thenextmiami.com, Map - railroad.com
Share your thoughts with us
Sign up now
Get news and updates delivered to your inbox