Brickell and Edgewater Experiencing the Largest Spike in Residential Units Over the Next Few Years
Jun 15, 2015 June 15, 2015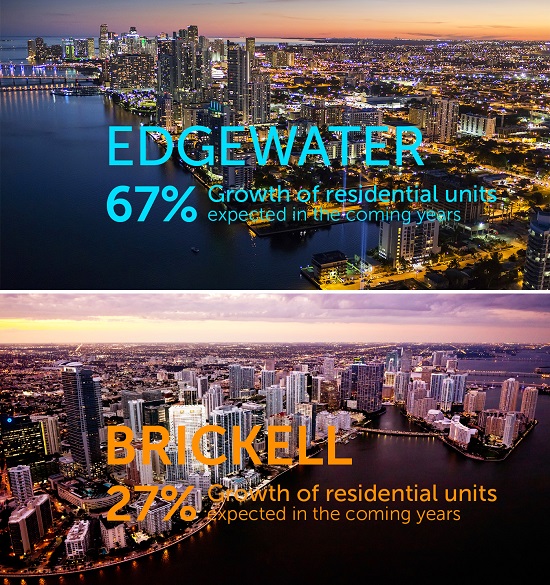 The Brickell and Edgewater neighborhoods are feeling the biggest jump in number of units out of the whole Miami area.
With new projects and developments popping up everywhere in Miami, seeing construction is not a shock to residents. However, there are trends of one neighborhood after the other getting attention, then developers moving along. This has resulted in a spike of residential units.
According to the Greater Downtown Miami Residential Real Estate Market Study, released by the Miami Downtown Development Authority and prepared by Integra Realty Resources, Many residential units are coming to downtown in the next few years. The study split Miami into six submarkets, which were Brickell, the Central Business District, Arts and Entertainment, Edgewater, Midtown, and Wynwood. In total, there are almost 15,000 residential units in the conceptual and planning phase of their development.
Out of the six submarkets, two stuck out among the rest: Brickell and Edgewater. These two neighborhoods are growing faster than all of the others. Brickell is expected to grow 27%, and Edgewater is expected to grow 67%. The reason Edgewater has such a high number is due to its lack of present residential units.
Source: miamitodaynews.com
Photo credit: Edgewater - invmia.com  Brickell - worldpropertyjournal.com
Share your thoughts with us
Sign up now
Get news and updates delivered to your inbox