Brickell Bayview Center to Soar in September
Apr 03, 2014 April 03, 2014
Crocker Partners of Boca Raton is expected to begin construction in September on the Brickell Bayview Center, a 48-story residential building designed by Jonathan Cardello of ADD Inc. It will be a real standout, with its unique basket-weave design. Balfour Beatty will be handling the construction.
Brickell Bayview Center Will Be Another Jewel in the Crocker Partners Crown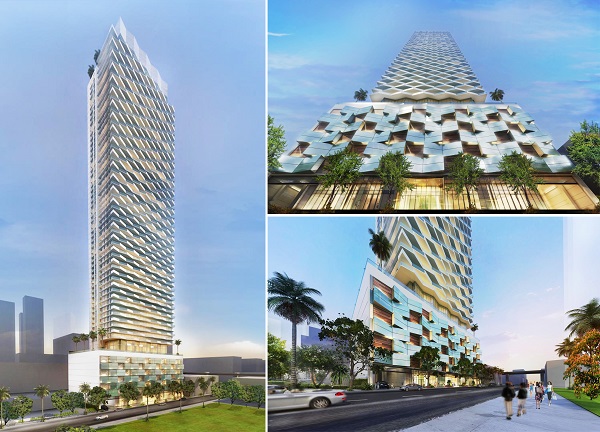 Renderings of Brickell Bayview Center - Credit photos : Exmiami.org
Crocker Partners is no stranger to development in Florida, with a portfolio that currently encompasses over 6,000,000 square feet and $1 billion invested. Crocker Partners is the primary owner in many of the more desirable markets in the southwest and the southeast. With an incisive knowledge of market risks and asset valuation, Crocker Partners has frequently secured assets by way of off-market transactions. A major mover and developer of real estate, Crocker Partners continues to be a major player in Florida real estate development.
Balfour Beatty Construction
Balfour Beatty brings to the Brickell Bayview Center project years of experience, beginning with the establishment of the company in Miami in 1933. Over the years, the company has expanded, and is credited with constructing some of the most outstanding landmarks state-wide, particularly in Fort Lauderdale and Orlando.
Over 40 Excellence in Construction awards have been presented to Balfour Beatty by regional contractors' and builders' groups. In addition, the company has received Partnership of the Year, General Contractor of the Year, ESGR Above and Beyone, Energy Star and Excellence in Safety Awards.
It is expected that Balfour Beatty will perform to their usual standards, bringing the project to completion on time and within budget.
Architect Jonathan Cardello
Finally, architect Jonathan Cardello will bring to the Brickell Bayview Center his unique talent for design and planning. As the Director of the Miami office of ADD Inc., Jonathan has a wealth of experience in workplace, retail, residential and mixed-use projects. He brings a uniqueness of vision to his work that works well with local objectives and themes to create an overall dynamic effect. He easily effects collaboration between developers, agencies, contractors and the neighborhood in general. Never settling for second best, he consistently brings to his designs a freshness and an insight that are unparalleled in the world of modern architecture.
Efficiency, Sustainability and Aesthetics Combine in Brickell Bayview Center
Form and function are perfectly combined in the stunning design for the Brickell Bayview. Also of note, the building is intended to be very environmentally friendly, equipped with wells that are designed to capture and to contain storm water. Additionally, indoor materials used (such as carpets, paint, sealants, etc.) will be low-emitting in order to ensure that the indoor air will be optimally maintained.
The building will include 420 residential units along with 4,500 square feet of retail space on the ground floor, along with 440 spaces for parking. The property is located across from Mary Brickell Village and Brickell City Centre.
Brickell Bayview Center is expected to be completed by the summer of 2016.
Source: exmiami.org
Photo credit: Brickell Bayview Center - exmiami.org
Share your thoughts with us
Sign up now
Get news and updates delivered to your inbox