Brickell City Centre Announces Many New Retail Outlets, Including Cole Haan and Valentino
Aug 27, 2015 August 27, 2015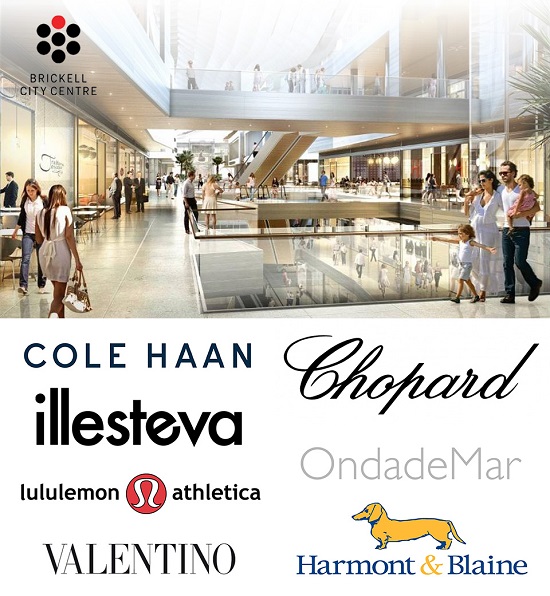 Thus far, seven contemporary retailers have announced opening up at the megaproject, Brickell City Centre, in the fall.
The first two, which were announced in early July, are Valentino and Chopard. Valentino is an Italian fashion designer, where Chopard is a Swiss watch and jewelry designer. They will be opening their doors this fall in the City Centre's 500,000 square-foot shopping center. Both of the stores will be street-accessible from the first floor of the four-story building. Valentino will take about 1,800 square-feet, and Chopard will take about 1,500 square-feet.
The second wave of stores, which were announced mid-July, are Lululemon Athletica, Harmont & Blaine, Cole Haan, Illesteva, and OndadeMar. Lululemon Athletica is an athletic apparel brand, Harmont & Blaine is a casual Italian clothing brand, Cole Haan is a shoe, bag, and accessory designing brand, Illesteva is a classy Italian sunglasses brand, and OndadeMar designs Colombian swimwear.
Debora Overholt, the Brickell City Centre's head of retail leasing, believes that having luxury retail stores is important for bringing in Latin American shoppers.
Other notable contracted stores include Saks Fifth Avenue retail store, and a Cinemex theater for the City Centre.
Source: miamiherald.com
Photo credit: miamiherald.com
Share your thoughts with us
Sign up now
Get news and updates delivered to your inbox