Carnaval & Calle Ocho Festival 2015: A Must-see Cultural Explosion
Feb 19, 2015 February 19, 2015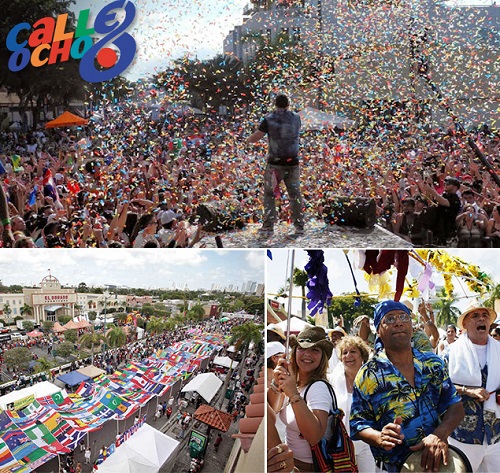 The perfect conclusion to Miami's warm winter is Calle Ocho – the biggest annual street party in the country. From live entertainment to the hottest stars, salsa on the streets, colorful costumes and mouthwatering food, Carnaval Miami and Calle Ocho have rocked Miami for the past 35 years. The event even boasts a Guinness World Record.
Carnaval Miami, the parent event of Calle Ocho, is more than just a weekend party with its beauty pageant, cooking contest, soccer tournament, domino tournament, a 5K run and much more. Hosted annually by the Kiwanis Club of Little Havana, this cultural extravaganza has supported a range of service programs in the community for over 35 years.
The family-friendly 'Carnaval on the Mile' is hosted the weekend preceding wild Calle Ocho by reserving the entire length of Miracle Mile, featuring non-stop music, art and food. This year on March 7-8, over 30 musical groups playing Jazz, Latin Funk, Caribbean rhythms and more will be seen performing live with authentic Latin food and drink to keep you moving to the beat.
The Carnaval Miami 5K run on March 1 is a fundraiser benefitting the Children's Cancer Caring Center and La Liga Contra el Cancer. The Cooking Contest is emceed by nationally acclaimed Chef Pepin on March 5, with cash awards for top three choices among Public, High School and Vocational Education students. The "Putting for Education" Golf Classic, which is scheduled for March 12 on Mel Reese greens, is donating its proceeds to fund four-year college scholarships. And the Soccer 5 vs. 5 tournament on April 4 will see 100+ teams in the U9 to U14 categories battle it out.
Calle Ocho, the main event, will be held on March 15, spanning 24 blocks of SW 8th Street, from 8th Avenue to SW 27th Avenue, bringing you more food, dance and drink along with over 12 stages of live entertainment. A must-see event on every local and travelers' itinerary, this epic block party will treat you to the beats of merengue, reggaeton, jazz, baladas, hip hop, rap and more along with the best Latin and Caribbean delicacies, all in a single day!
Photo credit: Carnaval - zimbio.com carnavalmiami.com torontodominicano.com
Share your thoughts with us
Sign up now
Get news and updates delivered to your inbox