Edgewater Neighborhood Sees Rising Land Values as Developers Rush to Purchase Parcels
Aug 06, 2013 August 06, 2013
The previously run-down neighborhood of Edgewater is experiencing a development renaissance as many developers are swooping in to scoop up land parcels at an impressive rate. To wit, Jorge Perez, one of the great American real estate powerbrokers, recently shelled out $29 million for a waterfront site that just last year sold for almost one-third the price. Land values for inventories on Biscayne Bay have skyrocketed from an average of $50 per square foot to $300 per square foot in a very short time period.
The shortages of available properties in Downtown Miami and Brickell are only fueling the desires of developers to purchase a piece of the Edgewater pie. Edgewater has experienced such elevated property values in the past as real-estate speculation drove land values up during the lead up to the 2007 recession. After the crash, Edgewater real estate sold at devastating discounts.
In order to defend against another price freefall, developers are looking to South American financing structures for instruction on how to finance their own properties. Such financing schemes require a down payment of 50 percent of the sales price. Argentinian migrants, Jorge Luis, Carlos, and Martin Melo built their first residential tower in Edgewater during the recession and closed in 2012 when units averaged $260 to $300 per square foot. The profits they have earned from the use of South American financial structures have been used to build approximately 2,500 more units in nearby areas.
Once a seedy district north of Downtown Miami, Edgewater is a poster child for Miami's housing recovery with its transformation to a trendy, skyscraper-ridden, emerging locations. According to Jaret Turkell, a director with real estate investment firm HFF:
"Edgewater has become one of the hippest, most chic places to live, driven by its proximity to the Design District and Midtown. It's a place people want to be."
The biggest draw to Edgewater remains its bayfront property where it can provide picturesque views of Biscayne Bay, all at a lower price than in the ever-depleting markets in Brickell and Downtown. The neighborhood's layout also works well for high-rise condos which also give access to the area's main thoroughfare Biscayne Boulevard. Permissive zoning laws for high-rise buildings also attract developers looking for special sites to build innovative structures.
Edgewater's popularity and market resiliency resides in its ability to continually provide unique opportunities for developers looking to invest in an up-and-coming region on the cusp of a real-estate resurgence.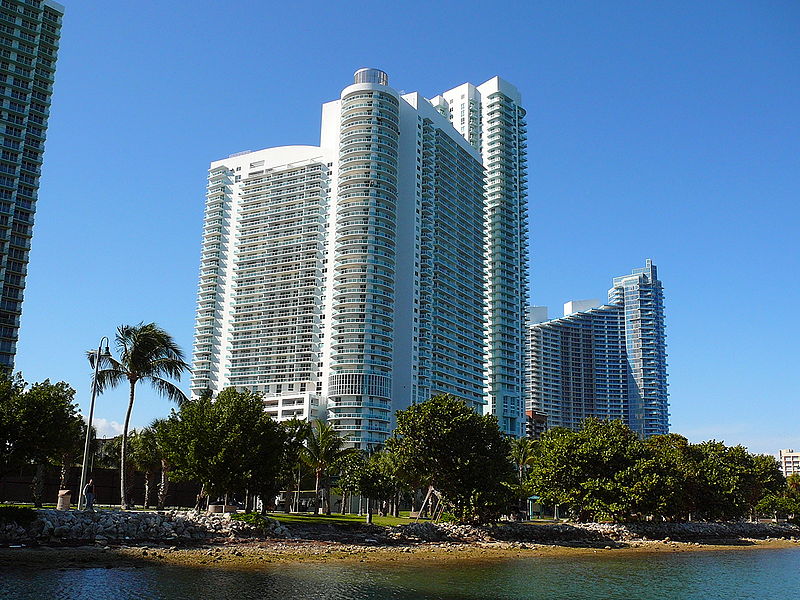 The southern of Edgewater (Downtown Miami)
with 1800 Club (Center) and Paramount Bay (Right)

Image Source: Wikipedia.com
Share your thoughts with us
Sign up now
Get news and updates delivered to your inbox