FAA Says One Brickell City Centre's 1,000-ft High Building Poses No Air Traffic Threats
Jul 23, 2015 July 23, 2015
After many issues surrounding the height of One Brickell City Centre, the Federal Aviation Administration (FAA) has finally approved it to be 80-stories tall, making it one of the tallest buildings in the country.
Federal officials granted Swire Properties, the developer of the Brickell City Centre, the ability to build the tower at 1,040 feet tall, which is 1,049 feet above sea level.
The FAA studied the proposal, and after 20 months without a positive answer, the agency decided to approve it since it did not seem to pose a threat to air traffic.
The One Brickell City Centre sub-project is planned to be the Brickell Avenue gateway to the Brickell City Centre megaproject. The tower itself will include loads of retail space, high-end offices, condos, and a five-star hotel. A grand plaza with several retail shops will be on the ground floor, with the notably famous Climate Ribbon that will hang overhead. On top of the tower, there will be a lounge and restaurant open to the public.
When One Brickell City Centre is completed, it will be the tallest building in the United States outside of New York or Chicago. Other notably tall buildings under construction are the Salesforce Tower in San Francisco at 992 feet, the Wilshire Grand Tower in Los Angeles at 934 feet to roof, and Comcast Innovation and Technology Center in Philadelphia at 911 feet to roof.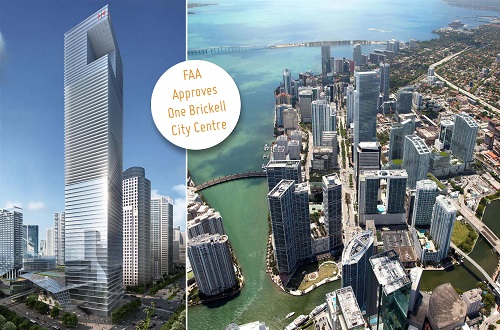 Source: thenextmiami.com
Photo credit: thenextmiami.com
Share your thoughts with us
Sign up now
Get news and updates delivered to your inbox