Florida Houses the Top Four Most Dangerous Cities for Pedestrians
Jan 21, 2015 January 21, 2015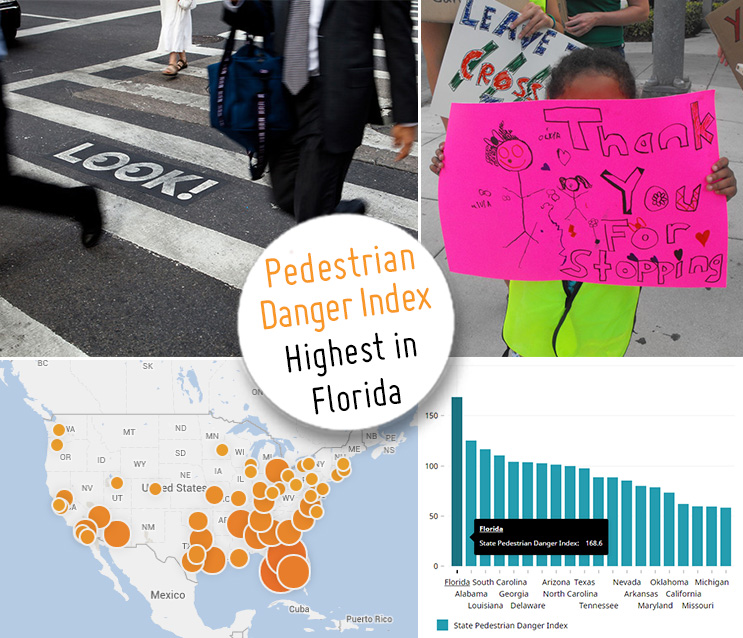 Studies have found that Florida is the most dangerous state for pedestrians.
Every year, thousands of pedestrians are killed by drivers in the United States alone. Smart Growth America released a study titled, "Dangerous by Design," which illustrates the numbers of deaths by states and metropolitan areas between 2003 and 2012.
The study gives locations a Pedestrian Danger Index (PDI) score, which combines total pedestrian fatalities with the number of pedestrians in total. A higher PDI means more danger for pedestrians.
Florida ranks number one with a PDI of 168.6, far up from the National Average with 52.2. Coincidentally, the top four of the list are all metropolitan areas in Florida, including Orlando-Kissimmee with a PDI of 244 at first place, Tampa-St. Petersburg-Clearwater with a PDI of 190 in second, Jacksonville with a PDI of 183 ranking third, and Miami-Fort Lauderdale-Pompano Beach with a PDI of 145 hits fourth.
The study shows that between 2003 and 2012, over 1,500 pedestrian were killed in the Miami-Fort Lauderdale area alone.
Source: huffingtonpost.com
Photo credit: Stats - huffingtonpost.com
Share your thoughts with us
Sign up now
Get news and updates delivered to your inbox