Former Matheson Estate, Known as the Mashta House, Sold for $47 Million
Jan 21, 2016 January 21, 2016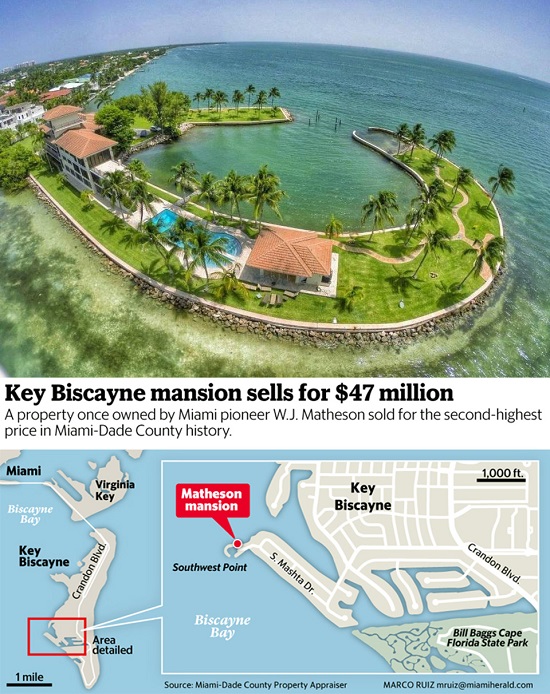 One of the iconic properties in South Florida, known as the Mashta House, has sold for $47 million recently. That price ties for second place on the list of most expensive residential properties sold in Miami-Dade County history.
The former Matheson estate on Key Biscayne sits on a two-acre property, located at 775 South Mashta Drive, Key Biscayne.
The Mashta House has a strange history. Matheson lived in Coconut Grove most of the year, but brought guests over in yachts to experience the keys. At that time, it had to be accessed by boat, since the Rickenbacker Causeway was not created until 1947. The home was damaged in the 1930's due to a storm, and was abandoned.
The property fell out of the family's hands and was split up by developers. Where the Mashta House once set, a small two-acre lot, was sold for $1.3 million in 1989. Colombian businessman, Fernando Caballero, was the purchaser.
In the early 1990's, Caballero built a six-bedroom, eight-bathroom mansion on the site. In 2015, he listed that 11,600 square-foot home for $60 million. It was scooped up by an anonymous buyer and purchased for $13 million less, at $47 million.
Source: miamiherald.com
Photo credit: miamiherald.com
Share your thoughts with us
Sign up now
Get news and updates delivered to your inbox