Fort Lauderdale's New Construction and Pre-Construction Condo News: February 2023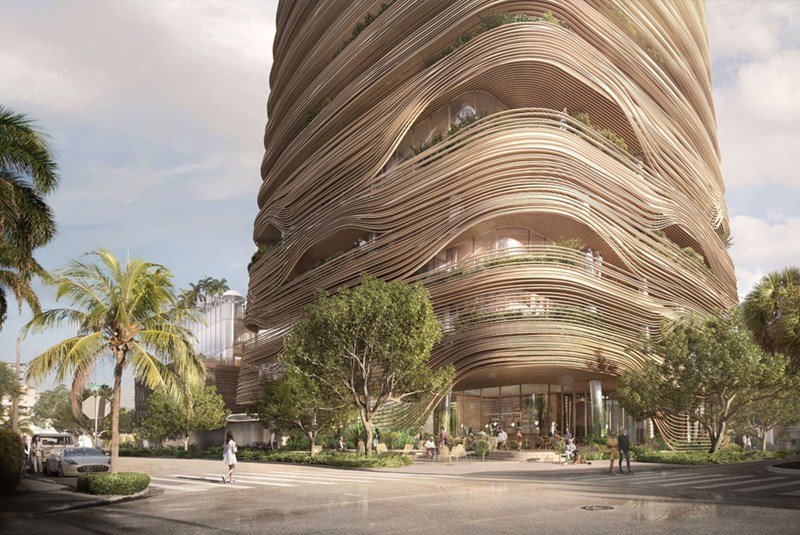 Mar 08, 2023 March 08, 2023
Fort Lauderdale, Hollywood, Delray Beach and Pompano Beach continued having their real estate moment this February with prime new construction (or preconstruction) projects either breaking ground or getting launched. As more wealthy residents flock to South Florida, attracted by our unique cultural offerings, tax savings, and great waterfront lifestyle, developers have been working on the double to build relevant condo product.
This February's news had Fort Lauderdale's Sixth & Rio plus Pompano Beach's Salato launching sales. The Edition Residences Fort Lauderale broke ground, along with its co-developers announcing plans for another branded condo-hotel further north in Fort Lauderdale. Plans for two other condo developments were also revealed. And, we have another resort sale on our watchlist this month. 
Read below to find details on all of these new construction projects and more in our monthly condo pre-construction market round-up for Fort Lauderdale and Broward County in February 2023: 

Table of Contents: February 2023 – Fort Lauderdale New Construction Condo News
Sales Launched
Broke Ground
Planned/Proposed
Watchlist
---

— February 2023 – Fort Lauderdale New Construction Condo News – Sales Launched
Groundbreaking – Early Summer 2023 | Completion – Late 2024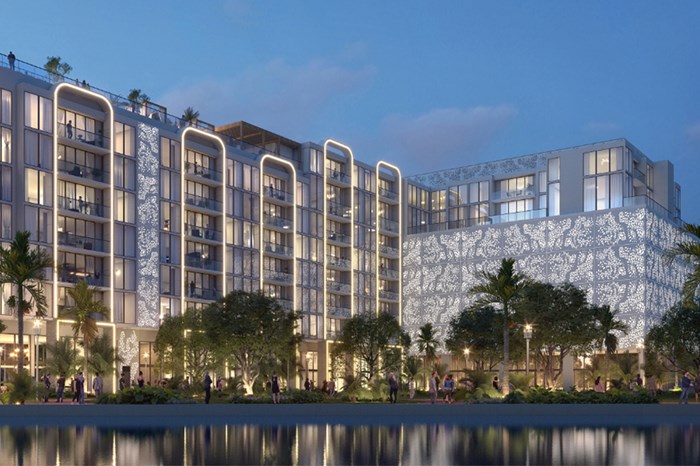 Sixth & Rio, a luxury rental-turned-condo building, launched sales in February. Developed by OceanLand Investments, the 9-story, 94-condo Sixth & Rio will rise along the south bank of New River at 501 SE Sixth Avenue in Downtown Fort Lauderdale. Previously called Aviva on the River, buyers can visit its sales gallery at 1800 E. Las Olas Blvd. OceanLand has developed many luxury condos in Fort Lauderdale, including AquaBlu, AquaVue in the Las Olas' Isle of Venice neighborhood, and the oceanfront AquaZul in Lauderdale by the Sea, with the Related Group.
Designed by FSMY Architects + Planners, this boutique waterfront tower will feature 1-3 bedroom floor plans ranging from 932 to 2,296 square feet in size, along with townhouses ranging from 1,694 to 1,759 square feet. Amenities will include a rooftop swimming pool with cabanas, a fitness center, a cafe/restaurant, a club room, a speakeasy-style owners' lounge, a tropical outdoor lounge, plus co-working spaces. 
The first new condo project in over a decade for the Rio Vista neighborhood, owners of these well-appointed residences will be allowed to rent up to 4 times a year, with a 3-month minimum stay restriction.
Prices start in the $900,000s and go up to more than $2 million for larger units, with a choice of 1- to 3-bedroom residences.
Groundbreaking – June 2023 | Completion – N/A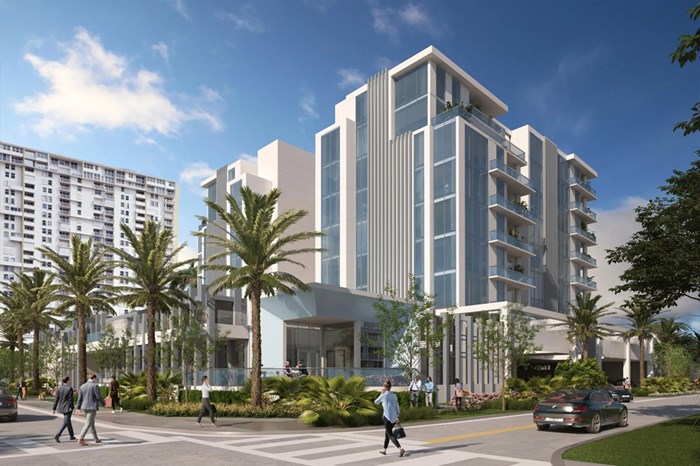 Launching sales for its latest condo project at 305 Briny Avenue, Philadelphia-based U.S. Development unveiled Salato residences this February. Previously called Briny Residences, the project will replace a small apartment building currently on the site.
Located only a block from the beach, Salato will be built to offer the "ultimate intimate living experience" with all the amenities generally found at larger condo projects. Designed by Delray Beach-based Randall Stofft Architects, Salato will rise nine stories with 40 luxury, 3 bedroom residences starting at about 2,100 square feet. Units will further feature extra-large, 14-foot-deep terraces ranging from 320 to 746 square feet.
Amenities at this mid-rise condo will include a 20,000-square-foot amenity deck, complete with an ocean view pool, bar, and spa. Other amenities will include a wellness lounge with nutrition bar and beverage service, a fitness center, private wine lockers, as well as full-time beach and pool attendants.
Prices start at just under $2 million, with a choice of 2,106 to 3,354 square foot residences.


---


—February 2023 – Fort Lauderdale New Construction Condo News – Broke Ground
Groundbreaking – February 2023 | Completion – Early 2026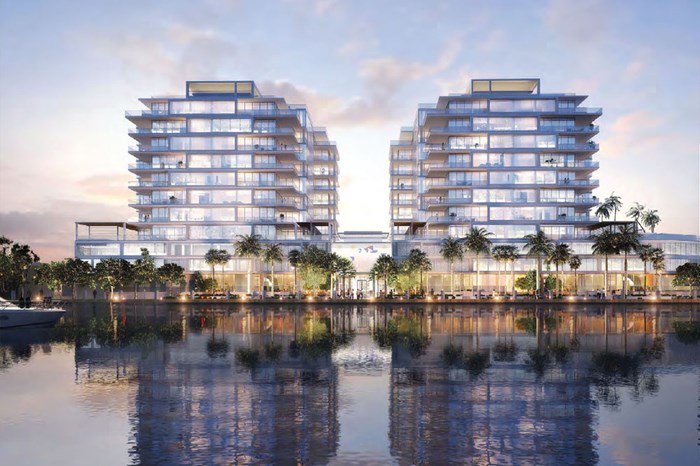 Breaking ground on Fort Lauderdale's first-ever Edition-branded residences, co-developers Location Ventures and Marriott International's EDITION Hotels celebrated the milestone with an on-site party this February. Located at 551 Bayshore Drive, the waterfront towers will only allow annual leases and no short-term rentals, preserving the privacy and exclusivity of their owners and residents.
Designed by West Palm Beach-based Garcia Stromberg, the EDITION Residences will rise as a pair of jewel-box-like, 11-story condo towers. Combining modern sophistication with cultural artistry, the towers will feature only 65 waterfront residences. Interiors will be handled by internationally-recognized Clodagh Design. Each fully finished residence will come with the option to purchase furniture packages.
Affording more than 20,000 square feet of outdoor amenities, residents will have access to two pools, including an oversized resort-style pool with private cabanas. There will also be a residents-only poolside restaurant, a moonroof and sunroof with Zen gardens, a health and wellness center, an outdoor movie screen, an eat-in lounge with a gourmet kitchen, lushly landscaped pathways leading to an outdoor meditation walkway, plus an Intracoastal riverwalk with temporary boat dockage. As expected, all amenities and hospitality services will be managed by Edition Hotels.
Prices range from $3 million to $7.5 million, with a choice of 2- to 4-bedroom residences. The four penthouses are priced $10 million onwards.


---


— February 2023 – Fort Lauderdale New Construction Condo News – Planned/Proposed

The Edition Hotel & Residences – Fort Lauderdale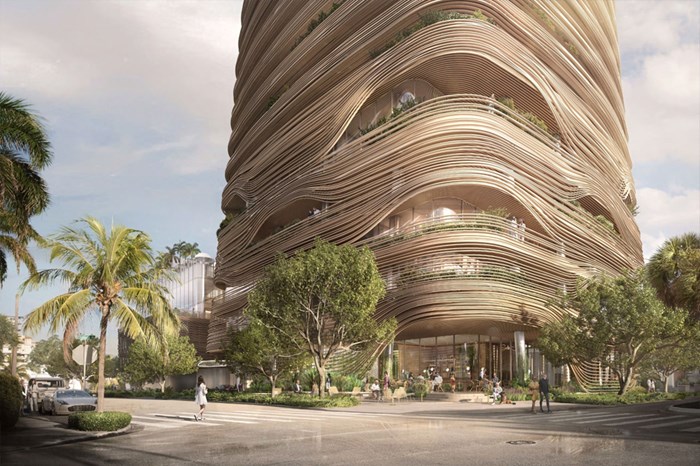 Submitted for review to the Fort Lauderdale Development Review Committee, Location Ventures is pushing plans to build its second Edition-branded tower in Fort Lauderdale. Located further north from the 65-unit Edition Residences on Bayshore Drive, seated on a 1.37-acre parcel at 619 Breakers Avenue and 2900 Belmar Street, this second tower will be a condo-hotel, with mostly hotel with a few larger condos on its upper floors.
Designed by Fort Lauderdale-based Adache Group Architects and the New York-based ODA Architecture, the condo-hotel will rise 22 stories with 176 rooms (levels 6 to 16) and 25 condos (levels 17 to 22). Buyers will have a choice of 5 one-bedroom units, 10 two-bedroom with den units, and 10 three-bedroom with den residences. The property will also feature 2,424 square feet of retail, a 1,549-square-foot restaurant, plus 195 parking spaces.
Amenities at this five-star condo-hotel will include a rooftop pool and bar, a fifth-floor pool deck with restaurant and bar, meeting rooms on the fourth floor, a third-floor ballroom and function space, a second-floor spa and fitness center plus a residential lounge.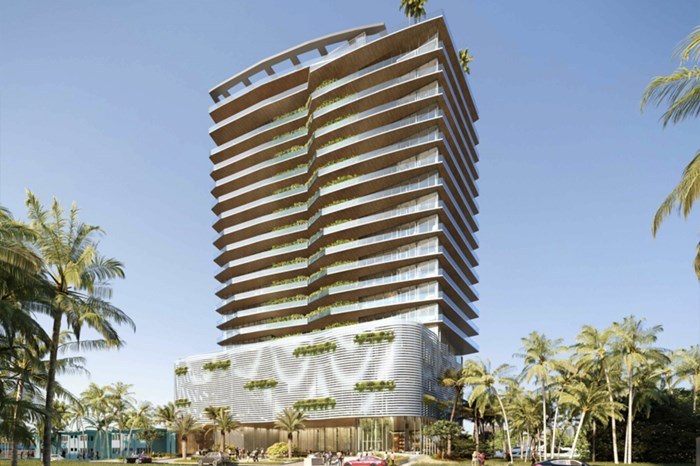 Submitted to the city's Development Review Committee, a 19-story condo tower is proposed to rise at 3013 and 3019 Harbor Drive. Located just south of the Bahia Mar resort and marina, the waterfront tower will feature 36 condos and 108 parking spaces. 
Designed by Miami's celebrated Arquitectonica, the proposed Ocean Harbor Residences will replace a 10-unit co-op building and a 14-unit apartment complex. Amenities at the high-rise will likely include a rooftop pool deck, another pool deck on its fifth floor, a lounge, a fitness center, plus four guest suites. 
Condos at the proposed tower will start on the sixth floor and range from 1,507 to 3,110 square feet. Buyers will have a choice of 8 two-bedroom units, 20 three-bedroom residences, 6 four-bedroom homes, and two penthouses. This equals an average of about 2 condo residences per floor. 

Mixed-use Project – Delray Beach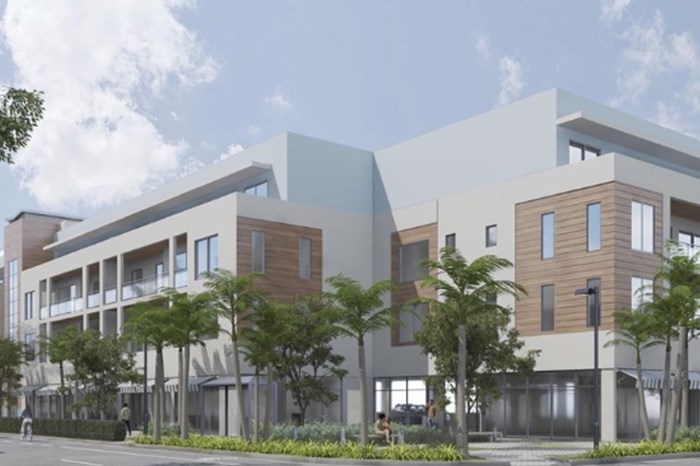 Submitted to the city's Site Plan Review and Appearance Board this February, a mixed-use project has been proposed to occupy the 0.88-acre parcel at 302 to 346 S.E. Fifth Avenue. Located south of downtown Delray Beach, in the Osceola Park neighborhood, the 4-story project is proposed to rise with 26 residential units, 4,476 square feet of retail and 63 parking spots, plus another 43 spots in the garage.
Designed by Slattery & Associates in Boca Raton, the project will feature larger units, starting at about 1,500 square feet. Buyers will likely have a choice of 16 two-bedroom units plus 10 three-bedroom units. Proposed by the Pompano Beach-based 318 SE 5th LLC, managed by David Rowley and Maureen Bozkam, the mixed-use development will also feature a 1,590-square-foot public plaza in its northeast corner.


---


— February 2023 – Fort Lauderdale New Construction Condo News – Watchlist

Diplomat Beach Resort Sale – Hollywood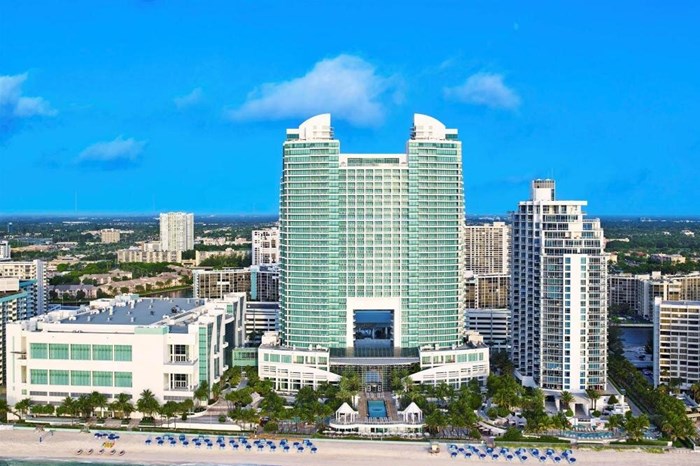 With one of the most expensive price tags for a hotel deal in Florida, the 39-story Diplomat Beach Resort sold for $850 million this February. Honolulu-based Trinity Real Estate Investments and Credit Suisse Asset Management purchased the oceanfront property with plans for expansion.
The reason this resort sale features on our watchlist is that Miami-based Related and Aventura-based BH Group have a deal to acquire a portion of the hotel site from Trinity REI to execute a redevelopment. As part of the expansion, Related and BH Group would likely be adding two new towers to the property, offering over 800 units in total. It's also worth noting that Diplomat was previously approved by the city as a Local Activity Center, under which it would be allowed to build more guest rooms, residential units, and a public plaza along the Intracoastal Waterway.
The 1,000-room Diplomat, located at 3555 S. Ocean Drive, was built in 2022. Occupying 19 acres of prime beachfront, the property is currently home to 8 restaurants and bars, a 14,000-square-foot spa and wellness center, 209,000 square feet of meeting space, plus 2,566 parking spaces. Adding in new restaurants, the beach resort recently completed a $90 million renovation in 2018. 
Ready to invest or move into a brand-new luxury condo in or around Fort Lauderdale? Call, chat, or email us to have a local, pre-construction condo expert guide you to your desired property.

 


Love staying on top of pre-construction news in Fort Lauderdale and Miami? Subscribe to this blog or our YouTube channel for monthly updates!
Share your thoughts with us
Sign up now
Get news and updates delivered to your inbox