Foursquare Locates Standing Miami Vice Landmarks for its 30th Anniversary
Nov 13, 2014 November 13, 2014
The old Miami Vice television show is having its 30 year anniversary this year and Foursquare, an app with which you "check-in" at locations, is highlighting 10 popular spots from the shows that are still around.
Miami Vice was a popular show that helped get Miami on the radar, and it actually brought many visitors to the area. That was 30 years ago, here are the places in Miami today.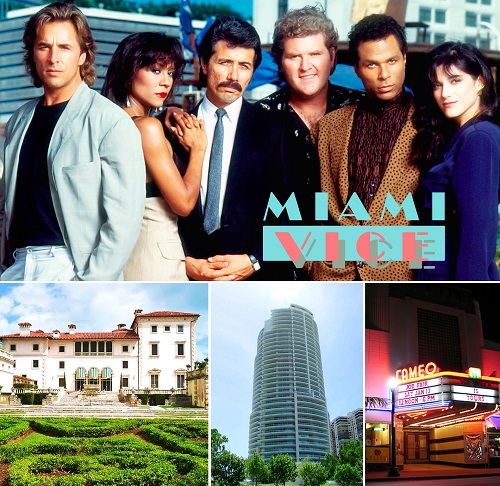 East Side Pizza (731 NE 79th Street): The burger joint where the two characters, Stan Switek and Larry Zito meet Noogie in the show.
Bayside Marketplace (401 Biscayne Blvd): The marketplace shown many times in the series.
Vizcaya Museum and Gardens (3251 S Miami Ave): The villa at this location was shown many times through the series, especially in the episodes, "Whatever Works," "Tale of the Goat," "French Twist," "God's Work," "The Rising Sun of Death," and "Heart of the Night."
Jerry's Famous Deli (1450 Collins Ave): In Miami Vice, this location was actually the Kobekai Club and the Warsaw Ballroom. After the end of Miami Vice, it became a Jerry's Famous Deli, a restaurant with many delicacies. Now, it is vacant and will be filled with another renter soon.
Miami Tower (100 SE 2

nd

Street): The Miami Tower is actually shown in the opening credits for the series.
Mac's Club Deuce (222 14

th

Street): The writers for the show actually spent a lot of time in this bar. They also installed a neon light that the restaurant still owns, and it still works.
Cameo Nightclub (1445 Washington Ave): In the first ever episode of Miami Vice, this theater makes a cameo.
Miami-Dade County Courthouse (73 W Flagler Street): The courthouse makes an appearance in the opening credits sequence and also many episodes.
The Carlyle Café (1250 Ocean Drive): The Carlyle is seen in the opening credits, with two women in bikinis walking out. It is also featured in many episodes.
Atlantis Condominium (2025 Brickell Ave): This condo is also featured in the opening credits, but it is seen in the episodes "Hit List," and "Viking Bikers from Hell" as well.
Source: curbed.com
Photo credit: House - curbed.com, Miami Vice Cast - nbc.com
Share your thoughts with us
Sign up now
Get news and updates delivered to your inbox