Graffiti Masterpieces Covering Wynwood Walls Offer a Rich History
Mar 06, 2014 March 06, 2014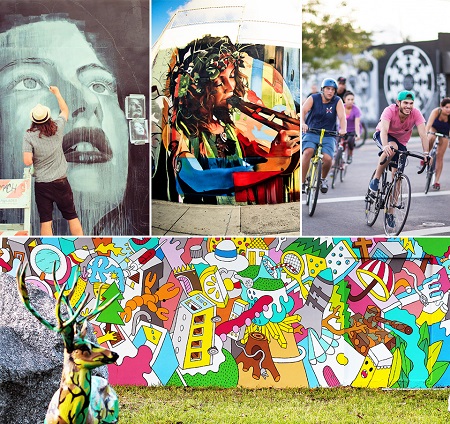 Walls stretch far and wide covered in this mysterious artwork In Wynwood. Some murals look astounding and creative, others boggle the mind. However, not many people stop and think about who made them, or which ones are local. What do they mean? Where do they come from? Well, one man is out to show off these works of art.
Ryan Ferrell, or "Ryan the Wheelbarrow," as his friends know him, is offering in-depth bicycle tours to view these works of art firsthand. What is the best part? It is absolutely free.
Ferrell has lived in the Wynwood area for over ten years, and has heard many commercial commentaries on the walls, but he believes that they only scratch the surface of the rich history of these masterpieces. Ferrell's bike tours offer an in-depth description and commentary on these pieces of art from a completely localized and un-commercialized perspective. Ferrell states that his tours are more of "an open-ended conversation" than a simple script repeated many times.
The tour that Ferrell takes his guests on is a BYOB (Bring Your Own Bike) tour, and lasts about an hour and a half, where he leads them to astounding viewpoints where they can see, "six to seven different countries of artists at once." He gives background about each piece, and some history on their respective artists.
Nowadays, the artwork is contrasting adjacent industrial buildings right next door. In the words of Ryan Ferrell, "I like to explain to people there's that blend of natural, raw, organic graffiti right next to a commissioned wall by Heineken or one of those big companies."
Source: miaminewtimes.com
Photo credit: Walls - graffitnos.com, travel-americanexpress.com, seanwashere.com, Bikes - artplaceamerica.org
Share your thoughts with us
Sign up now
Get news and updates delivered to your inbox