Miami Condo Market Snapshot: June 2020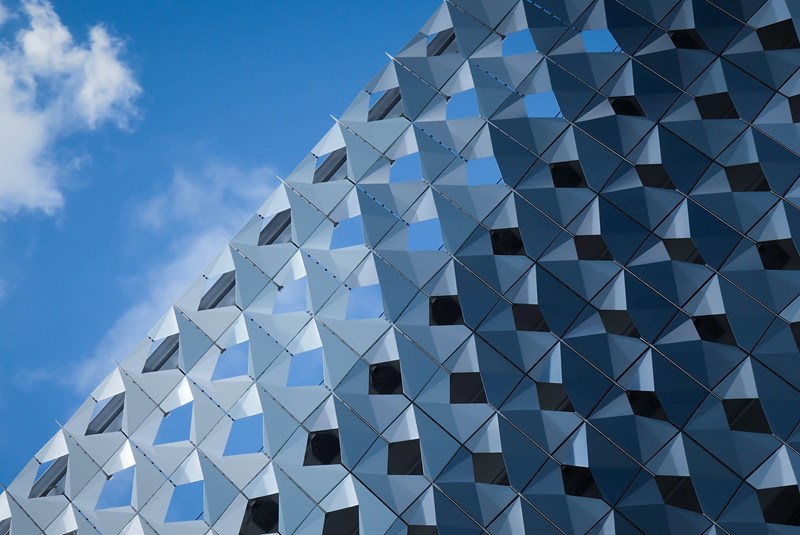 Jul 01, 2020 July 01, 2020
Three months into the coronavirus pandemic, we're still adjusting our daily work and personal lives, and the markets are still adjusting, too. As we continue to monitor how the Miami condo market is faring, data from our June Multiple Listing Service (MLS) CBB Condo Market Snapshot show that, compared to May, the market is showing signs of a recovery, but compared to last year, sales have dropped significantly. The reality is the market will likely not catch up to 2019 numbers, but signs of stabilization for this year are promising.
Our MLS market survey took into account a total of about 9,000 condo listings across the greater Miami area and the Miami Beaches. Here's the latest Miami condo market data comparing the last few months, as well as compared to last year.


Closed Sales Gap Stabilizing - Diverging since March 2020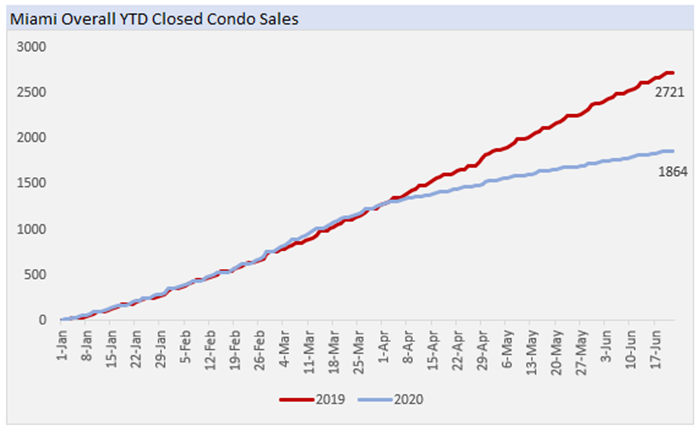 ---
Cumulative Closed Sales for 2020 exceeded sales for most of the year up until March 28th. From March 28th onwards, Closed Sales have dropped. As of June 23rd, Total Closed Sales for 2020 were 1,864 compared to 2,721 in 2019, a decrease of 31.5%.
---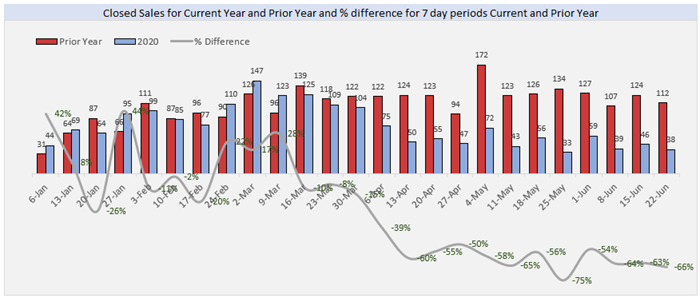 ---
If we consider all 7-day periods for the year-to-date to June 22nd, we can see that sales have been approximately 60% lower since mid April, but this is to be expected. The key question is are sales over the most recent 7-day periods increasing?
---

Overall Condo Market - June Performing Better than May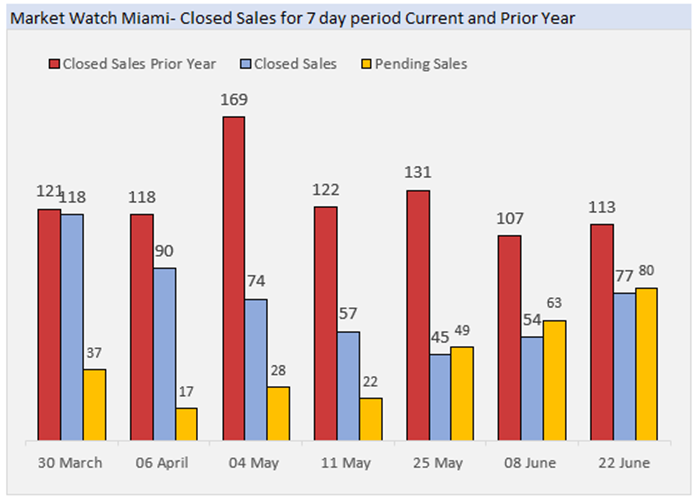 ---
A comparison of sales over 7-day periods ending March 30, April 6, May 4 , May 11, May 25 reveals a consistent decrease in Closed Sales and a widening gap between Closed Sales this year and Closed Sales last year.
However, our comparison for the 7-day periods ending June 8 and June 22 reveal an increase in sales during that time and compared to May, and a decrease in the sales gap between the same period last year. Pending Sales have also exceeded Closed Sales since the end of May. Both these factors may indicate the start of recovery.
---

Luxury Condo Closed Sales (>$1M) - Market Trying to Stabilize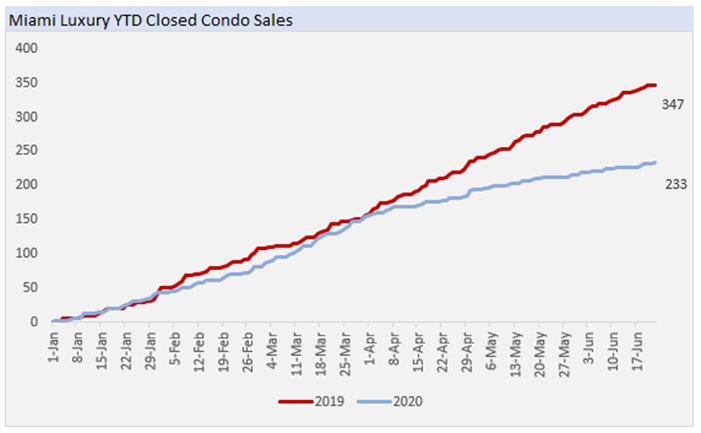 ---
Looking back over the past 6 weeks shows that the luxury condo market is still trying to find its footing. Year to Date (YTD) Closed Sales for condos priced $1 million and above continue to slip each week:
Week of May 13th: decrease of 22.2% (200 sales in 2020 vs 257 in 2019)
Week of May 25th: decrease of 27.6% (210 sales in 2020 vs 290 sales in 2019)
Week of June 6th: decrease of 30.7% (219 sales in 2020 vs 316 sales in 2019)
Week of June 22nd: decrease of 32.0% (233 sales in 2020 vs 347 sales in 2019)
---

Luxury Condo Sales - Week by Week YTD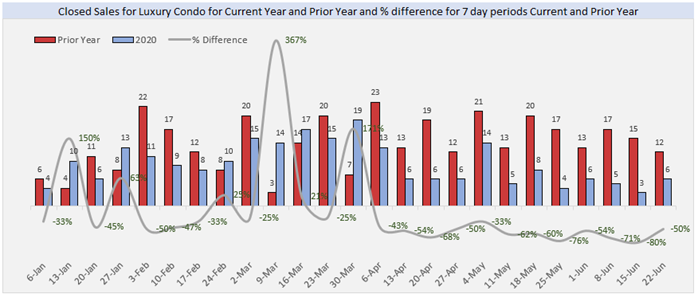 ---
Similar to the overall market, looking at all 7-day periods for the year-to-date to June 22nd, we can see that sales are still closing but have been approximately 60% lower since mid April. Again, we do not expect to see 2020 cumulative sales recover to 2019 numbers. We are watching a shift toward a sustained positive trend line.
---

New Listings, Price Decreases Trending Up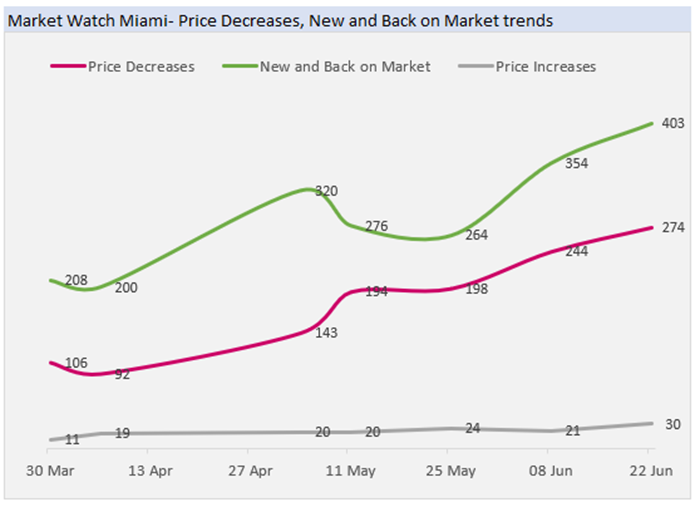 ---
Interestingly, New Listings have generally increased over the last 6-7 weeks, and so have Price Decreases.
The number of price decreases over a 7-day period have increased from 106 in March to 274 in June.  The cumulative number of price decreases over this period is estimated to be in excess of 2000.  Although sales seem to have increased over the last week, the number of price decreases still indicates that the market is seeing buyer opportunities.
There does seem to be some movement in Price Increases in the last week, where there were over 30 increases. This is an encouraging sign. Still, both of these values are small when compared to the total market of more than 9,000 condo listings.
---

Summary of Key Miami Condo Market Indicators for June 22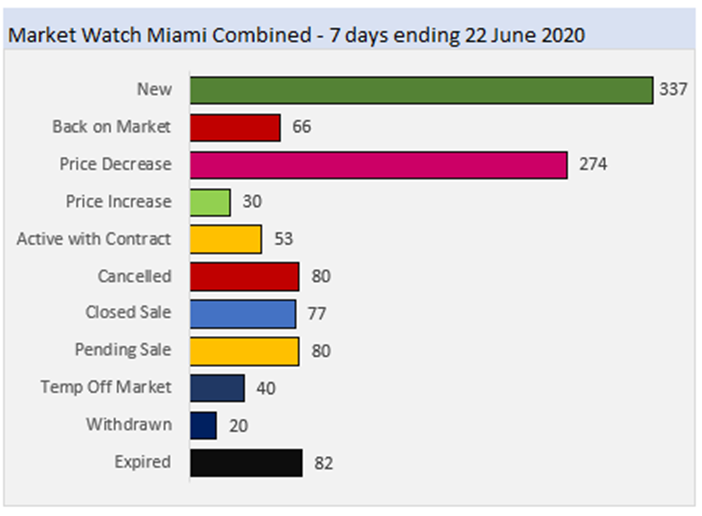 ---
Number of New Listings increased to 337 for week ending June 22, the most we have seen over the last 8 weeks and more than doubling compared to 295 for week ending June 8, 214 at the end of May, and 136 in April
Pending Sales and Closed Sales increasing
Number of Price decreases continues to rise
---

Want more insight on your specific Miami Market or your condo? Are you thinking of selling your Miami or Miami Beach condo? Or do you see a good opportunity to buy? Let us know and we'll be happy to review your specific needs and provide expert assistance.

Cover photo courtesy of

Raphaël Biscaldi
Share your thoughts with us
Sign up now
Get news and updates delivered to your inbox