Miami International Auto Show 2014: 10 Days of Pure Auto Mania
Oct 29, 2014 October 29, 2014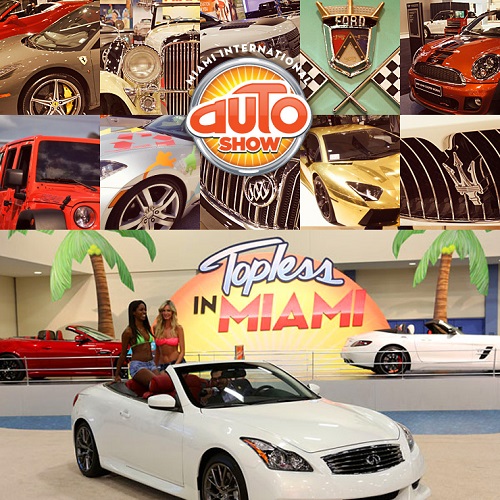 Launched in an era when gasoline was only 36 cents a gallon, the 44th edition of the Miami International Auto Show (now South Florida International Auto Show) is back in town with new and old tricks to make every automobile enthusiast's heart skip a beat. Spread over ten days of November, this annual auto extravaganza held at the Miami Beach Convention Center includes two weekends of roaring horse power for everyone to enjoy.
Irrespective of whether you're looking to buy a new set of wheels or not, you can come and admire the old to the new, bling to the bare, most expensive to technologically advanced auto exhibits in over a million square feet of show space. Regarded as one of the top 5 fall-time auto shows in the U.S., you'll be treated to over 1,000 vehicles from more than 40 of the world's top manufacturers.
Classic car connoisseur? Then 'Havana Classics' and 'Memory Lane' will be your oasis of charm. While the Havana Classics showcase will be displaying Cuban classics from the 50s, Memory Lane will take you through a nostalgic selection sponsored by the Antique Automobile Club of America's South Florida Region.
Like 'em ladies bare? Then 'Topless in Miami' will let you enjoy convertibles of all kinds - from sports cars to yachts - in a picturesque Miami environment, without having to leave the show floor.
Love to flaunt? Then the 'Million Dollar Alley' is your destination. Touted to be a display that might even make Bond blush, you'll be treated to the most expensive, shiny, blinged-out sets of wheels on the planet.
Crave to get behind the latest wheels? With a host of 'Ride & Drive' events, you won't need to be a mere spectator, but actually get to grab the bull by its horns. 'Camp Jeep' will be making a comeback too this year with the steepest climbs in Miami Beach to get your adrenaline pumping. Trained instructors will be taking you through a jungle trek - complete with steep grades, rocky trails and log crossings – showing you what a jeep is truly capable of doing.
You wouldn't want to miss the first-ever 'Cars Meet Art', an exhibit showcasing the works and talent of world-famous street artists with painted cars and matching murals to simply blow your mind.
With discounts and bookings available online on the official website, it would certainly make sense to grab your tickets now to avoid any last-minute rush. Parking options will be available in and around the convention center. While there are no restaurants per se in the center, there are several stalls to take care of grumbling bellies.
The 2014 Miami International Auto Show will officially be open from 5 p.m. on Friday, the 7th of November.
2014 Miami International Auto Show Fact Sheet:
Now the largest and most prestigious show in the nation, the Miami International Auto Show made its debut in 1971 at the Miami Beach Convention Center.
In its 44th year running, the show is a platform for national product introductions and is known to be the first to introduce visitors to the latest models and technologies.
While the first show was produced by only 65 members of the Miami Auto Dealers Association, today 190 dealership members are known to be part of the extravaganza.
The Miami International Auto Show was christened as the South Florida International Auto Show in 2012.
The regular list of exhibitors includes Acura, Alfa Romeo, Aston Martin, Audi, Bentley, BMW, Buick, Cadillac, Chevrolet, Chrysler, Dodge, Ferrari, Fiat, Ford, GMC, Honda, Hyundai, Infiniti, Jaguar, Jeep, Kia, Lamborghini, LandRover, Lexus, Lincoln, Lotus, Maserati, Mazda, McLaren, Mercedes-Benz, Mini, Mitsubishi, Nissan, Pagani, Porsche, Ram, Rolls Royce, Scion, Smart, Subaru, Toyota, Volkswagen and Volvo.
Photo credit: Cars - miamistreetsanimal.com
Share your thoughts with us
Sign up now
Get news and updates delivered to your inbox