Miami International Auto Show – Auto Heaven Is Back In Town!
Oct 28, 2015 October 28, 2015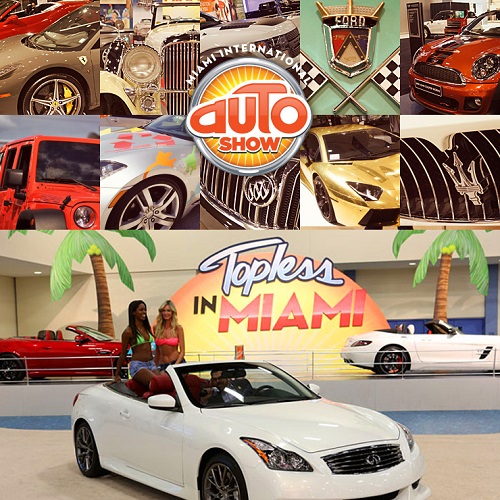 As if us Magic City dwellers are not already spoiled by wonderful Fall things without any of the "real" cold fuss, we also get to go to the Miami International Auto Show. It's all wheels all the time from November 6 – 15 at the Miami Beach Convention Center. This 10-day auto fest brings you everything from the new to the old, bling to the bare and high-tech to simply genius.
This grand auto show houses up to a 1,000 of the latest and greatest specimens displayed over a million sq. ft. of exhibit space. Rated one of the top five auto shows in the U.S., this is your chance to drool over cars, trucks, SUVs and even yachts.
Everybody who's anybody in the automobile industry will have their wheels on display. From Rolls Royce to Porsche, Ferrari, Lotus, Aston Martin, Audi, Bentley, BMW, Jaguar, Lamborghini, Buick, Cadillac, Chevrolet, Landrover, Maserati, McLaren, Mercedes-Benz and more.
Whether you plan to come alone or with the family, there's scores of attractions to keep that adrenaline going. 'Million Dollar Alley' and 'Topless in Miami' are for those who love to flaunt their stuff. While the alley treats you to the most expensive rides, topless makes a stunning showcase of convertibles.
There's also plenty for those who simply can't get enough of the classics. Cruise through 'Havana Classics' and revisit the finest Cubans from the 50s. A stroll through 'Memory Lane' will bring you to a nostalgic collection sponsored by the Antique Automobile Club of America's South Florida Region.
Got an eye for the refined? Then 'Cars Meet Art' is for you. Check out compelling works-of-art set on wheels by world-famous urban artists with murals to match. But, if you really love to get your hands dirty, don't forget to sign up for the 'Ride & Drive' events. Take one of the latest rides for a spin. Or, better yet, get chauffeured through of the most challenging jungle trails in 'Camp Jeep' – complete with steep grades, rocky trails and log crossings.
Stemming from an era when gasoline cost a mere 36 cents, this is one Miami event we all cherish.
Photo credit: Cars - miamistreetsanimal.com
Share your thoughts with us
Sign up now
Get news and updates delivered to your inbox