Miami's Commuter Rail Plan with Brightline Approved by County
Apr 13, 2021 April 13, 2021
Transportation in the Magic City has certainly improved in recent years, transforming the lives of South Florida residents with constantly expanding commuter options such as the Brightline rail system. In keeping with the increase in rail services and improvements in public transportation options for the local community, the Governing Board of Miami-Dade's Transportation Planning Organization voted to approve the $345 million commuter rail option planned for the Northeast Corridor of Miami-Dade County.  The commuter trains will run on the Brightline train tracks as part of the Strategic Miami Area Rail Transit, known as the SMART Plan. 
Before the pandemic slowed down some of this progress, Brightline was providing intercity rail service between Miami, Fort Lauderdale and West Palm Beach. Per recent Board approval, the new commuter rail trains will now run between the MiamiCentral intercity station in Downtown Miami, making seven stops along its route to its final destination in Aventura. That stop, which Miami-Dade Commissioners agreed to pay Brightline $76 million to build, will soon become another intercity station, linking it to other areas in Broward and eventually Palm Beach County. Construction on the stop began in September of last year, and is expected to be finished later this year. 
If all goes according to schedule, construction of what will be called the Miami Northeast Corridor line will be done in 2024, according to the Department of Transportation and Public Works (DTPW).
The current plan includes seven future key stops at Brightline stations:
MiamiCentral in Downtown Miami

Wynwood at 27

th

Street

Design District at 40

th

Street

El Portal at 79

th

Street

North Miami at 123

rd

Street

FIU at Biscayne and 151

st

Street

Aventura at 196

th

Street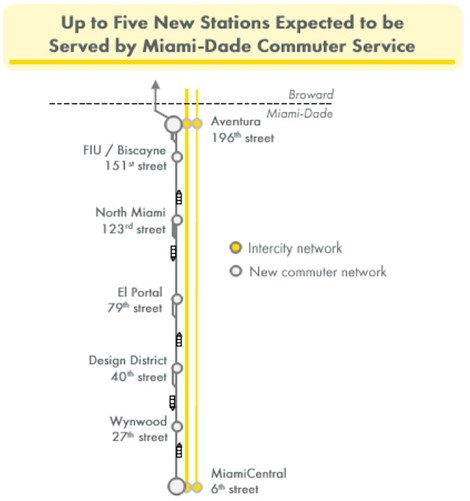 The project's $345 million budget will cover such costs as improvements to rail infrastructure, as well as to individual stations. It will also improve Park-and-Ride facilities and services, as well as a maintenance facility for the entire system, which is estimated to cost about $16 million yearly to maintain. There will also be a fee to access the tracks belonging to the Florida East Coast Railway (FEC) that is also included in this budget. 
About 50% of the project's funding is expected to come from the Federal Government, while Miami-Dade County plans to use private sector funding for an additional 25% from an allocation provided by the People's Transportation Plan Smart Plan, as well as other funds.  The Florida Department of Transportation (FDOT) is expected to kick in the remaining 25%. 
The SMART Plan currently covers the following six corridors:
The Beach Corridor running between the Omni Station in Downtown Miami and 5

th

Street in South Beach

The Northeast Corridor from Downtown Miami to Aventura

The North Corridor set to run along NW 27

th

Avenue to the Broward County Line

The East-West Corridor from Downtown Miami to the Park-and-Ride facility at Tamiami Park bordering the Everglades

The South Corridor stretching 20 miles from Dadeland to Florida City

The Kendall Corridor connecting Dadeland to Krome Avenue in Homestead
All of these now have a selected preferred mode plan except for the Kendall Corridor.

Brightline Trains in Broward County and North
Meanwhile, Brightline has been making plans with Broward County to extend its coastal link service in Broward, with the hopes of sealing the deal this year. This link would increase service to an additional 8 stations in Broward County, including:
Hallandale Beach

Downtown Hollywood

Dania Beach

Fort Lauderdale Airport

Downtown Fort Lauderdale 

Wilton Manors

Oakland Park

Downtown Pompano Beach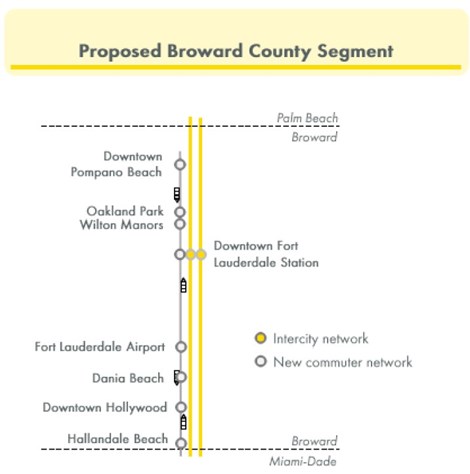 Of these, the Downtown Fort Lauderdale Station is currently in use as part of Brightline's intercity service. 

In addition to the extension of the railway commuter service to Broward County, the company has also begun plans to further extend its commuter service to Palm Beach County as well. 
Given the successful progress of Brightline's efforts to expand commuter options for residents of South Florida, we can look forward to faster and more comfortable commutes once the majority of our workforce returns to business as usual. This will also mean less traffic congestion, which will also lead to improved air quality, and yes, way less road rage – benefits that we are certain will lead to a reduction of stress in our collective lifestyles. 
Overall, the news regarding increased transportation options in Miami-Dade just keeps getting better and better. As we see it, this expansion in commuter options is a win-win for everybody involved, including South Florida commuters, private businesses, corporate entities, and families who will get to spend more time together as commutes are shortened and simplified by the rail system.
We're thrilled to see Miami-Dade expanding its public transportation options for local residents! Subscribe and stay tuned for more Miami and South Florida infrastructure, Brightline and public transportation updates! 
Share your thoughts with us
Sign up now
Get news and updates delivered to your inbox