Miami's New and Pre-Construction Condo Update: November 2020
Dec 03, 2020 December 03, 2020
November proved to be the month of announcements for the Miami condo pre-construction market. The Estates at Acqualina announced move-in timelines for their south tower residences. Downtown's short-term rental condo Natiivo announced a 2021 groundbreaking. And, Edgewater's Island Bay also announced an early 2021 groundbreaking. Read on for updates on South Beach's Marina Park vote, Gil Dezer's Uptown Harbour vote, and much more in our monthly Miami condo pre-construction digest below:


---
Approved
---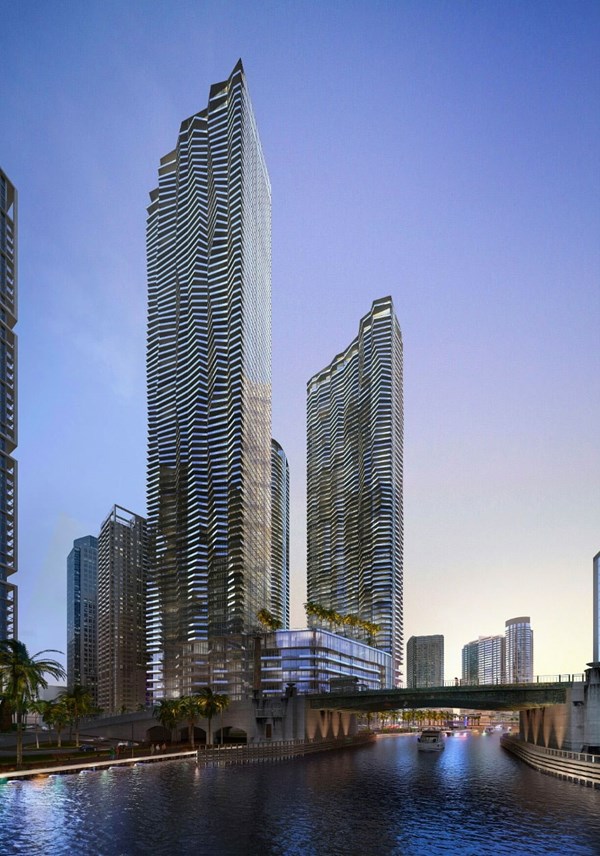 With Jon Paul Perez taking over as new president of the Related Group, this mixed-use project is finally moving ahead. The three-tower development was approved by FAA this November to build one of the tallest buildings in Miami. Tower I is approved for a height of 550 feet above ground, Tower II for 828 feet, and Tower III for 877 feet above ground. Along with the approval, the Related Group has inked a deal to ensure school capacity for its new residents by funding the addition of seats to the Miami-Dade County School Board.
Designed by Arquitectonica, phase one of construction will involve the building of a 500-unit tower with luxury residences at 77 SE 5th Street right on the Miami River and the Brickell Bridge. The project is also set to include a 5-star hotel, office space, retail space, and a boat dock.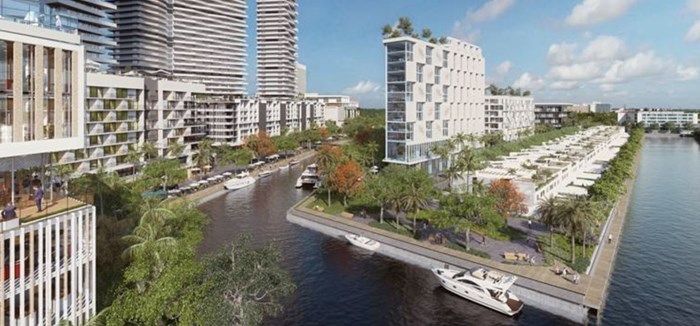 The North Miami Beach City Commission has finally approved this 30-acre mega project by Dezer Development on its third presentation. The $1.5 billion redevelopment of the Intracoastal Mall is set to include 5 towers, up to 40 stories tall with a total of 1,750 luxury condos, a mid-rise rental building with 200 apartments, 50 townhouses, 250 hotel rooms, 375,000 square feet of retail inclusive of a supermarket and gym, 200,000 square feet of office, and 9.4 acres of open space (inclusive of a canal and park). 
Designed by Zyscovich Architects and dubbed the project for "Millennials,"  the project will also feature public improvements like building a fire station, police department, community center, 6-acre park, and other infrastructure.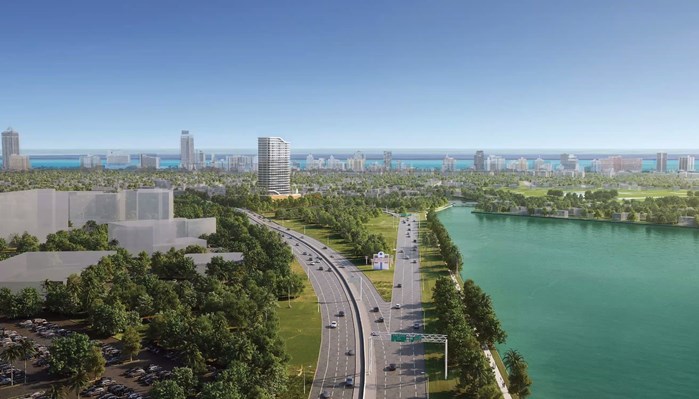 The City of Miami Beach unanimously approved three ordinances allowing redevelopment of Mast Capital's 4000 Alton Road project and giving the green light for the luxury condo development to proceed. After prior rejections based on height and size, the developer agreed to reduce the height to 85 feet from an initial 290 feet, and after a second rejection at 12-stories, as well as limit the number of units to 175 condos. The commission also approved Mast's request to change the zoning of the 17,860-square-foot plot of land next to the site to residential multifamily from government use allowing for more space. 


---
Submitted
---

36-story, LEED-certified Condo Tower by Grupo T&C - Edgewater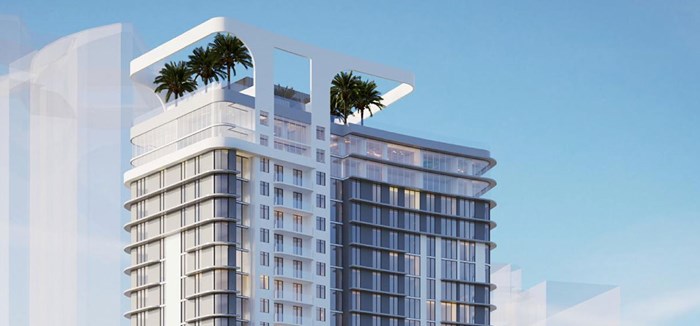 Plans to build a 36-story tower in Edgewater by the Peru-based development firm of Grupo T&C were submitted to the City of Miami last month. Sitting right behind Quantum on the Bay and 1800 Club, the tower is set to feature 322 condos, 372 parking spaces on an 8-story podium, 27 bicycle spaces and 6,183 square feet of ground-level retail. Designed by Kobi Karp, the LEED-certified project will feature 27 studios, 160 units with one bedroom, 84 units with two bedrooms, and 54 units with three bedrooms, all ranging from 525 sq. ft. to 1,560 sq. ft. in size.
Ready to take on any future pandemics, the luxury high-rise will come prepped with a temperature reader in its lobby, touchless doors at the entrance, eye and voice recognition systems in its touchless elevators, and eye-recognition tech to open the door for each resident of the unit. Other proposed amenities at the tower include a rooftop pool deck, a 9th-floor amenity center with gym and lounge, plus an outdoor dining area, and garden.


---
Planned
---

Dacra, led by CEO Craig Robins, plans to add a 36-story signature tower at the entrance to the Design District at 3750 Biscayne Boulevard. Submitted to the city's Planning, Zoning and Appeals Board this November, the tower will require some amendments to the district's Special Area Plan. For instance, the building will require a height increase from the current 20 stories to be architecturally attractive, according to Robins. Also, an amendment will be required to build a condo-hotel.
Calling it the next phase of the Design District, Robins plans on building offices and two hotels, besides the proposed condo. There are also talks of the Brightline accessing the rail corridor of the local transit line that runs through the area, which would bring greater connectivity for commuters if the office building is approved.


---
Breaking Ground 
---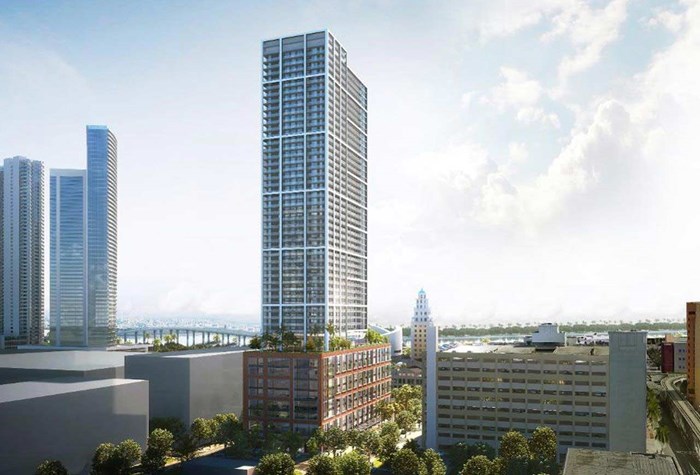 The Airbnb-ready Natiivo tower is scheduled to break ground in the first quarter of 2021. The Urban Robot Associates-designed tower has also announced Bodega Taqueria and Dolce Mercato (spin-offs of South Beach restaurants by the same name) to be the tenants of their in-house restaurant space.
Developed by the co-founders of Newgard Development Group and Crescent Heights, the tower has gained popularity for its flexible rental program that allows buyers to rent out on any home-sharing network like Airbnb. The 51-story tower is set to feature a total of 604 units, 400 of which will be condo residences plus 137k sq. ft. of office and retail space, co-working spaces, and a nine-level podium with two lobbies. Other amenities here would include an exotic resort pool with cabanas, Peloton studio, yoga lounge, private meeting rooms and more.
Prices start at $300,000, with a choice of studios to three-bedroom residences


---
Other Updates
---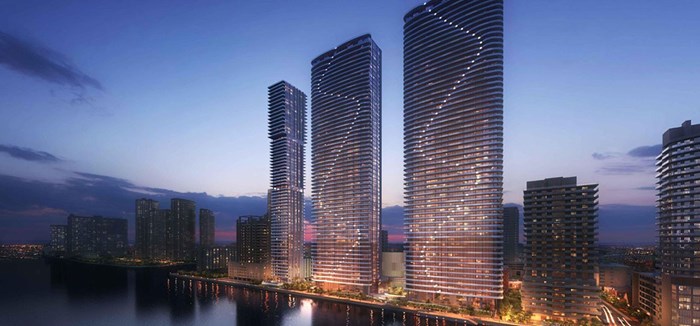 With an application filed with the Federal Aviation Administration to build its 60-story waterfront project and a 2021 groundbreaking announcement, the Melo Group is set to materialize its latest delivery of Edgewater condos. Designed by Arquitectonica, the twin towers will feature a unique zig-zag pattern, rise 637 feet, and house 792 condos along with 12,600 square feet of retail.
Work on the baywalk is already underway, and future residents will also get easy access to the water as small docks with steps are being designed for kayakers and paddle boarders to walk up ashore, besides getting multiple pools and a multi-sports court in the complex.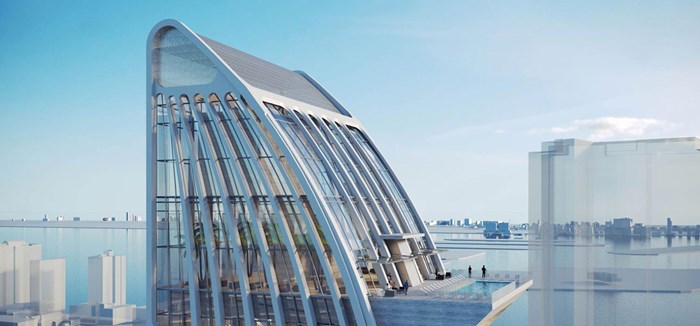 Developer Dan Kodsi has filed for a construction permit and FAA height approval to move ahead with the development of Legacy Tower in Downtown Miami as part of the Miami WorldCenter complex. Proposed at a height of 661 feet above ground, the 50-story tower is designed by Kobi Karp, and features the concept of microLUXE living. The tower will feature 549 units along with 7,400 square feet of restaurant space.
Scheduled for a fall 2023 completion, the tower is set to be accompanied by a 100,000 sq. ft., $60M health and wellness center called Center for Health + Performance (CH+P). The wellness facility will feature a medical center with ventilators, surgery rooms, MRI, CT Scan, X-Ray, Ultrasound and other services. Unit owners will have access to CH+Ps medical facilities, diagnostic center, onsite lab, and doctors.
Other amenities at this unique concept include a one-acre ninth-floor pool deck, a 45th floor "Singapore style" sky pool hanging off the edge, America's largest rooftop glass atrium with seven stories housing indoor palm trees, a restaurant, lounge, and bar, plus a members-only international business lounge.
Prices expected to range between $300,000 and $500,000, with a choice of studio to two-bedroom residences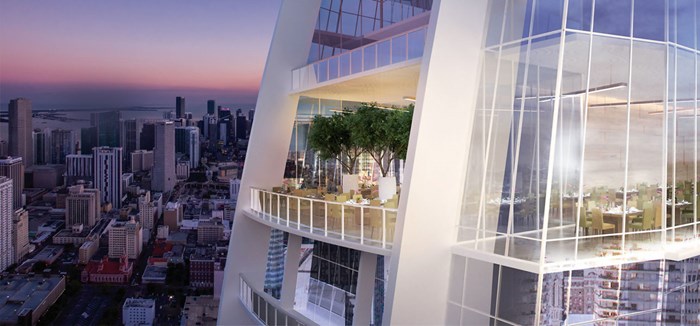 Recording a Covenant In Lieu of Unity of Title in order to get a construction permit, developer Okan Group is finally moving ahead with the project after months of quiet. The proposed tower will rise 70 stories with condos, a Hilton Hotel component, office space, and retail space in Downtown Miami.
Planning to make a statement with the tower, developer Bekir Okan wants to self-finance construction of the $300 million development. Amenities at this supertall are expected to include three swimming pools, a pool bar and lounge, a full-service spa with Turkish Hammam, screening room, wine cellar, cigar room, kids' club, and more.
Prices start at $359,000, with a choice of studios to three-bedroom residences

300 Alton Road "Marina Park" – South Beach
While voters did not approve the proposed air rights purchase for the Marina Park condo tower designed by Bjarke Ingels, developer David Martin could try again since it was a split vote with some supporting the other improvements that come with development. The 60-unit luxury condo project would also include 45,000 sq. ft. of commercial/retail/office space, and 80 parking spots with a promise to feature a one-acre public park, a City-owned facility, eco-dock habitat, upgraded Baywalk, and more to enhance South of Fifth's appeal as a premier yachting destination.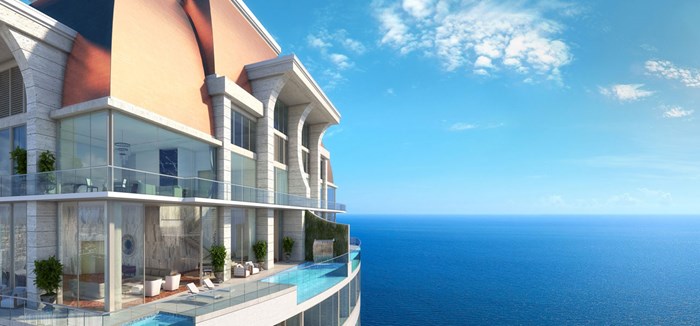 With sales launched in February, the Estates at Acqualina South Tower is set for a 2021 delivery. While the South Tower (with 154 residences) topped off in July, the boutique North Tower (with 94 residences) is also expected to top off soon. Residents can expect to move in to the South Tower by August 2021, while those residing in the North Tower will have to wait until 2022.
Offering a combined 248 luxury condos between its north and south towers, residents will be treated to common areas designed by the late Karl Lagerfeld and 45,000 sq. ft. of amenities – highlights include a spa, world-class restaurant, boxing ring, ice-skating rink, four-lane bowling alley, golf simulator, Wall Street traders' club room, Formula One racing simulator, surfing simulator, soccer field, speakeasy, movie theater, and cigar lounge.
Prices of remaining units range between $4.6 million and $11 million, while penthouses go upwards of $31 million


---

Love a condo you see? Email or call us to have an expert guide you with the process of buying preconstruction in Miami or read our comprehensive guide here.
Share your thoughts with us
Sign up now
Get news and updates delivered to your inbox