Moving to Miami? Complete Guide to Buying a Condo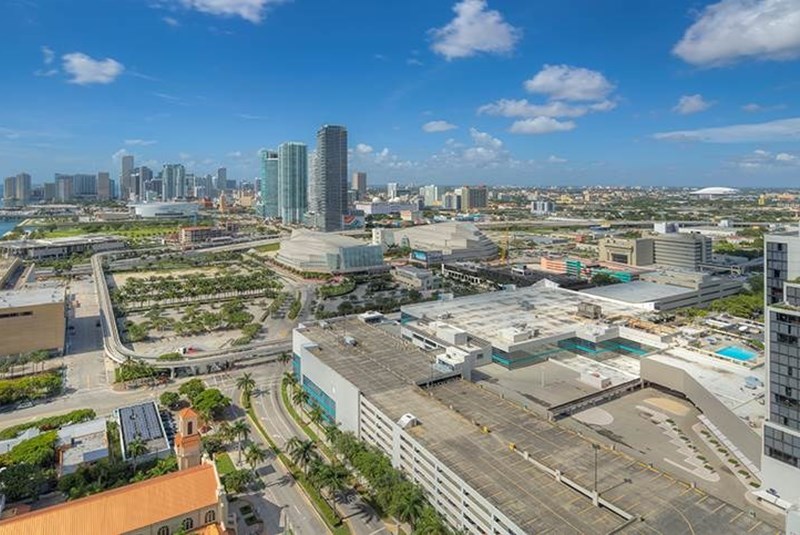 Mar 18, 2018 March 18, 2018
There's a bunch of reasons you could be moving to Miami. Beaches. Weather. Work. Shopping. Whatever the motive behind your move, you will need to find yourself a comfortable place to call home.

When it comes to condo living, Miami has a huge variety. From ultra-luxury to the basic, you'll find a Miami condo to fit every budget and need. However, before you embark on your condo hunt, we want to make sure you have an arsenal of tips, tricks and insider information so you can make the best of your condo purchase.
One of the first things you need to sort is which part of Miami would you want to live in.
Where to Live in Miami? Finding the Best Neighborhood for You
A self-evaluation is absolutely necessary in order to zero in on the right neighborhood. Here are some questions to help figure out the possible best Miami neighborhood to live in for you:
What kind of lifestyle do you want? Beach life, urban dweller, edgy progressive, sports-centered, low-key family life? You don't have to choose one, but deciding what your priority is will certainly help guide you in the right direction.
What is the most important to be close to? Work, school, college, my favorite activity? Keep in mind that Miami is a popular place with a bit of traffic, so vicinity is key to quality of life.
Do you need public transportation in Miami? People in Miami love their cars, but as traffic increases people are ditching their cars for Uber and public transportation. If public transportation is important to you, you will need to have a Metrorail, Metromover, Metrobus or Brightline station close by that gets you to where you want to go.
Would you prefer to be right in the middle of all the action or "close, but not too close" to it?
Are you okay driving to great dining, entertainment, art or shopping? Or is walking a must?
How concerned are you with safety in your neighborhood?
And of course, what is your budget? The more a neighborhood offers in terms of conveniences and amenities the more expensive it tends to be.

These questions and more will help you get a clearer idea of the kind of neighborhood you'll fit into. To make things easier, we've sliced up the major neighborhoods in Miami below. For details on the lifestyle, things to do, architectural landscape and more, simply follow the links:
Miami Neighborhoods Organized by Lifestyle
Beach Living - Miami Beach (South Beach, Mid-Beach, North Beach), Bal Harbour, Sunny Isles Beach, Surfside, Key Biscayne
City, Art and Cultural Hubs - Downtown Miami, Arts & Entertainment District, Wynwood, Design District, Midtown, Edgewater
Commercial Centers - Brickell, Downtown Miami, Miami River
Suburban/Village Feel - Coconut Grove, Coral Gables, Upper East Side, Aventura
Island Living – Brickell Key, Venetian Islands, Bay Harbor Islands, Fisher Island, Key Biscayne
Miami Neighborhoods Ranked by Walkability
| Neighborhood | Walkscore* |
| --- | --- |
| Brickell | 99 |
| Midtown | 97 |
| South Beach (Ocean Drive) | 96 |
| Downtown | 91 |
| Wynwood-Edgewater | 88 |
| Brickell Key | 86 |
| Miami Beach | 76 |
| Coconut Grove | 75 |
| Upper Eastside | 74 |
| Bal Harbour | 66 |
| Surfside | 60 |
| Sunny Isles Beach | 58 |
| Coral Gables | 57 |
| Venetian Islands | 52 |
| Aventura | 51 |
100-90 Walker's paradise (daily errands do not require car)
89-70 Very walkable (most errands can be accomplished on foot)
69-50 Somewhat walkable (some errands can be accomplished on foot)
* All walkscores and legend sourced from WalkScore.com
Location drives prices
One of the major factors that will drive your choice of neighborhood is your budget. Living in an area that offers the maximum conveniences and amenities gives you the best of everything, but also pushes up prices. For instance, the average sales price per sq. ft. for a luxury condo in South Beach second quarter 2017 was $1,022, as compared to Coconut Grove's $482. Again, while a luxury condo in Bal Harbour would set you back $2,170,143 on average, an Edgewater or Midtown condo would cost only $766,556. For more in-depth information on overall and per neighborhood prices, refer to our luxury condo market reports here.
Condo Buying Tips – How to Find the Best Fit?
Once you have a neighborhood in mind, it's time you take the next step. You can use our filtered search tool to explore the various condos for sale in each neighborhood. Miami is not like most other major cities. We like to think that what is optional in most cities comes standard here, as we are known to like to live the good life. Read on . .
Your Residence: The Comforts
Views. Miami is a dynamic city and so are its views. From romantic city lights to dramatic water views, you name it, we got it. Miami's water view selection isn't just limited to the beach and ocean. We also have the Miami River and Biscayne Bay mustering up some breathtaking scenery.
Many who come to Miami insist on having direct ocean views. The view of the ocean is indeed a dramatic, marvelous view during the day, however keep in mind that if you are beachfront with a direct oceanview, your view at night will literally be a sea of darkness. On the other hand, the Bay and Intracoastal views that capture both water, greenery and skyline views, which are stunning and dynamic, both day and night.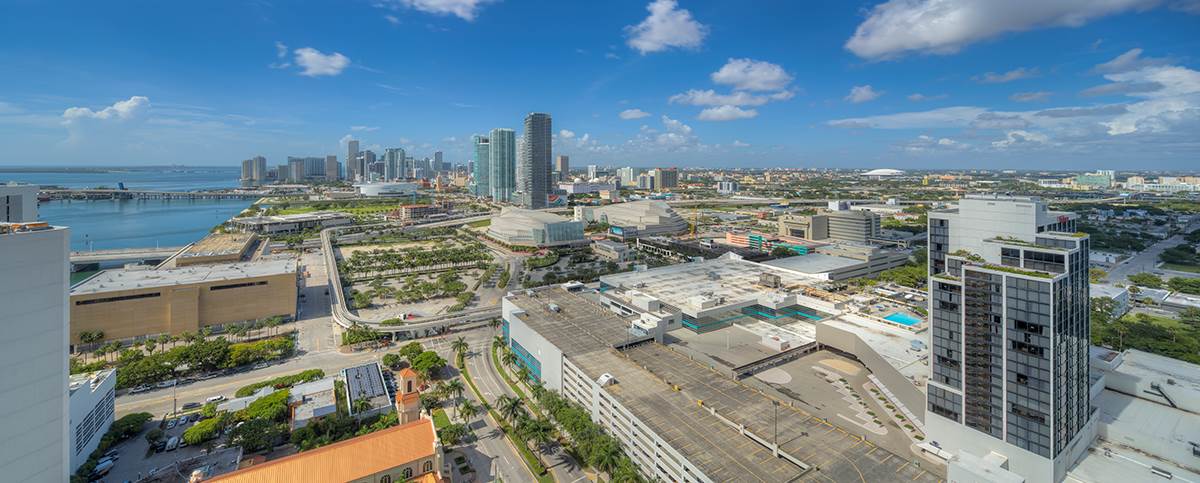 Daytime bay and intracoastal views at The Grand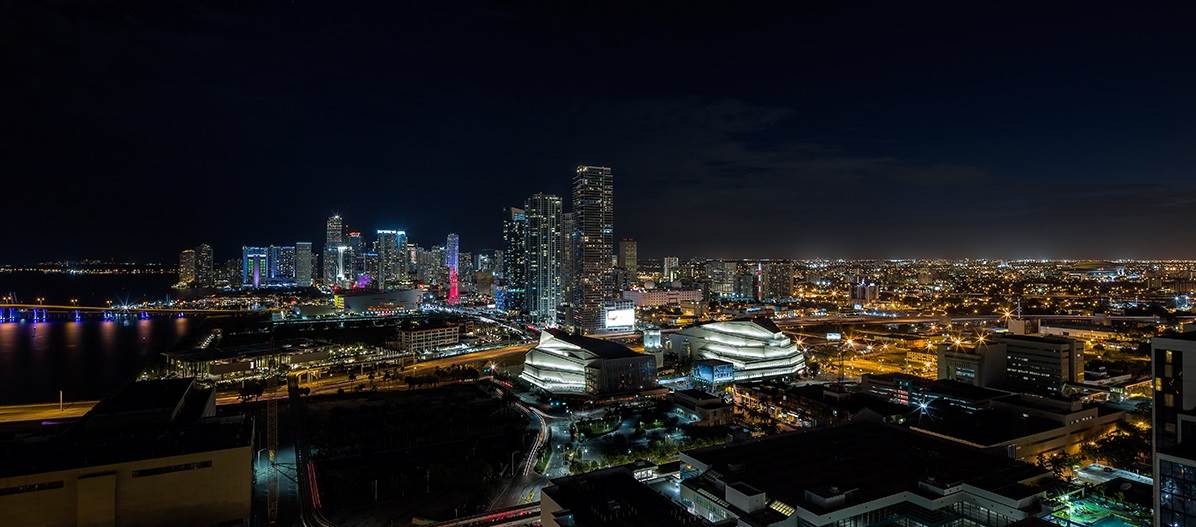 Night-time bay and intracoastal views at The Grand

Balconies. Everyone wants to have a balcony in Miami. Thankfully, 99% (that's our own scientific estimate) of the condo units come with a balcony. But, not all balconies are the same. Balcony size usually varies in close correlation with your condo price. That's simply because a livable outdoor space comes with bragging rights (and a premium).
These days, it is not unusual to find 10-foot+ deep balconies that span around the entire unit on the newer and more luxurious condo residences, whereas more modest condos would be more like 4 feet deep and 8 feet wide, for example.

Balcony at 3900 Alton


Balcony at Brickell Flatiron

Hurricane (aka Impact resistant) doors and windows. Hurricane season is real in Miami. Hurricane-proof, impact-resistant, high-impact – call them what you may. Impact doors and windows definitely benefit Miamians. First of all, you don't have to worry about putting up or closing up your storm shutters each time there's a strong wind. And of course, there's no risk of flying debris shattering your precious views.
Secondly, windows that thick act as powerful noise insulation year-round, so you have a lot more serenity in your unit at all time.
High rise buildings built after 2001 will already have hurricane impact windows. Some unit owners in pre-2001 buildings might have upgraded their unit with impact windows.
In-unit washer dryer. Most people (from other big cities) tend to worry whether they will find a washer/dryer in their Miami condo. Good news is that 99% (again, our own scientific estimate) of condos built after 1981 have an in-unit washer/dryer. However, you should definitely ask about anything built before that.
Usually, the older properties (pre-1981) will have common area washer/dryers on each floor or every other floor in most high rise condo buildings.

Gas vs Electric Cooking
In Miami, you can expect a vast majority of condos to come with electric stoves. In some older buildings and a very select few newer luxury buildings you will find gas stoves.
Ceiling Heights
Higher ceilings bring a more airy open feel to a residence, and they usually come at a premium. Luxury condos tend to have higher ceilings, usually around 10-11'+ in height, whereas a typical newer condo would be around 9' in height. And of course there are the loft-style condos that vary from 12'-16'+ in height.
Private Foyer vs Hallway
There is nothing that says luxury more than having the elevator open up to your very own private foyer entry. Other than that, you can expect that the typical Miami condo gives standard hallway access to your unit, with 8-12 units per floor.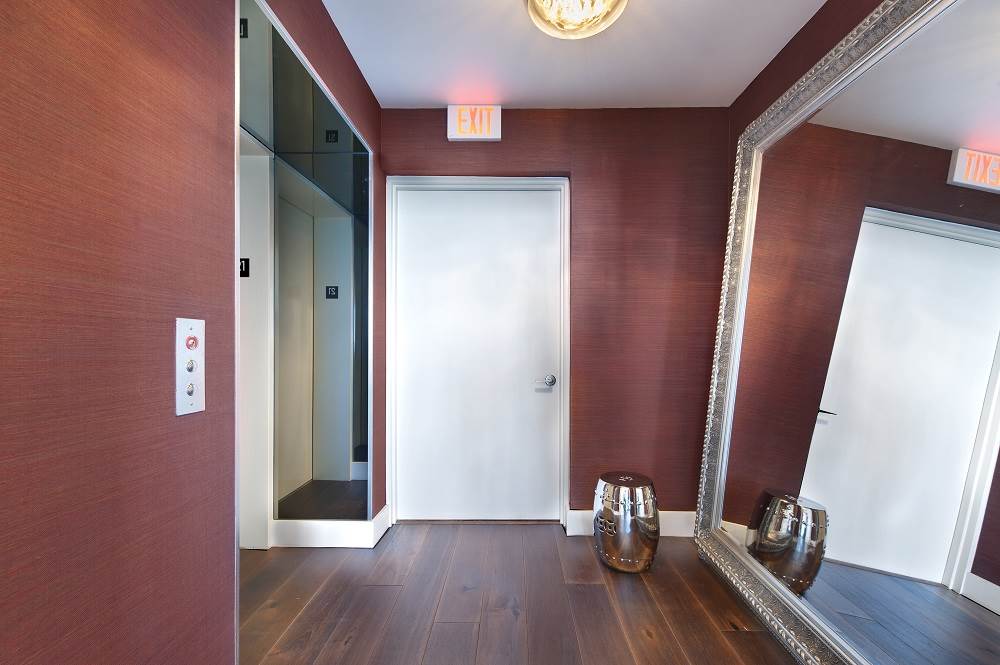 Private Foyer at Paramount Bay
Your Building: Amenities, From Adequate to A-plus
The kind of amenities you expect or need in your condo building can turn out to be a major deciding force in your condo hunt. In Miami, swimming pools, gyms and club rooms are commonplace.
Parking. Parking is a luxury in Miami as in most big cities. So, make sure you know how many parking spaces come with your condo. Most high rise condos guarantee one space, but some larger or more luxurious residences come with two or more. You also always want to ask whether your space(s) come as valet only, deeded/assigned self-parking or unassigned self-parking. And if you need more spaces than what comes with your unit, find out if the building has additional spaces available to rent either from other owners, the association or valet company, and how much they cost. Additional spaces usually run from $100-$200+/month.
If you do have an assigned space, it's also important that you ask where it's located, so you don't get stuck next to a wall or on the 13th floor. Trust me, that could make you very dizzy :/
Side Note: Another technicality you should be aware of is whether your parking space comes 'assigned' or 'deeded'. An assigned parking is considered a "limited common element" which is for the exclusive use of the assigned unit occupant. In practical terms it is as good as a deeded space, although there are legal differences and it is subject to conditions of the condo docs.

Cable and Internet
Many condo buildings include cable and internet as part of the association fees.
Swimming Pool
In sunny Miami where you can swim year-round, pools are a must. Most condo buildings deliver, and a majority are heated. After all, who wants to swim in a chilly 75 degree pool when you can have it at 82? :) One thing to keep in mind is that many pools don't have a lot of sun all day long. For example, if you are a late riser, we wouldn't suggest buying a condo with the pool to the east of the building, because after 12 you can say goodbye to the pooldeck sunshine.
Other Amenities
In Miami, buyers that seek extra-special amenities are not disappointed. Developers have come up with a lot of frills to cater to every need. So, luxuries in Miami go from resort-style pool decks with cabanas and barbecue pits to full-fledged spas, pet spas, mini-golf, kids' playrooms, tennis courts, wine vaults, golf simulators, multilingual concierge desks, housekeeping and restaurants or retail on the ground floor.

Still want more? Welcome to the world of ultra-luxury in Miami! Porsche Design Tower's car elevator makes sure your batmobile has no trouble going up to its sky garage. Skipping town is super easy with One Thousand Museum's rooftop helipad. You won't feel any less than 007 living at the Aston Martin Residences with their superyacht marina, private helipad and residents-only club. You can even have an entire island to yourself (okay, shared with fellow residents) with a Privé at Island Estates condo. Rooftop soccer field, anyone?

With such exceptional amenities on offer, just keep an eye on the association fees. If the amenities come at a considerable expense, ultimately you pay for it out of your monthly association fees.
Condo Association Policies: Pets, guests, rental restrictions and more
Every condo association has its own set of policies. And, it only pays to know them in advance. Will you need to notify your association each time guests stay overnight? How many pets can you have on the property? How much or many modifications can you make to your kitchen?
Pets. A lot of buildings are pet-friendly (for owners, not as many for renters). But, you will still need to pay attention to size limits, restriction on number of pets, and even breed limits (for pets or breeds considered exotic or dangerous). Also, different buildings have different rules on how and where you are allowed to take your pet. For instance, in some buildings you can only use the service elevator, only walk them through the service entrance as opposed to through the main lobby, or walk them in the designated dog area.

Rental Restrictions. If you're planning on renting out your condo at any point, know the rental rules. Most condos allow leasing for a minimum of 6 or 12 months. A select few buildings don't allow leases the first year of ownership. Some don't allow it at all. And for those seeking a second home they can rent out while not in town, yes, there are some (not a ton) of condo buildings that allow short-term or seasonal rentals.
Condo Association Fees – Know what you are paying for?
The condo association monthly maintenance fee in Miami tends to be a bit higher than other cities. That's primarily because Master Windstorm (hurricane) and Flood Insurance Policies are almost always part of the association fees. (Keep in mind you will need a separate HO6 policy to cover your interior contents and liabilities.) Also, some buildings even include bonuses such as cable or internet in the fee. The association fee for luxury condo buildings is typically higher, since it covers additional amenities and employees to bring you those white-glove services. Same goes for condo-hotels. They need to charge a heftier monthly fee to fuel a bigger staff and keep up those gold standards.
Sometimes you get true value for the money, and sometimes you don't. It just depends on how the condo is run. Always make sure the fee you're paying is the value and/or the luxury you expect for the money!
Typical Condo Association Fees
The typical association fee for a high-rise condo is around 60-75 cents per sq ft. For luxury condos it is from 75 cents to 1 dollar per sq ft, and condo-hotels can occasionally climb higher than that.
Association Health Check
No matter how you choose to live – regular, luxury, or ultra-luxury - you will need to check on the building's health and occupancy rate. Look up the specifics on:
Delinquent dues. If too many condo owners are too far behind on their dues, this could catch up to you as a paying owner.
40-year recertification. If the property was built more than 40-years ago, it is required to go through a 40-year recertification process. It is not uncommon for this process to create a large repair project that could last months and sometimes over a year. And sometimes it will come with a hefty special assessment to cover repairs required for the recertification, so it is important to know if this is something you will have to worry about or not. Every 10 years after the initial recertification, the building is required to go through the recertification process again.
Reserves for replacements. All the major components and mechanicals of the building have a useful life. For example, a roof might have a useful life of 20-years. The "Reserve" account in a condo is designed to create savings for replacement of these components over the useful life, so that when it's time to replace the component the money is available!
Each year, homeowners have a right to vote down the reserve requirement in order to reduce their monthly association fees, which saves them money in the short-term but doesn't leave money for the major component replacements. For buildings that aren't fully funded for reserves and don't have a healthy reserve account, just know that for any components up for replacement you MIGHT get a special assessment.
Renter vs. owner occupancy percentage. Buildings that have more owners than renters tend to be better taken care of due to pride of ownership. They also have more financing options available to prospective buyers, which adds to the value of the property.
Property Taxes
When trying to figure out which condo to buy, don't be fooled if one unit that is similar has lower taxes than the other. In Florida, Homestead and Save Our Home programs allow long-time owners to keep taxes low. However, the tax year after you purchase the property, its taxable value resets to match the current market value. This can result in a significant shift in the tax you'll have to pay. Use the County Tax Estimator or ask your realtor to give you an indication of the likely taxes, regardless of what the taxes appear to be when you are making the purchase.
Resale Value
Whether you're planning to settle into your Miami condo long-term or short, make sure you are buying into something with good future resale value. A growing, improving neighborhood always increases property values. Look for any value-additions coming up nearby, like a new more luxurious building, shopping, mixed-use development, restaurants, etc.
But of course watch out for that empty lot of land next door that will turn into a high rise that will take your view away and your property value with it.
Corner units, condos with extraordinary views and those on upper levels tend to sell for more. Unique condos also sell for more. Look for things that make your unit stand out from other units in the building or area, such as a floor plan with an especially large balcony, high ceilings, or simply a unit with extraordinary finishes.
Pre-construction Condos. What You Should Know…
The lure of buying a pre-construction condo is undeniable. That new house smell, the rush of being the first to turn the key, choosing the extra floor plan and floor that you want, the sheer immaculateness, and the discounts (sometimes)! All this make pre-construction condos look like gold.
But wait, there are a few things to bear in mind. You can't take the developer's word on everything, there are negotiation points that you don't want to miss, and there is fine print involved.
It proves to be helpful to have a local real estate agent by your side to help you navigate the pre-construction process. A pre-construction condo expert will not only investigate the nitty-gritty, but also guide you with insights on developer reputation, location hazards and opportunities, and resale value. For the complete guide to buying a pre-construction condo in Miami, click here.
Getting a Loan for Your Miami Condo
When it's time to get your condo financed, your financial wherewithal and the property value are not the only things lenders look at when deciding to give you a loan. They also look at the health of the building. Here are things your lenders will be paying attention to:
No more than 15% of the owners delinquent on their fees.
The building should have proper budget for reserves for replacements (lenders ideally want to see it at 10% of their annual budget). Reserves for replacements are the funds
Ideally, the building should have less than 50% rentals. More rentals (i.e. investors) means a higher risk of defaults in the eyes of the bank, so some banks add overlays and/or hike interest rates slightly to cover that risk.
No litigation against the association. Lenders hate lawsuits.
The developer has turned over control of the building to a board of directors made up of owners. To make a long story short, this happens after the developer has sold a vast majority of the units in the building.
If all those check out, you will have access to the best loan programs and rates out there. If not, all is not lost. Many lenders have more flexible criteria, and some even have limited review programs where they just check if there is no litigation. There are also special programs for new construction condos still under developer control.
Some buildings are already on the list of FHA and Fannie Mae approved condos or have recently been reviewed by your lender and thus have a more streamlined process to get you a loan. Your agent or lender should be able to look those up for you.
Financing for Condo-hotels
Condo-hotels have a tougher time getting financed, and a select few lenders service them. So be prepared to put down 40-50% on those for specialized lenders that are willing to lend on those.
How Can A Local Real Estate Agent Help?
Besides knowing the area, building and developers inside-out, a local agent will do all the dirty work for you – no matter where you are. From scouting the best condo, analyzing the market numbers, negotiating you the best deal, and getting you to closing and possession, your agent will guide you every step of the way. Good local agents also have access to insider information on how to get the best deals, where the city is growing or which properties/developers to avoid. Their local network gives them access to more "hidden" properties and opportunities that the general public is usually unaware of. This insider edge is what makes all the difference between a good buy and a great buy.
Why Buy Now?
You can look at our latest monthly market reports here and see how the numbers have been playing to the advantage of the buyer or seller since our last blog update.

Search here to find something you like. Or give us a call at 786-930-4220 to discuss your needs, and we'll be happy to help.
Share your thoughts with us
Sign up now
Get news and updates delivered to your inbox