Ocean Drive Parking Revenue at Risk if Road becomes Pedestrian-Only
Sep 05, 2014 September 05, 2014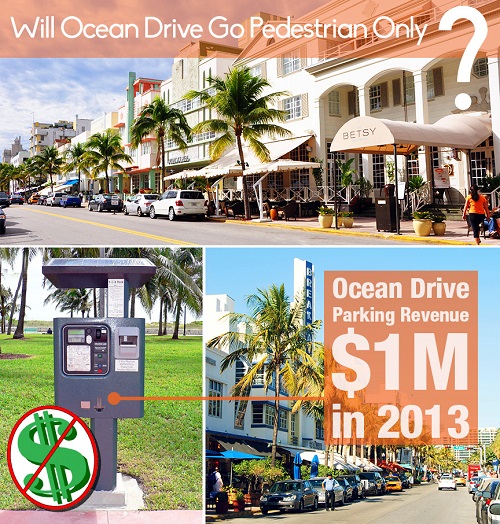 Miami Beach officials oppose closing Ocean Drive to vehicle traffic due to the potential loss of parking revenue.
Officials have recommended at least two lanes of traffic stay open in order to retain the parking revenue.
In 2013, parking meters on Ocean Drive, between 5th and 15th Street, brought in over $1 million in revenue, according to a report sent to commissioners. The report was prepared after a commissioner recommended converting Ocean Drive into a street only accessible to pedestrians.
In addition to beach traffic, officials are also concerned about hotel guests.
The city recommended keeping both lanes of traffic open, while widening the sidewalk on the west side, which would stop the street from closing, while allowing for greater foot traffic.
That plan was approved by the Land Use and Development Committee of Miami Beach, and could cost up to $3.6 million.
Source: exmiami.org
Photo credit: Ocean Drive - en.wikipedia.org duranvirginia.wordpress.com, Parking Meter - miamibeach-usa.com, Dollar Sign - dragonblogger.com
Share your thoughts with us
Sign up now
Get news and updates delivered to your inbox