Related plans three-tower development in Brickell
Dec 10, 2013 December 10, 2013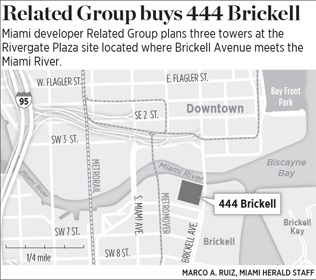 The Related Group plans to build a three-tower mixed-use project at the waterfront Brickell site it is about to acquire, The Real Deal has learned.
Related is scheduled to close on the purchase of 444 Brickell Avenue next Monday for an undisclosed price, the company announced. Previous reports indicated the company had a contract to buy the four-acre site for about $100 million. It intends to develop One Brickell on the two properties.
Plans for One Brickell include 1,200 residential units, a five-star hotel with about 200 rooms and convention space and at least 200,000 square feet of office and retail space. Two prominent architectural firms, Miami-based Arquitectonica and Pelli Clarke Pelli of Connecticut, have been hired to design the towers and commons areas. The 80, 70 and 55-story buildings would total more than four million square feet.
"This is the most important development in the urban core," Related CEO Jorge Perez said in the company's written announcement. "One Brickell is the link that will unify the neighborhood by bringing pedestrian-friendly walkways from east Brickell all the way to Brickell CityCentre."
Related developed the 1,800-condo Icon Brickell complex across the street from the 444 Brickell site, which presently includes an office building with a Capital Grille restaurant on the ground floor.
Source: therealdeal.com
Share your thoughts with us
Sign up now
Get news and updates delivered to your inbox