Replacing the Signature Bridge with a Tunnel is $1.3 Billion
Feb 04, 2016 February 04, 2016
The Florida Department of Transportation (FDOT) looked over a proposal that asks to place part of Interstate-395 and Biscayne Boulevard underground, as opposed to building the Signature Bridge that has been in the works.
FDOT came to a few conclusions, and not many of them are good.
First, the tunnels would cost $1.3 billion more than the Signature Bridge would cost, making it the more expensive option.
Second, those tunnels would be closed down during hurricanes and floods, closing crucial evacuation routes.
Third, the Metromover would need to be rebuilt and reformed, which has its costs and delays.
Fourth, Biscayne Boulevard and other streets nearby would be closed during the construction, further disrupting traffic.
Fifth, some crosswalks for pedestrians would be removed near the tunnels. Streets in the area would also be elevated, making it harder to access by foot.
Sixth, the soil of the area could be contaminated, since it was occupied by the Belcher Oil Terminal & Tank Farm before its current state.
Lastly, there would be a five year setback, in addition to the time already needed, for the Supplemental Environmental Impact Statement.
Gus Pego of FDOT will present the findings to Miami Commissioners, along with an update on the Signature Bridge.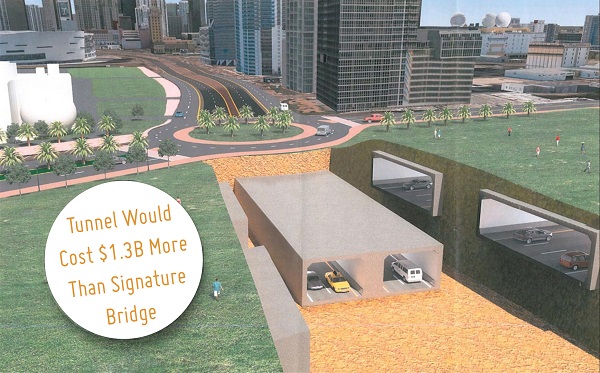 Source: thenextmiami.com
Photo credit: thenextmiami.com
Share your thoughts with us
Sign up now
Get news and updates delivered to your inbox