Resorts World Miami Inches Forward With Marina Rights Purchase
Sep 11, 2016 September 11, 2016
After months of no news from Genting on what's next for Resorts World Miami, we finally have some signs of life. According to The Miami Herald, the casino giant went ahead to purchase the rights to build a 20-slip marina from Finlay Matheson of Miami River Marina this July. Post that, it's also floated a proposal to the environmental regulators for permission to build a 50-yacht marina on its waterfront site.
Now, we're not sure whether these are baby steps towards building the megaresort or simply pepping up and creating value for the land before selling. Whatever it may be, we sure hope Genting comes out with an official statement on what its plans are for the 14-acre development.
Under current regulations, the ex-Miami Herald headquarters cannot have more than 8 slips, in order to protect the local manatee population. So, Kirk Lofgren, who is a consultant to Genting Group's Resorts World Miami subsidiary, has suggested transferring 42 permits from Austral Marina as well as three other neighboring parcels along the River. According to Lofgren, relocating the slips would be far more beneficial for the manatee population than building a new marina altogether.
A brief history…
It all began in 2011, when the market came abuzz with an epic purchase of the Miami Herald headquarters by the Genting Group. The Malaysian gambling conglomerate shelled out an eye-popping $236 million for the Bayfront property. While the casino giant was at it, it also purchased the Omni mall next door, adjoining Hilton hotel and a 2300-space parking garage - bringing its total acreage to 14 acres.
Once the Herald moved out, demolition work began on April 28, 2014 and took almost a year-and-a-half to be completed on March 3, 2015. There wasn't any activity from the casino giant for a long time, but then it came back with two lawsuits and a win. In May, the conglomerate filed a lawsuit against Miami-Dade County to let it operate its casinos in Miami – the decision's still pending on that. Furthermore in June, the Genting Group won more than $2.3 million in property tax breaks.
For now, what now stands at One Herald Plaza is a vacant lot and tons of expectations.
Looking into the original numbers according to the South Florida Business Journal:
Cost: $3 billion
Square feet: 10 million
Convention and meeting space: 700,000 square feet (including ballroom)
Ballroom: 200,000 square feet (billed as the largest in the United States)
Hotels: Four – super luxury, contemporary, convention and family
Hotel units: 5,200
Residential units: 1,000
Swimming lagoon: 3.6 acres and 1,000 feet-long
Retail: 250,000, square feet
Restaurants: More than 50
Slot machines: 8,500
Construction jobs: 15,000 direct and indirect
Permanent jobs: 30,000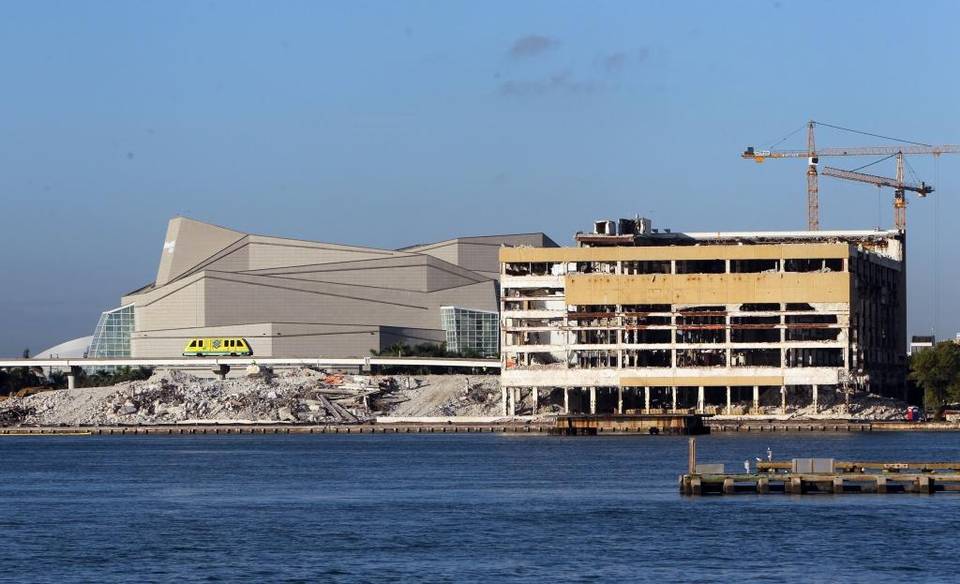 Photo credit : Miami Herald
Share your thoughts with us
Sign up now
Get news and updates delivered to your inbox