Soho House Coming to Edgewater - Meet the Miami Pool House
Jul 13, 2022 July 13, 2022
It's called the Miami Pool House. It's members-only. It's hip and happening. And, it's coming to Edgewater in Fall 2022.
With over 33 Houses in 14 countries and counting, the membership-only Soho House is now ready to launch its second Miami location in Miami's Edgewater neighborhood. Soho Beach House launched in Mid Beach launched more than a decade ago, and has been a major success, including the top-rated Italian restaurant, Cecconi's on-site.
So what will Miami Pool House be like? Located right next door to Miami's art capital of Wynwood, the Miami Pool House will look to connect and entertain creatives from across the globe, as it does in its properties worldwide. With more details to follow, here's what we know of Soho House's latest edition that's set to open in Edgewater later this year.

Soho House - The Miami Pool House 
Bringing Soho House's iconic striped sun loungers and pool experience to Edgewater, this ultra-exclusive clubhouse will take over a two-properties built in the 1940s, at 105–107 NE 25th Street. Once the site of a former printing press and publishing company, residences, and most recently a photoshoot location, the property will be transformed into a shabby-chic clubhouse featuring a plush pool with lounge seating, a club space with a cottage bar and terrace restaurant, a lap-top friendly workspace and social spot, plus a striking art collection. 
Offering members and their guests a complete day-to-night experience, Miami Pool House will be built to easily transition from a remote work studio during the day and into a cool social club for hosting events into the night. Considering its Edgewater-Wynwood location, the ultra-exclusive hotspot will help highlight Miami's local artists – offering them an intimate space to connect, grow, and relax with fellow members from around the world. Unlike its Mid-Beach predecessor, Edgewater will not feature a beach club.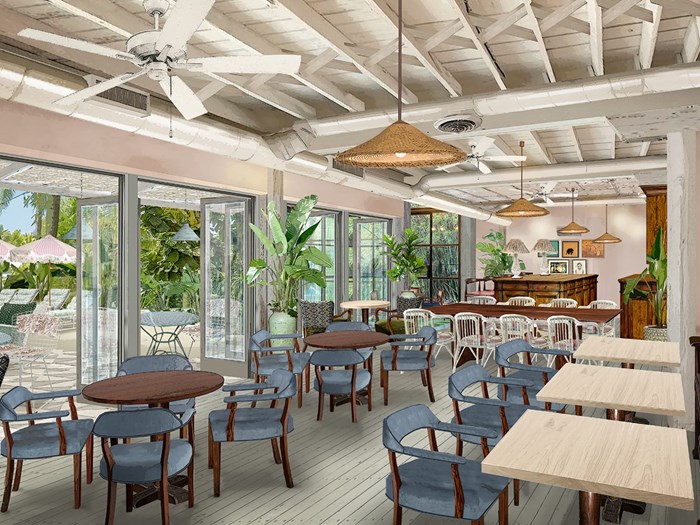 Soho House: The worldwide phenomenon behind Miami's Soho Beach House & Cecconi's
Called the Soho House simply because its first location was a Georgian house in London's Soho district, the concept has been in operation since 1995. Founded by Nick Jones, the members-only Soho Houses offer creatives and their guests an exclusive space to connect with like-minded individuals, helping them expand their horizons and make an impact while having fun.
Soho House is an offering backed by Membership Collective Group Inc. (MCG). This global platform affords its members physical as well as digital spaces to connect, socialize, work, create, and flourish as a community. With three different types of membership plans, creatives can choose to become a Soho House member (with access to a local or all Soho Houses), a Soho Friend (for access to studios, events, restaurants, and more), or Soho Works member (for businesses and creatives to collaborate).
The first U.S. Soho House opened back in 2003 in New York's Meatpacking District. It later made its way into Miami's Millionaire's Row in 2010 with the iconic Soho Beach House property.

The Miami Pool House: Calling all Creatives to Edgewater!
Perched on the border of Edgewater and Wynwood, this edition of Soho House will bring new energy to a family-friendly neighborhood brimming with a diverse range of eateries. Located in Edgewater, Miami Pool House members will be minutes from the art-splashed Wynwood Walls and design and fashion offerings in the Design District.
Next door to Wynwood, members and their guests will have easy access to the neighborhood's experimental art galleries, boutiques, restaurants, and lounges. They will also be an easy drive from Miami's Design District (shopping hub), Downtown (art and culture scene), Brickell (business central), and Miami Beach (vacation hotspot).
Contact Soho House for membership information and application requirements. 

 


Subscribe to this blog to stay updated with what's happening in Miami. Looking for a home in Miami or Miami Beach, call or message us directly!
Share your thoughts with us
Sign up now
Get news and updates delivered to your inbox