South Miami's Premium Art Festival Kick Starts the Holiday Season
Oct 28, 2015 October 28, 2015
Feeling fancy? The annual, family-friendly Chamber SOUTH South Miami Art Festival is in its 44th year. Touted to be one of the country's premium fine art shows, this free event is a must-see for locals and visitors alike.
The collective works of over 100 artists from around the world will be on display at Sunset Drive November 7 and 8. The setting for this fine art show alone is inspiring. Find yourself surrounded by a lush landscape, wide sidewalks, lovely cafés and quaint little shops.
The juried event features art in the categories of ceramics and clay, digital art, textiles, glass, jewelry and metalwork, two-dimensional mixed media, three-dimensional mixed media, painting, photography, printmaking and drawing, sculpture, and wood. Sponsoring the event is Chamber South, the chamber of commerce for Greater South Miami-Dade.
But wait! How can any Miami event be complete without music and food to set the mood? Find delicious international food and live musical entertainment the entire family can enjoy together.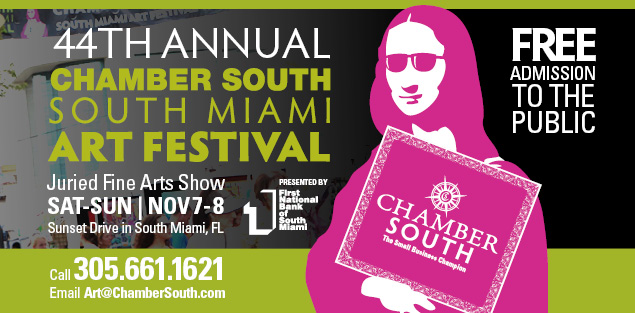 Photo credit: Cars - chambersouth.com
Share your thoughts with us
Sign up now
Get news and updates delivered to your inbox