The Most Luxurious Condo Buildings in Brickell Key 2022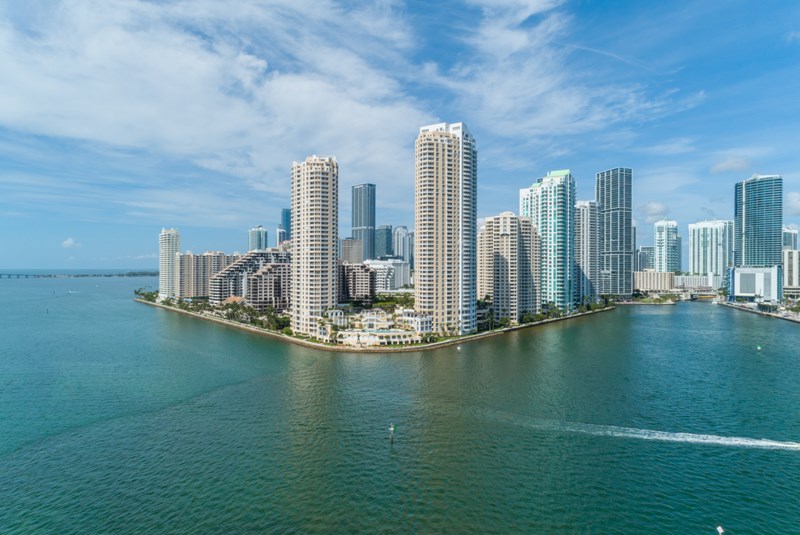 Aug 01, 2022 August 01, 2022
Brickell Key has long been a coveted address. Offering a private island lifestyle in the heart of Miami's Financial District, if affords residents exclusive luxury. Surrounded by water on all sides, condos on this triangular isle are designed to enhance such an advantage and often offer better price points than mainland Brickell. We've ranked the Top 5 Most Luxurious Condo Buildings in Brickell Key to give you a sense of architecture, amenities, and prices for these high-end residences in the heart of Miami. 
This blog was last updated on August 2, 2022.

Why Choose Brickell Key?
Brickell Key is perfectly positioned to allow you to enjoy a private island lifestyle yet be walkable to Brickell's financial and city action just a stone's throw away. Surrounded by water, Brickell Key features a park and a jogging path outlining the island to help make the most of those breathtaking views and Bay breeze. This gated community might be compact, but is still home to urban conveniences including highly-rated restaurants and the iconic spa and restaurants at the Mandarin Oriental Hotel.


---
The Best of the Best Condos in Brickell Key
---

5. St Louis Condo – 800 Claughton Island Dr, Brickell Key
Average List Price: $841 per square foot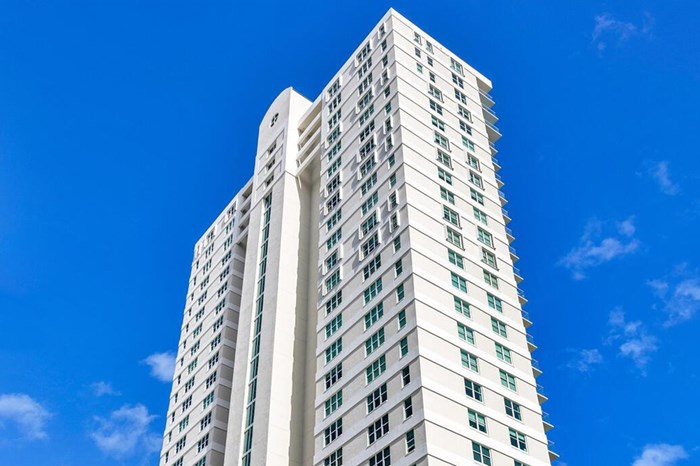 Built in 1995, this pet-friendly waterfront condo building rises 31 stories on the bay, adjacent to the Brickell Key Park and across from the Mandarin Oriental Hotel. Most of its 130 condo residences open up to amazing water and park views that, like most of Brickell Key, will never be obstructed by future development. Amenities here include an outdoor swimming pool, sauna, fitness center, social room, and more.


4. Carbonell – 901 Brickell Key Blvd, Brickell Key
Average List Price: $855 per square foot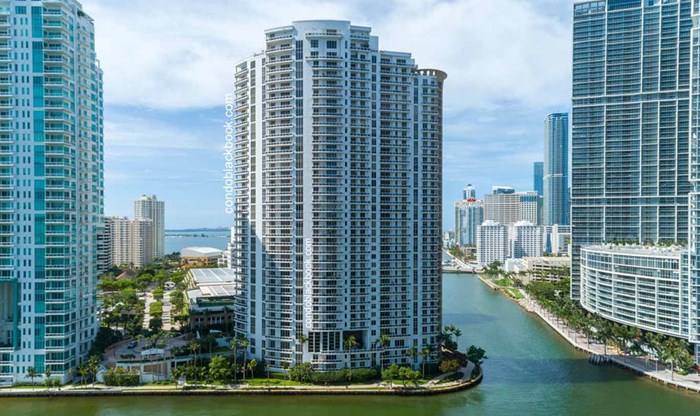 With only nine residences per floor, this bayfront high-rise on the edge of the Brickell River ensures utmost privacy and serenity with unmatched views. Rising 39 stories, this modern condo building built in 2006 is home to 284 luxury units. Residents get to enjoy access to amenities such as an infinity-edge pool, two-level fitness center, tennis court, racquetball court, squash court, club room with prep kitchen, business center and more.


3. One Tequesta Point – 888 Brickell Key Dr, Brickell Key
Average List Price: $886 per square foot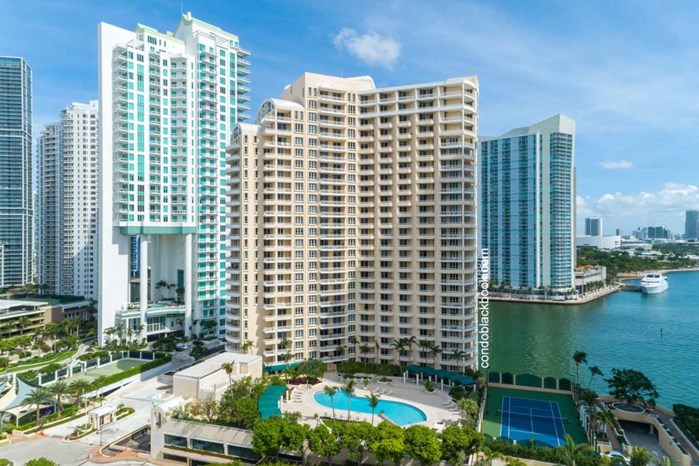 The first of the Tequesta condo buildings, this 30-story tower is home to 298 luxury residences built in 1995 featuring one- to five-bedroom floor plans. Designed by J. Scott Architect, the waterfront tower features several resort-like amenities including a lavish pool and sundeck, BBQ area, squash and racquetball courts, fully-equipped fitness center, club room, and more.
Average List Price: $911 per square foot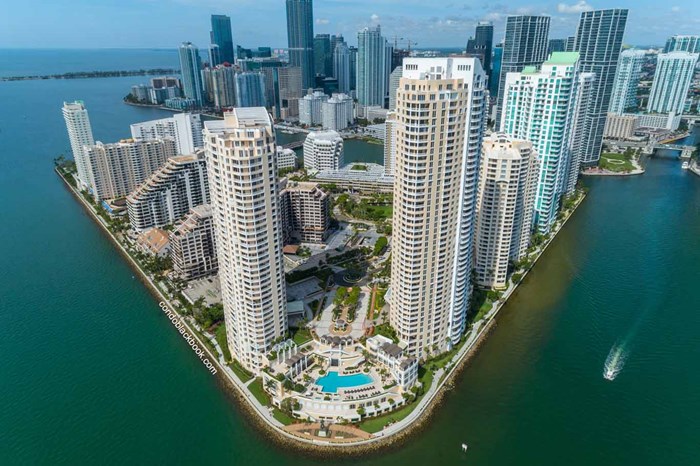 Built in 2001, Three Tequesta Point was the last addition to the three-condo Tequesta complex. Perched on the north-eastern tip of Brickell Key, the high-rise is privy to enviable views of Biscayne Bay, the Miami River, Downtown Miami, and Dodge and Fisher Islands. 
Developed by Swire Properties and designed by J. Scott Architecture, this bayfront luxury tower features 46 stories with 238 luxury condos and boasts some of the most amazing views on the island. Amenities at this high-rise include the private island-feel exclusive to Brickell Key, two-level fitness center, bayside pool deck, spa, tennis court, squash court, social room, BBQ area, and much more.

 
Watch a video on Brickell and Brickell Key 

here

.
---
And the Winner of the Best Condo in Brickell Key in Terms of Luxury Goes To…
---

1. Asia – 900 Brickell Key Blvd, Brickell Key
Average List Price: $1,267 per square foot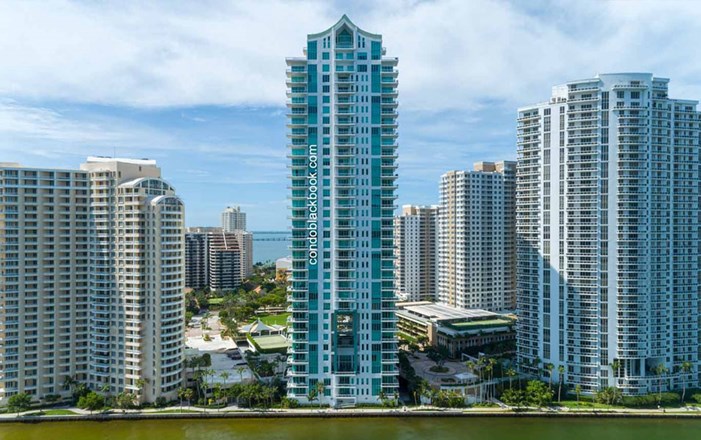 Built in 2009, this bayfront condo tower features highly spacious residences starting at 1,600 square feet and going up to 5,000 square feet in space. Asia houses 123 luxury condos spanning 36 stories - affording no more than 5 residences per floor, and only three residences per floor on floors 9-14. It also features soaring 12-foot high ceilings. 
Amenities include an infinity-edge pool, a fitness center with yoga/pilates studio, billiards, tennis courts, library, party room and more.


---
How Safe is Brickell Key?
---

Brickell Key is an inherently safe neighborhood, since it is a small gated island with only one way in and out and a strong community feel. It does not have any boat docks either, eliminating the possibility of anyone entering by boat. Both these factors make this tiny residential neighborhood a very safe haven for families as well as individuals.


---
Best Restaurants in Brickell Key
---


La Mar by Gaston Acurio at the Mandarin Oriental

This petite island offers maximum privacy, and yet is home to some of the finest places to eat:
For a wider selection of eats, people generally need to head off the island just a mere 200 yards away and next-door into the business district of Brickell or cross the bridge into Downtown. 


---
Shopping in Brickell Key
---


Brickell City Centre - Brickell, Miami FL.
Shopping options are sparse on this exclusive island, except for the Islander Marketplace, a convenience store, a grocery store, a clothing store, and a florist. The marketplace is where you will find your basic groceries to gourmet picks for a wide selection of warm and cold prepared foods. For everything else, it's best to head to the financial district next door. Brickell is home to Starbucks, the Brickell City Centre for high-end shopping, dining and entertainment options, plus The Shops at Mary Brickell Village for casual buys, routine finds at two Publix and another Starbucks, while Whole Foods is just over the Miami River Bridge in Downtown Miami.


---
The Best Located Condo in Brickell Key
---

We find Three Tequesta Point to be the best-located condo building on this exclusive island, as it combines utmost privacy with views you'll hardly find anywhere else. Sitting on the northeast corner of the island, the best units of this building capture the broadest views of Downtown, Dodge Island (Port of Miami), Fisher Island, Key Biscayne and all the action on the water – a real treat for pensive evenings.





If you are looking for the top luxury buildings in Brickell Key for sale, browse through our selection for details on average prices to amenities and lifestyle. Or reach out to us and we will be happy to help you.
Share your thoughts with us
Sign up now
Get news and updates delivered to your inbox