The Top 12 Best Parks in Miami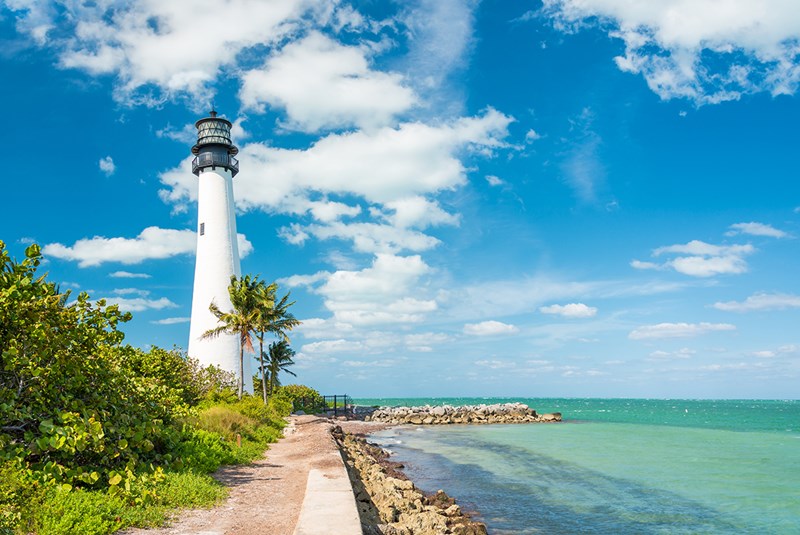 Aug 19, 2020 August 19, 2020
If you're looking to spend more time outdoors, get a little exercise, and catch some quality time with your favorite companions, there are plenty of beautiful green outdoor spaces in Miami for you to take advantage of. With an assortment of over 148 parks in the city of Miami, and many more Miami Dade County Parks, all featuring different characteristics and amenities, Miami provides plenty of options for your recreation to enjoy the great outdoors. Here's a list of our top 12 favorite Miami parks that'll help you answer that weekend question of "Where are some good parks near me?":


1. Margaret Pace Park,
Edgewater
498 NE 20 St, Miami 33132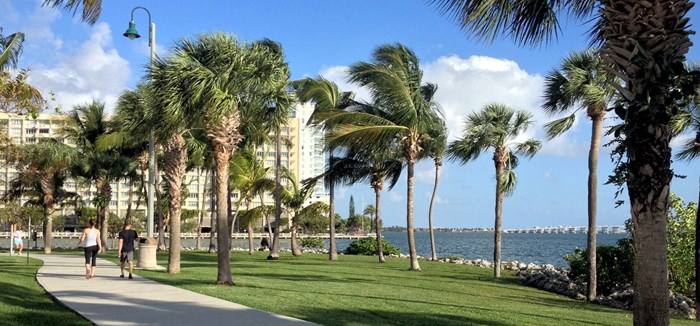 Margaret Pace Park - Photo courtesy of Ryan Healy

Set in Miami's Arts & Entertainment District and extending into Edgewater, Margaret Pace Park provides 8 acres of natural beauty overlooking the waters of Biscayne Bay. The park features tennis and basketball courts, volleyball courts, outdoor fitness equipment, walking trails, a children's playground, and areas for barbecues and picnics. Unlike most parks that close at sunset, you can enjoy an evening picnic, doggie playdate or tennis match at Margaret Pace Park, which is open until 10 pm. 


1075 Biscayne Blvd, Miami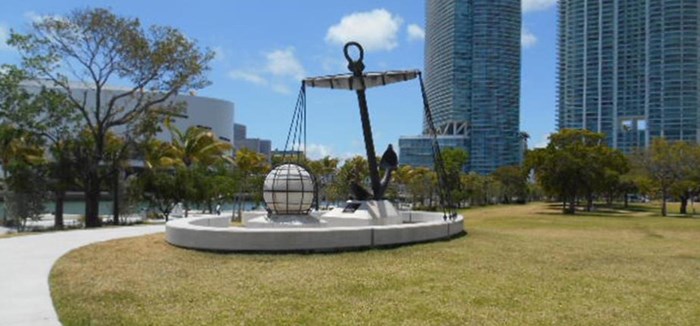 Plaza of the Spanish Navy/Plaza de la Marina Española monument, erected by Mayor Xavier Suarez and the Consulate General of Spain. Photo courtesy of MiamiAndBeaches.com

Formerly known as Bicentennial Park and later renamed Museum Park, the park now known as Maurice A. Ferré Park is a jewel of the Magic City with 30 acres of urban, waterfront parkspace set along the bay in the Downtown Miami area. The park sits just north of the American Airlines Arena and Bayside Marketplace, and at the foot of the Perez Art Museum Miami and the Patricia and Phillip Frost Museum of Science, providing pedestrian access to the museums and spectacular views of Biscayne Bay. 
There are waterfront walking and bike paths marked by an eclectic collection of outdoor sculptures, a children's playground, and one of the city's breeziest locations in which to spend a hot summer day.

3. Bayfront Park,
Downtown Miami
301 Biscayne Blvd, Miami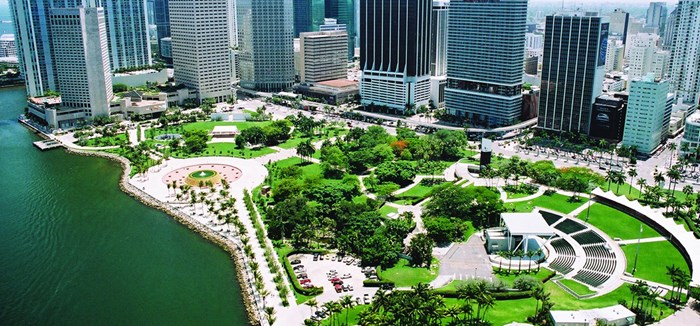 One of Miami's most frequented outdoor spaces is Bayfront Park, located in the heart of Downtown Miami and spanning 32 acres on the shores of Biscayne Bay, adjacent to the ever-popular Bayside shopping and entertainment complex. The park features a shady tree canopy with diverse plant and wildlife species, as well as open spaces, walking paths and bike trails, a sandy beach area, a fountain, a tropical rock garden, and even a waterfall. 
It's perfect to walk the dogs or take the kids for a stroll. There's a children's playground, outdoor sculptures, and two stages for performances that host a wide variety of events, including Miami's famed Ultra Music Week and Art Basel Art Week art fairs, as well as more low-key options, like weekly outdoor yoga classes, fun runs, marathons, and corporate fitness functions.


4. Jose Marti Park, West Brickell/Little Havana
362 SW 4th St, Miami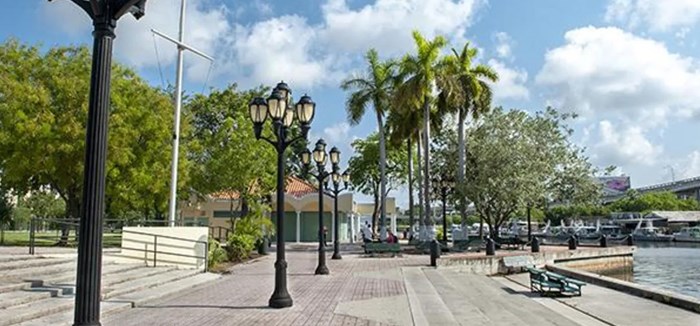 A beloved neighborhood resource close to Brickell and Little Havana, Jose Marti Park is a true community park with tons of programs. In addition to a huge aquatic complex, the park serves the local community with after school programs, winter and summer camps, as well as other youth programs. Little known to many who live in Brickell, the park also has baseball diamonds, basketball courts, outdoor gym equipment, a children's playground, open sports area, and an indoor community center with a computer lab and services for youth and seniors. 
Located on the edge of the Miami River, the park also has a public pool and waterfront picnic area, where you can enjoy the outdoors until 10 pm.

5. Alice Wainwright Park,

Brickell
2651 Brickell Ave, Miami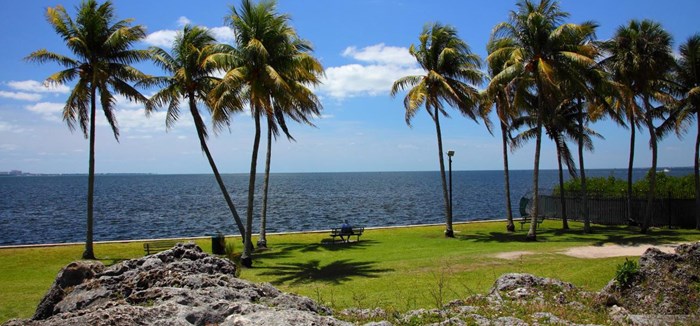 Alice Wainwright Park is a Natural Forest Community and part of the Brickell Hammock, one of South Florida's largest and most diverse Rockland hammocks. Hardwood hammocks are unique to South Florida and exist only along the coastlines. These exotic tropical habitats are home to a variety of tree and shrub species that also attract a rich variety of lizards, birds, and insects. 
So, if you haven't explored Alice Wainwright Park yet, it's amazing to know that it's tucked away in the busy Brickell neighborhood and overlooks Biscayne Bay. If the urban greenspace retreat is not enough, this park also features basketball courts, picnic tables, a children's playground, and outdoor fitness equipment.
6747 Crandon Blvd, Key Biscayne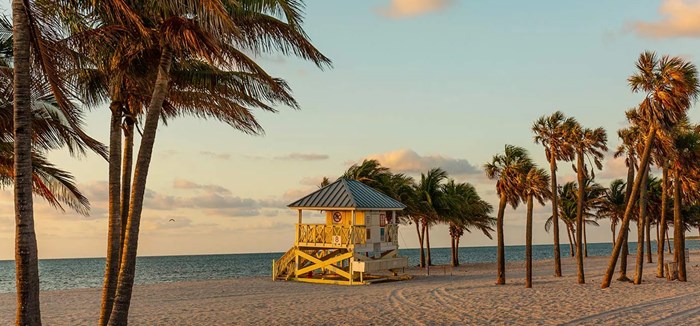 Located across the Rickenbacker Causeway in Key Biscayne, Crandon Park is a Miami treasure spanning 808 waterfront acres, featuring sandy beach access, walking and biking trails, and an exuberant display of native flora and fauna. Long known for being part of the site of one tennis' major tournaments held at the Crandon Park Tennis Center, there are top-notch tennis courts (think Roger Federer trains here), concessions, and an amusement center for young and old. 
Crandon Park is also a top site in the country for kiteboarding, and you find out more here. For those who love a little adventure mixed with some exotic history, don't miss the ruins of the former Miami Metro Zoo, which was abandoned in 1980 but is still inhabited by roaming peacocks, a swan lake, alligators, an array of diverse bird species, and hundreds of green iguanas. 

7. David T. Kennedy Park,
Coconut Grove
2400 S Bayshore Dr, Coconut Grove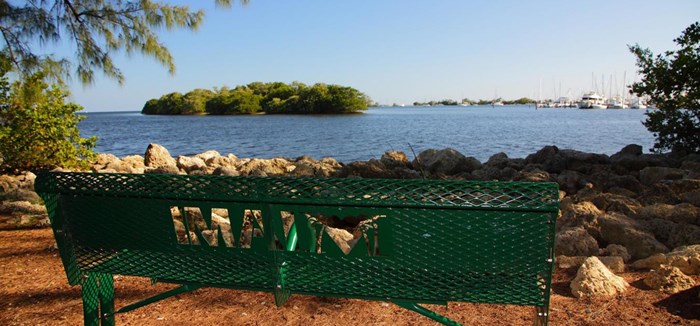 Another great waterfront green space, and perhaps the most popular getaway in Coconut Grove, is David T. Kennedy Park. This neighborhood favorite features bike and walking paths, an off-leash dog park for both small and big pooches, beach volleyball, outdoor fitness equipment, picnic tables, a children's playground, and plenty of wide-open space in which to set your spirit free. It also offers ample parking and check out the food and drink trucks in the parking lots. 

8. The Barnacle Historic State Park,
Coconut Grove
3485 Main Hwy, Coconut Grove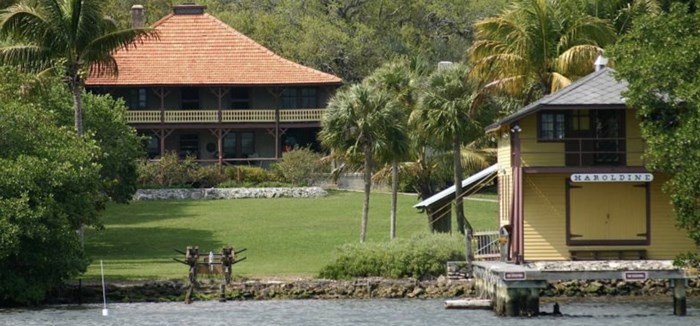 Enjoy a bit of history with your outdoor excursion at this intimate 5-acre park located on the shores of Biscayne Bay in South Coconut Grove. The Barnacle Historic State Park surrounds Miami-Dade County's oldest house that is still in its original location. Built in 1891, the Barnacle House and Boathouse offer a glimpse of pioneer life in Coconut Grove during a bygone era, while the surrounding grounds provide waterfront access, a picnic area, and a diverse display of local plants and wildlife.
1 Washington Ave., South Beach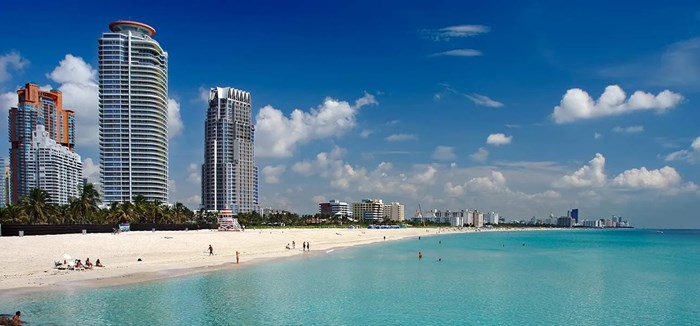 At the southern tip of South Beach, in the coveted South of Fifth neighborhood, is the bayfront and beachfront South Pointe Park and South Pointe Pier. Offering panoramic views of South Beach's shoreline, Fisher Island, and Downtown Miami, it's an incredible spot to watch the sunset. 
With winding walkways set overlooking the beach, a family-friendly playground with interactive water features, a cafe and ice cream shop, and an off-leash dog park area, South Pointe Park is one of Miami's best places to relax. Encompassing about three blocks of beach, Third Street beach is a favorite spot for surfers as well as full moon yoga events. There's also yoga on the grass in the park. If you're hungry, Smith & Wollensky steakhouse has an outdoor bar and dining right along the promenade, while a dozen of Miami's best restaurants are steps away. 

10. Flamingo Park,
South Beach
11 Street & Jefferson Avenue, South Beach

Long known as the heart of South Beach, Flamingo Park dates back to glamour days of the 1950s. With more than 36 acres of recreational space, the Park unifies the community of South Beach by offering something for everyone. Runners will enjoy the renovated track that surrounds the football field, tennis players will love the 17 lighted tennis courts as part of the renewed Tennis Complex. 
But that's not all -- Flamingo Park also features an aquatic center with an Olympic size lap pool, a kids pool and water playground, as well as a nearby playground. The park is also dog-friendly, and you'll often find a happy group of four-legged friends playing. For the soccer fanatics, there are soccer fields, as well as a baseball stadium, basketball courts, which can be reserved in advance, and handball and racquetball courts. 

11. Greynolds Park,
North Miami Beach
17530 W. Dixie Highway, North Miami Beach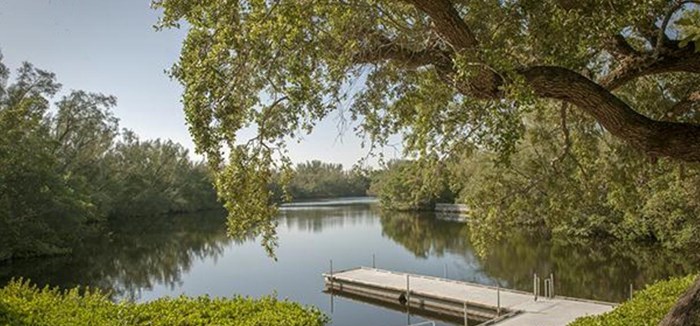 Located in North Miami Beach along the Oleta River, Greynolds Park spans a wild 249 acres that include a Tequesta settlement and a Seminole outpost where you can explore the history of South Florida and its Native American communities, as well as an oolitic lime quarry. Greynolds Park is a favorite for getting into the water and exploring the mangroves.
Experience South Florida's watery nature by renting a kayak, paddleboat, or canoe and venturing out into the river, or take a long hike or bike ride along the miles of trails leading through tropical hardwood hammock and estuarine mangrove forests. A tree canopy features a variety of tree species and a chance to view Florida's diverse flora and fauna. There are also campgrounds and cabins for rent, picnic areas, and a golf course.  The park also hosts the annual Love In Music Festival, as well as a monthly Bluegrass Festival for your enjoyment.

12. Morningside Park, MIMO District
750 NE 55th Terrace, Miami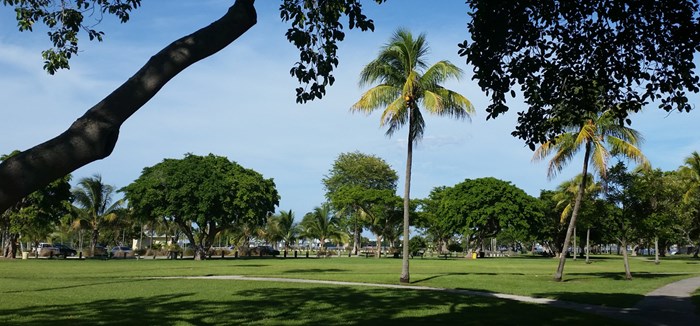 Photo courtesy of Pietro

Located just a few blocks from the Miami Design District and Buena Vista, Morningside Park is a little-known neighborhood park overlooking Biscayne Bay and set in the elite residential enclave known as Morningside. The park provides an opportunity to get away from it all with plenty of open space, walking paths, a pool, tennis courts, and a boat ramp, as well as kayak and paddleboard rentals. This park offers a happy, mellow atmosphere, and often hosts weekend farmer's markets, as well as plenty of visiting shorebirds.


---

So grab your walking shoes and sunscreen, and head out to the great outdoors. Miami's lush green getaways are sure to provide tranquil respite for your spirit, and healthy exercise for your body. Have a favorite Miami park you love to go to? Let us know! 
Share your thoughts with us
Sign up now
Get news and updates delivered to your inbox