Video: Agent Faves - Take a Tour of Key Biscayne, Miami
Sep 26, 2022 September 26, 2022
Do you love city life but also like a serene island community to call home? Take a peek into one of Miami's hidden gems – Key Biscayne.
With only one road leading in and out of this paradise island, Key Biscayne is a short, scenic drive from Brickell – a neighborhood best known for its Manhattan-like lifestyle and great public transit system. Indeed, this tranquil island community features a warm, family-friendly vibe with most conveniences just a golf-cart-ride away, and all set between the 808-acre Crandon Park and the nature preserve of Bill Baggs Cape Florida State Park. 
Watch the video to follow our Key Biscayne specialist, Vera Berezhnaya for a short tour of this scenic island's highlights:

Accessible by the Rickenbacker Causeway, Key Biscayne is known for its unspoiled beaches, tropical greenery, and mesmerizing wildlife spanning butterflies to exotic birds, loggerhead turtles, reefs, and colorful aquatic creatures. The island is pretty comprehensive in itself, as it houses a gourmet market, Starbucks, Winn-Dixie, CVS, mini shopping centers, and a great collection of restaurants for all tastes, from pizza to Indian.
It also helps that the best of Mainland Miami are just a 15-minute drive away, whether Brickell and Brickell City Centre or Coconut Grove and its recently renovated CocoWalk. Both the malls feature a distinctive vibe, putting a wide range of shopping, dining, and entertainment options within easy reach.
Here's looking into the Key Biscayne stop-overs mentioned in the video above: 

Hobie Island Beach Park or Windsurfer Beach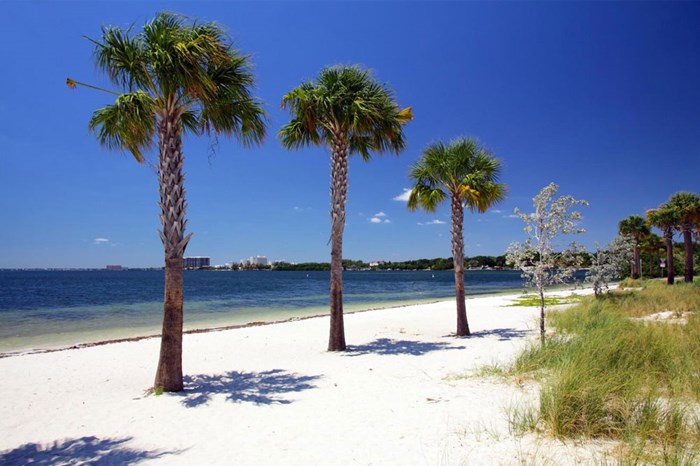 This is one of Miami's most famous dog-friendly beaches. The first stop if you're driving down from Brickell; the beach features a wide range of water activities ranging from jet skiing to kayaking, paddle boarding, windsurfing, and more. 

Crandon Park Beach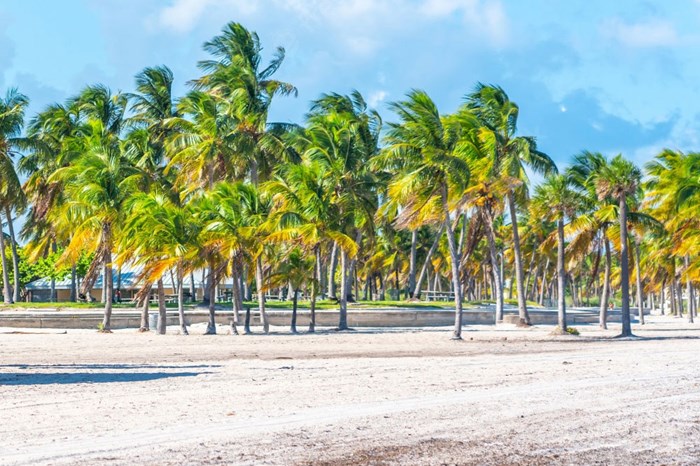 This popular picnic spot and nature lover's paradise was once home to a coconut plantation. Today, it features a championship 18-hole golf course, 27 public tennis courts, a nature center, a kids' playground, a coastal hammock, a mangrove boardwalk, a rich coastal environment, and a whole bunch of water activities. 

Bill Baggs Cape Florida State Park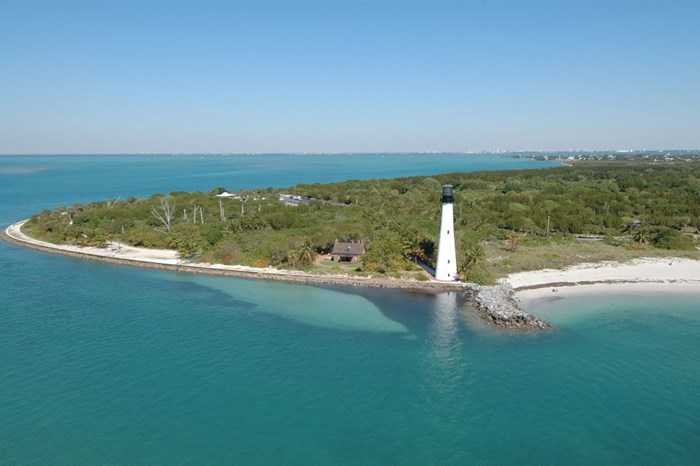 It doesn't get quieter and quainter than this! Located at the southernmost end of Key Biscayne, this historic state park was named by Ponce de Leon when he first landed here in 1513. The natural beach here has repeatedly been named one of the best beaches in the country.
Bill Baggs State Park is also home to a 200-year-old lighthouse called the Cape Florida Lighthouse, which is equally popular among locals and tourists. With acres upon acres of an unspoiled preserve to explore, visitors flock here to enjoy picnics by the ocean, kite surfing, fishing trips, biking expeditions, nature walks, and various water sports.
If we had to pick one luxury condo building, we absolutely love on this island community, it would have to be Oceana Key Biscayne. One of the newest additions to Key Biscayne, the 14-story, 154-unit oceanfront condo building was designed by Miami's award-winning Arquitectonica. Perched along 500 linear feet of private beachfront, Oceana affords an immersive world of high-end amenities including a staff room in every unit, beach services, separate relaxation and lap pools, a poolside restaurant, full-service spa, ocean-view fitness center, a tennis court, putting greens, a private cinema, children's center, library, and more.





Curious about more luxury properties in the family-friendly island community of Key Biscayne? Call or message us directly for a private tour of a condo you like.
Share your thoughts with us
Sign up now
Get news and updates delivered to your inbox