Walkable, High Tech Hub Creates Buzz In Park West
Jun 09, 2015 June 09, 2015
Once known only for Club Space and as the backdrop for Rock of Ages, the new Miami Innovation District has now been given the goal to be a tech hub. It will far surpass anything that is in Miami at this moment with their state-of-the-art amenities and technologies, according to Michael Simkins, a developer of the project.
In order to achieve this goal, Simkins has recruited SHoP Architects and West 8, who will design an area that they hope will exceed other districts, not just in Miami, but all over the world.
The 6.5 million square foot neighborhood will improve the area's walkability, diversity of uses, and practical space. Planned so far as a "Special Area Plan," spanning over 10 acres on four city blocks are over 3.8 million square-feet of office space, 2.4 million square-feet of residential space, 250,000 square-feet of retail space, and about 2,500 parking spaces.
There are multiple levels of the district planned. The Commons level on the ground floor will consist of building entryways and allow the flow of public foot traffic. The Campus level will house office space and indoor gathering areas. The Horizon level will be covered by green-roof landscape with outdoor gathering areas and cultural programs.
The Cloud level will be the most unique, as it will connect each tower at 200 feet above the ground. It wil also include a daycare, show spaces and work areas, making it a "mixing chamber" for both workers and residents.
Developers expect approval later in 2015.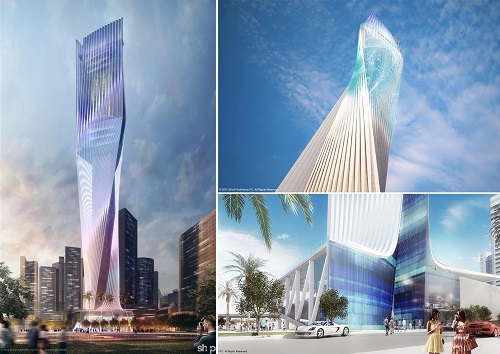 Source: thenextmiami.com
Photo credit: Renderings - thenextmiami.com
Share your thoughts with us
Sign up now
Get news and updates delivered to your inbox