Walking the Walk in Downtown Miami
Dec 23, 2013 December 23, 2013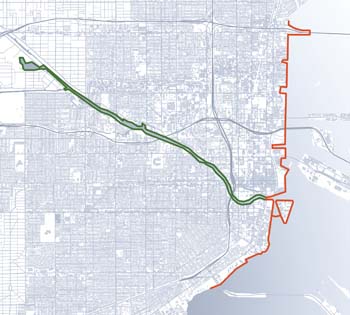 The complete 15-mile route includes a long loop
along the Miami River.
Miami may soon have more in common with some of the greatest cities of the world. As world travelers are well aware, the most cosmopolitan cities are all walkable. From New York to Paris to Barcelona, residents and visitors alike are able to conveniently stroll from location to location without the need to drive and fight traffic.
In recent years, Downtown Miami has taken great strides to become safer and more inviting. The MetroMover already offers a popular transportation option within the downtown core. As the number of families moving away from suburban commutes to the downtown core increases, it is expected that the demand for a more pedestrian-friendly downtown Miami will continue to grow.
Preliminary meetings have been scheduled that would soon begin the process of converting the Downtown streets of Miami into a Downtown Pedestrian Priority Zone. Through the new initiative, sidewalks would be widened, tree-lined canopies would be created and clutter would be reduced. In an effort to make the Downtown area safer and more comfortable for pedestrians, traffic would be slowed to 25 miles per hour and right turns on red would become illegal. Each of these measures is aimed at helping both cyclists and pedestrians to feel more comfortable and safer with the idea of maneuvering around the Downtown area. Pedestrian bridges and walkways combined with underground parking will also serve to enhance the friendly feel of the neighborhood.
In the past, Downtown Miami has been considered one of the most dangerous neighborhoods in South Florida for pedestrians. Under the new initiative, that would change; thus making the Downtown area an inviting haven for the approximately 200,000 people who work and visit here on a daily basis.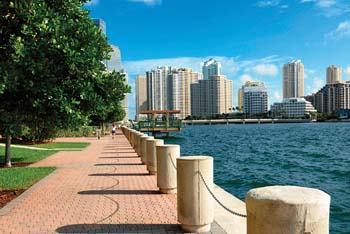 About five miles of public baywalk already exists, like this in Brickell.
Share your thoughts with us
Sign up now
Get news and updates delivered to your inbox