We're Kind Of A Big Deal. The Cool Kids Fly Miami to New York On Private Jets.
May 06, 2015 May 06, 2015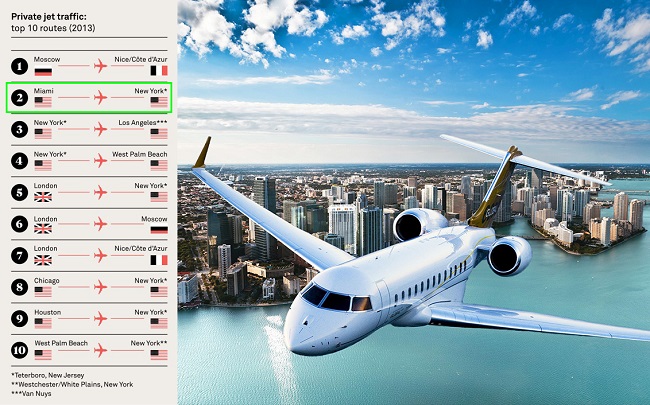 More private jets fly between Miami and New York than any other route in the country, according to a 2015 wealth report by Knight-Frank.
The report lists Miami to New York route as the second most popular route in the world. The most popular route is Moscow, Russia to Nice, France. Recent economic issues, however, have caused travel to and from Russia drop quickly.
Another trendy route is New York to West Palm Beach. Additionally, Caracas, Venezuela to Miami was noted as the second fastest growing route in the world.
According to other studies in the report, there are more passengers on commercial airlines from Miami to New York than there are on any other route in America, which are likely also the most fashionable flights.
Source: thenextmiami.com
Photo credit: Top 10 routes - thenextmiami.com
Share your thoughts with us
Sign up now
Get news and updates delivered to your inbox