Where to experience World Cup fever across Miami in haute fashion
Jun 16, 2014 June 16, 2014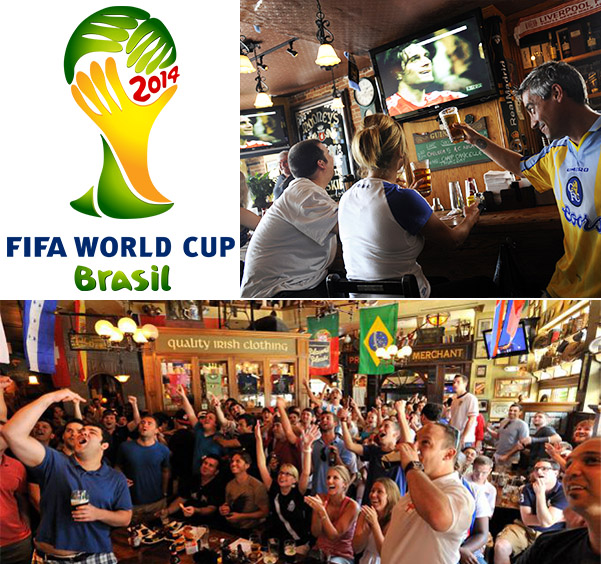 Pull out your samba shoes and get those soccer t-shirts on for a month long fiesta across Miami. Take your pick from a host of hot pubs and restaurants with food n' drink specials to keep that adrenaline pumping.
With Miami being the melting pot for a majority of the Caribbean and Central American population, it's no wonder that we share a strong passion for the game. Discussions and hot debates may have forced all to take sides, but Miami's hottest bars and restaurants are determined to bring everyone back together with irresistible offers.
From mouthwatering snacks to power you up, turned up HDTVs to inspire your cheering and heavily discounted liquors to make those victories taste even sweeter, these haute destinations have it all. So choose your venue wisely and gear up for a month high on fun, food and fútbol between June 12 and July 13.
Fadó Irish Pub
One of the best Irish pubs to catch the action, you can look forward to Brit specials like fish and chips along with a million dollar challenge to test your soccer prowess.Mary Brickell Village, 900 S. Miami Ave., Miami (786-924-0972)
Clevelander Bar
The place to be seen, you'll want to dress your best for viewing parties at this high-end bar/club. Great specials, cheap beer and the chance to win an all-expenses-paid trip to Vegas make it all the more appealing.1020 Ocean Dr., Miami Beach (786-276-1417)
Stout
40 HDTVs, an expansive beer selection and gourmet delights await you at this sophisticated American restaurant.3419 N. Andrews Ave., Oakland Park, FL 33309 (754-223-5678)
Tom's NFL
This all-American establishment shall welcome you with sports pendant-covered walls, daily beer specials and a beer selection that offers 75 bottled beers.5001 N.W. 36th St., Miami Springs, FL 33166 (305-888-6022)
Foxhole Bar
Opening early for afternoon games and offering a 5 for $15 bucket of Peroni, you'll need to lookout for the back alley to get to this watering hole.1218 14 Ct., Miami Beach (305-534-3511)
Meat Market
Discounted wines and cocktails, half-priced beers and a menu of specialties from the competing countries are what make this an interesting joint to visit.915 Lincoln Rd., Miami Beach (305-532-0088)
Oak Tavern
Honoring the World Cup host by adding the Caipirinha to its menu, you'll want to head to this cool tavern for a taste of the many cocktails that pay homage to the competing countries.35 NE 40 St., Miami (786-391-1818)
Perfecto
Whether you're the "see and snack" kind or "see and win" sort, you'll have to head here to unravel the mystery.1450 Brickell Ave., Downtown Miami (305-372-0620)
Cecconi's
A great pick for those who choose food over drink, the extensive menu and low prices at this eatery won't leave you wanting.4835 Collins Ave., Miami Beach (786-507-7902)
Mickey Bryne's Irish Pub and Restaurant
A great pick for those looking for a slice of Europe or Ireland, your list of treats include pale ales, shepherd's pies and an all-inclusive atmosphere.1921 Hollywood Blvd., Hollywood, FL 33020 (954-921-2317)
SushiSamba
Staying true to its name, you'll have samba dancers to help you cheer at this great pick. Also, the best Samba selfie could win you a trip for two to Brazil.600 Lincoln Rd., Miami Beach (305-673-5337); 180 Aragon Ave., Coral Gables (305448-4990)
Tell us whose side you're on or a great place we missed in the comments below!
Photo credit: Logo - wikimedia.org, People - baltimoresun.com
Share your thoughts with us
Sign up now
Get news and updates delivered to your inbox